Ivy removal
Struggling with spreading ivy? Use our handy guide with simple to follow ivy removal methods. Plus, learn all about ivy, how to identify poison ivy & more.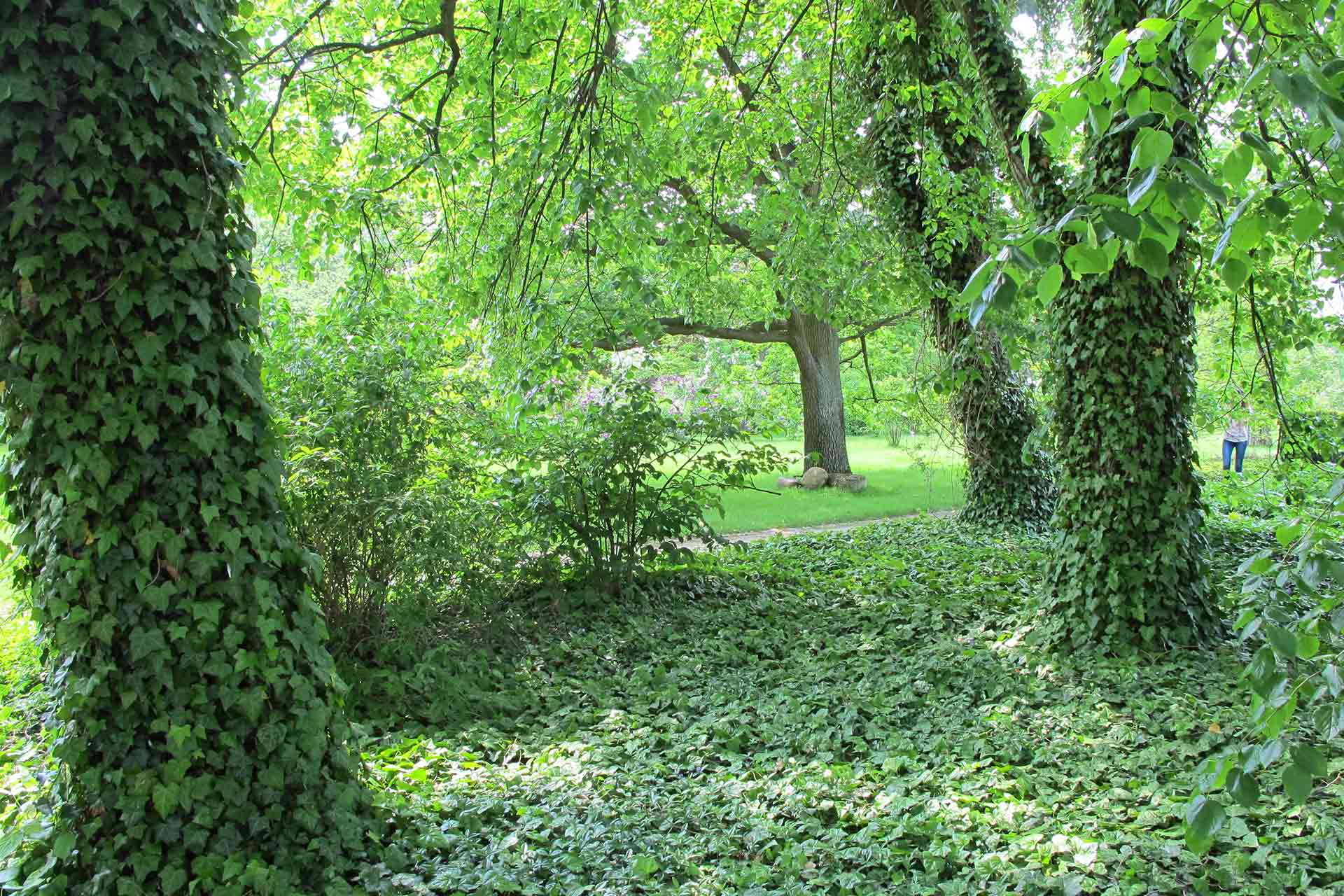 Ivy is often found in our gardens or clinging to the walls of our homes. Whilst it can look pretty and quintessentially British on a red brick backdrop, it can spread quickly and soon become a nuisance and cause untold damage to trees and walls.
Read on to find out why ivy removal can be so crucial, how to identify poison ivy, ivy removal methods and the damage ivy can cause to trees, walls and brickwork. We will also cover the cost of professional ivy removal.
What is ivy?
Most of us have heard of ivy but are unsure exactly what it is and what it can do. Ivy is an evergreen perennial plant, technically referred to as Hedera. Using aerial roots and small sticky disks, ivy can climb walls, fences and trees. It is a hardy plant that will even survive poor soil conditions and can grow up to 30m high. Ivy can also cover the ground and easily grow in shaded areas of your garden.
Why is ivy removal necessary?
Despite its sometimes luscious appearance, the rapid spread of ivy can quickly become an issue. It tends to block light, as well as smother flowers and other plants in its mission to cover ground quickly. Ivy can also give shelter to unwanted pests including rats, insects and mice.
What's more, ivy can be toxic to animals and children. Plus, it can damage trees by blocking sunlight and putting extra strain on less stable trees, causing them to fall over during strong winds. Ivy can even work its way into cracks in walls and damage fences and therefore it is essential to have ivy removed to prevent it from taking over your garden.
How to identify poison ivy
Poison ivy can be toxic and dangerous and can cause painful, itchy rashes and blisters if touched. It can also affect our beloved pets.
Firstly, to identify poison ivy appearance, you should inspect the leaves themselves. Poison ivy appears in groups of three leaves, with many people following the well-known rhyme, 'leaves of three let it be' to prevent poison ivy exposure.
This insidious type of ivy also has translucent white berries which should never be touched or eaten. What's more, the leaves of poison ivy will usually be green except during autumn when they turn red. Even knowing the above, it can be difficult to properly identify poison ivy, so the best approach is to avoid any contact as much as possible.
See the tradespeople we've checked and recommend for your job

Ivy removal methods
There are a few ways to remove ivy but the best option for you will depend on where you are removing the ivy from and the extent to which the ivy has spread. Using chemicals is a great option but these can be dangerous so may not be the best idea around small children and animals.
You can also manually remove ivy using clippers and thick gloves. In addition, there are a number of natural ivy removal methods that may better suit your needs. Want to stay away from harsh chemicals? Try using white vinegar diluted water to spray ivy plants. You can also use duct tape to create small bowls around ivy plants filled with salt and water.
How to prevent ivy damage
Does ivy damage trees?
Ivy damage to trees can be a real issue. As we mentioned above, ivy can block the sunlight to a tree's bark, causing it to die over time. Added to this, ivy is also heavy and can affect the structural integrity of smaller trees.

To remove ivy from a tree, you will need to start by cutting the stems closest to the base of the tree. The ivy should then slowly die, as it has no roots, at which point it can be removed from the tree safely.
Does ivy damage brickwork?
Ivy can look great in contrast with red brick walls, but ivy damage to brickwork can be substantial. The severity of the damage can depend on the age and condition of the house, but ivy is great at creeping into tiny holes between bricks which can ultimately affect the stability of your walls.
Removing ivy from brickwork may be arduous but it is important to put the work in to ensure your home is protected. To remove ivy from brickwork, you will need to carefully pull the vines away, working from the top to the bottom. You may also need to use a knife to sever any tendrils between bricks.
If your brickwork is in poor condition, you risk damaging the mortar when removing the ivy so it may be a good opportunity to speak to a professional at this stage.
Does ivy damage walls?
Stone, brick and rendered walls can also be affected by ivy so should be dealt with before the issue becomes too severe. Ivy damage to walls can be costly if it is not rectified as early as possible.
It is worth removing any ivy from your property before the situation gets out of control and leads to costly repairs. To remove ivy from walls you will need to gently separate the individual vines from the wall itself then let the tendrils die, making them easier to remove. You can then use weed killer along the roots of the ivy to prevent regrowth.
Does ivy damage fences?
Unfortunately, ivy damage to fences can be severe, particularly if the ivy is allowed to grow freely over the fence. The longer it is left, the greater the damage to the fence.
Firstly, you will need to sever the roots of the ivy as close to the soil as possible. You can also use glyphosate to quickly kill the ivy and prevent it from growing back. If your ivy problem has become severe, it may not be possible to remove the tendrils without causing damage to your fence.
If this is the case, the ivy itself may be keeping your fence held together. In this situation, all you can do is kill the ivy and cut off any leaves or stems that protrude from the fence.
See the tradespeople we've checked and recommend for your job
Seeking specialist help
Many people aspire to having a green, healthy-looking garden, but ivy can destroy plants, trees and structures throughout your outside space. If your problem is severe or you are unsure about the best ivy removal method, now may be the time to call in a professional.
To connect with a range of trusted tradespeople in your area, please use our handy free search feature. Alternatively, for more information about professional ivy removal and typical prices, check out our ivy removal cost guide.
How much does ivy removal cost?
Professional ivy removal can be a great option for any home where ivy is out of control, although can be costly. Generally, for two workers to remove ivy will take about two hours and cost you £350. For more information please see our ivy removal cost guide.
It is possible to remove ivy yourself, but you will need to pay for shears, strong gloves, weedkiller and a spray bottle. This will likely cost upwards of £50.