Why leaving your tradesperson a review is so important
It takes a minute to leave a tradesperson a review. Here's why leaving your tradesperson/people reviews is so important for trades and other homeowners.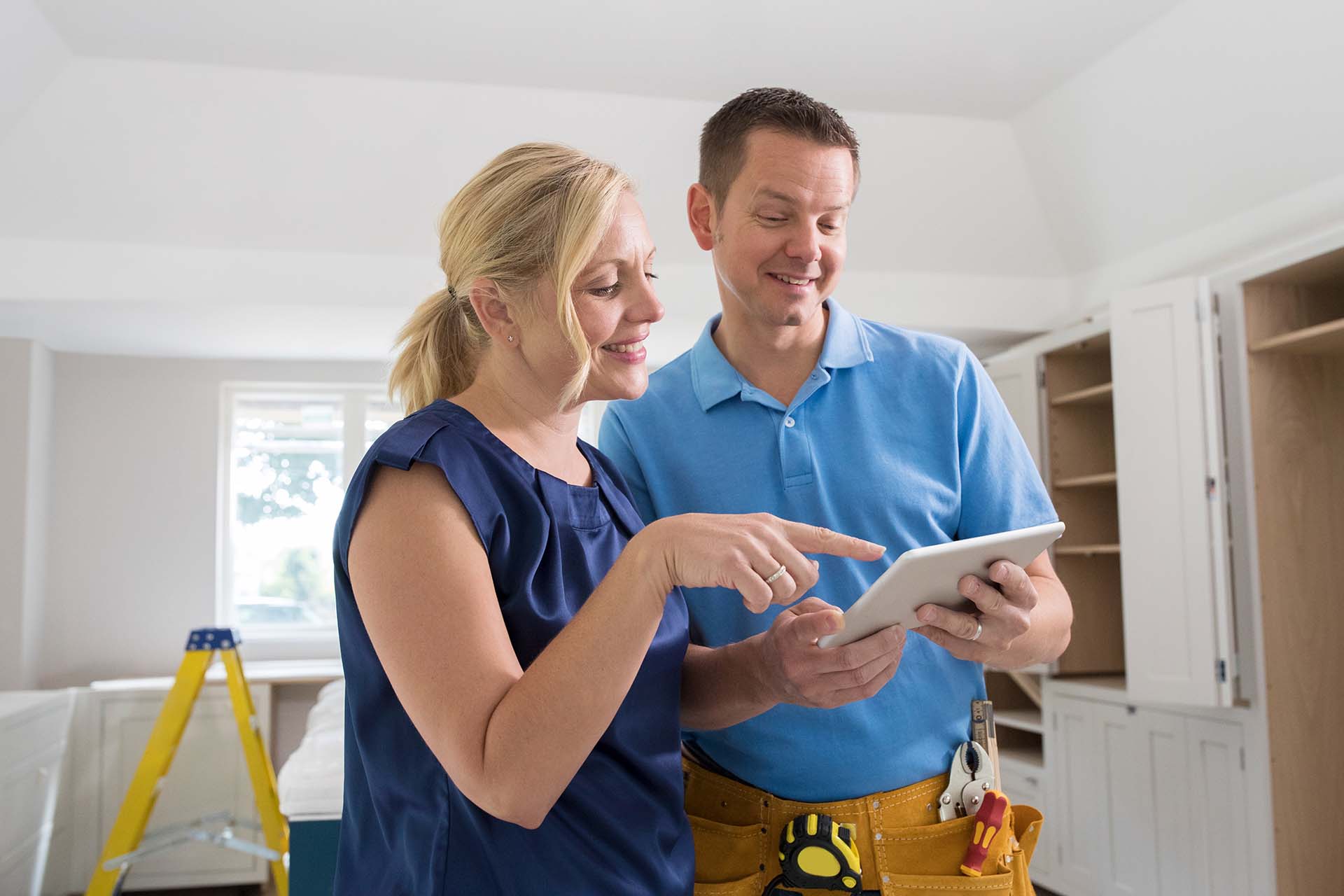 It doesn't take long to write an honest review about a service you've experienced. Not only that, it's so important to the person providing the service to get your feedback.
Here's why leaving tradespeople reviews is so important for both the trade and fellow homeowners.
Leaving tradespeople reviews builds a reputation
From a tradesperson's perspective, one of the most beneficial aspects of customer reviews is that they help to build a trustworthy reputation.
It's one thing for a tradesperson to say that they have specific skills and experience, but seeing a selection of reviews that verify this gives a huge boost to a tradesperson's reputation.
Customer reviews help to validate a tradesperson's skills and experience, which is important for building and maintaining their reputation. Having a list of customer reviews helps a tradesperson paint a picture of how reliable and safe their business is.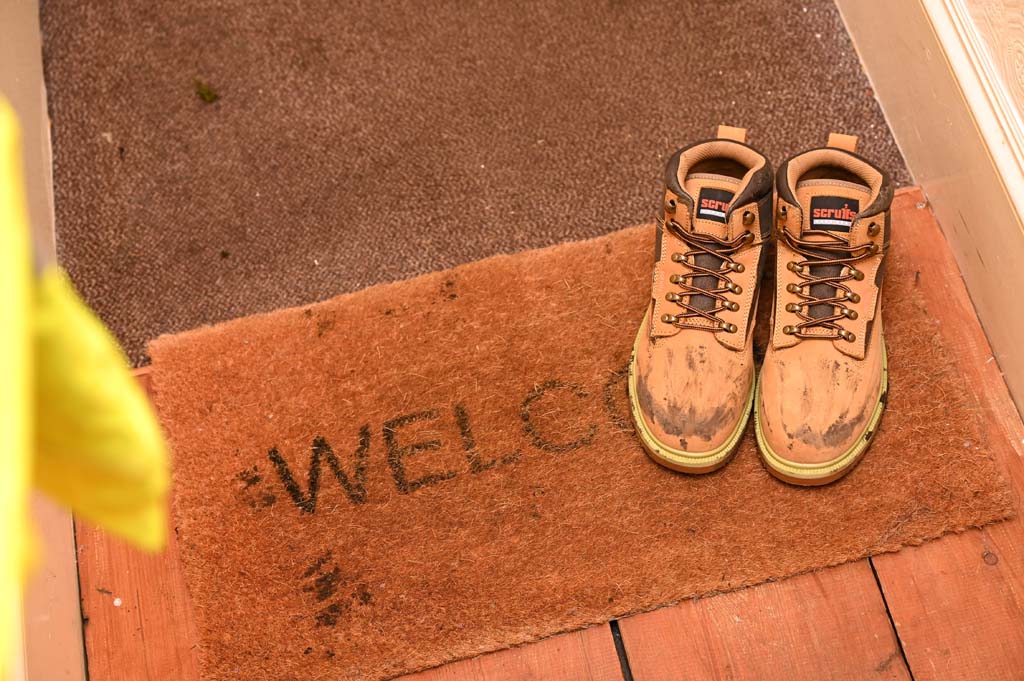 Leaving tradespeople reviews help trades to find new customers
Online reviews are key to marketing for any business
Customers today look for services online more than ever. This includes those looking for a tradesperson.
This means that when customers find a tradesperson online, they rely on seeing reviews to help them to decide which tradesperson to contact.
People listen to people
Honest customer feedback is the way forward for any business. People listen to people. That social proof of someone saying, "Bob the Builder is great," instantly fills other homeowners with confidence in Bob the Builder.
Your review for a tradesperson could be the difference between them winning more jobs and not.
Local reviews make a difference
By providing a review, previous customers may share their town or location as part of their review. This makes a huge difference to someone's decision making.
It signals to potential customers that this tradesperson has completed work in their local area before. Even better, they did an awesome job!
See the tradespeople we've checked and recommend for your job
Leaving tradespeople reviews help trades to stand out
When choosing a tradesperson, would you pick the one with great reviews or one without any?
A business with more reviews will likely improve the opinion people form of that business. By leaving tradespeople reviews, you help that business stand out from others who offer similar services.
A standout review or a whole collection of positive reviews can not only elevate the tradesperson's business but can it makes the difference between a customer choosing to work with them versus a competitor.
Leaving tradespeople reviews give customers confidence
Probably the most important and influential benefit of leaving a tradesperson a review is that it gives other potential customers confidence.
Research shows that customers typically have more confidence when they can see recent reviews. Providing up-to-date feedback is vital to help tradespeople show that they are popular and trusted.
7 steps to 'review excellence' – how to write a good review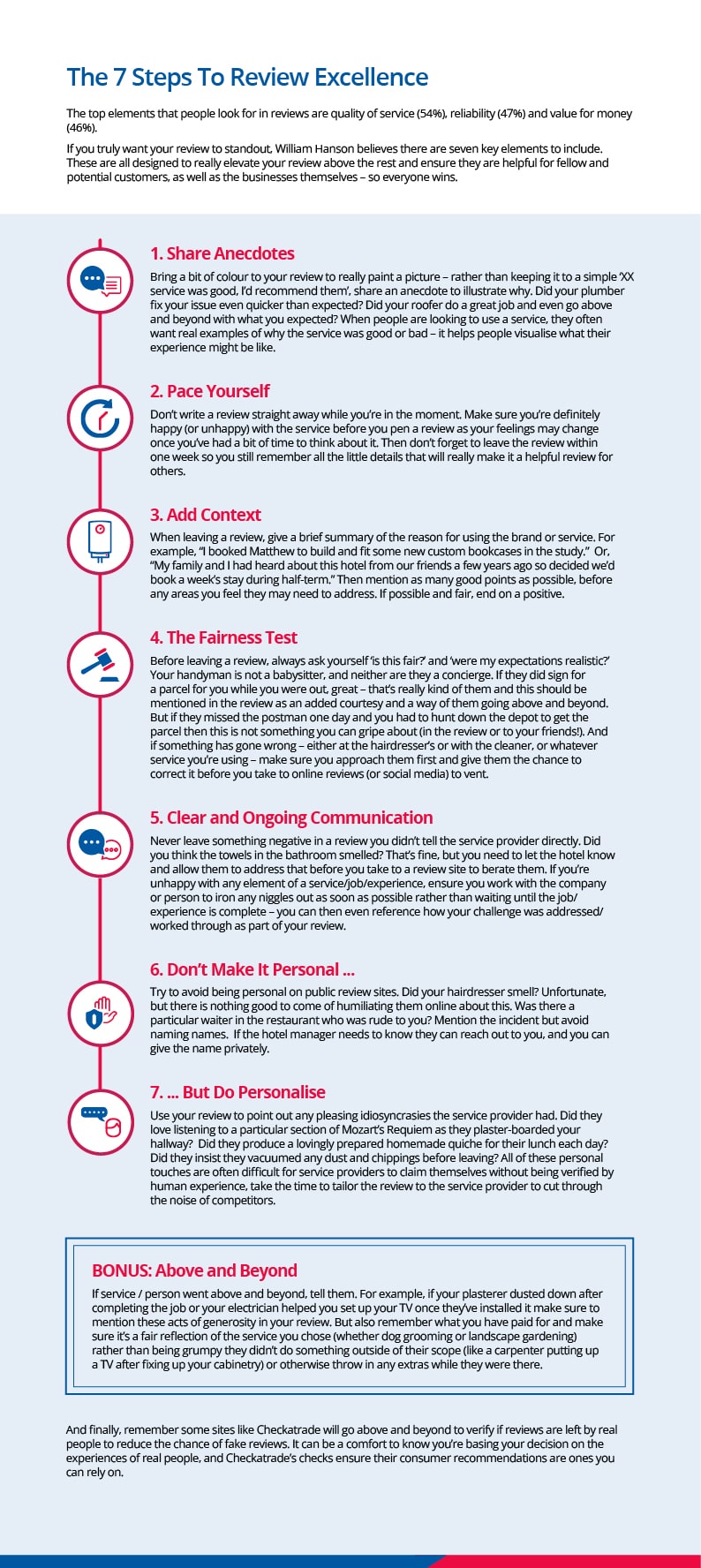 Source: Checkatrade's 'Review-fluence: Half of consumers never buy anything online without checking reviews first'
How does Checkatrade help?
Thanks to homeowners already leaving Checkatrade members countless reviews, they're making the process of choosing a tradesperson easier than ever.
Choosing a tradesperson can feel like a gamble, but being able to read real reviews on Checkatrade removes that element of doubt.
On top of the reviews, Checkatrade checks all tradespeople before they become members – they have to pass the 12 step check. Only the best of the best trades pass the checks!
Using a quick postcode search, you're only a click away from being able to find a tradesperson that people recommend.
How to leave a review on Checkatrade
Once your tradesperson has completed their job, you'll be invited to leave a review on their profile.
It's quick and easy to do, and you can rate them on their workmanship, tidiness, reliability, quote accuracy and courtesy, as well as leaving your comments.
Please do make sure to leave your review on their Checkatrade profile. If you post your review on this blog it will not be read by the member, – and we want them to see what an awesome job they've done for you!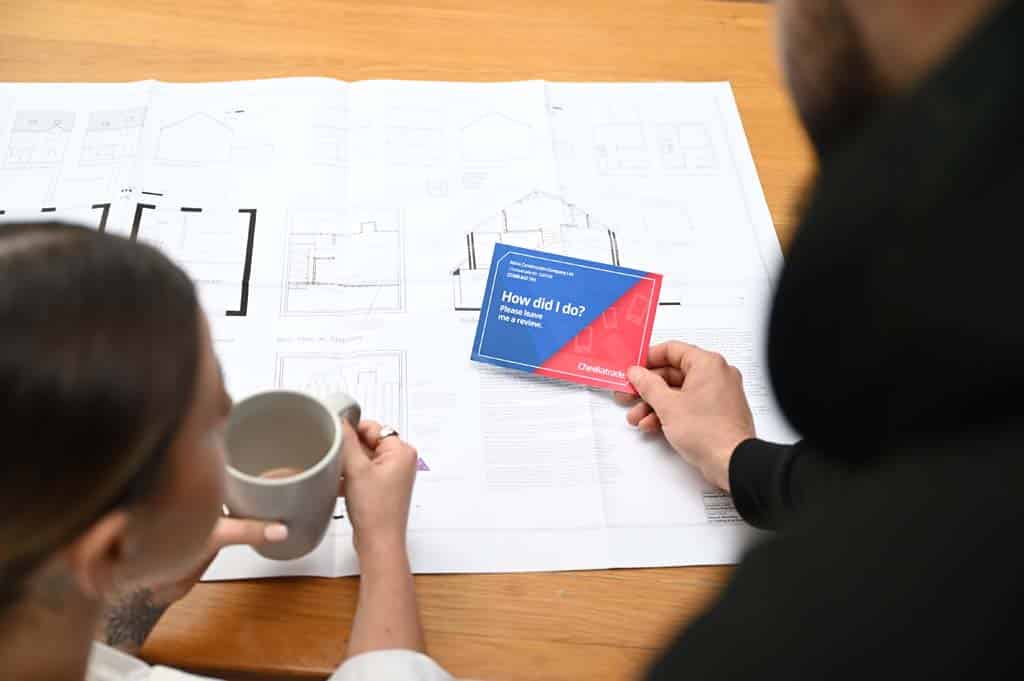 Don't have much time to search?
Let us do the searching for you with our post a job feature.
Give us the details of your job, we'll send it to three tradespeople near you, and they'll get in touch with you. Easy!
See the tradespeople we've checked and recommend for your job
Your review will only be seen by your tradesperson if you leave your review on their Checkatrade profile, not in the comments on this post. This is also the only way to activate your guarantee (T&Cs apply).