Rainwater harvesting systems: Domestic and professional
Want to make great savings on your water bills? Check out our guide to rainwater harvesting systems. With advantages and disadvantages, types and designs.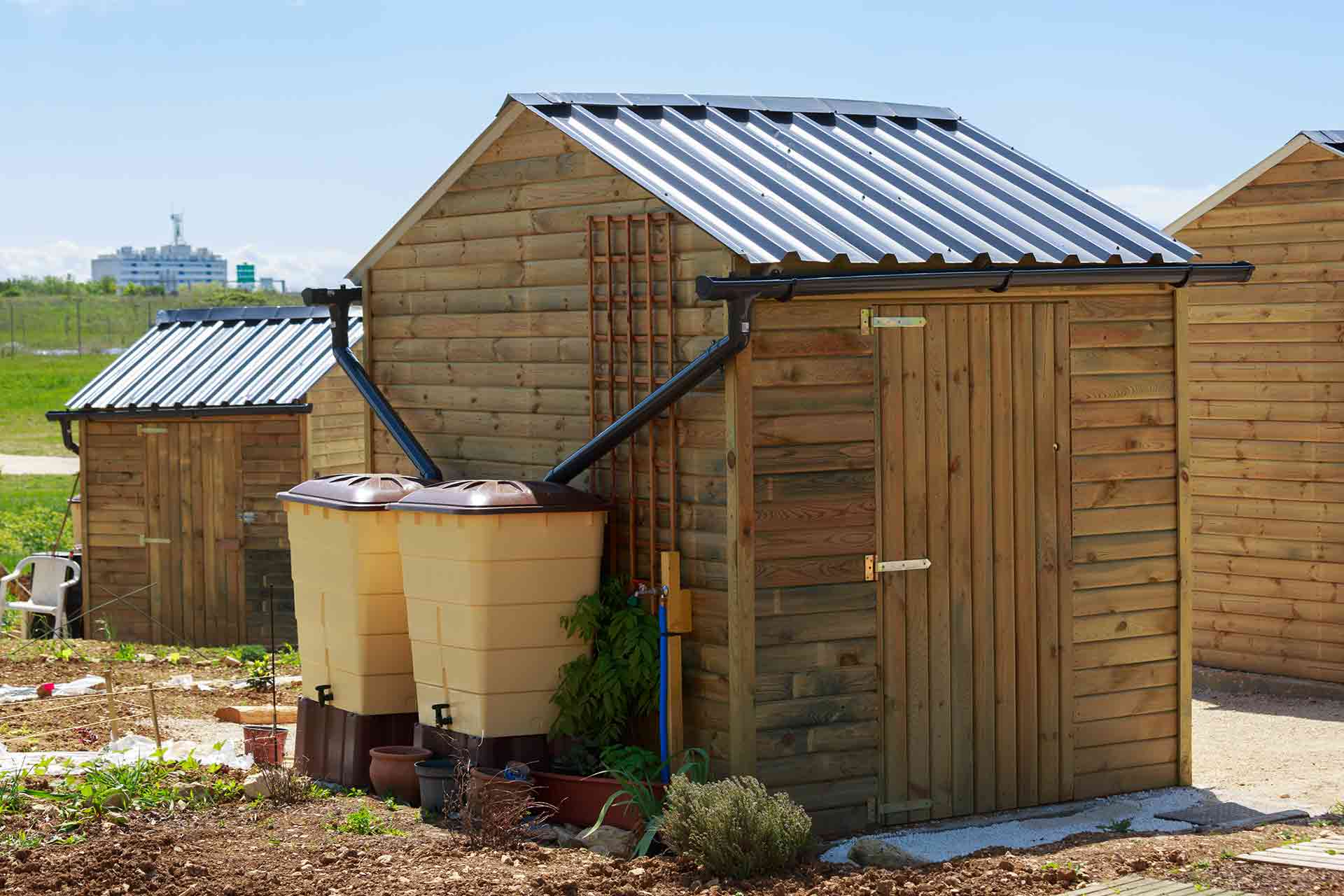 Water is as essential to us as the air we breathe, but unlike oxygen, water isn't free. Thankfully, the UK has an abundance of rain and a great way of saving money on water bills is to install a rainwater harvesting system on your property. In fact, in some countries, rainwater harvesting is widely used.
Join us as we explore this innovative idea, as well as looking into the advantages, uses and types of domestic rainwater harvesting systems. Plus, we'll answer your questions on "What is a rainwater harvesting system?" and provide guidance on how to build a rainwater harvesting system.
What is a rainwater harvesting system?
Building a rainwater collection system can help you to reuse rain that may otherwise be wasted and reuse it in your home. Usually, the rain will be syphoned from rooftops and gutters through a downspout into some kind of vessel.
The most basic rainwater harvesting system may just comprise of a barrel that is positioned below a gutter and downspout to collect any rain. Whilst the system needn't be complex, if you keep things too basic, you may be less likely to collect a good amount of rainwater.
Types of rainwater harvesting system
When it comes to choosing the best type of rainwater harvesting system for your home, you'll need to consider your different options. Below are the most common choices available:
Basic system: Purchasing a water barrel or butt is inexpensive and makes it easy to set up and start collecting rainwater. For better results, connect this container to your downspout.
Direct pumped: Very common, these rainwater collection system pumps are usually positioned underground. Then any rainwater that is gathered will be pumped into your home.
Indirect gravity: Here, rainwater that has been harvested will usually be pumped to a raised tank, then gravity is used to send the water into your home.
Indirect pumped: These rainwater harvesting tanks can be fitted at any height in your home. Gravity is not necessary, and a pump is used to move the water to where it needs to go.
See the tradespeople we've checked and recommend for your job
What are the most common uses for a domestic rainwater harvesting system?
It's not safe to drink rainwater as it falls from the sky, however, it's possible to purify this water, making it ok for consumption. Even if you don't plan to purify your collected rainwater, it can still be used in a number of ways, including:
Cooking
Toilet flushing
Watering plants and lawns
Washing fruit and veg
Filling swimming pools and hot tubs
Washing your car
Rainwater harvesting system advantages and disadvantages
Growing populations mean higher demand for clean, drinkable water. As such, reusing rainwater is becoming more and more popular throughout the country and many homeowners are looking to make their homes more self-sufficient.
As such there are a number of rainwater harvesting system advantages and disadvantages including:
Advantages
Savings on your water bills
Reducing consumption of groundwater
Easy maintenance
Helps to prevent floods and soil erosion
Water can be used in a range of ways
Disadvantages
During warmer months there will be little to no rainfall
Need to invest in setting up your rainwater harvesting system
Only store a limited amount of water
Needs to be maintained
Risk of chemical contamination from roofs
Rainwater harvesting system design
Designing your perfect rainwater collection system can be a little confusing thanks to the range of different options available. You'll need to decide on a number of varying components as well as figure out exactly what your requirements are.
If you're looking for rainwater harvesting system design tips, consider the following:
Size of roof: You'll need a large enough roof to funnel the rainwater into your collection system.
Size of tank: Larger tanks will be more expensive, although they can store a lot more water than smaller options.
Position of tank: Your tank could be installed anywhere either underground or above ground so carefully think through the ideal placement.
Weight of tank: When your water collection tank is full, it will be very heavy so needs to be installed somewhere strong enough to support the weight.
Rainwater usage: You'll need to work out how much rainwater you plan to use throughout your home and ensure you install a large enough system.
Purification: Consider whether or not you'll be using your collected rainwater for drinking. If yes, you'll need to properly filter the water to remove any contaminants.
Rainwater harvesting filter systems
While rainwater can be used for anything from watering your garden to flushing your toilet, unless it's properly purified, it's dangerous to ingest. Adding a rainwater harvesting filter system can combat this by removing anything nasty from the water before you drink it.
There are a few different types of rainwater harvesting filter systems, including:
UV light: A great way to create drinkable rainwater is to purify it using UV light. This clever light is used to prevent any organisms from spreading through the water. This makes the rainwater safe to drink.
Chlorine: Although chlorine can be dangerous in high amounts, it's actually a fantastic option to decontaminate rainwater. You'll only need a small amount of chlorine to kill any water-based diseases and make the water safe for consumption.
Filters: Using filters to clean your rainwater can be costly but effective. The rainwater passes through a filter that stops any debris. Please bear in mind you'll also need to use UV light or chlorine to remove contaminants from the water.
How to build a rainwater harvesting system
If you're eager to start reaping the benefits of a rainwater collection system, you can go as far as to build one yourself. If you're wondering "how to install a rainwater harvesting system at home" use the below tips:
Consider using a drum or barrel with a pipe to collect rainwater from your roof.
Install a rain chain running from your roof to a tank or storage container. This will help to channel the water while also making an attractive garden feature.
If you're looking for a traditional rainwater harvesting system, follow the below steps:
Gather your tools and materials.
Create a stable platform for your rainwater barrel or tank.
Strip the surrounding area, add a layer of gravel and some strong blocks.
Use a drill to make a spigot hole then install the spigot.
Create and add an overflow valve.
Join your downspout elbow and your downspout.
Next, attach the elbow to your barrel or tank.
Add a filter to the top of your downspout.
You can now start collecting rainwater.
Domestic or professional systems?
Domestic rainwater harvesting systems
You may be unsure about whether a DIY rainwater collection system is the best option for you, so let's sum up the main reasons to install a rainwater harvesting system at home.
Firstly, you'll be helping to take some of the pressure off local water companies, especially during water shortages. Reusing water is also a step in the right direction for helping our planet.
Financially, it also makes sense to install a rainwater system at home. You'll see reductions in your water bills, making the initial investment well worth it. Remember, you can even purify rainwater to make it safe to drink and cook with it. What's more, domestic rainwater harvesting systems are easy to clean and maintain.
Professional rainwater harvesting systems
Learning the skills needed to be a DIY expert can be a difficult process that is not for everybody. If this project seems too complicated or confusing but you still want to install a rainwater harvesting system, now is a great time to contact a professional. Our free search feature is a great tool to help you meet trusted experts close to your home.
If you're concerned about the cost of professional installation, our rainwater harvesting system cost guide is a brilliant resource to learn about the price to install. You can look forward to up-to-date prices plus some great tips and tricks to help with your rainwater harvesting job. The average amount you'll need to pay for professional installation is £2,500, although you'll start saving on water bills straight away.