What does a locksmith do?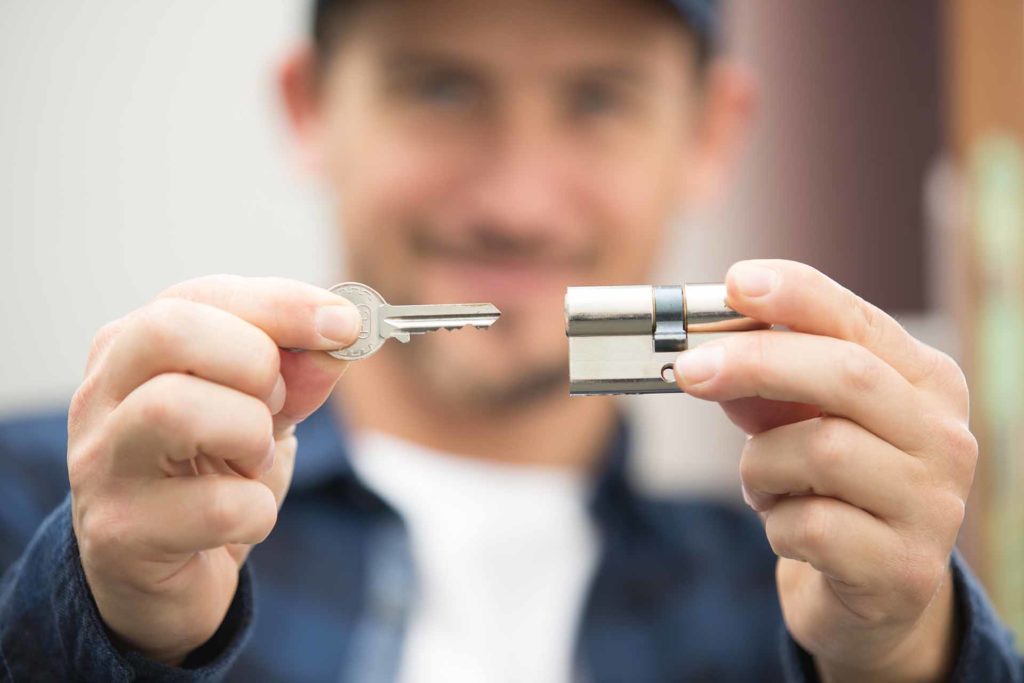 If you find yourself locked out of your house, you've lost your car keys or you need to organise for a lock repair – who are you going to call? A locksmith. There are locksmiths all around the UK registered on Checkatrade, with customer reviews that we've checked to make sure they're real and reliable so you can be confident you're hiring a trustworthy professional.
In this guide, we take a look at common locksmith services to answer the question: what does a locksmith do? We'll also look at tips for finding a good local locksmith.
What is a locksmith?
A locksmith is a professional tradesperson who works with locks for a living, whether that be to fit locks, open locks, carry out lock repairs and other lock-related jobs. Many locksmiths will be trained in dealing with both domestic and commercial locks, and will either work from a shop or offer a mobile locksmith service – or in some cases, they'll do both.
What are the different types of locksmith services?
Locksmiths are typically the first person to call if you've lost your car keys and don't have access to your spare, or you're locked out of your house and need their lockout service. However, locksmiths also carry out many other lock-related tasks. Popular locksmith services include:
Key cutting (including keys for garage door locks, window locks and padlocks)
Cutting, programming and repairing car keys
Fitting, opening and repairing safes
Installing access control systems
Door unlocking/lock open service
Emergency car opening
Lock repair service
Lock fitting
Emergency lock replacement
Advising on security options
Door unlocking services
Finding yourself locked out of your house can be a nightmare, and usually involves needing help immediately from a locked out of house locksmith. Fortunately, many local locksmiths will offer a house lockout service to get you emergency lock replacement and get you back indoors as quickly as possible.
It's a good idea to confirm upfront how much they charge for their lockout service – especially if it's out of standard business hours. Emergency callouts often come with an additional fee that you'll need to factor in.
Find a trusted local locksmith
How to find a good local locksmith
While there isn't any legal requirement for a locksmith to have a license, looking out for locksmiths approved by the Master Locksmiths Association (MLA) is a good place to start. Choosing a local locksmith service over a national call centre is preferable.
Using our online search is a great way to find a professional locksmith service that you can rely on. Before a locksmith can join Checkatrade, we run 14 checks to check that they provide excellent quality service. All of our members are then rated by customers throughout their membership on their reliability and timekeeping, tidiness, courtesy and more so that you can browse reviews to find a trusted locksmith near you.
Questions you should ask a locksmith
Locksmiths in the UK don't need to have any specific qualifications, and many learn their trade by becoming a trainee or apprentice first. However, knowing that your locksmith has received a certain level of formal training is always helpful in ensuring they can provide a high-quality service.
Are you insured?
Locksmiths will be handling some of your most prized possessions, like your car or your home. Making sure they're insured gives you peace of mind in case there are any accidents.
Are you able to work with transponder chip keys?
Most modern car keys have these chips in them, but locksmiths need specialist training to work with them. If you need a new car key cut, make sure the locksmith is able to work with the type of key you have.
Can you give me an idea of the price?
For many types of locksmithing jobs, the locksmith should be able to give you an estimate over the phone. This is especially good to know in an emergency; the last thing you want is for a locksmith to arrive for you to find out it's more expensive than you hoped! Be aware that unforeseen circumstances may affect the actual cost of the job, and it's worth confirming the price with the locksmith once they've had the chance to properly examine the task.
What qualifications should a locksmith have?
While there are no requirements for locksmiths to have qualifications, and many learn their trade on the job, there are a number of qualifications and accreditations that locksmiths may hold.
Locksmiths who have completed a Master Locksmith Association apprenticeship will hold a Level 2 Certificate in Locksmithing, which is currently the only nationally recognised locksmithing qualification. However, there are specialist training courses available for certain types of car keys, UPVC locks, access control systems and restricted key systems.
If you need specialist locksmithing work carried out, ask whether the locksmith has experience in carrying out similar work, and have a look at their reviews to see what their past customers have to say.
Good jobs, guaranteed
Get covered when you book with Checkatrade.