Having a shed in your garden is a great way of adding extra storage space. A garden shed is ideal for locking away everything from garden furniture and lawnmowers, to tools and outdoor equipment. On other words, anything that won't fit in your home or already overcrowded garage.
As the weather improves and we're all spending more time at home, now could be a great time to think about adding a shed to your garden or outside space. What's more, a new shed needn't cost the earth – it's possible to build a shed using cost-effective and easily accessible materials.
To help you out, we've put together our top tips and a 'how-to' guide to help you achieve the ultimate outdoor storage solution.
Cost-effective materials to use
Firstly, you need to plan the type of shed you want to create. There are several different materials you can choose from. For example, a shed base can be constructed from concrete, treated wooden beams or even an interlocking plastic system.
If you want to build a budget-friendly shed, opting for a classic wooden structure will be the most affordable option, along with styrene glazed windows, with roofing felt and panels. If you maintain it yearly and take good care of it, a cost-effective shed can be extremely long-lasting and durable.
Building the shed
Materials needed
To build a classic wooden shed out of pallets, you will need the treated pallets, styrene windows, a wooden door, roofing felt, support beams, joists and solid sheet board for the floor and roof, as well as all of the correct fixtures and tools.
Altogether, we estimate that this will start from around £200, depending on the size, style and design of shed you choose to build.
Cutting everything to size
Once you have all of your materials and a plan of how you want your shed to look, you need to measure and cut everything to the correct size ready for building. If you purchase a shed as a package rather than all of the materials individually, they may already be cut to size for you and come with instructions for assembly.
We would also recommend treating all wood with a preservative to ensure your shed is as durable as possible. If you purchase a garden shed as a package, it may already be treated from a factory. You can still add extra preservative to boost its longevity even more though.
Foundations
A shed foundation is crucial for the overall longevity and durability of the structure. It is what prevents your shed from leaning, rotting, rusting and gathering water inside on the floor. The cheapest way to do this is to ensure the ground is as level as possible before adding support beams and joists so that the joints can be installed in between them. The larger your structure, the more substantial the foundations will need to be.
Once you have fitted the joists and the foundation is set, you can nail the solid sheet boards to the joists, followed by the framework of the shed and the windows and door.
Siding materials
There are many materials you can use for shed sidings. As we previously mentioned, though, a wooden frame is the most budget-friendly option.
If you want to create a more stylised shed, you could opt for engineered wood, a fibre-cement siding, or even metal or vinyl materials.
Or, if you want to give your wooden shed a painted finish to give it a less rustic look, why not go for an exterior wood stain? This will still show the beauty of the wood grain without trapping moisture like exterior paint.
Good quality stains only need to be re-applied once every few years to keep wood in good condition. Staining wood is a great budget-friendly option compared to using engineered wood siding.
Find a local shed building service
Roofing materials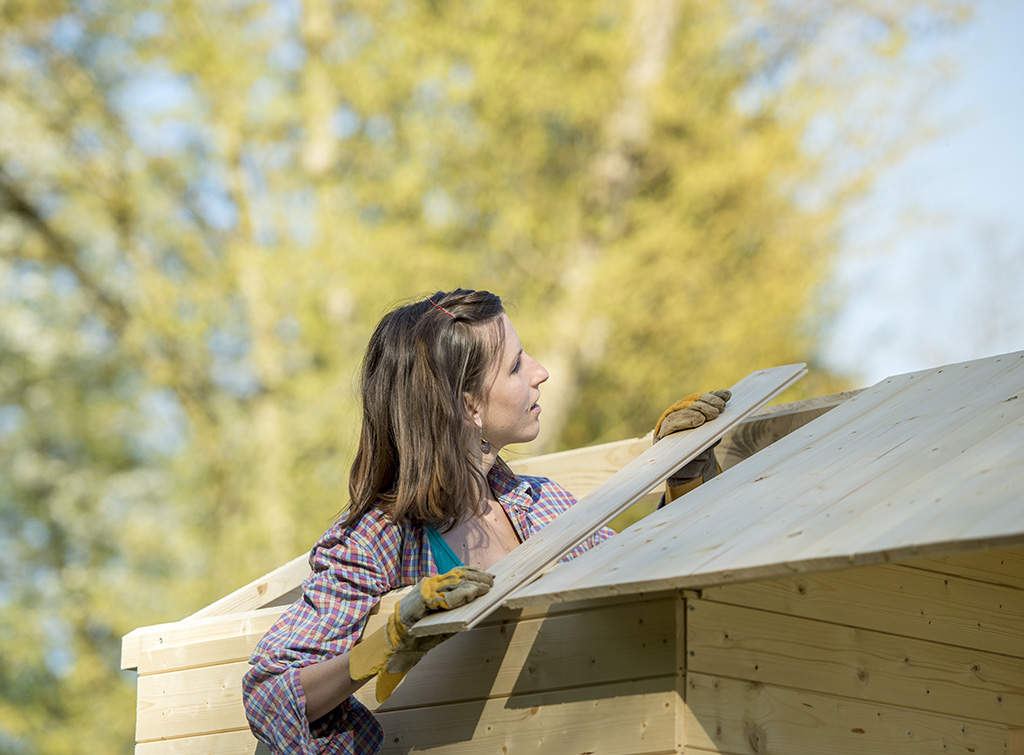 Depending on the type of shed you build, you may have roof support bars that need to be fixed in place before you can add the panels. Once this is done, you can nail down the roof panels and roll out the roof felt from front to back, securing with clout headed felt tacks. Finally, you can add the fascias and finials to cover the joins and create a decorative finish to your shed.
As well as using shed roof felt, you could also opt for roof shingles which give an authentic wood finish, bitumen roof sheets that are incredibly durable and waterproof, or even roof tiles that complement the style of your home.
Of course, if you're not an experienced DIYer with a good knowledge of timber construction, building a shed can be a difficult task to take on. There's a lot to think about, as well as a wide range of tools required.
If you want to ensure your shed is durable, waterproof and built stably and securely – and why wouldn't you – why not enlist the help of a professional?
Find a local shed building service
Tell us what you think
What others think of this cost guide:
Need More Information?
Related posts