Last updated on April 3rd, 2023
Shed conversion cost guide
Our shed conversion cost guide covers areas such as considerations, prices and all the information you need to revitalise your shed.
Hiring Advice
Practical measures for preventing scams and choosing reputable trades
What are the benefits of converting a shed?
Many sheds are unfortunately used as a dumping ground for anything that cannot be stored in our homes. This is a shame, as any shed has the potential to become a pleasant and useful space that works for you. Paying the cost of a shed conversion can help you achieve this for between £1,825 - £20,175.
If your home is quite small and you are desperate for extra floor space, a shed can be converted to fit most purposes. For instance, you may be working from home more often than you thought. Wouldn't it be great to have a comfortable place to work in peace? You could turn your shed into a 'shoffice'.
Sheds can be converted into any number of room types, including, living rooms, dining rooms, bedrooms, home gyms and so many more. In fact, many people are now making the leap to converting their sheds into tiny homes. These miniature homes have multiple rooms that are cleverly designed to be lived in full time.
If you are considering moving to a larger home, a shed conversion can be an affordable way to increase your living space, saving you a lot of money. With so many possibilities, why not give your old shed a new lease of life?
One thing's for sure, whether you are looking for extra storage or living space, converting your shed can be a rewarding and exciting project.
How much does a shed conversion cost?
Type of conversion
Cost + VAT
(Range low - high)
Average cost
Shed conversion cost
£1,825 - £20,175
£11,000
Cost to convert shed to house (per m2)
£600
Cost to convert shed to house (per sq foot)
£55.80
Shed conversion to office
£5,000
Each shed conversion price will vary widely depending on the complexity of the conversion and what the shed's new purpose will be. For a breakdown of each cost, we spoke to the online estimators at B3 Cost Consulting – a team of professional Estimators and Quantity Surveyors. This guide features each estimated shed conversion cost they provided.
Averaging around £11,000, the lower end of the scale will cover a basic level of conversion involving things like windows, decorating, floor reinforcement and insulation. A conversion at the higher end of the price range involves all the basic renovations plus adding things like walls, bathrooms and kitchens.
The average shed conversion cost is £11,000.
Uses for sheds and shed conversions
The list of possible uses for sheds is endless. It's amazing how such a small space can pack so much potential! Below are a few of the excellent uses for a converted shed:
Office space, also known as a 'shoffice'
Home gym
Storage space
Tiny home/annexe
Man cave
Living room
Summer house
Games room
Playroom
Things to consider adding to your shed conversion
When a shed is used for its intended purpose (a basic storage space) it does not need any renovations. It is a simple structure designed to protect your tools and other garden items from the elements.
However, if you are calculating your shed conversion price, you will need to budget for many alterations to make the shed fit for its new purpose. When planning your shed conversion, you will need to consider adding the following:
Utilities: Depending on your plans for your converted shed, you may need access to electricity, gas and water. For example, a home office will require electricity to power your computer and monitor, whereas a kitchen requires water (washing up), gas (hob) and electricity (microwave and other appliances).
Insulation: It is always a good idea to consider insulation. It will keep your shed warm in the winter and cooler in the summer. In addition, insulation can dampen noise and reduce the amount of draughts entering through the walls and any gaps.
Flooring: Your converted shed will not only look better but be more comfortable with added flooring. You should also consider that sheds are not designed to hold the weight of a living space so upgrading your flooring may be essential.
Walls: You will need to add walls or partitions if you want your shed to have multiple rooms.
Windows and doors: Windows are important to add natural light and much needed ventilation. In addition, replacing your basic shed door with a higher quality option is crucial for security and to prevent draughts/leaks.
Heating: Many people convert their sheds as a DIY project by adding a lick of paint and a desk to work at. When colder weather sets in, these mini conversions will be freezing, draughty and damp to spend time in. Adding heating can help to keep you warm during the winter.
Lighting: Many sheds come with no or little lighting. This is fine when the shed is used for storing tools, however, if the shed is converted into a living space, lighting will be crucial.
See the tradespeople we've checked and recommend for your job
Factors affecting shed conversion costs
As we previously discovered, the range of shed conversion prices is wide. To estimate how much your shed conversion will cost you, you will need to take into account the following factors:
Materials used: From wood to glass and plastic, all materials are priced differently. In addition, the higher the quality of materials used, the more durable the shed will be, but the higher the cost will be.
Intended use of shed: From an office to a tiny house, the extent of the conversion will impact the price you will pay. A shed conversion can be done on a shoe-string budget, but if you are looking for somewhere to live or spend 9 hours per day (e.g. an office), it's probably worth spending more.
The condition of the current shed: When converting your shed, you will need to consider the current condition of the structure. If it has leaks, draughts, no insulation, and the roof is in poor condition, you will need to pay extra to resolve these issues.
Whether you need to connect utilities: Depending on your shed's intended use, you may need to add connections to water, gas and electricity. This will incur extra costs.
Size of the shed to be converted: The larger your shed, the higher the cost of materials and labour.
New furniture/appliances: You will likely need to purchase new furniture (desk, chair, storage etc.) and possibly new appliances (washing machine, fridge etc.) for your shed conversion. You should remember to budget for any essential items.
Accessibility: If your shed is in a difficult to access area, you can expect to pay a higher shed conversion price.
Costs per type of conversion
Cost to convert shed to office
One of the most common conversions of a shed is into an office, also known as a 'shoffice'. This will give you a quiet, private space away from your house, to work in peace. With optional heating, ventilation, furniture, flooring, windows and décor, you can create your ideal working space no matter the weather.
The average 'shoffice' cost is £5,000.
If you need a new, larger structure then read our summer house cost guide.
Cost to convert shed to house
An option that is becoming more popular is to convert a larger shed into a tiny home. This will include basic living requirements like a kitchen and bathroom, plus sleeping and living space. This type of conversion can be expensive due to the extensive works required.
The average cost to convert a shed to a house is £600 per m2.
Can I convert a shed myself?
While it is possible to convert a shed as a DIY project, this can lead to issues down the line. Professionals have years of experience and training so know exactly how to convert a shed safely and to a high standard. If you are considering tackling a conversion as a DIY job, please take the following into account:
Your measurements must be accurate. You are working in a small space, so excellent planning and exact measurements are vital.
Depending on your planned use for your shed conversion, you may need access to electricity and gas. Please note, it is dangerous to work with electrics and gas so you should always hire a professional.
You must ensure you always adhere to building regulations. A professional will have experience with these regulations and make sure they are followed.
If your conversion is not done safely you could cause injury to yourself and others as well as damage to your shed.
It can be difficult and time-consuming to convert a shed.
If you are converting your shed into a house, you should check that some form of Local Authority approval isn't required.
For hints and tips to help with your conversion, it is worth looking at different shed projects online.
For safety and peace of mind, we would recommend hiring a professional for this project. To find a local, reputable, tradesperson in your area and get a personalised shed conversion quote use our free search feature.
Please note, there are not many shed conversion firms out there, so consider speaking to a local joiner who should be able to assist you.
FAQs
Will I need planning permission?
Building regulations for standalone buildings (like sheds) that are converted into a living space require you to apply for a change of use.
You may need planning permission when building a new shed, so it's always wise to check this in advance.
How can I maximise space in my shed conversion?
It is worth looking into ways to get the best space for your money. Below are a few tips to help with this:
Install multi-use furniture, e.g. sofa bed or seats with storage.
Choose smaller versions of the furniture you need or choose extendable furniture.
Embrace minimalism and only add essential items.
Work with a professional to draft building plans and get drawings made up.
Useful shed conversion checklist
A shed can easily be converted into a habitable room or tiny home.
Shed conversion costs are much more affordable than adding an extension.
You could turn your shed into an office, a gym or even a games room.
You will need to apply for a change of use for your shed conversion.
Completing a shed conversion yourself can be difficult, risky and time-consuming.
See the tradespeople we've checked and recommend for your job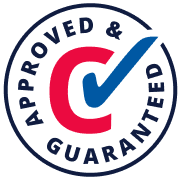 The Checkatrade guarantee
When you contact a trade through Checkatrade, our guarantee could cover you for up to 12 months. You can claim up to £1,000. Exclusions and T&Cs apply.