How to hang a chandelier
Find out how to safely hang a chandelier with our step-by-step guide, including hanging heavy chandeliers and hanging from concrete ceilings.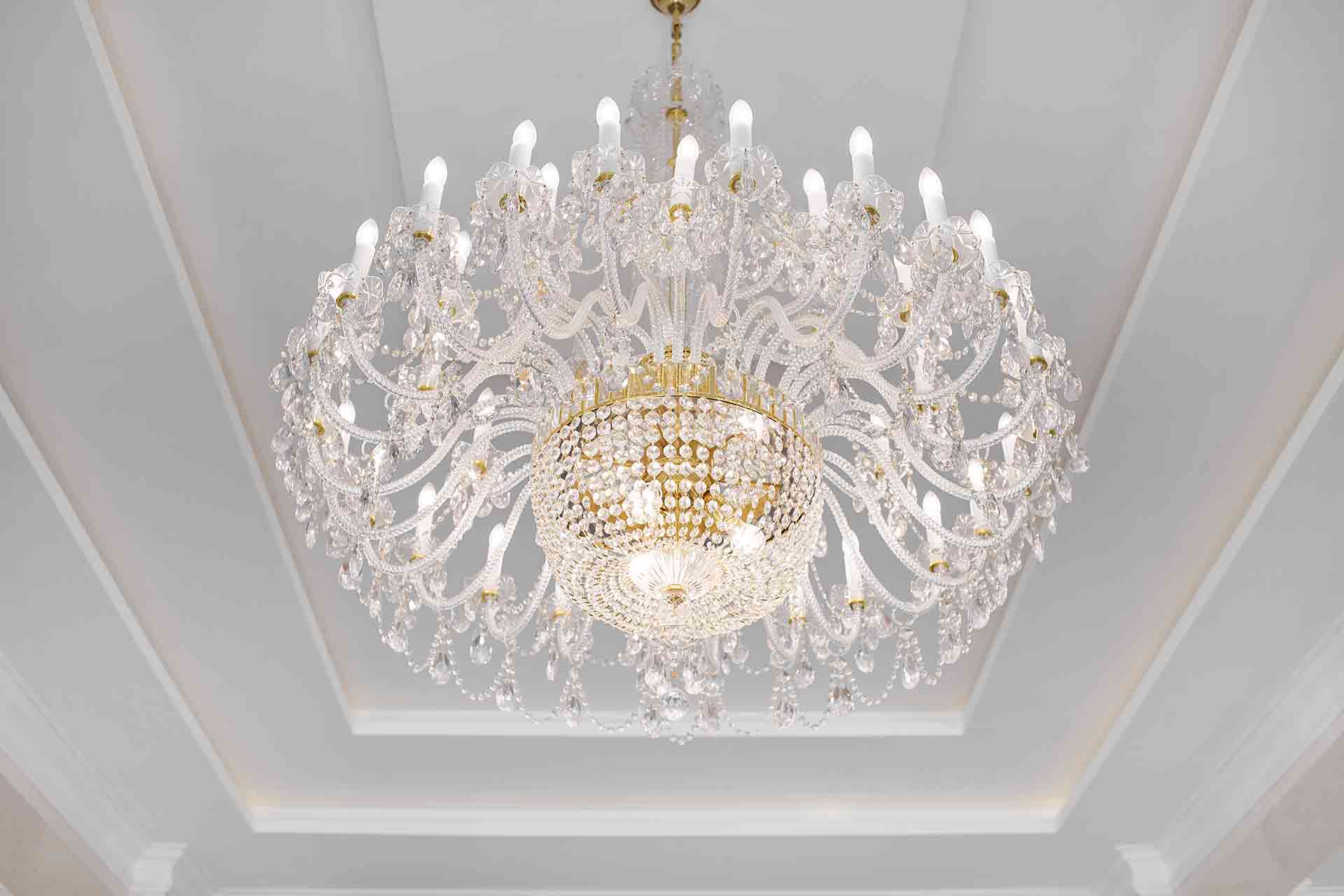 A chandelier can add a touch of class to any room in a home and create a beautiful focal point. But hanging one from a ceiling safely can be a tricky job, with a fair degree of risk involved due to electrical connections and weight considerations.
In this guide, we'll cover a step-by-step approach to hanging a chandelier so you don't end up having a Del Boy moment.
How to hang a chandelier
Before you get started, unpack your chandelier, check it for damage and place it somewhere safe nearby. Then follow these steps: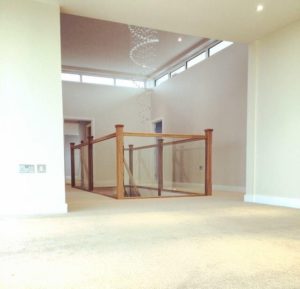 Prepare your tools, including a sturdy ladder, Phillips and flat head screwdrivers and wire cutters.
Turn off the power. This is absolutely crucial and must be done before attempting to hang your chandelier. Turn off both the room light switch and the power at your fuse box.
Remove the existing light fitting, access the wires and test with a voltage meter to ensure no power is running through.
Fit a brace to the wooden joist in the ceiling where the chandelier will hang. This will provide an anchor point for your chandelier and ensure its weight will be supported. A ceiling hook is also an option.
Attach the chain to the brace or hook that came with the chandelier, test hang with the help of an assistant and cut the chain to the right length.
With the chandelier hanging from the chain, attach the power wire to the terminal box in the ceiling and thread down in and out of the chain. Connect to the chandelier terminal.
Secure all terminal covers with screws, turn the power and the room switch on and your chandelier should be shining bright.
Please note: Hanging a chandelier is a potentially dangerous job as you'll be working at a height with heavy equipment and electricity. For best results and peace of mind that your chandelier won't be damaged, we recommend hiring an electrician. Simply enter your postcode below or fill in our request a quote form to get quotes from three tradespeople near you.
See the tradespeople we've checked and recommend for your job
How to hang a heavy chandelier
The key to safely hanging a heavy chandelier is to take your time, be methodical in your work, and use the right tools. You may also need the help of another person to get it in position and possibly a raised platform to support it if it's particularly heavy.
The most important thing with a heavy chandelier is to make sure it's properly supported, and that it will be safe to use. You'll need to find a spot where you can access the wooden joists above the ceiling and you'll also need to make sure that the chain or wires are strong enough to support it.
Once you've confirmed this, the hanging process is the same as with any chandelier. Just be extra careful when lifting and manoeuvring, as you'll be carrying a lot of weight.
How to hang a chandelier in a tent
To install a chandelier in a tent, it's important to get it right the first time as a tent isn't a strong structure and getting it wrong can be dangerous. Follow these steps to safely hang your chandelier:
First of all, you'll need the right type of tent. You'll need a marquee tent with upright steel supports.
Then, create a crossbar between the two side supports or central supports (you can do this using brackets).
Hang your chandelier from the secured crossbar using the steps above and run power to it using mains power or a battery.
How to hang a chandelier in a concrete ceiling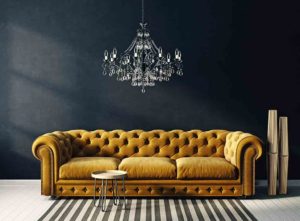 Hanging a chandelier in a concrete ceiling is very similar to hanging one from wooden joists. As always, the first step is turn off the room light and the mains power at the fuse box, then:
Wearing safety goggles and a mask, drill pilot holes into the ceiling where you want the chandelier to hang.
Insert the anchors that came with the light fitting into the pilot holes and hammer in flush with the ceiling using a rubber mallet.
Attach the mounting bracket to the pilot holes using retaining screws.
Test hang the chandelier to the desired length and cut chain appropriately.
Run power wires, connect and test.
We highly recommend you hire an electrician to do this job.
How to install a chandelier on a sloped ceiling
Hanging a chandelier on a sloped ceiling can be tricky, but it's not impossible. You'll need to get creative with the way you anchor and support the light fixture. One option is to use a beam that spans the length of the ceiling. You can attach the chandelier directly to this beam or use a chain or cable to suspend it. Make sure that the weight of the chandelier is evenly distributed across the beam.
If you don't have a beam available, you can create one by installing two perpendicular supports into the joists and then attaching a crossbar between them.
Play it safe with chandeliers
As you now know, when you follow the steps carefully and methodically, it is possible to hang a chandelier safely in your home. That said, there's a lot that can go wrong when you involve electricity, heavy weight and working at the top of a ladder. We always recommend hiring a professional to install your chandelier. Simply enter your postcode in the free search tool below to get quotes for your job.
See the tradespeople we've checked and recommend for your job
FAQs
How do you hang a heavy chandelier?
Hanging a heavy chandelier requires a strong support securely fastened to a wooden joist or concrete ceiling via a mounting plate. You also need a strong chain and an extra pair of hands to help you lift and hold the chandelier. Consider using a raised platform, too, to support the weight while you fit the chandelier.
Do I need an electrician to hang a chandelier?
No, but as there's electricity, a heavy weight and working at height involved, using a qualified electrician is always recommended. If you do want to hang your chandelier yourself, you can follow the steps above to do it safely.
Can I hang a heavy chandelier?
Yes, but not alone. A heavy chandelier can be dangerous if not supported correctly during installation and afterwards. Follow the steps above to hang your heavy chandelier safely.
Can you hang a chandelier without a chain?
Yes, you can use rope, cord or anything that's strong enough to support the weight of your chandelier. Check the maximum weight capacity of the material before buying and make sure it's greater than the weight of your light fitting.
How low do I hang a chandelier?
This depends on the height of your room and whether anything will be underneath. Typically you want your chandelier no lower than 7 feet from the ground to allow the majority of people to walk under it safely. If you're wondering how high to hang a chandelier over a dining table, typically a chandelier will sit 30-36 inches above the surface.