How to hang a hanging chair
Easily learn how to hang a hanging chair with our step-by-step guide. Click for tips on hanging swinging chairs both inside and outside.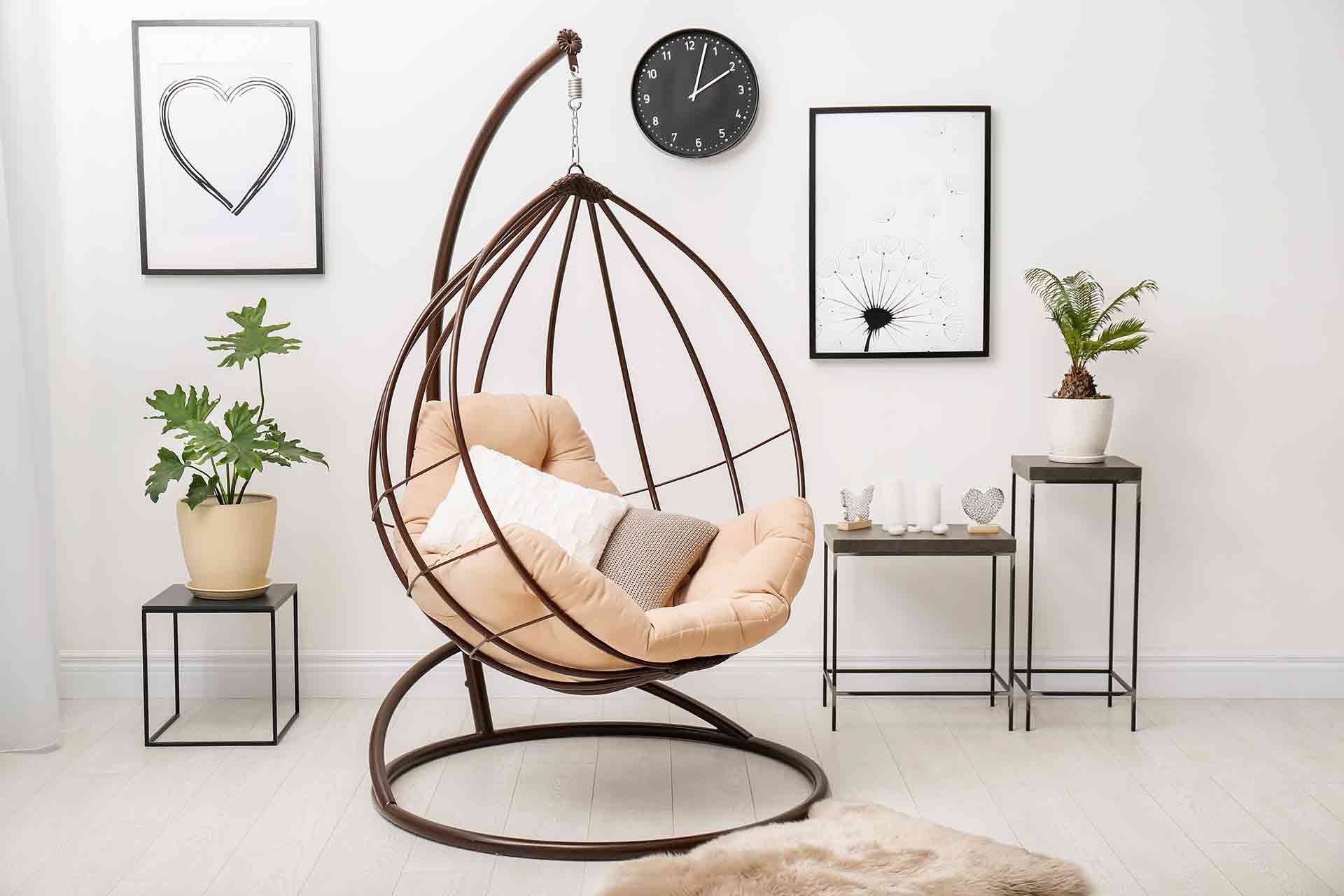 Hanging chairs are becoming more popular than ever thanks to quirky Instagram homes. Not only are they trendy, but they're very comfy too, giving you the perfect place to curl up with a book. But before you rush off to the shops, first you'll need to know how to hang your hanging chair.
There are a few ways to hang one of these beautiful chairs and we'll be covering some of the best methods in this article. We'll also be looking at where to position your new chair and how to hang it inside or outside.
How to hang a hanging chair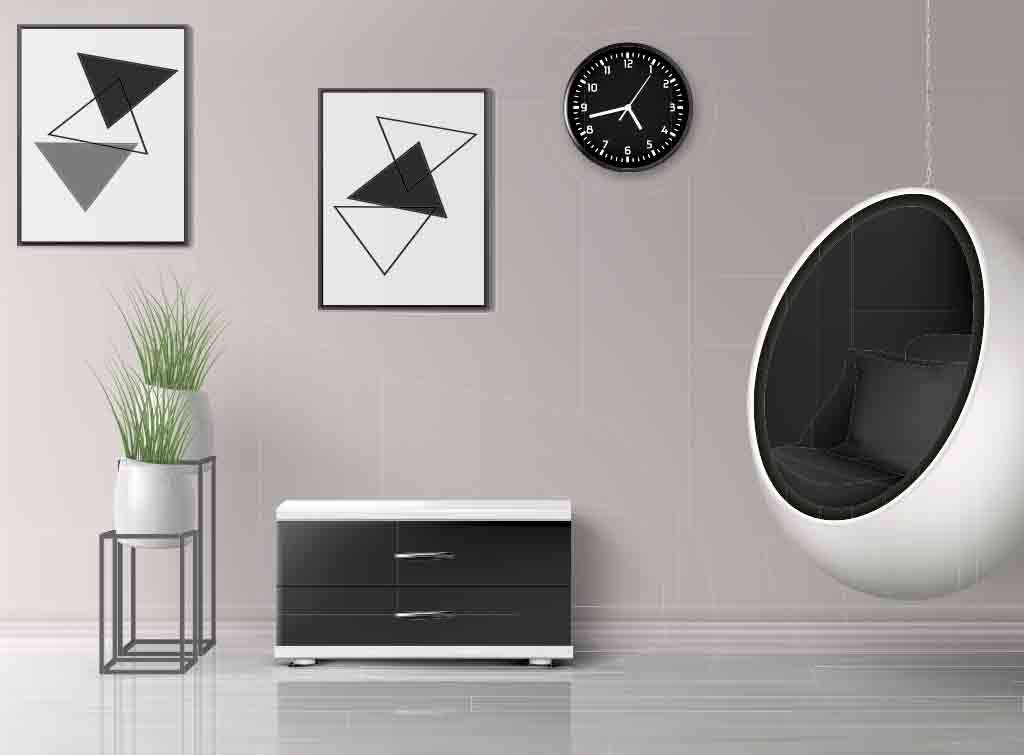 When learning how to hang a hanging chair the most important step to consider is location. You'll want to hang your chair with plenty of space for swinging and we'd recommend leaving at least 3 feet behind the chair. You'll also need to think about where your chair can fit into your home's layout.
Thankfully, there are several options when it comes to hanging your new chair, ranging from your ceiling, a stand, a doorway, using a spread bar, the pivot method or the swing method. Every home is different, so we'll be looking into a few different methods to allow you to pick the right option for you.
Depending on the method you choose you'll need to purchase a suspension kit or a stand. Luckily, many swinging chairs will arrive with the materials you need to hang them so check this before buying any new items.
How to hang a hanging chair indoors
Many people choose to hang their swinging chair indoors rather than outdoors so it can still be used on cold, wet days. Hanging chairs can sometimes be quite costly, so getting as much use as possible out of your chair is essential.
Wondering how to hang a hanging chair indoors? Consider either hanging it from your ceiling, a beam or a stand. You can also choose whether to hang your chair using the pivot method, the swing method or a spreader bar.
Before you even consider hanging your chair, ensure you pick the perfect location. You'll want to choose somewhere quiet that you can really relax and unwind. Also, make sure your hanging chair is positioned so it won't get in your way or stop you from accessing certain areas of your home.
See the tradespeople we've checked and recommend for your job
How to install a hanging chair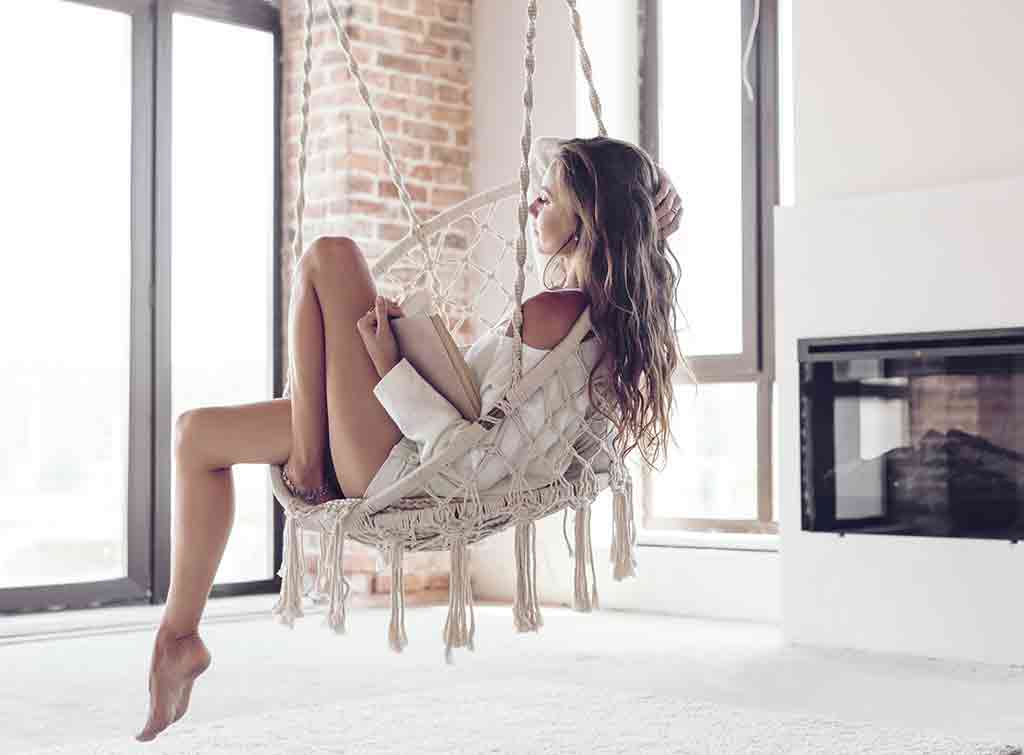 Ok, let's get started. The first and simplest way to install a hanging chair is to use a stand. There are many choices, each available in different colours, materials and shapes to allow you to pick the right stand to suit your home. Remember, some hanging chairs will come with their own stand, although this isn't always the case, so it's definitely worth checking this.
Another brilliant way to install a hanging chair is to use an unused doorway. You can fix a bar and suspend your chair from that for great results. This method works best for using the swing method with two points of connection to the bar, meaning your hanging chair can swing forwards and backwards but not rotate.
How to hang a chair from the ceiling
By far the most common method for hanging your hanging chair is to suspend it from the ceiling in your home. This method is also versatile, meaning it works well with the swing method or the pivot method. Plus, knowing how to hang a chair from the ceiling is a great skill to have and it'll come in handy if you ever need to suspend anything else from your ceiling.
Start by checking you have everything you need, then follow the below steps:
In your chosen location, use a stud finder to find a ceiling joist. This'll give your chair the best stability and ensure it doesn't damage your ceiling. Also, check you have more than enough space for your chair to swing. You'll need over 14 inches on each side plus at least 3 feet at the back.
If you're installing your chair using a suspension plate, now is the time to drill holes for your screws. Please note, if using a hook to hang your chair, you'll just need one hole.
Either use screws to attach your suspension plate(s) or screw the hook(s) into the ceiling
You're now ready to hang your hanging chair. Simply attach the rope onto your hook(s) or suspension plate(s) and check your chair is secure by giving it a tug before using.
Top tip: If you want your chair to pivot, you'll only need one hanging point. Alternatively, if you'd prefer your chair to just swing, two attachments are necessary.
How do you hang a hanging chair outdoors?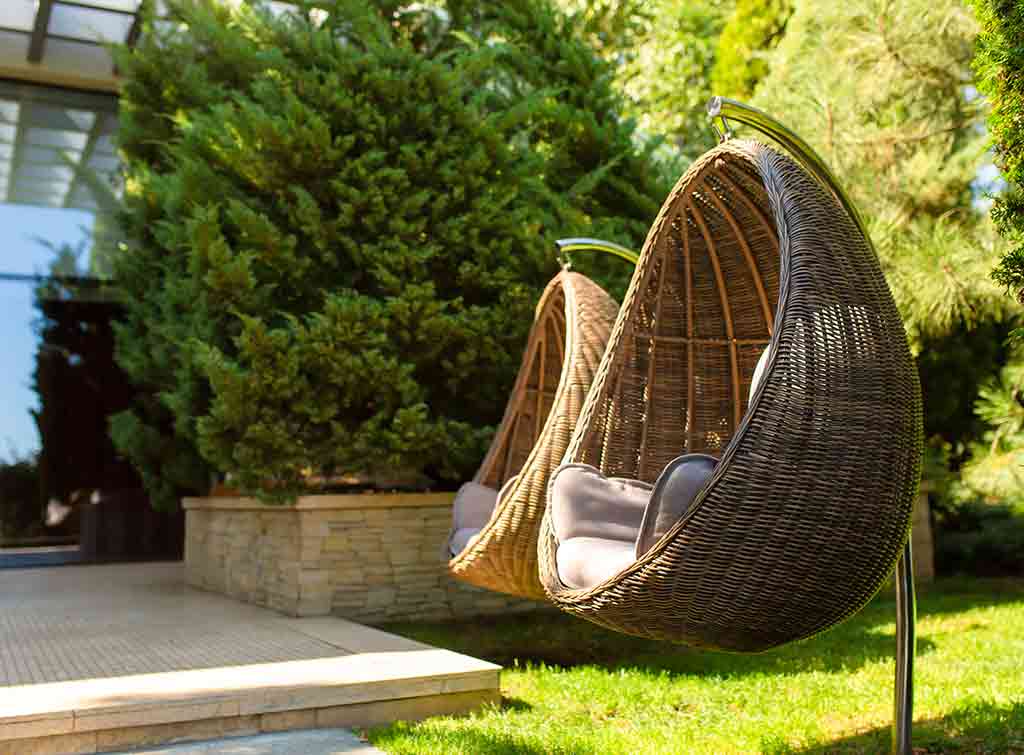 If you want to create a destination vibe in your garden, why not consider installing a hanging chair? These chairs look incredible when suspended outside and can add another spot for relaxing and escaping the stresses of your life. So, how do you hang a hanging chair outdoors?
Thankfully, there are a few ways to suspend your swing chair with no need for a drill, these include:
Hanging from a strong and stable tree branch
Hanging from a solid, fixed arbour frame
Hanging from a stand or frame
As above, where possible try to find a hanging chair that comes with the necessary kit for this installation.
How to hang an egg chair from the ceiling
An egg chair is a type of hanging chair that is shaped like an egg with a space cut out for you to climb inside. They are a very popular option due to their cool look and comfort. Learning how to hang an egg chair from the ceiling isn't too tricky.
First, pick a position that has plenty of space for the chair to swing (bonus points if it's also a quiet space with great views!)
Make sure you install your egg chair in a space free from draughts and not too close to open flames like fires for optimal comfort and safety.
Finally, once you've picked the perfect spot, check out our 'how to hang a chair from the ceiling' section for installation guidance.
Should I hire a professional to install my hanging chair?
While we hope this guide gives you an excellent insight into hanging your new chair, it's impossible to overlook the risks involved with doing this job yourself. Mistakes may mean damage to your ceiling or hanging chair, as well as injuries to anyone using the chair. As such, if you aren't very confident in your DIY skills, hiring a professional will help to put your mind at ease.
What's more, using a tradesperson to install your hanging chair will save you time and energy that could be better spent on more essential tasks. You can instantly search our database for trusted professionals, just input your postcode and let us do the rest. Our members are fully vetted and, with their own profile pages, you can see past customer reviews.
Struggling to choose a hanging chair that suits your preferences and your internal design scheme? Check out the Ufurnish website for a range of varied, fantastic options sure to wow your guests.