How to paint a ceiling
Wondering how to paint a ceiling with a roller or a brush? Our fully packed guide will ensure you do a great job, without splatter or roller marks.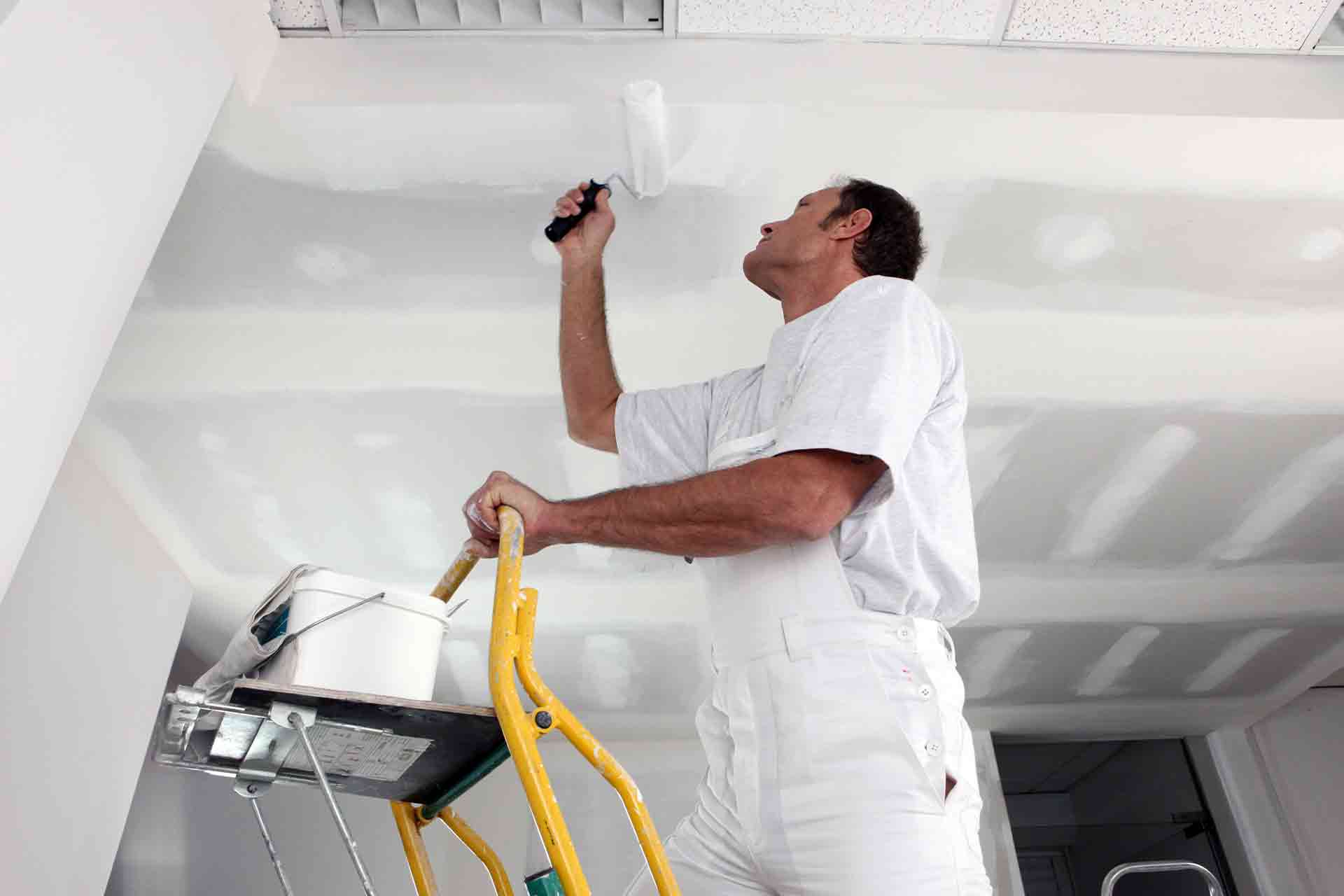 Whether you want to touch up the traditional white colour of a ceiling or go wild with unique colours, it's good to know how to paint a ceiling. Read on to find out how to paint a ceiling, including how to paint a ceiling without roller marks and how to paint a ceiling with a brush.
For the best results, we always recommend hiring a professional painter.
What's needed to paint a ceiling?
No matter the colour you use the process is the same. You will need to make sure that you have the right equipment and follow the below guide for a brilliant finish.
Tools and materials
Before beginning, take a little time to gather your tools and materials. This way they will be at hand when you need to use them, preventing delays during the project.
Firstly, gather the following tools and materials:
Tools required:
Access equipment – A step ladder is normally sufficient for a domestic project. If you are painting a vaulted ceiling, a small collapsible scaffold tower may be required. These can be purchased in larger DIY stores or hired from your local hire shop.
Dust Sheets – To protect your furniture and flooring.
Masking tape – To prevent damaging your windows, walls and light fixtures.
Cleaning cloth and water
Filling knife
Sandpaper or sander
Paintbrushes
Paint rollers
Materials required:
How to paint a ceiling – Step by step instructions
It is essential that you carefully follow the below steps. This should prevent any mistakes and errors and help you achieve a great finish. Before starting your project, make sure you put on clothing that you don't mind getting paint on and then follow these steps:
Firstly, push any furniture that can't be moved to another room, or to the centre of the room being decorated and cover it in a dust sheet.
Use masking paper and tape to cover any other items that you don't want paint splashes on. This includes but is not limited to windows, windowsills, doors, wall coverings and floor coverings.
Establish your method of accessing your ceiling. This could be using a ladder or scaffold tower.
Use a damp cloth to clean your ceiling. Pay particular attention to any cobwebs that have found their way into the corners of the room.
When the ceiling has dried out after cleaning, look for any cracks and fill them with filler using a filling knife.
Once the filler is dry, use a light sandpaper to remove the excess filler and create a smooth surface for painting.
As with any type of decorating, paint around the tricky parts first. This includes the ceiling/wall junction and around any fixtures and fittings that can't be removed such as lighting.
Next, move onto the larger areas and use a suitable roller, typically on an extendable pole.
Cover the ceiling in paint, rolling smoothly and evenly.
Depending on the type of paint you are using, you may need to go over the space with 2 or even 3 coats of paint. Work carefully, but quickly to ensure that the edges painted previously don't dry, resulting in an obvious difference. Only apply 2nd and 3rd coats when the prior coat is completely dry.
When finished, remove any masking tape and dust sheets then return the room to its prior condition.
Wash and dry your paintbrushes and rollers for future use and make sure that paint containers are closed properly before going into storage.
See the tradespeople we've checked and recommend for your job
How to paint a ceiling with a roller
Paint rollers are very popular, especially when painting large areas of space like walls or ceilings. They are much quicker to use than brushes, covering the area in a fraction of the time. Plus, when used properly can create a smooth, even finish.
Wondering how to paint a ceiling with a roller? Follow the step-by-step instructions in our 'how to paint a ceiling' section but consider the following:
It is essential that you use a clean paint tray without any remnants of previous projects. Old paint can often make fresh paint lumpy, ruining your finish.
Don't use too much paint on the roller.
Use a good quality roller to ensure your paint job looks great.
Avoid rolling directly over your own head (unless you want to be splashed in the face with paint!)
Roll paint in overlapping rows to flatten out previous rows.
Use a sturdy, extendable roller to ensure that you're rolling off a stable base. It is much safer to stand on the floor than to balance on a ladder. So, using a longer roller can prevent accidents.
How to paint a ceiling with a brush
Brushes are great tools that can get brilliant results if you know what you're doing. Whilst following our 'how to paint a ceiling' steps bear in mind the following:
Using a brush can be more time consuming than a roller for larger areas. As such, choosing a good-sized paintbrush with soft bristles is recommended when painting a ceiling. This will ensure a more uniform finish.
Always paint around the edges of your ceiling first as you would do when rolling. Next, work your way inwards, overlapping previous paint areas to achieve a consistent, even result.
How to paint a ceiling without roller marks
When using a roller, you may be unsure how to paint a ceiling without roller marks. These lines can be left behind when rolling in straight lines and can ruin the appearance of your ceiling when dry. Make the following allowances when using a paint roller:
Ensure that paint covers the whole surface of the roller before beginning.
Roll quickly to flatten out any thicker areas of paint.
Roller in overlapping rows to even out previous rolls.
How to paint a ceiling without splatter
One of the worst issues that crops up when painting a ceiling is splattering and dripping of paint. These can not only land on your face, hands and clothing but can also hit furniture, flooring, walls and decorations in the room. That is why learning how to paint a ceiling without splatter is essential.
Consider the following when using our 'how to paint a ceiling' steps:
Avoid adding too much paint to the brush or roller.
Ensure your brushes and rollers are fully dry prior to applying paint for the first time.
The above two points should help you avoid splattering but it is worth making sure all surfaces, windows, light fittings etc. are adequately covered with dust sheets and masking tape.
See the tradespeople we've checked and recommend for your job

Feeling stuck or confused?
Please note, while the following guide should help you achieve good results, painting is a skill that needs to be practised so don't feel disheartened if your ceiling isn't perfect. In addition, if at any time you feel out of your depth, do not hesitate to contact a professional decorator who will be happy to assist you.
If you are considering hiring someone to help with your project, please see our painter and decorator price guide. This guide will give you an overview of the cost of hiring a professional, plus lots of useful information surrounding painting and decorating.
FAQs
Can I do this project myself?
You can, but for best results and a flawless finish, we recommend hiring a professional.
Do I need any specialist equipment?
You will need the tools listed in the guide above.
How much does it cost to hire a professional painter and decorator to paint a ceiling?
It can cost between £250 – £400 depending on the size of your ceiling and a number of other factors. For more information, please see our painter and decorator price guide.
Which is better, brushes or rollers?
In general, brushes are better for painting the edges of your ceiling and around fittings. Rollers, however, are better for quickly filling in large areas of space.