Don't get stumped with tree removal
After a tree has been cut and felled, there'll normally be a small portion of the tree remaining, known as the stump. Unfortunately, tree stumps can be difficult to remove and if left unaddressed can begin to regrow. In this blog, we detail the best ways to deal with tree stumps and how to effectively remove them from your garden.
Can a tree regrow from a stump?
Yes, they can. Normally, stumps won't grow again as long as they have been cut quite close to the ground. However, there's still the potential for the trunk to start growing again. If this happens, it's important to take action quickly.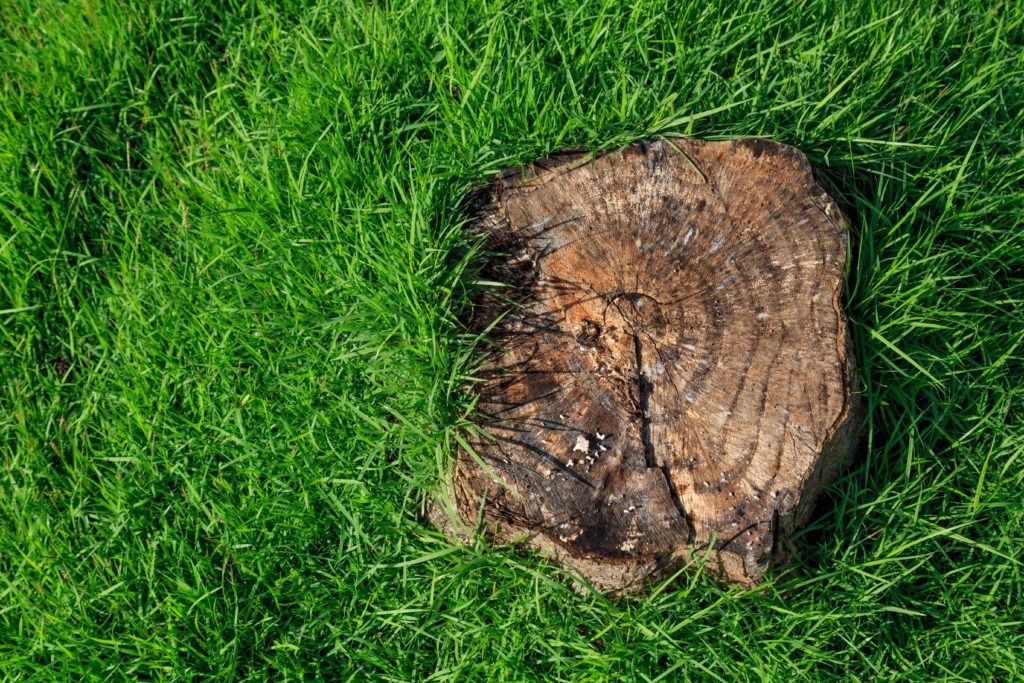 Do tree roots keep growing after you cut down the tree?
Killing a tree won't necessarily kill the roots, but unless they're aggressive growers it will unlikely cause an issue. Once a tree has been removed, most of the roots will begin to decompose naturally. However, if the roots are particularly large then the ground above them may sink. In this circumstance, simply fill the hole with grass and soil to level the surface back out.
What can you use to kill tree roots?
There are a number of ways to kill off tree roots, some natural and some chemical-based. To start with, it's important to cut the tree stump down so it's level with the ground. Next, remove the top layer of soil to expose the entire base of the tree. At this point, you can drill holes into the top of the tree stump and add your chosen mixture to it. You can use a chemical concentrate, like Roundup Super Concentrate Tree Stump and Root Killer or a natural alternative.
Find a local tree surgeon
How long does it take to kill a tree stump with Roundup?
Using a chemical concentrate, like Roundup Super Concentrate Tree Stump and Root Killer will expedite the process of killing a tree stump. As with any other root killer, you must first cut the tree down, remove the soil and add the chemical concentrate. Normally, the concentrate will then need around two to four weeks to take full effect and kill the stump.
Can vinegar kill tree roots?
As mentioned, it's possible to make your own tree root and stump killer using basic household products. Vinegar is one such option, providing a safe, organic alternative to chemical herbicides, which can be just as effective as chemical-based solutions. For the best effect, fill a bottle with vinegar and cover the tree stump with the liquid. The vinegar will begin to kill off any leafy areas that surround the stump. The roots rely on these leafy areas for nourishment, so they will eventually die off as they're killed.
Checkatrade Tree expert Andy Baverstock from Acorn Tree Specialists Ltd recommends:
I believe Vinegar isn't a suitable option for poisoning stumps. I would always recommend using herbicide or suitable products containing Glyphosate. Precaution must be taken at all times and follow instructions. You can also buy Eco Plugs as this is much safer for the environment and animals, but this can be an expensive option.
How do you naturally kill a tree stump?
There are a number of natural ways to kill a tree stump. For one, you can drill holes into the top of the tree stump and then pour Epsom salts, or rock salt into the cracks. There's also an option to do a controlled burn on the stump, which if handled correctly is one of the most cost-effective ways to kill off a stump.
Does Epsom salt kill tree stumps?
Epsom salts are another natural remedy, which have been used to kill off tree stumps for generations. Whenever working with Epsom salts, it's always important to get the quantity right. Small doses of the Epsom salt can actually encourage growth within stumps as it contains magnesium and sulphur. As previously mentioned, it's important to drill holes into the tree so you can pour the Epsom salt deep into the stump.
Is it better to grind a stump or remove it?
Grinding is much more efficient than stump removal, however, it does leave the tree's roots behind. If the stump is large, the chip pile produced can also be quite large, but the chips can be reused for other landscaping activities or mulch creation.
Find a local tree surgeon
Tell us what you think
What others think of this cost guide:
Need More Information?
Related posts