How to paint a garage door
Has your garage door seen better days? Instantly refresh your home's exterior by painting your garage door. If you've never painted a garage door, or you need a refresher, here's our step by step.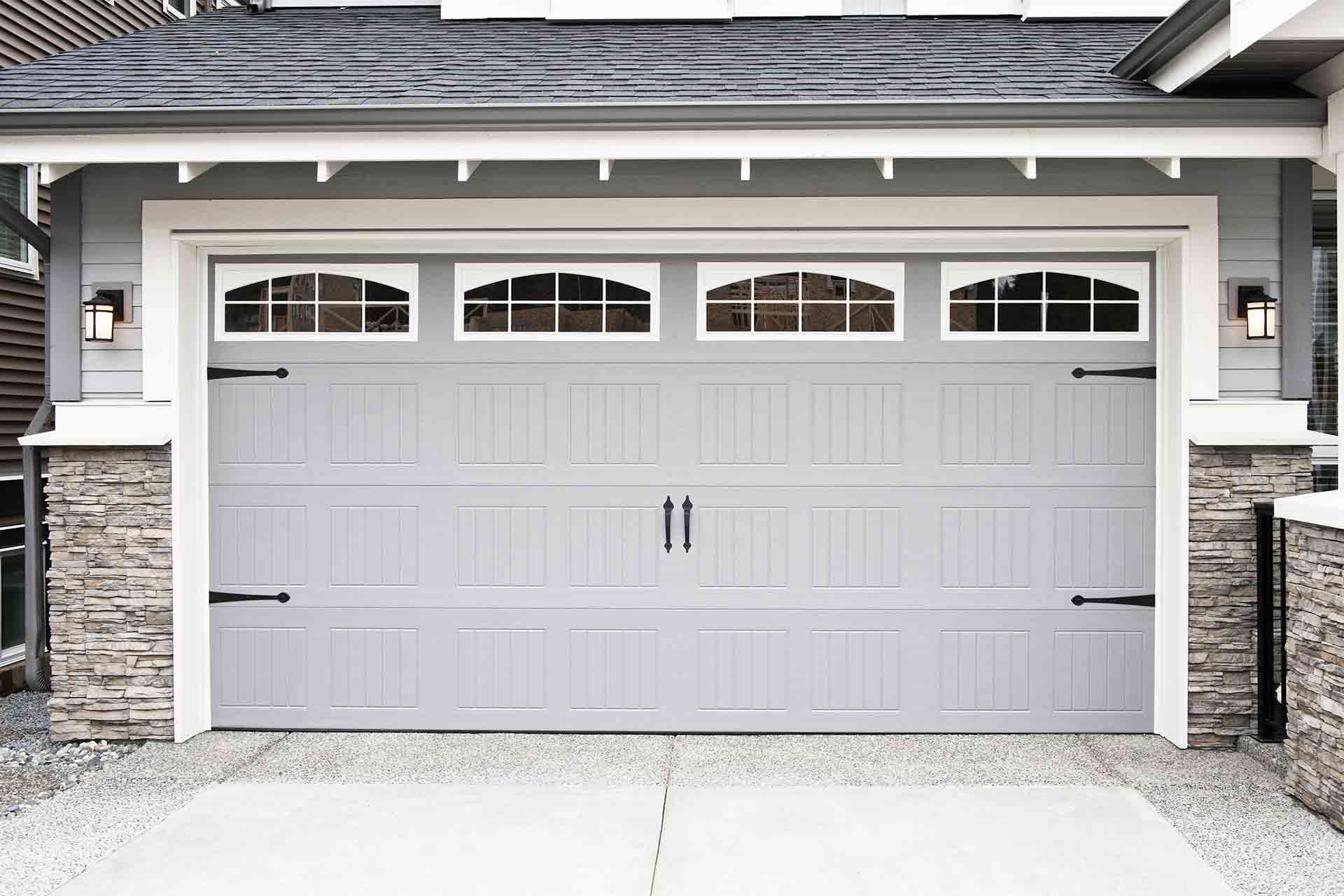 First impressions count and the outside appearance of your home can give you a chance to show off some personality. If your house hasn't aged well or is showing signs of neglect, this can give guests and visitors a poor first impression. Garage doors often make up a large part of the exterior of a property, and so knowing how to paint a garage door can really help you transform your home.
This guide is designed to teach you how to paint a garage door exterior, with easy-to-follow guides and top tips. We'll be looking into painting metal, steel and wood garage doors, plus different painting methods.
Tools and materials
We've said it before and we'll say it again, preparation is the most important step in any project. So, if you want to learn how to paint a garage door properly, start by collecting all the following tools and materials:

Paintbrush
Paint roller
Dust sheets
Painter's tape
A stiff brush or wire wool
Primer
Filler and a putty knife
Sandpaper
Sugar soap
Sponge and cloth
When you have everything you need to hand, it's time to prepare your garage door for painting. Start by using your sponge or cloth as well as soapy water to thoroughly clean the surface of the door. Make sure you get rid of cobwebs and dirt before continuing. You can also clean the ground at the base of your garage door to prevent any dirt from getting stuck to your paint.
See the tradespeople we've checked and recommend for your job
How to paint a garage door exterior
When starting this job, make sure the weather is mild with no rain forecasted. It's worth also noting that this project will usually take 1 – 2 days, although this will depend on your DIY experience and drying times. Follow the below steps for an excellent finish:
Start by removing any flakes of paint or rust using a stiff brush or wire wool.
You'll need to create a completely smooth surface for painting so fill any cracks or holes with filler and smooth using a putty knife.
Once the filler has dried, use sandpaper to completely even out the entire garage door.
Remember to once again use a sponge or cloth to remove any dust left from sanding. You can even use sugar soap to eliminate any difficult patches.
Use painter's tape to protect your garage door handles as well as the surrounding walls.
Then, spread your dust sheets to protect the floor from any rogue paint drips.
Next, apply a coat of primer and allow it to completely dry before painting.
You then need to decide if you'll use a brush or roller.
How to paint a garage door with a brush
If you prefer paintbrushes to paint rollers, you can learn how to paint a garage door with a brush only. This will usually take longer than using a roller as brushes are smaller and will need to be dipped in paint frequently.
If using a brush:
Start by painting the frame. You may need to use a smaller brush to better get into any corners.
Move the brush up and down in smooth even strokes to prevent brush marks.
Carefully go around the door handles. Excess amounts of paint may go through any small gaps you missed when using the painter's tape.
Once the paint has dried, add a second coat.
How to paint a garage door with a roller
An alternative option to using a brush is to use a roller. Wondering how to paint a garage door with a roller? Thankfully, paint rollers are larger and hold more paint than brushes, making quicker work of large surfaces.
Please note, you'll still need to use a brush for small areas unless you buy tiny rollers to get into indents.
If using a roller:
Also start with your garage door frame. Make sure to use a brush or miniature roller for any crevices.
Pour the paint into a roller tray and cover the roller with paint, squeezing out any excess.
Go around the outside of your garage door, again using a smaller roller to keep things neat.
It may also be worth painting around the door handles with a brush.
A good tip is to work from top to bottom, this will stop any drips ruining your earlier painted areas.
Move the roller in zig zag strokes, then go over the area again using long sweeping motions up and down.
Allow the paint to completely dry then apply another coat.
How to paint a metal garage door
Garage doors can be made using a number of different materials including wood and metal. Metal tends to be more durable but can fall prey to rust over time. One particularly common metal used to make garage doors is steel, so if you are unsure how to paint a steel garage door, use the below tips:
Follow steps 1 – 7 in our 'how to paint a garage door exterior' section but make sure to use a metal primer.
Ensure the paint you choose is suitable for use on metal doors.
Thoroughly mix the paint before starting to ensure the colour is completely even.
Consider using a roller crafted with natural fibres for excellent results.
You'll need to apply several coats of paint and be very careful not to leave any of the metal exposed otherwise this could lead to rust.
How to paint a wood garage door
Wooden garage doors are also popular. With a more natural finish, these garage doors are a great choice for traditionally styled homes. Unlike metal garage doors, wood doors have a beautiful texture that will shine through even when painted, so don't worry if your garage doors aren't perfectly even.
Follow these tips to learn how to paint a wood garage door:
Follow steps 1 – 7 in our 'how to paint a garage door exterior' section, using a primer suitable for wood garage doors. It's also worth using a primer that's similar to the topcoat you plan to use. For example, use both an oil-based primer and topcoat.
Take a little time to choose the best paint for your wood doors. Oil-based paint is very popular although if any water penetrates the paint, it can become trapped causing rot. A great alternative is a microporous paint that'll give your timber room to breathe.
Consider removing any old layers of paint for a more uniform finish.
If any patches of your wooden garage door are rotten, you'll need to remove these before painting. For severe rot damage, you may need to replace the doors entirely. Please see our garage door replacement cost guide for prices and considerations if you would rather replace your garage doors.
Finally, depending on your preference, follow the steps in our 'how to paint a garage door with a brush or roller' sections.
How much to paint a garage door in the UK?
Painting a garage door is a time-consuming job and one that requires skills and experience. For the best results, we recommend hiring a professional. On average, prices can start from £120 plus the cost of paint for a single garage door in good condition. For more painting costs, check out our painter and decorator prices guide.
You can find professional painters that your neighbours recommend by using our search.