Tis' the season to be jolly, merry and wise. Tis' also the season to go to tinsel town with Christmas decoration ideas, deck your halls with bells and holly, put a partridge in a pear tree, and let it snow in your grotto.
However, if your decor is less 'ho, ho, ho' and more 'no, no, no,' then we're here to inject some festive spirit in your cracker and inspire some magical 2023 Christmas decoration ideas.
Christmas decoration ideas
With the rollercoaster of 2023 coming to an end, we deserve a celebration that brings us together in one way or another. And with minimalist trends like Japandi, Scandi and eco-friendly set to remain next year, it's no wonder it's all about the homemade Christmas decoration ideas this festive season.
Not only are green alternatives better for the environment, but they're a fun and inexpensive way to fill your home with unique and creative cheer. Use our DIY ideas to sprinkle some fairy dust on your roof and take your home from 'regular' to 'spectacular.'
Before we get started, here's a helpful list of popular decorations to choose from.
Popular Christmas decorations
Wreaths
Baubles
Garlands
Advent calendars
Stockings
Twinkle lights
Mistletoe
Bunting
Fake snow
Lanterns
Ribbons
Candy-canes
Eco-friendly Christmas decoration ideas
Homemade, DIY, eco-friendly, zero waste, budget-chic – these are all terms used to describe a sustainable Christmas trend that wants to last forever. With many households hit with the negative financial impacts of Covid-19, it's the perfect time to get crafty (even if you're not normally arty).
To get started, here are some fun ideas:
Repurposed glass bottles. Just decorate with candles, ribbons, glue and biodegradable glitter.
Potted plants and trees. Rehome evergreens and pines and garnish with festive ribbons.
Mini-wreath decorations. All you need is wire, wire cutters, ribbons, pine cones, twine, and your chosen foliage.
Sew your own stockings. Repurpose old socks or make your own from felt, cotton wool and twine.
Bake gingerbread. Use stencils to make gingerbread houses, cookie bunting or ginger star garlands.
Homemade garlands. Consider foraging for holly, ivy, pine cones, wheat or (clean) wooden sticks. Then either paint or spray them with fake snow before tying them together with ribbons or twine. Then simply hang or wrap the garlands around your home.
Accessorise candles or other home trinkets. Think about tying tartan bows around your jars, pots, mugs and bannisters for a cosy Christmas infusion.
Make a centrepiece. Plate up ribbon-tied candles, snapped candy-canes/dried fruit, frosted pine cones and string lights for an effortless but striking centrepiece.
Chalk and slate boards. Turn a corner of your home into a mulled wine or hot chocolate station and use a slate board to clearly identify it.
Add mini decorations to existing house plants. Spruce up your home with some festive foliage.
Like what you see? There's plenty more where this came from. Discover more ideas, inspiration, tips and how-tos via Checkatrade's blog.
Christmas decoration ideas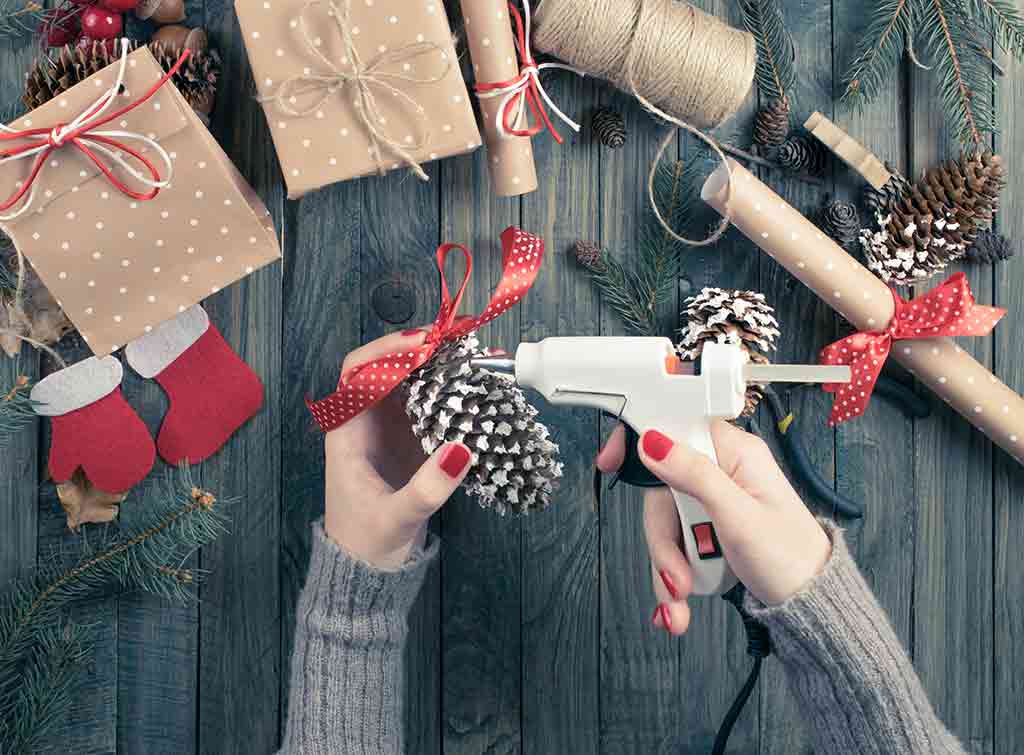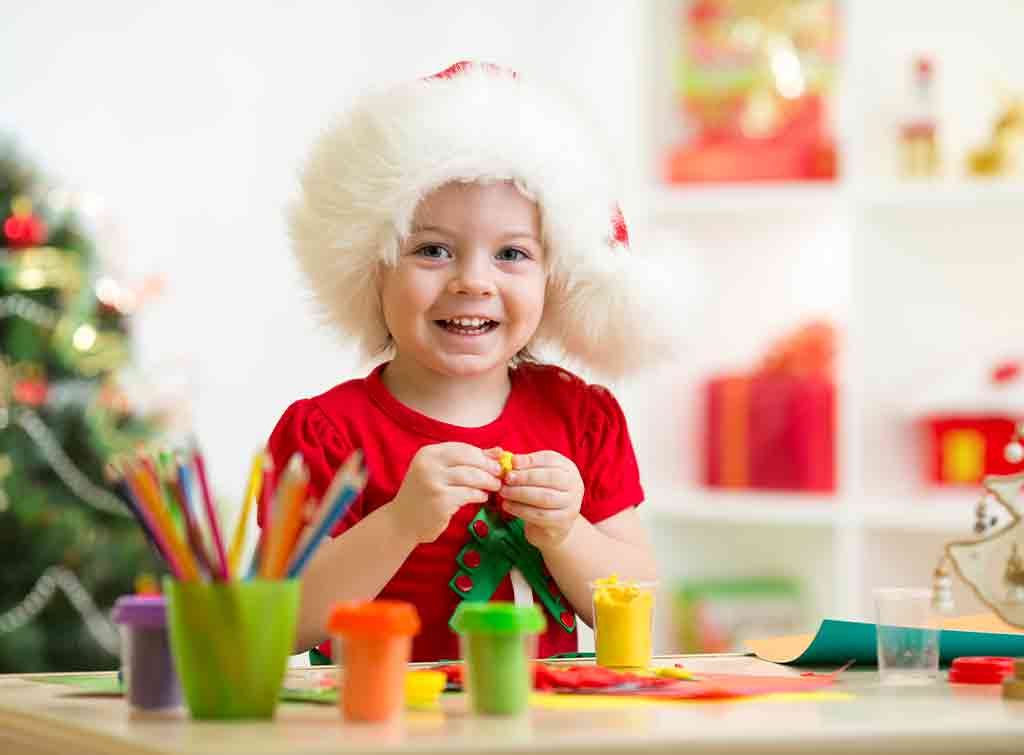 Christmas decoration ideas
For a cosy winter wonderland, why not incorporate some neutral tones with classic Christmas aesthetics?
This clean frosted living room – with its snow-capped tree, wreath and garland – beautifully contrasts the warmth of wood and boldness of red. By accessorising with a cream throw and shaggy rug, you bring Lapland into your living room for a delightfully Christmassy display.
Christmas decoration ideas DIY
It might surprise you to know that you already have all the crafts and tools needed to decorate your home for Christmas (probably). So, if you want to make some DIY decorations, items that'll come in handy include scissors, wire, wire cutters, paper, twine, cotton wall, scrap materials, ribbons, empty glass bottles, glitter, citrus fruit (to dry) and some creative flair!
Some other ideas include: coffee filter garlands, Christmas candle jars, festive upcycled pillows, orange peel candles, lolly stick snowflakes and the classic Christmas twig.
Homemade Christmas decoration ideas
It's time to get crafty. If you're serious (which we know you are), then you're going to need a glue gun, various stencils, a beautiful colour scheme, and an eye for detail.
We love pine cones. Like mulled wine and Christmas markets, they embody the festive spirit. You can find them on most Autumnal and winter walks (just look under conifer trees).
They also keep well throughout winter, whether you clean and wax them to use in your homemade garlands and wreaths, or you spray them with frosting and tie ribbons at their stems for a ceiling mobile.
Whatever you do, consider introducing these natural (and free) tree organs into your home this year.
Christmas decoration ideas to make
If you'd like to make some traditional Christmas decorations, then consider repurposing old items lying around your house.
For example, glass jars and tea lights make lovely hanging lanterns. You can even braid the twine that holds the jars yourself, leaving the only expense in the form of ceiling hooks to hang them from. There are plenty of other ideas when it comes to glass jars too. Check these out for some inspiration.
Other ideas include: coconut shell wax candles, 3D paper snowflakes, baubles in lanterns, citrus and eucalyptus garlands, and twine ball ornaments.
Christmas decoration ideas for office
Depending on your office, keeping things lowkey is either on-trend or discarded in favour of tacky overkill.
We're here for both.
Sprucing up your desk with a mini-Christmas tree or a stack of perfectly wrapped homemade presents gives you an edge. However, if you want to wrap tinsel around your chair and blue-tac antlers to your monitor, then we say let those bells jingle. It's Christmas and the spirit takes us all in different ways.
Christmas decoration ideas for kids
Children transform Christmas. They give us a reason to put out mince pies and sherry, add fake footprints in the snow, and embrace our inner Santa Claus – the replacement you've needed since you found out St Nicholas didn't come down the chimney every Christmas Eve after all. (He walks through the door like everyone else, obviously!)
Another great thing about Christmas is the variety of activities on offer. Instead of scratching your head trying to figure out how to entertain your offspring, you can put them to work by getting them to help you make a myriad of DIY decorations.
Tissue paper wreaths, toilet roll reindeers, felt elves and more bunting than you have places to put it are just a few ideas. However, we invite you to let your imagination run free and wild (like your children), because this is the only time of year you can reclaim your creative youth and build that long-lost snowman you used to fly around with once upon a December.
Outdoor Christmas decoration ideas
We don't recommend you opt for decorations the space station can spot as it passes (purely because of the electricity bill), but it's always good to see your options… which are many. (And many more than that).
This year, less is more. So, why not consider investing in some LED or solar-powered lights? That way, you're saving the planet and making it sparkle with Christmas joy at the same time. What's not to get on board with?
Other eco-friendly outdoor Christmas decoration ideas include bottled snow cones, green moss wreaths, salt dough decorations and DIY pallet Christmas trees. We recommend you consider all of them for a magical (yet sustainable) celebration.
See the tradespeople we've checked and recommend for your job
Tell us what you think
What others think of this article:
Need More Information?
Related posts