When we make the decision to redecorate, 'dark bedroom ideas' don't usually feature on our mood board. Unless we're particular fans of Halloween or The Addams Family, dark colour palettes tend to evoke drab decor, dreary caves or shadowy coves – the stuff nightmares are made from.
However, the world is changing, and our style along with it. Consequently, these stormy aesthetics now aim to elicit sanctuary, peace, warmth and decadence. Think more along the lines of autumnal cocoons, rustic dens, inky refuges or star washed dens. Then you'll start to see why this trend is so popular.
In this ideas guide, we're going to inspire you with our moody decorating trends. Let us help you to strike the right balance between dusky and dreamy.
How to style dark interiors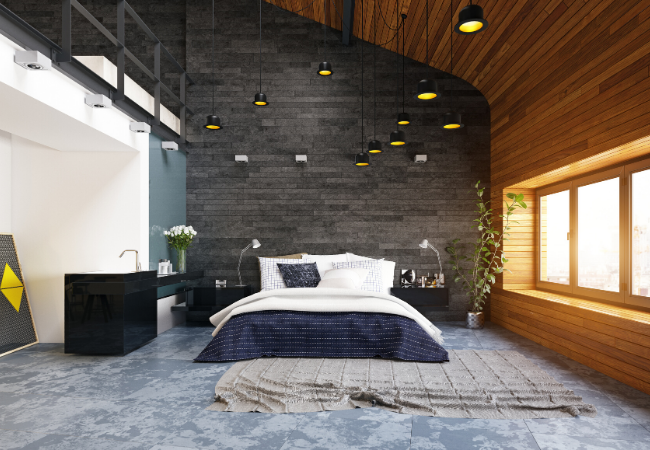 Incorporating dark tones into your bedroom doesn't mean you have to dip the entire room in an inkpot. The hashtag #styleitdark shows us how there are various tricks when it comes to using darker shades.
So, for an ethereal and comforting ambience, let's take a look at some of the top tips for dark bedroom ideas.
Add colours splashes
For boudoirs brave enough to envelop the darkness, help them represent the night sky by adding colour splashes that lift the darkness and speckle it with iridescent light. Chromes such as silver, bronze, gold or copper add class and elegance to dark painted walls and features.
Include accents and features
Accent walls, hanging lights, floating shelves and even area rugs are all potential accents. Choose one to feature and tie it in with the rest of your moody and brooding bedroom. View dark bedrooms like inverted canvases – your artistic skill meant to lift and define the space with accents and features.
Balance is key
Keeping your bedroom in the realms of comfort and opulence is all about balance. Where you use dark shades, be sure to contrast them with warm or burnt colours like ochre, rust, russet or chrome.
Use the light
Contrary to popular belief, lots of light doesn't mean you can get away with black interiors. Harnessing the light in the room is about knowing where to place darker shades and where to accent or accessories lighter hues. You don't want the light to highlight the darkest part of your room, as that defeats the point, so choose your features wisely. Perhaps a smoky grey or midnight blue would work better in brighter rooms?
Like what you see? There's plenty more where this came from. Discover more ideas, inspiration, tips and how-tos via Checkatrade's blog.
Dark bedroom ideas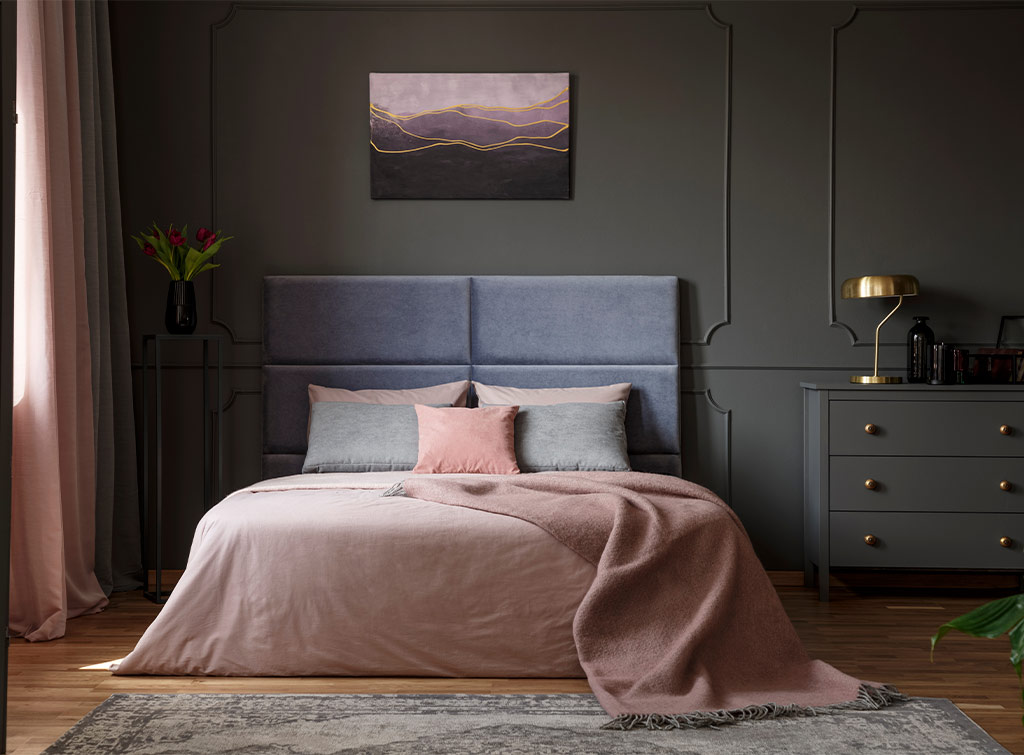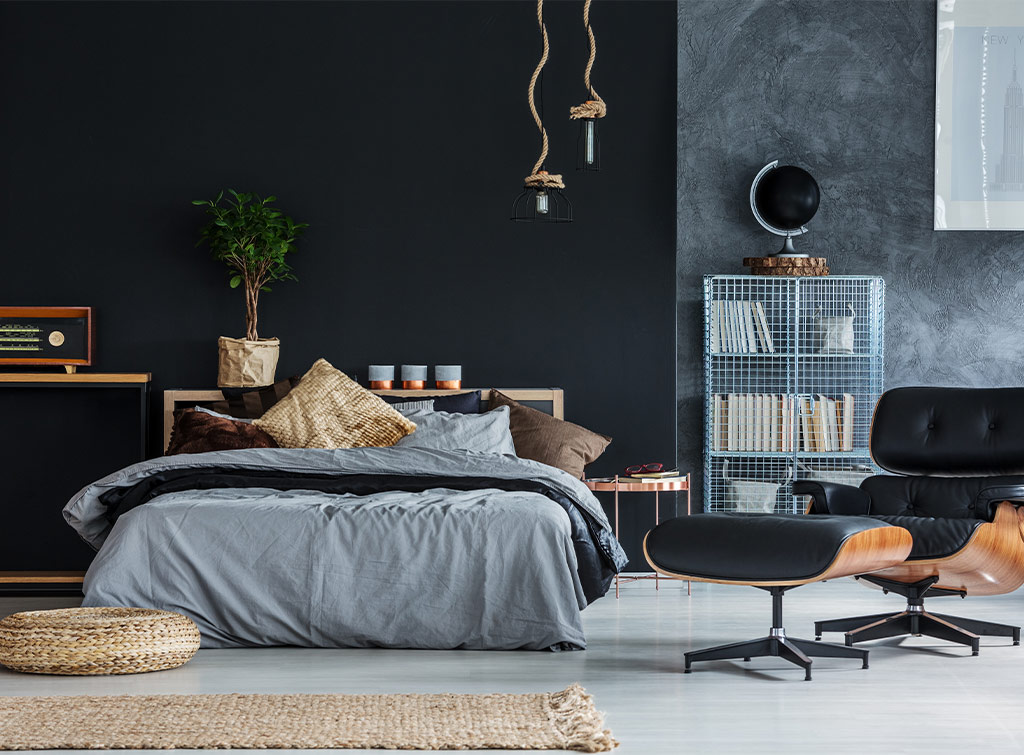 Dark bedroom ideas
One for the stargazers amongst us, this galactic decor strikes the right balance between passion and class. We love the gold accents and blue and grey tones, which complement each other like the moon and sun.
Black bedroom ideas
This bedroom might not be for everyone; however, its black decor shows us how clashing textures work together in creating interest. The silk pillows and velvet duvet are decadent and luxurious, whilst the wooden side table and chrome floor lamp add a splash of warmth and light into this moody boudoir.
The textured artwork behind the bed is an example of how light and shadows play with our perception of depth. However, we'd add splashes of matching chrome paint to further lift the space and turn it into a feature wall.
Black and white bedroom ideas
This monochrome bedroom is straight out of a black and white film set. We love how everything in this room complements each other so well. From the bed linen to the hanging light, to the accent chair and the clashing but complementary bedside tables. Because white, black and grey are the only hues included, pattern clashes are acceptable, as you can see when it comes to the textured pillows, striped rug and floating artwork.
Dark grey bedroom ideas
Dusty pink is a huge 2020 trend, which works particularly well in classic bedrooms. That's why the curtains and bedspread look so striking against the dark grey panelled walls and furniture.
The accessories that lift the bold colour choices include the lighter grey Persian rug, the gold bedside lamp, and the room-matching wall art. Subtle yet effective, the warmth is drawn through the wooden floors and sheer headboard.
Dark wood bedroom ideas
This modern rustic bedroom shows us how dark woods are both timeless and comforting. The autumnal colours are reminiscent of woodland walks, where foxes and badgers are busy decorating their dens with the same golden tones.
Perhaps that's why burrowing away in this snug den at the end of a blustery day isn't hard to imagine.
Black grey bedroom ideas
Scandinavian chic meets retro practicality in this interesting dark bedroom idea. We imagine ourselves walking through a moonlit forest or twilight woodland when appreciating this decor. We love the midnight feature wall next to the smoky textures of the other walls, whilst the twisted rope hanging lights, matching rug, table and cushion are lovely accents that contrast the retro lounge chair and footrest.
See the tradespeople we've checked and recommend for your job
Tell us what you think
What others think of this article:
Need More Information?
Related posts