When we introduce a pup into our lives, our backyards become their backyards. That's why choosing dog-friendly garden ideas seems intuitive, especially when it comes to our more boisterous puppers. We want to incorporate the right designs into our outdoor space to avoid mishaps such as:
The destruction of your plant babies using your dog's deadly weapons of paws, teeth and slobber
Digging in the mud or ripping up the grass during excitable play time excursions
Turning your fresh green grass to a less desirable urine-soaked yellow
The great escape: An adventure of discovery beyond the garden fence
In short, reenacting Homeward Bound is something we want to avoid. That's why setting some boundaries is key. Through proper obedience training and the incorporation of our tips and tricks, you can create a space that makes your beloved best friend roll over, sit up and give you their paw.
Top tips for a dog-friendly garden
Before we inspire you with some dog-friendly garden ideas, here are our top tips for keeping your pet happy, safe and entertained while frolicking in the great outdoors.
Reinforce your garden's boundaries with hedges or raised beds
Plant non-toxic, hardy and tough plants like basil, lavender, rudbeckia, hirta or hardy geraniums
Designate a play area and make it as interactive as possible
Keep on top of slugs and snails, which are toxic and can infect your pup with lungworm
Avoid chocolate-based garden products like cocoa bean based mulch or soils, which are toxic to dogs
Secure your sheds and compost bins to avoid accidents or accidental ingestion of harmful toxins
Allocate wee areas to avoid yellowing grass
Avoid harmful pesticides or chemicals when dealing with pests so your dog doesn't accidentally ingest them
Like what you see? There's plenty more where this came from. Discover more ideas, inspiration, tips and how-tos via Checkatrade's blog.
Dog friendly garden ideas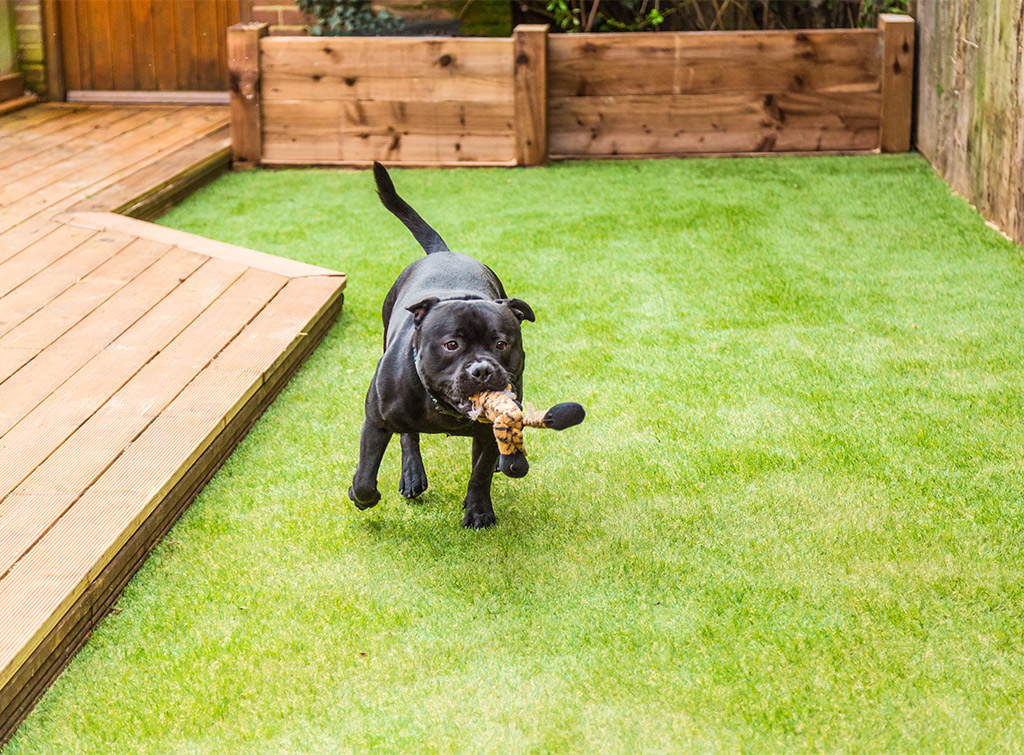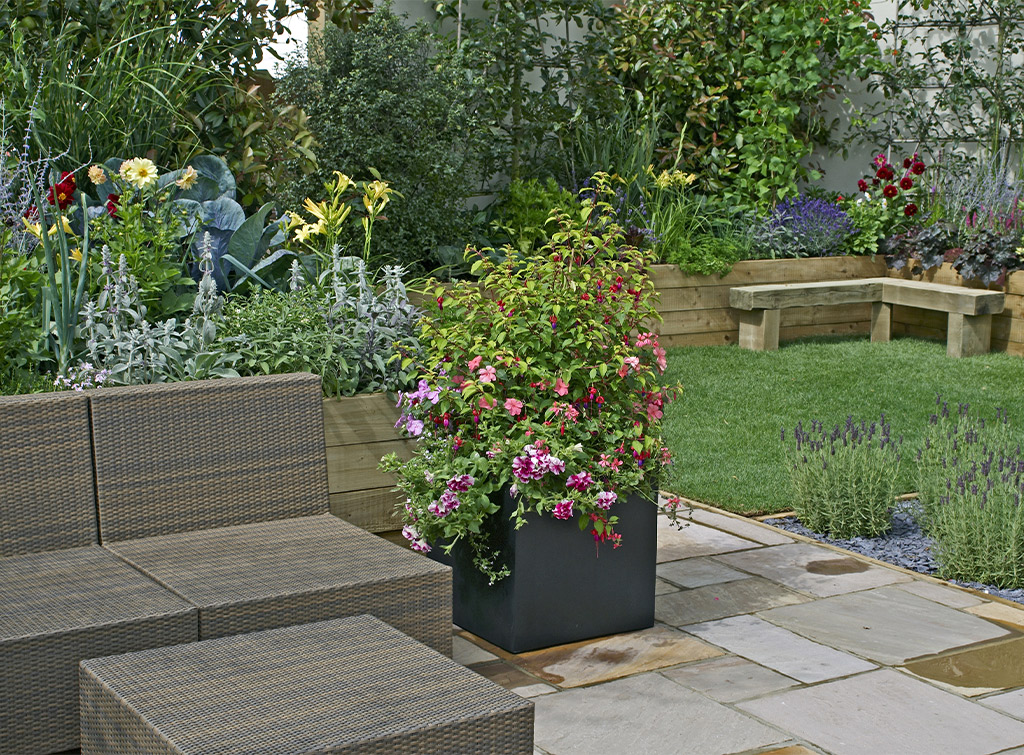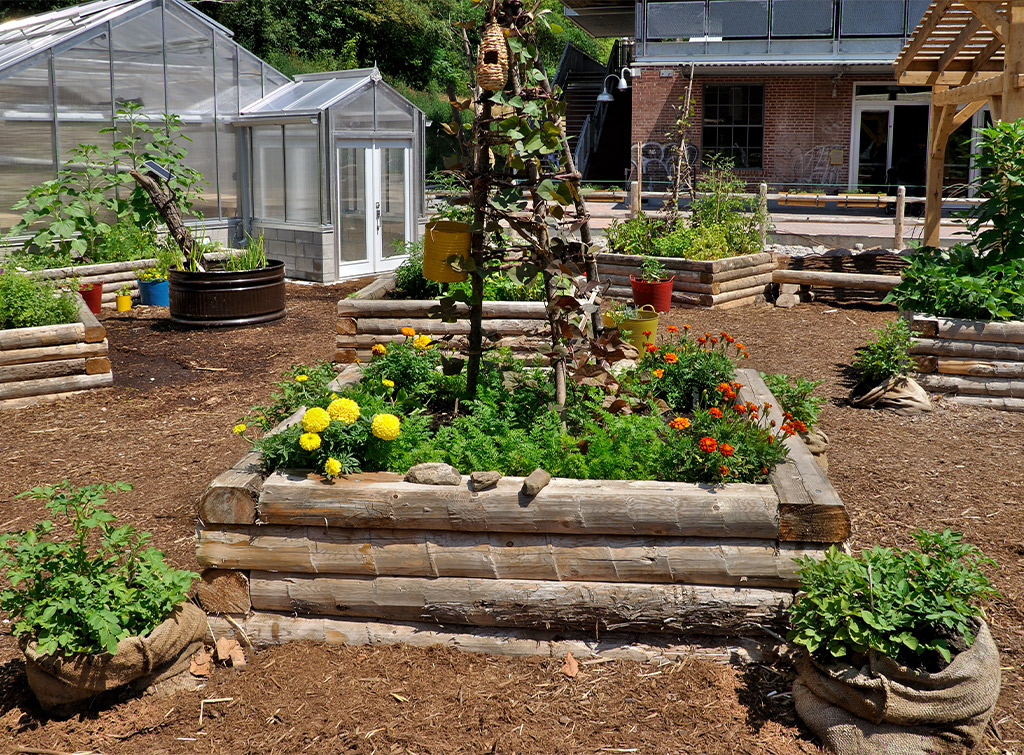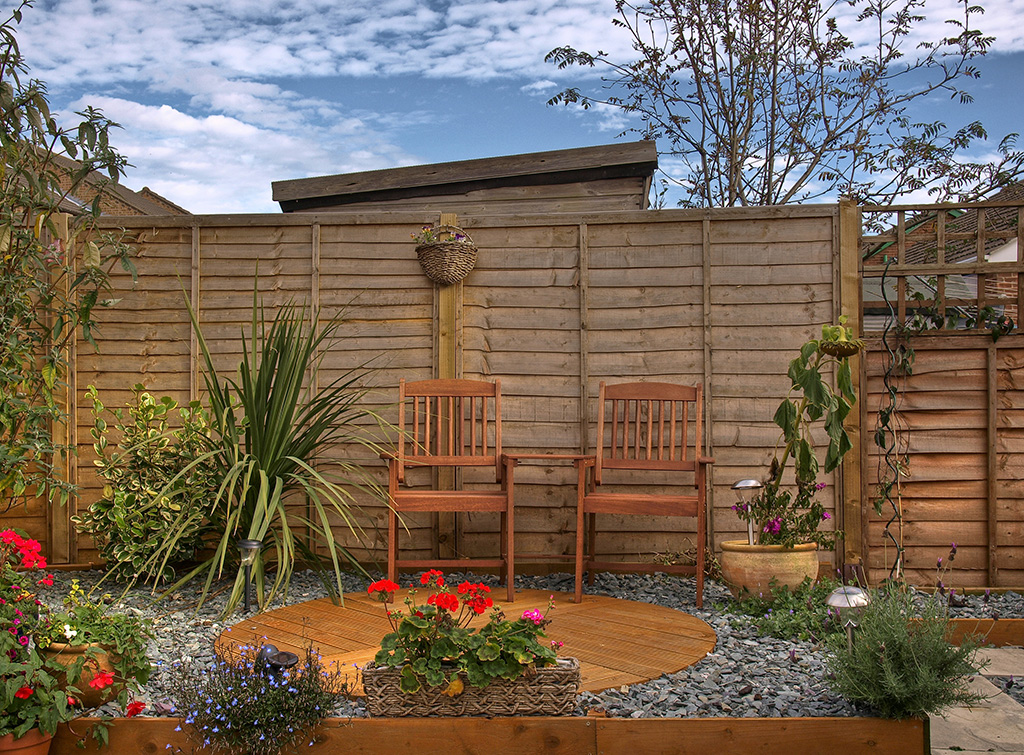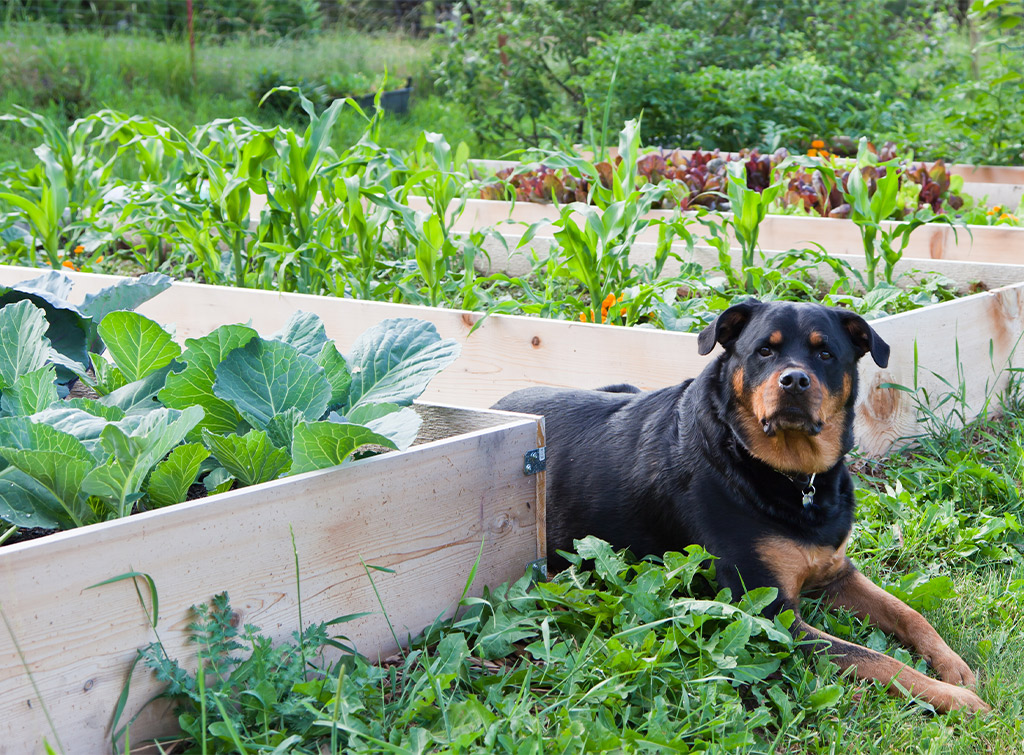 Dog friendly backyard design ideas
Dogs are full of energy and boundless joy. Giving them a designated space to play in means they get the chance to let off steam and burn off all those chase hormones!
Incorporating a play area into your garden is a great way to ensure your pup gets enough exercise and enrichment during their lifetime. Although their daily walk is needed to keep them healthy, play bonding is also something pet parents should do to help strengthen their relationship with their dog.
Think about laying a patch of grass for them to run and roll around on. Dogs love playing games like chase and catch, so be sure to let them know which parts of your garden are theirs. You can even install agility games like hoops and tunnels. Or, if you have the space, a small pool for them to cool down in on hot days!
Dog friendly garden design ideas
Installing decking is the perfect way to add levels and interest to your garden. It's also good to have an area you can sit in while your dog runs around and wears itself out.
If you plan on installing decking on grass, then training your dog to only wee on a part of it is essential.
One way to do this is to build a pee potty area. This idea is perfect for saving both your sanity and botanical aesthetic! Use positive reinforcement to make sure you and your dog reap the benefits.
Dog proof garden design ideas
Building a shed for your garden supplies is a great way to ensure your pup doesn't get into any mischief. Keep tools and garden chemicals securely locked away for greater peace of mind. The last thing you need is your dog finding them and hurting themselves.
Top tip: Be sure to make it dig-proof and infiltration-proof by reinforcing the shed's foundations and investing in a good lock.
Dog garden ideas
It's no secret that dogs love to dig! That's why sand pits are increasing in popularity among pet parents. Let your loyal friend hone their instincts by giving up a patch of land for them to play in. You can even make it a feature by building a fence around it, adding some border plants, and placing a few tunnels or climbing frames in the centre for added enrichment.
Dog friendly backyard landscaping ideas
When it comes to dog friendly landscaping, we highly recommend raised flower beds. Not only do they stop your dog eating, peeing or trampling on your geraniums, they look beautiful and elegant.
Wooden borders, like these stacked logs, are perfect for larger gardens. However, garden planters come in a variety of materials and sizes to suit every taste and square footage. Some gardens will benefit from peripheral planters, while others will suit a centralised feature.
Garden dog fence idea
Dogs are notorious escape artists. They often like to go on adventures and explore the great outdoors. However, not all pooches are cut out for a life on the neighbourhood streets.
When it comes to protecting our pets and letting them reap the benefits of the great outdoors, we need to get smart with our garden designs.
Consider adding a boundary fence that's at least 6 foot tall. To deter digging behaviours, reinforce the periphery with plants, planters, furniture, stone paths, pebbles or decking.
Burying the fence as deep as possible is also advised. Consider using materials such as chicken wire or concrete posts to strengthen the foundations of your fence and keep those sneaky paws from digging their way out.
Dog friendly gardening
Even with the best will in the world, our dogs can disobey and defy us. They're at their most naughty when they're hungry or bored, which is why most negative behaviours can be eradicated with the right training and care.
However, to avoid accidentally poisoning our beloved family members, planting dog friendly flora and avoiding the use of harmful pesticides is the only way to guarantee their safety.
See the tradespeople we've checked and recommend for your job
Tell us what you think
What others think of this article:
Need More Information?
Related posts