Our front porches are the welcome centres of our homes. These entrances frame our doors and offer clues about the kind of people we are. There are various designs on the market and a range of aesthetics to choose from, which is why we've put together these inspiring front porch ideas to help you work out exactly what you want and need when it comes to installing or renovating them.
It might surprise you to know that porches aren't just decorative. They also offer benefits such as energy efficiency, storage and the reduction of heat loss.
Front porch extension types
Front porches in the UK differ from those in the US. In the UK they are typically smaller and less extravagant. Unless you own land or titles – in which case you could make a killing renting out that extra space – most are of the quintessential nature.
So, whether you're building, renovating or redecorating your front porch, it's good to know your options. Below, you can find the most common types of front porch and their differences.
Open porch
Open porches are those built without solid fronts or sides. A classic example of a UK front porch is the timber frame, which is an elaborately designed structure with a triangular or lean-to roof, pillars, open beams and balustrades (used for both structural and decorative effect).
Covered porch
Unlike their open counterparts, covered porches incorporate walls, windows and front doors. Similar in structure to open porches, they're used as initial entrances and offer an extra storage solution. They're also a place people can take off their shoes before coming into the main house.
Wraparound porch
Unless you live in a detached house in the countryside (in which case, lucky you!), you don't see many wraparound porches in the UK. These elaborate designs are true to their namesake and wrap around a large portion of your house, if not all of it. Used for decorative effect, a safety feature, or structural support, wraparound porches are versatile and striking.
Screened porch
A popular choice in the UK, screened porches are similar to closed porches. However, instead of small windows or opaque doors, transparent screens are used instead. Used to help maximise light coming into the house – especially if you live in low-light areas or the front of your house isn't south-facing –  they improve heat retention and insulation.
Note: All porches come in a variety of materials, such as uPVC, brick, aluminium and various woods. If you're building on a budget, compare the costs with our dedicated front porch cost guide.
Check out our decking cost guide for more information on choosing the right decking for your home.
Entrance porch inspiration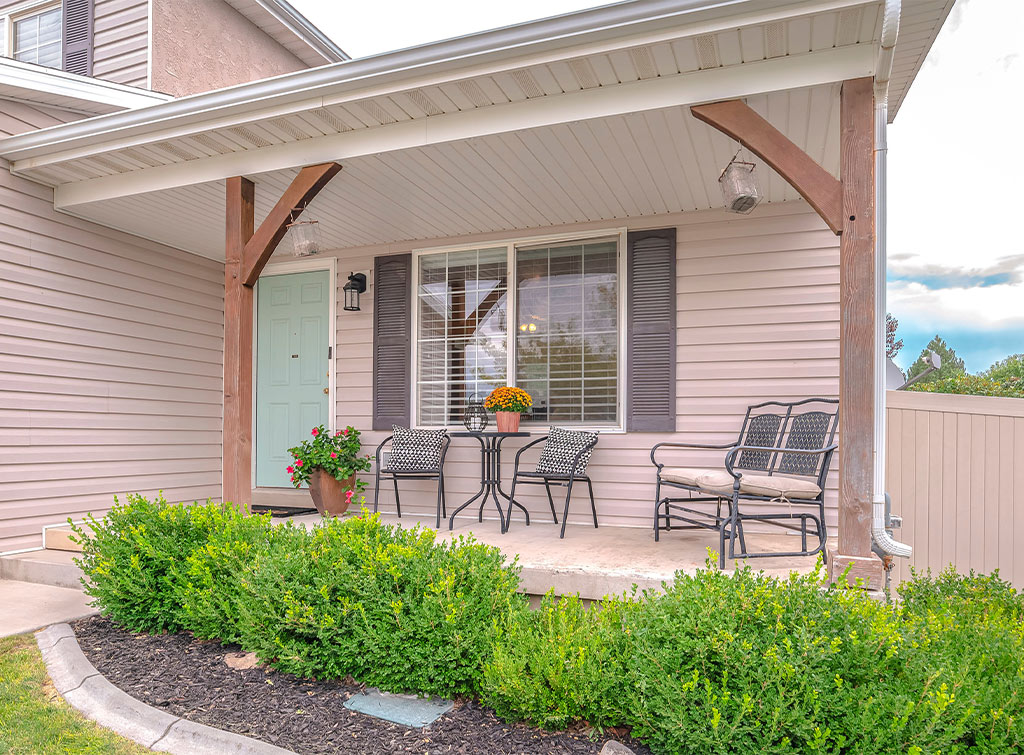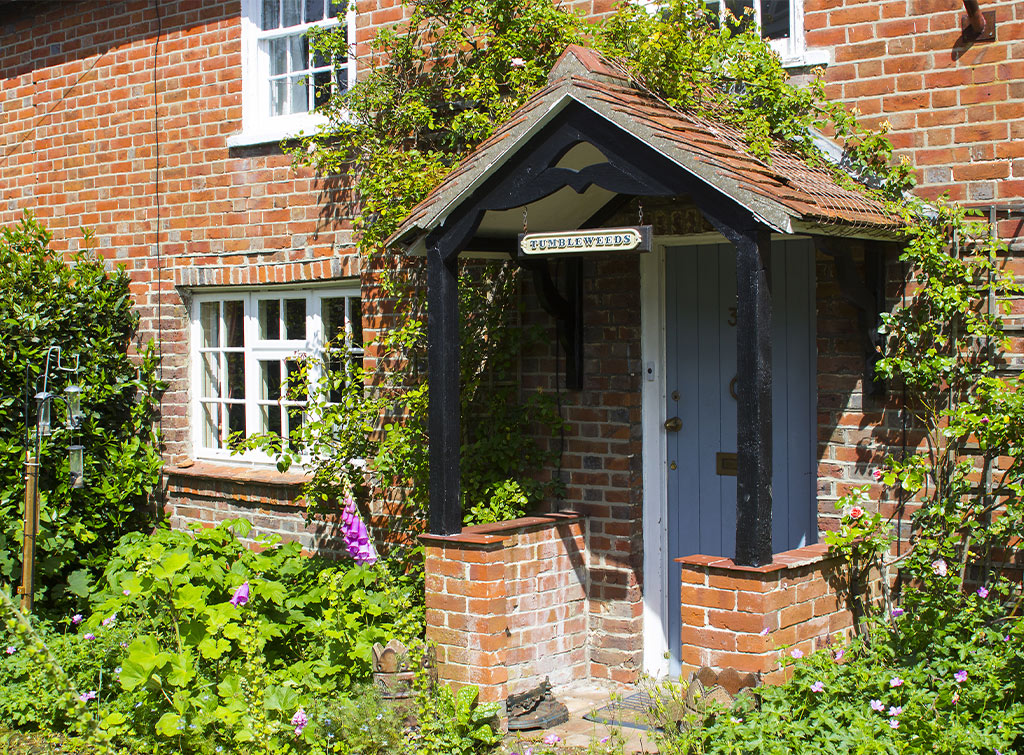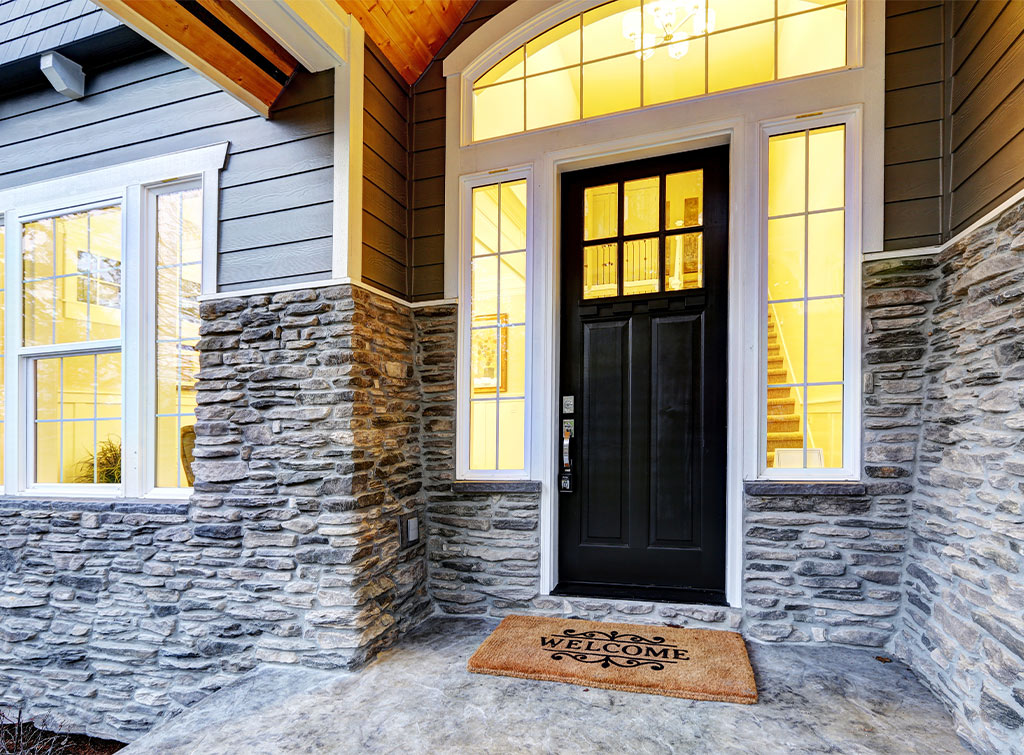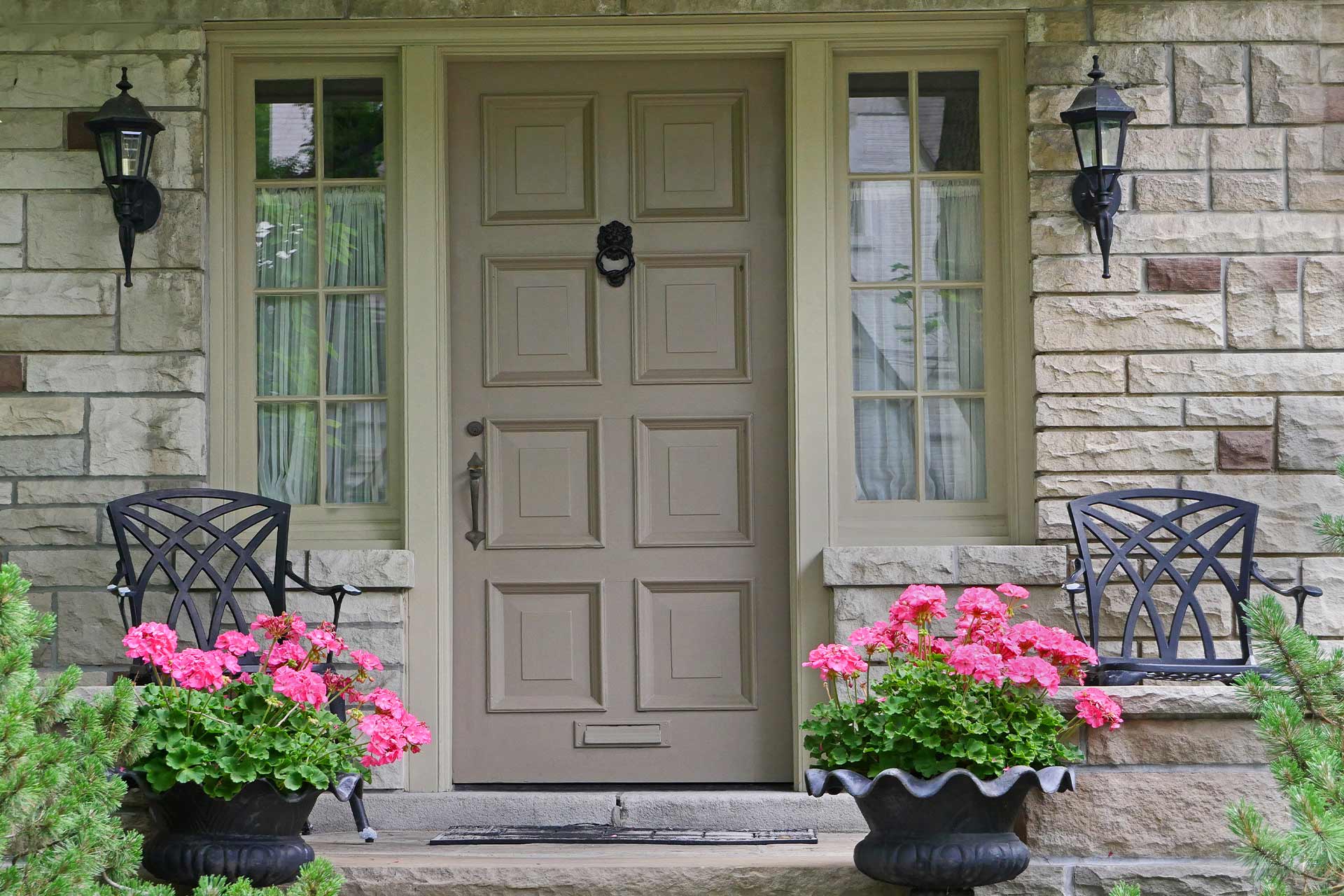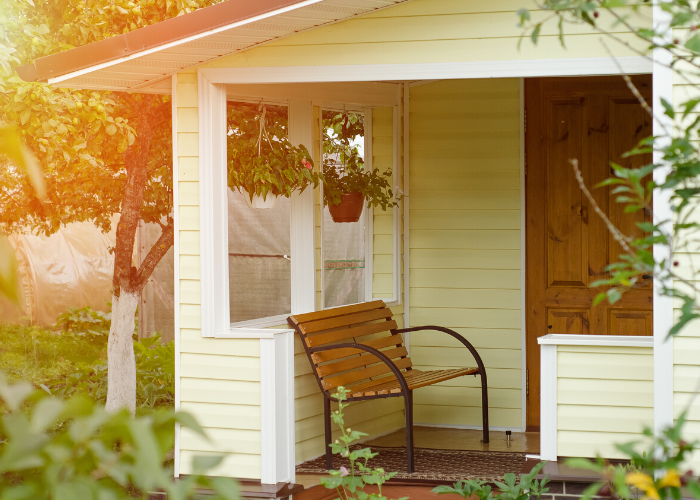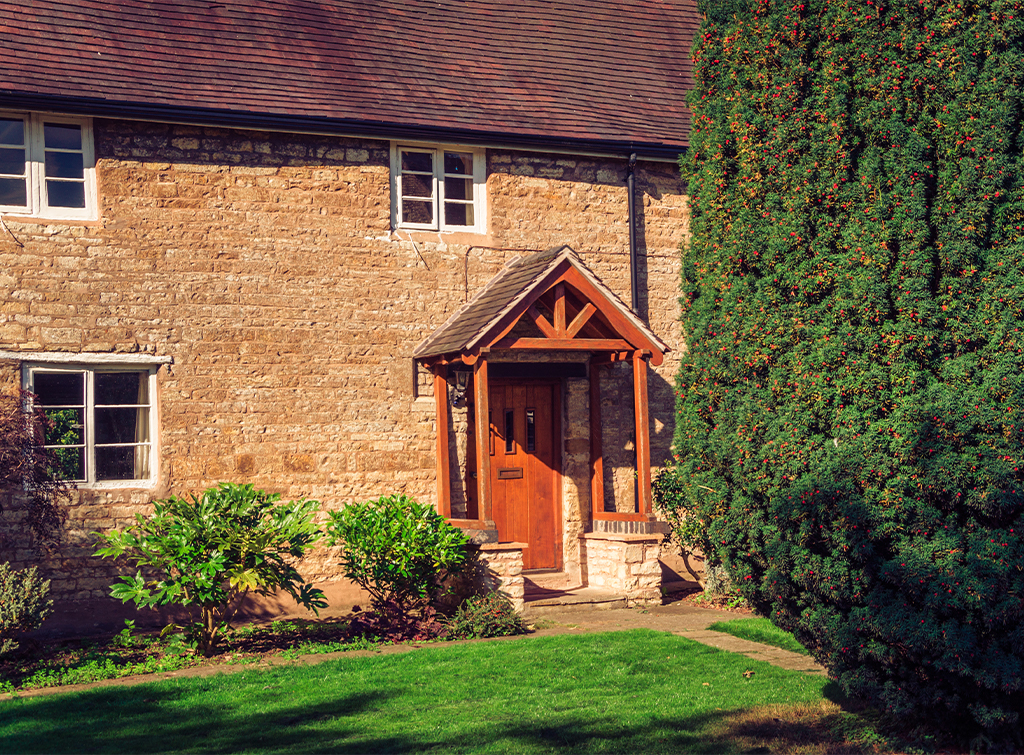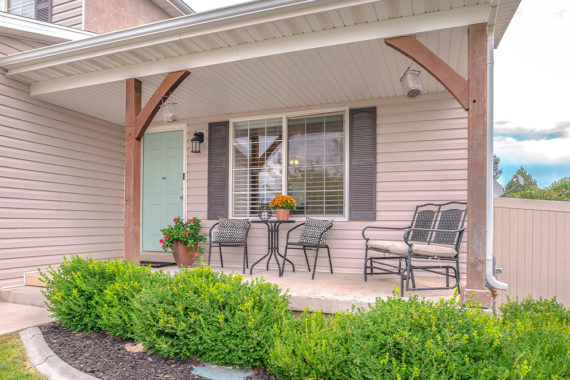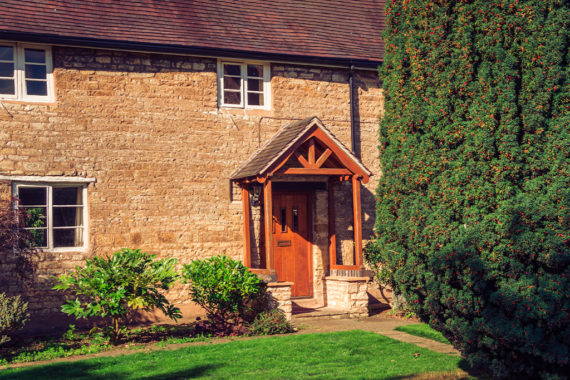 Open Covered porches
Matching your covered front porch to your house creates a uniformed and distinctive look. Use cladding to create a truly unique design, and pair it with key pieces like potted plants, dainty furniture and lantern lights. As you can see here, the owner of this house opted for blush-pink panelled cladding with shuttered windows and minimal furniture. This creates an elegant and welcoming open front porch that draws the eye and makes you want to meet the occupants.
Traditional porch designs
This quintessential English home kept it natural with this partially enclosed front porch. A small brick wall matches the house, while wooden black pillars extend into a decorative triangular slated roof. The wild, trellised creeping plants give it a 'chic and shabby' cottage vibe, with finishing touches like a house nameplate, eggplant painted door and classic welcome mat a nod to its effortless and inviting nature.
Covered stone porch
For a clean and contemporary front porch design, opt for simplicity. These large and uniformed framed windows flood light onto the grey stone walls and flooring. Two styles of cladding prove an effective way to add class to any front porch design, leaving you to accessorise it how you wish. This home chose a simple doormat, but you could also opt for potted or hanging plants, a small table and chairs, or even an umbrella stand to avoid a rain-soaked foyer.
Integral Georgian style porch
This elegant and modern front porch is a beautiful example of how to dress an entrance. Firstly, the black door is the central feature, which is framed by arched, white panelled and Georgian style windows. A large vintage lantern sits centrally, lighting the flagstone step and matching stone tiled path. The two cone-shaped topiaries sitting on either side of the step match the lush climbing plants, which bring the entire aesthetic together and create a symmetrical design perfect for any city or townhouse.
Neutral colours for porches
Neutral or grey front porch ideas don't get better than this. Attractive stonework matches the stone floors and steps, while twisted metal chairs, industrial vintage lanterns and wavy lipped planters also complement each other. The decor is neutral and soothing, creating a sense of tranquillity that invites people inside. Even the cottage styled windows and grey door fit effortlessly into the mood, leaving the only splash of colour down to the beautiful blooms and bushy evergreens.
Large front veranda
A large front porch offers a lot more freedom when it comes to furniture. A popular 2020 trend is all about the swing chairs, which is why outdoor hanging egg chairs are the perfect accompaniment to your large front porch.
Contemporary oak framed porches
Contemporary decor is all about the here and now. However, when it comes to front porch designs, what's fashionable can vary depending on where you live. The latest trends in a city will not be the same in the countryside, which is why it's important you understand your options before committing to your final front porch design.
We recommend matching your front porch to your house, for obvious reasons. However, there are various cladding options on the market such as render, stone, timber, flint and metal that can transform the entire look of your house exterior. They're worth considering for the 'wow factor,' but only if you're prepared to keep up their maintenance.
With that said, contemporary front porches are all about modern living, space-saving solutions, elaborate wooden frames and attractive features. Gable roofs, full-height glass and intricate latticework are all 2020 trends that offer an elegant and timeless style.
See the tradespeople we've checked and recommend for your job
Tell us what you think
What others think of this article:
Need More Information?
Related posts