It's the time of year when we all start to move outside, isn't it? We spend a lot of the year desperate for some extra living space, and as soon as the weather warms up, we start to make plans on how to best use our outside areas.
Why are outdoor spaces important?
It's a well-established fact that having contact with nature is hugely beneficial to both our physical and mental health. So much so that 'forest bathing' is becoming an established medicinal prescription around the globe (after two nights in a forest, our levels of 'killer' white blood cells (that attack infection and tumours) soar by 50 per cent. The heart rate is also lowered.)
We can't all escape to a little wildness during our frantic working weeks – but we can create a small oasis of nature right outside our back door. We can step into it with our very first coffee of the day, spend long, lazy afternoons sitting quietly in it and have warm, sociable evenings eating al fresco with friends and family.
And as a bonus to all the personal benefits, having a well-planned and attractive outside space can also increase the value of your home by up to twenty per cent.
What must indoor and outdoor spaces ensure?
To be happy to spend your precious leisure time in your outdoor space, the rules you apply to it must be the same as those you use to your inside space. It needs to be comfortable, practical – and pleasing to your senses. Beautiful chairs are no good if they're uncomfortable, and pretty paving is no good if it's a trip hazard or a deathtrap when it rains.
How do I give my garden a makeover?
Some of the apparent changes you can make are pretty simple and easy – decent seating, a new fire pit, string up some fairy lights… small aesthetics can make a big difference to making an outside space feel like an extension to your home, really 'bringing the inside-outside' and making it a great place to spend your time.
But sometimes what you need or want is a more fundamental change. Your outside space might be old and tired, or maybe it's just not suited to your lifestyle. When you're looking at garden ideas, a more significant project than some fairy lights and new seat cushions will mean you'll want to call in a professional to help.
And honestly? The biggest difference you can make is with your outdoor flooring. Is it even called flooring when you're outside? Not sure, but I'm going with it.
One of the best garden ideas for an 'outdoor living' makeover is to continue your flooring from inside to outside – it stops the boundary becoming a 'full stop' to the eye, and makes it feel like one long continuous space. Heavenly. Obviously, if your main outdoor space leads out of your living room, then you may have carpet inside – and that's not a good garden idea. Don't do that.
But if you have tiles – Houston, you are good to go.
And if your indoor flooring isn't suitable, then just go ahead and mix it up. Just because you're in your garden doesn't mean you can't use all of your interior design skills.
Take a look at Pinterest (use general searches like this one for Victorian Path Tiles), start saving all the pictures you like and you'll soon have a whole folder full of ideas. You'll soon see certain themes emerging – and it's at this point you'll want to talk them over with a professional landscaper.
See the tradespeople we've checked and recommend for your job
What tiles can I use outside?
Encaustic tiles can be used indoors and out (ceramic tiles where the colour is from the clay itself, not glazed on), and they look stunning when used on terraces, in garden rooms or around ponds or swimming pools. Use them for eye-catching designs and smaller formal areas.
Slate tiles outside are another great choice – they come in a vast range of natural colours, and make a dramatic statement across large areas. Because they're natural stone, they also age brilliantly, are stain-resistant and are very hard to damage.
Even simple Concrete Flagstones can be made into beautiful and cost-effective crazy paving by an expert tiler.
But How to lay Victorian path tiles?
Growing up in a Victorian seaside town, crazily coloured and patterned front garden paths used to be a popular sight. My Granny had one just like this, and I can still remember the smooth warmth of it on a summer's day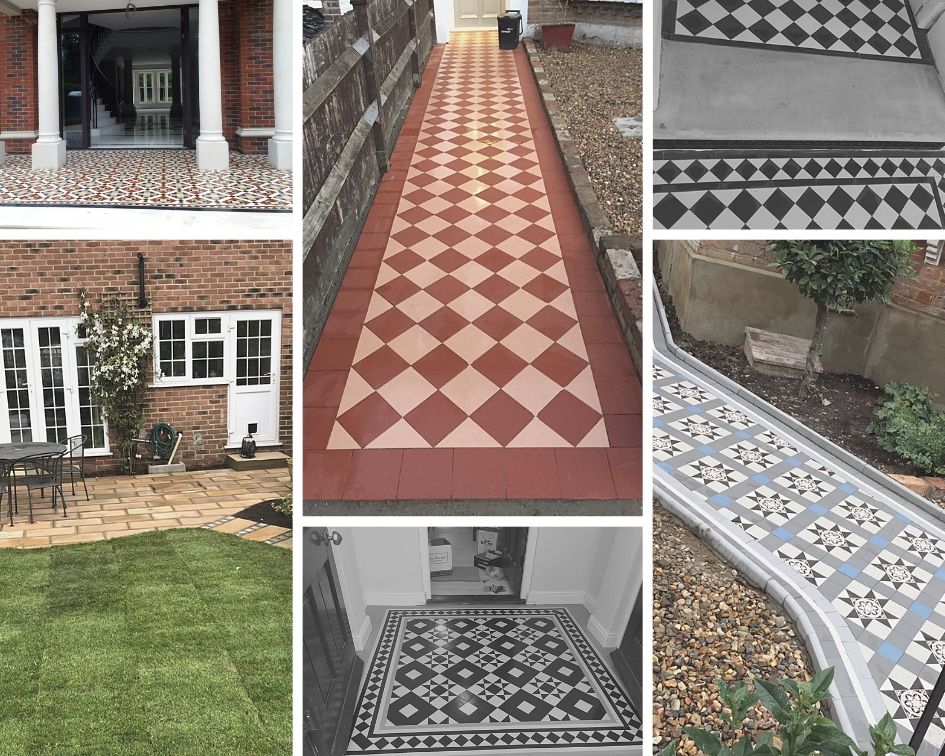 Master Checkatrade Tiler Michael Casey Owner of Victorian Tiling & Landscaping Contractors Ltd showcases above examples of his work. It's astounding what can be achieved with imagination and skill.
But tiles aren't just for front paths – why not have a fabulously coloured tile path marching down your back garden too? Or covering your courtyard?
Of course, laying a detailed and elaborate pattern with smaller tiles takes a lot of skill –hiring an experienced professional to do the work is a great idea not just for their physical ability, but also because they'll come equipped with years of specialist knowledge. Do you want brand new tiles, or reclaimed original Victorian ones? Will the specific pattern you've fallen in love with from that Pinterest image work if it's laid out across your outdoor eating area? Will the gorgeous tiles you've chosen be super-slippery when they're wet (come on – this is Britain. It WILL rain on your barbecue and cause a mad scramble with an armful of buns, ketchup and potato salad)?
Can slate tiles be used outdoors?
Of course, they can! They're natural stone – it's sort of where they belong. It does need to be on a solid foundation though – stone has no movement in it, so laying them on a wooden deck isn't practical (where the wood flexes, the stone will crack!), they need to be on solid ground. And anyone who has a slate kitchen floor will tell you that slate tiles can become very slippery when they're wet, so again check with your landscaper as to whether they're appropriate for your plans.
Crazing paving
Or maybe you don't want a beautifully formal Victorian path tile, thanks. Perhaps you want something looser, bigger and more relaxed. In which case, crazy paving and stepping stones are where your heart may lie. Using large irregular slabs – the bigger, the better – means you can cover large areas of ground relatively quickly and easily, and irregular areas and edges won't cause any problem at all. And maybe you don't want to lose an entire section of your grass to the path – using garden stepping stones in well-trodden areas not only gives you a dry path on wet days but also means the grass won't wear away from all the feet.
How to choose a landscaper
It's always tricky to know who to trust – when you're not a landscaper yourself, how can you tell who will do an excellent job for you?
Well obviously start with a trusted tradesperson site, like Checkatrade, which actually checks members. And then even when using a service, make sure you get at least three quotes and compare them carefully to see exactly what is covered. Do also use their experience and professional knowledge – ask their advice on your plan; they'll likely have suggestions and solutions you haven't even thought of.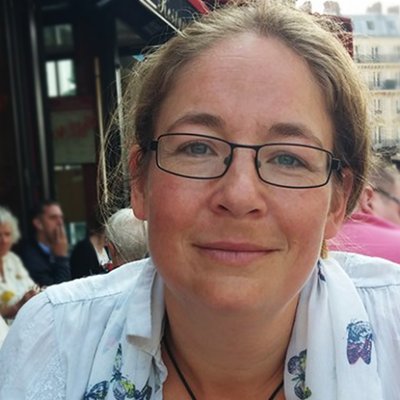 Guest writer who has one of the top 10 UK parent & kids lifestyle blogs. Laura shares her witty insights on all things to inspire your next home project.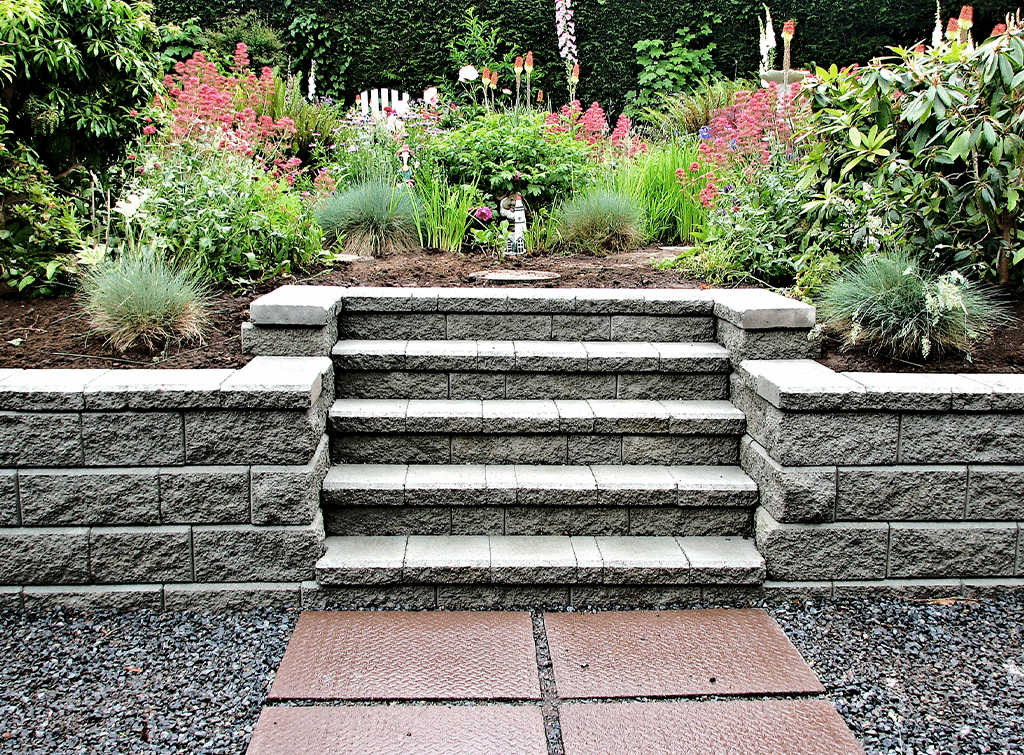 Garden Tiling
Encaustic, slate and simple concrete flagstones are all types of tiles that can be used outside in your garden to improve it. These options age brilliantly and are very hard to damage – perfect for all garden activities!
Paving Ideas
Perhaps you want something looser, bigger and more relaxed. In which case, crazy paving and stepping stones are where your heart may lie. Using large irregular slabs – the bigger, the better – means you can cover large areas of ground relatively quickly and easily, and irregular areas and edges won't cause any problem at all.
See the tradespeople we've checked and recommend for your job
Tell us what you think
What others think of this article:
Need More Information?
Related posts