From the small and quaint to the grand and expansive, gardens of all shapes and sizes offer an opportunity for outside living – depending on what you do with them. Be it a minor design tweak or largescale landscaping you're looking into, we've put together a collection of garden styling ideas to give you the inspiration you need to start planning.
Remember, you don't need to be a green-fingered gardener to build a beautiful outside space (although it certainly helps!)
This summer, it's time to get crafty and creative with lights, fencing and furniture – trust us, you'll be impressed with the good work you can do on a budget!
Garden decorating ideas on a budget
Cheap garden ideas can often turn into big plans when inspiration hits. However, decorating your garden doesn't have to be a big investment. If you're looking to style your garden on a budget, there are a number of low-cost, high impact changes you can make to add character.
Give new life to old furniture
If you've recently renovated a room in your property, there's a good chance you have several items of furniture going unused.
Before you start filling your basket with new tables, chairs and planters-a-plenty, look around: is there an armchair that could lend itself well to a reading nook in your garden?
Could a cluttered ladder shelf be transformed into a potted plant display? If you've recently transformed a guest bedroom into an office, you might have cushions to pinch for a patio lounge area.
Lean into shabby chic
On that note, if old wooden furniture looks tired, there could be life in it yet! Shabby chic is a trend in itself, celebrating furniture that has an appearance of being worn, torn or distressed deliberately to achieve an antique-feel.
If you're looking for cheap garden styling ideas that add personality, try sanding down a varnished wooden chest and applying a coat of water-based acrylic primer.
Paint your chest of drawers in "heritage" colours like cream white, duck egg blue or pale green to make for the perfect upcycled potting station in your garden.
Add a splash of colour to your garden
A confident colour scheme can turn a patch of land into a garden room you can be proud of. This works well in small gardens to add style where space is limited.
Beyond dining furniture, colour schemes should complement the exterior of your property and the flowers and foliage you have or are going to plant. If your garden is blooming with bright flowers, for example, you might want to keep your garden furniture and decorations a softer shade for a calming effect.
Alternatively, go bold with contrasting colours planters, throws, cushions and table covers to give character to an outdoor dining area. If you're unsure which colours will work well together, we recommend using a colour wheel to select a pleasing garden palette.
Shape up your lawn
It doesn't take much work to turn a grassy lawn into a landscaped haven. Try cutting your lawn into neatly defined shapes, leaving a soil border perfect for planting flowers. A circle, square or oblong are the easiest to achieve, but if you're well-experienced in garden design, don't hesitate to get creative! Mark the area with string and use a spade to remove excess lawn.
Small garden decoration ideas
Whether you're decorating your garden on a budget or have set aside the cash to splash on a complete renovation, a small garden can be brought to life in a number of ways. Although you are limited in space, you aren't restricted in creativity! A modest lawn can make for a beautiful secret garden with the right décor.
Build a fairy garden
Fancy yourself as a bit of an artiste? Looking for garden styling ideas to make a statement with your outdoor space? Hone your craft and let your imagination run wild by transforming a small lawn into an enchanting fairy garden.
Hanging lanterns or battery-powered fairy lights from fences, trees and bushes is a great way to add a touch of magic, while a stone path can add mystique.
This aesthetic is complemented by overgrown beds bursting with flowers and ferns – an ornamental toadstool or two wouldn't go amiss, either.
To truly lure the fairies into your land, fill coloured planters with soil and add miniature furnishings from dolls houses to bring it all together!
How to build a minimalist garden
From the Japanese to the Scandinavian, cultures dealing with small spaces have adapted well to the size limitations of their land through minimalist design. Take a leaf out of their books and work with your garden to build a minimalist space that maximises style.
Make no mistake: minimalist design isn't just about having fewer items in your garden. A cohesive colour scheme is an essential feature of minimalist garden design. Garden furniture and planters should be contemporary in style with a clean and stylish finish: sharp edges are welcome here!
Paving is often the perfect choice for flooring in a minimalist garden, but we wouldn't advise doing this yourself if you don't have prior experience. Neatness is the cornerstone of minimalism, so ask a professional to help you achieve the perfect finish to paved floors.
Make the most of your garden fences
Their main purpose may be to create privacy, but don't write garden fences off as a purely functional element of your outdoor space.
Treat your fences like a blank canvas and use decorative elements to add a stylish frame to your garden.
Different types of fence will lend themselves to different styles. For instance, a chain-link fence will benefit from plant-life weaving through the wire mesh, while a wooden fence could be brought to life with colourful bird-houses lining the length of your garden.
Terrace garden decoration ideas
So you don't have a sprawling garden – no biggie! A terrace garden is still an opportunity to create a stylish outdoor space you can enjoy all year round. If you're looking for garden styling ideas for your terrace, don't despair at the lack of space.
Get some coverage
Terrace gardens can make for the perfect space to lounge, dine or entertain guests in the warmer months. However, a terrace garden that doesn't provide much privacy or looks straight onto a neighbouring flat isn't exactly inviting.
What's more, when the sun is shining brightly, harmful rays can be off-putting for homeowners eager to take advantage of the nice weather. A two-birds-one-stone approach is to install a garden shade sail, canopy or parasol to your terrace, and the designs are many.
This small hack can make a big difference, and depending on your choice, could even allow you to use your terrace when the inevitable British rain takes over!
See the tradespeople we've checked and recommend for your job
Corners are for sofas
Garden styling ideas often focus on dining furniture, gazebos and water features – but what to do when your outside space is a small terrace or balcony? If space and budget allow, a corner sofa can be the perfect solution for transforming your terrace into the ultimate outdoor lounge space.
Look for outdoor sofas in materials like wicker or rattan as they are light, colourful and allow air circulation. They aren't strictly waterproof, but a coat of varnish and a rain cover will extend their lifespan considerably.
It's also smart to buy outdoor corner furniture that comes in single seating units, rather than a full sofa, allowing you to build a shape that works for your garden.

Plants are your friends
A terrace garden in a city flat cries out for plant life – but think carefully when choosing your plants. Diversity of size can really make a difference, so try to get a good balance of large plants, shrubs, small trees and ground covers.
While a full fruit and veg patch is probably off the table, a mini allotment can be made by recycling old drawers, crates or planters to plant seeds for fresh herbs.
An empty wall or fence could be perfect for a trellis, where you can either weave climbing plants or hang planters with blossoming flowers.
Like what you see? We have plenty more where this came from. Check out Checkatrade's blog for more home inspiration, how-to's and project ideas.
Garden styling ideas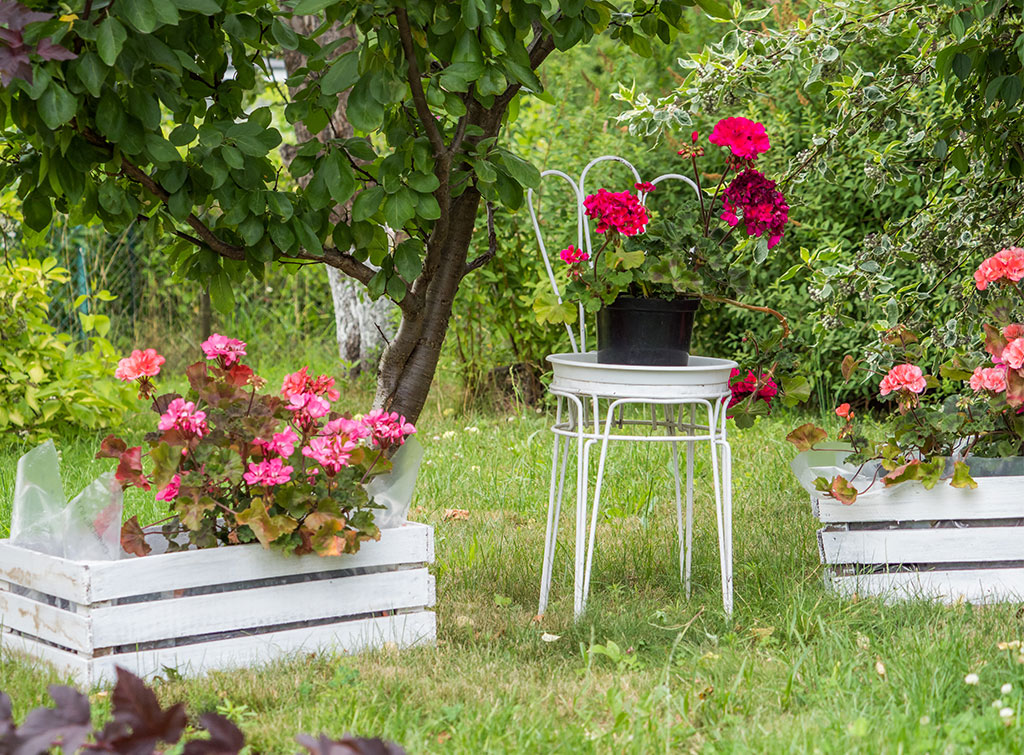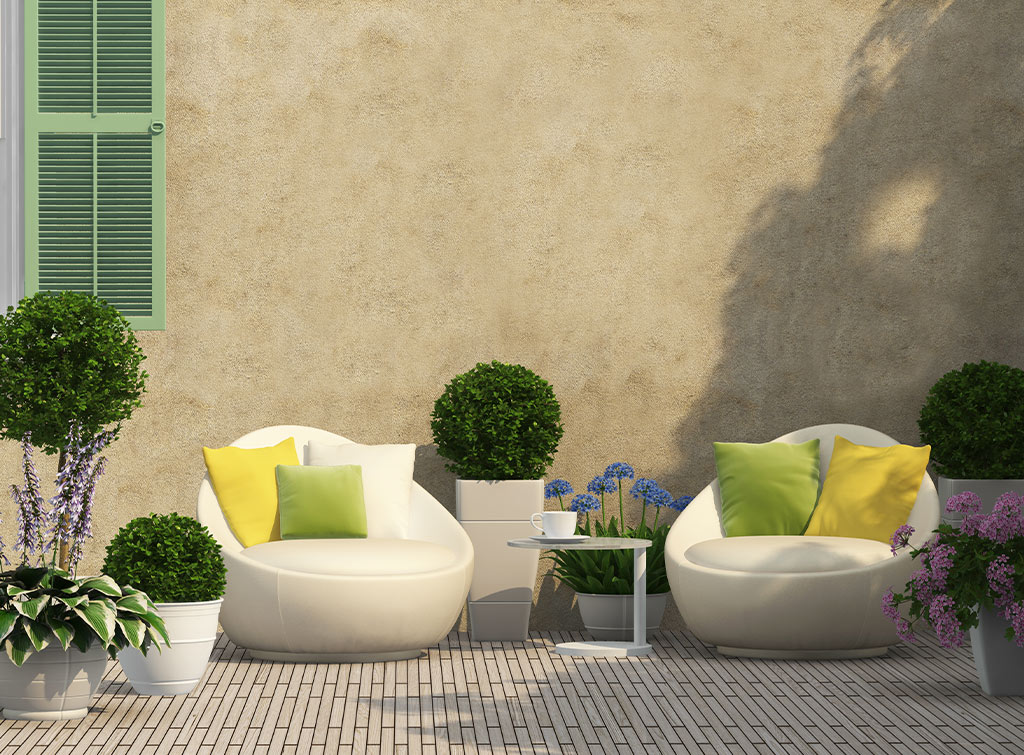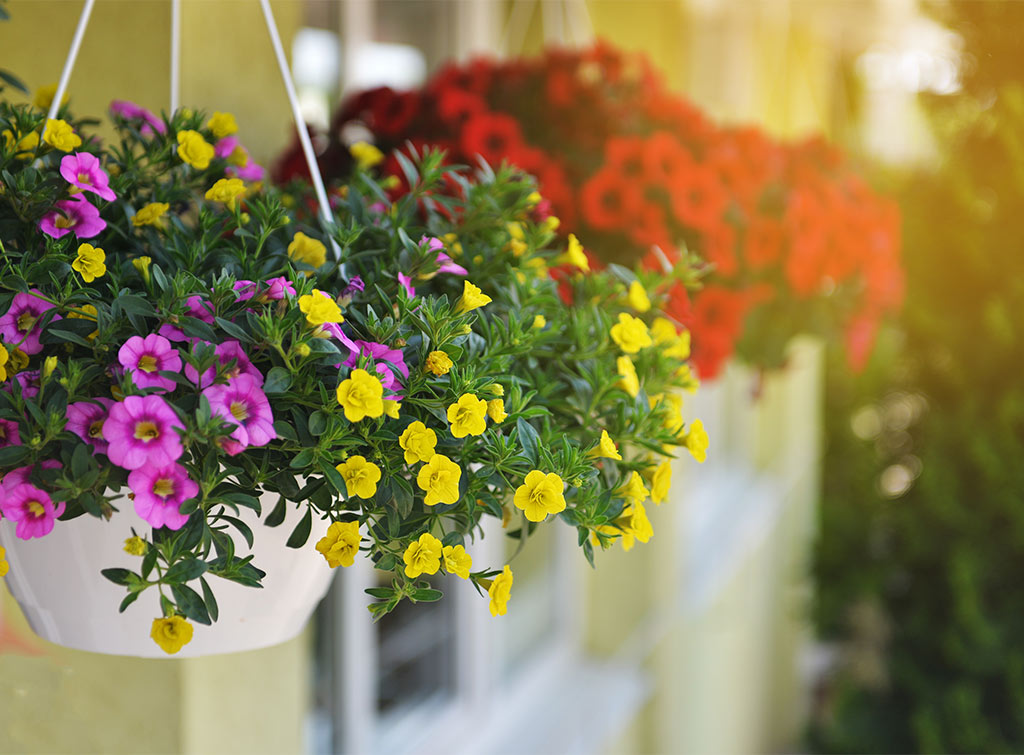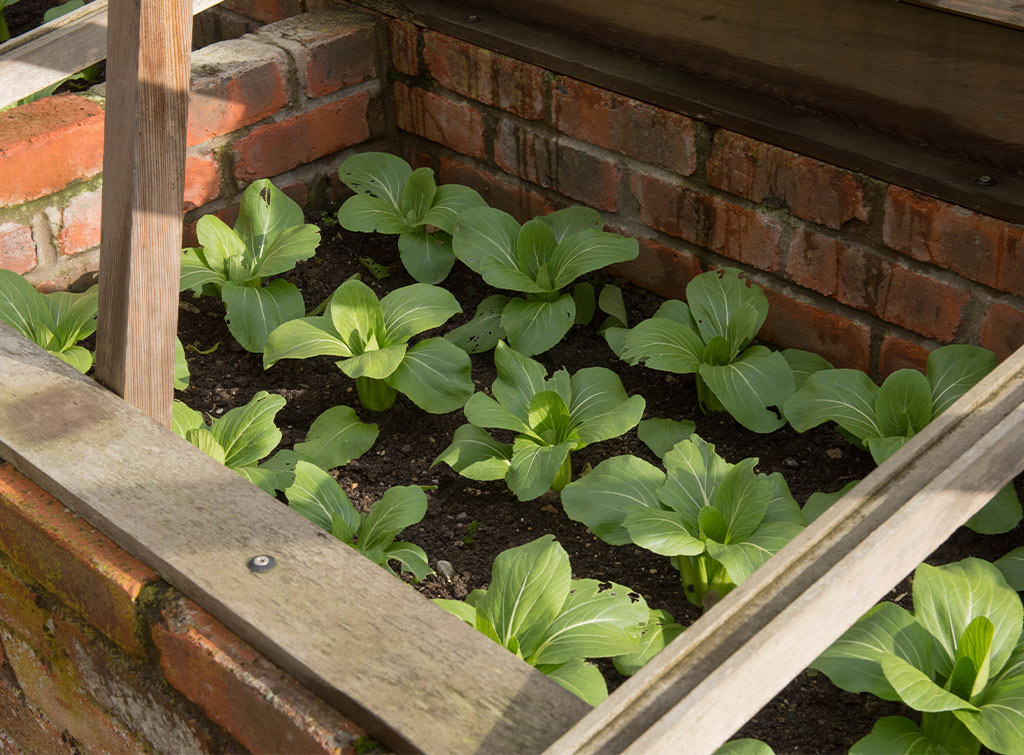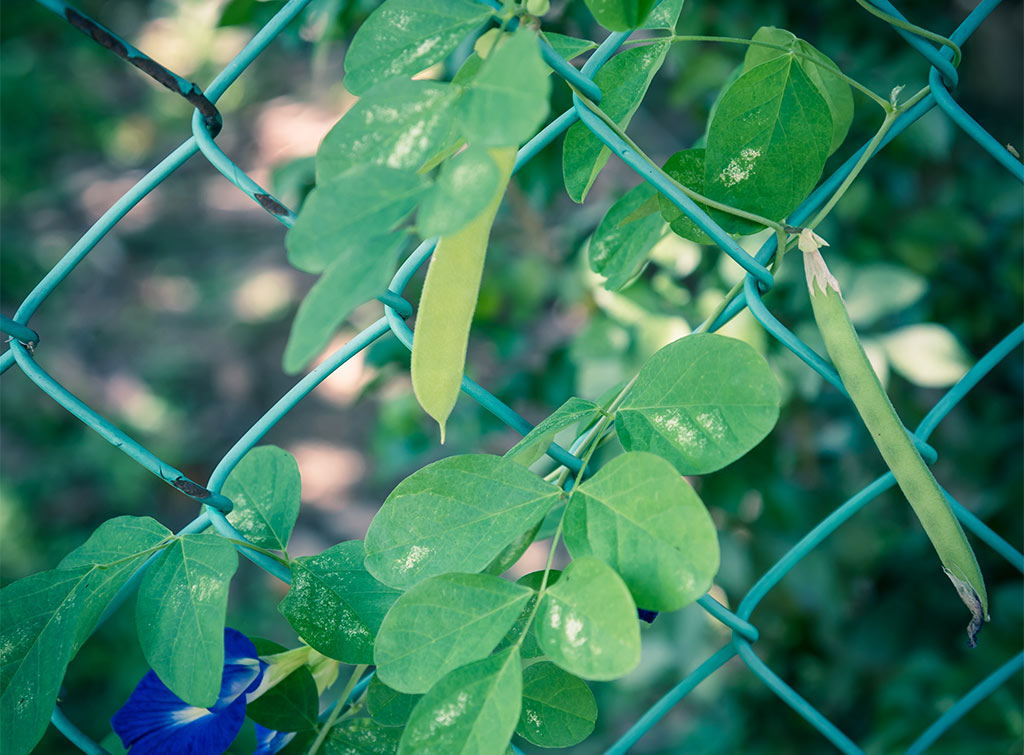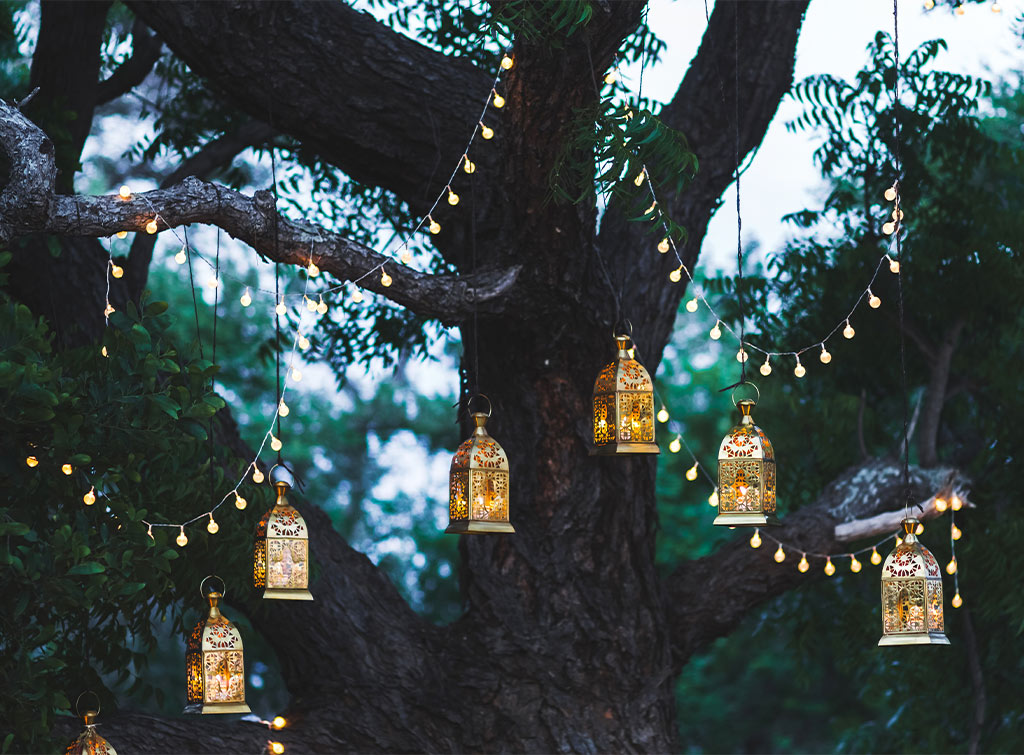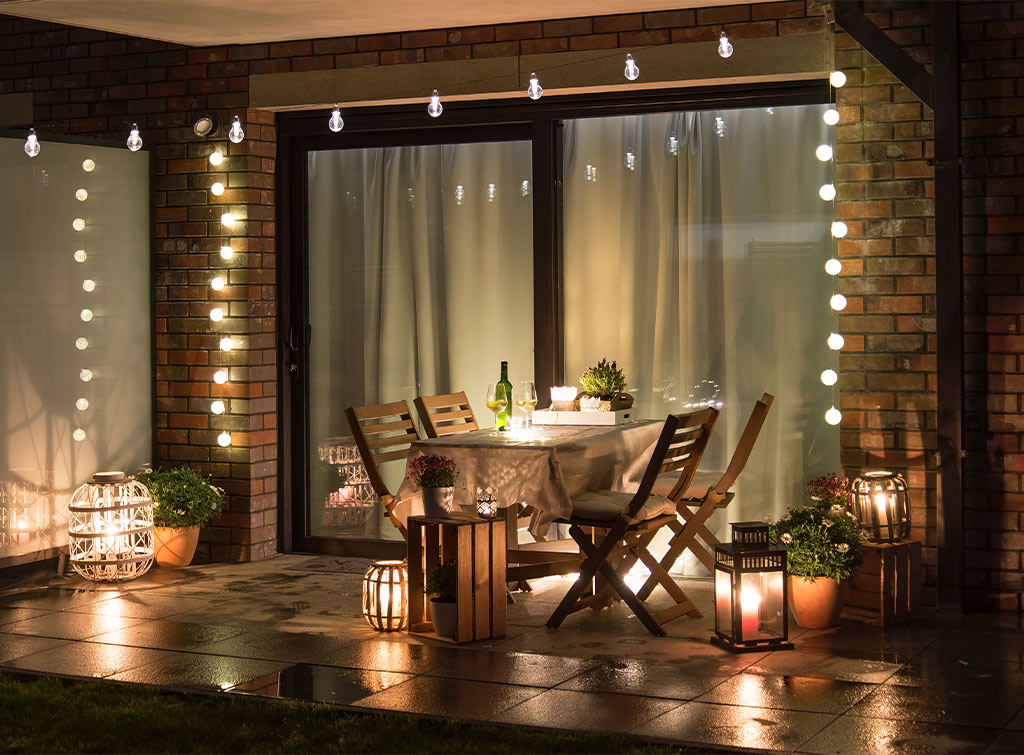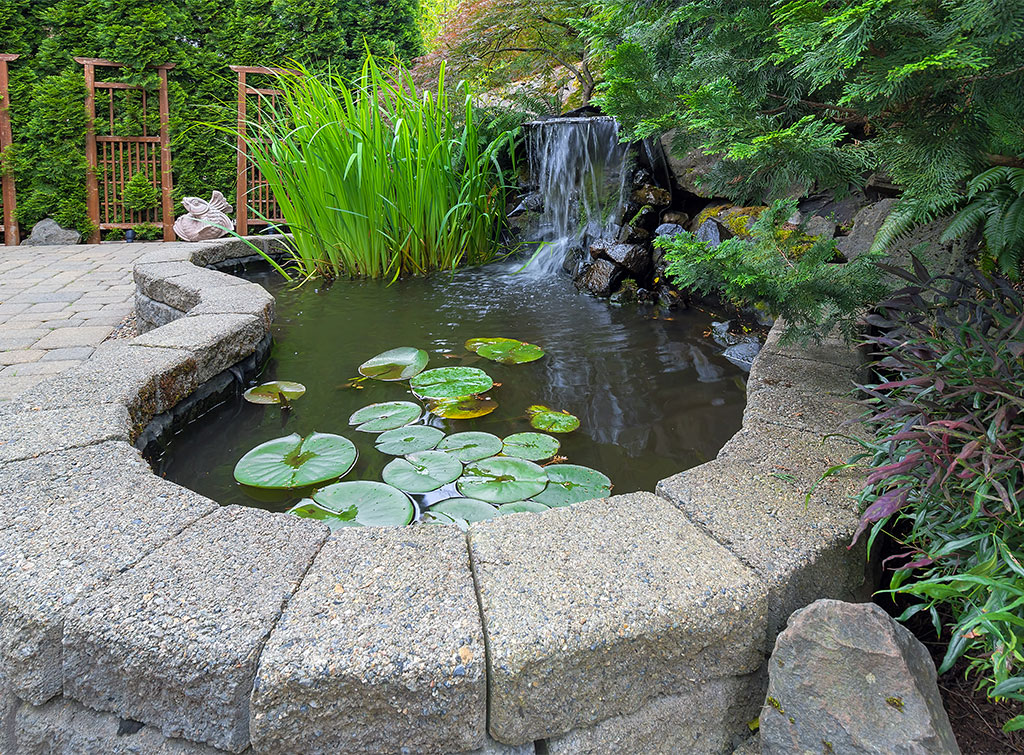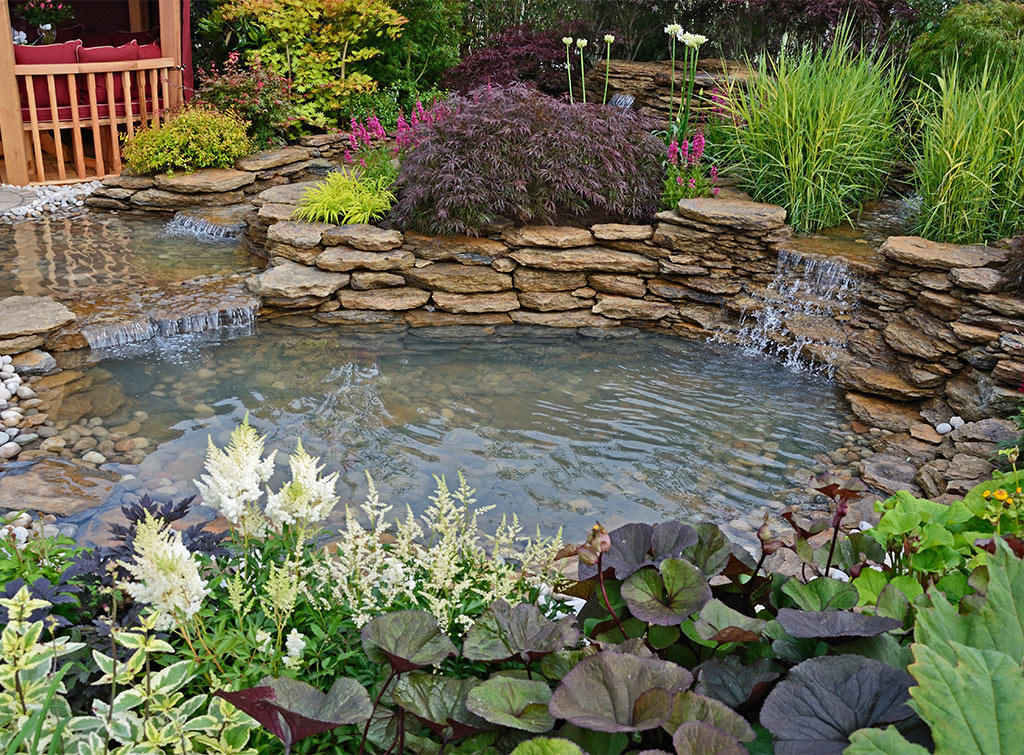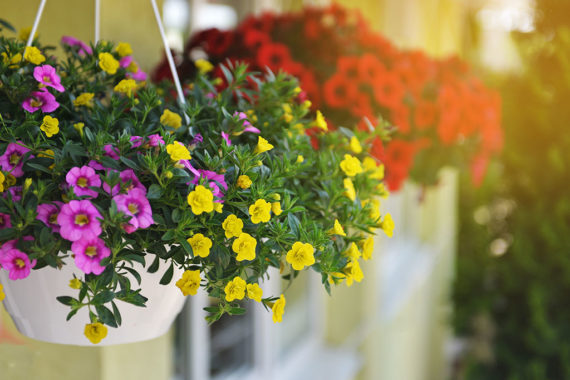 Upcycle old furniture for plant displays
Using old shelving or ladders to make for plant displays. This works particularly well for terraces in city flats with limited space, and is a quick way to add some greenery and make use of unused furniture. Can also use wooden crates and get creative, stacking them outside for storage.
Introduce a colour scheme
Even a simple thing like introducing a colour scheme to your garden can add instant style. If you have a patio or decking area for dinging, try buying matching cushions and plant pots, hanging planters, table covers… you can take it one step further and match your choice of decor with the colour of bedding flowers
Hang baskets with blooming flowers
Hanging baskets to the exterior walls can make all the difference in the summer time and is really easy to do. Fuscia, Bacopa and Honeysuckle will all make stylish companions to your garden. It's also good for the bees!
Create a mini allotment
You don't have to dig up half of your garden to create an allotment. You can buy a small trough or upcycle an old crate or drawer to create a mini vegetable garden.
Use a chain link fence as a trellis
Chain-link fences aren't typically considered the most visually appealing, but this simple garden styling idea might change your perception. Try weaving in a climbing plant like honeysuckle, climbing hydrangeas or Boston ivy to your fence, turning it into a trellis to add charm and character.
Hang fairy lights for magic and sparkle
Everyone knows that fairy lights are the trick to turning the everyday garden space into a magical woodland clearing! Lights can be threaded across fences and balustrades to light the path to your home or can be hung from the trees and shrubbery to give an enchanting feel.
Add patio lighting for dining outside
From LED candles and solar-powered panels to tiki torches, there's many different styles to choose from – each will help to extend long summer days into the evening and create ambience for dining with your family or with guests.
Build a zen-garden
Looking for large garden styling ideas? Get a large water bowl and use pebbles and lighting to create a peaceful zen atmosphere in your garden where the water runs your troubles away. Don't forget the peace lilies!
Build your own fishpond
A fishpond is a beautiful addition to a garden of any size and is fairly easy to construct. Choose from a pond that lines an edge of your garden or make it the centrepiece of your lawn.
Build a mini oasis in a large garden
Build a waterfall feature from tiers of rough-hewn stone built around a reservoir with a long keystone used for water distribution. This will be perfectly framed by tall plants in statement pots or a selection of wild flowers growing freely.
See the tradespeople we've checked and recommend for your job
Tell us what you think
What others think of this article:
Need More Information?
Related posts