Let's face it; it's been a year. With furlough measures in place, working from home on the rise, and offices shutting down during the pandemic, it's no wonder we're scrambling for clutter-free home office storage ideas to stay productive and motivated.
Unless we're already au fait with working from home, space is an issue for the average homeowner (or renter). Not everyone has a spare room or unused corner just begging to become a workspace. Which is why, when we equip our homes with stylish and smart storage solutions, we retain our ability to function whilst adapting to our new way of working.
That said, if the pandemic changed nothing for you, then peruse our home office storage ideas anyway. They might ignite your inner Marie Kondo and inject some much-needed joy back into your workspace.
Benefits of smart storage
The phrase, 'A cluttered up desk is a sign of a cluttered up mind' dates back to the 1940s, where lots of other questionable beliefs still existed too. However, what is true is the fact that clutter affects our ability to pay attention to tasks. Processing mess – an automatic response – competes for our brain's attention, making it harder to concentrate.
As staying motivated when working from home is challenging at the best of times, why not optimise your environment so it works for you? With a higher propensity for clutter, incorporating smart storage, ergonomic furniture and stylish decor will keep things tranquil, allowing you to reap the benefits of harmonious space.
Home office storage ideas
To get you started, here are some types of smart office storage solutions available on the market.
Compact home office cabinets: An all in one storage solution
Floating shelves and bookcases: Keep your floors clutter-free by building upwards
Corner desks: Great for discreet working for those with smaller square footage
Wall-mounted wire storage racks: A contemporary and stylish solution for all your office storage needs
Pegboards and corkboards: Keep your desk clear by storing stationary overhead
Storage desks: Classic, versatile, and tidy
Hidden bedroom bench: For those with limited space and higher storage needs
Foldaway 'shelf' desks: Wall-mounted and discreet for the versatile worker
Like what you see? There's plenty more where this came from. Discover more ideas, inspiration, tips and how-tos via Checkatrade's blog.
See the tradespeople we've checked and recommend for your job
Home office storage ideas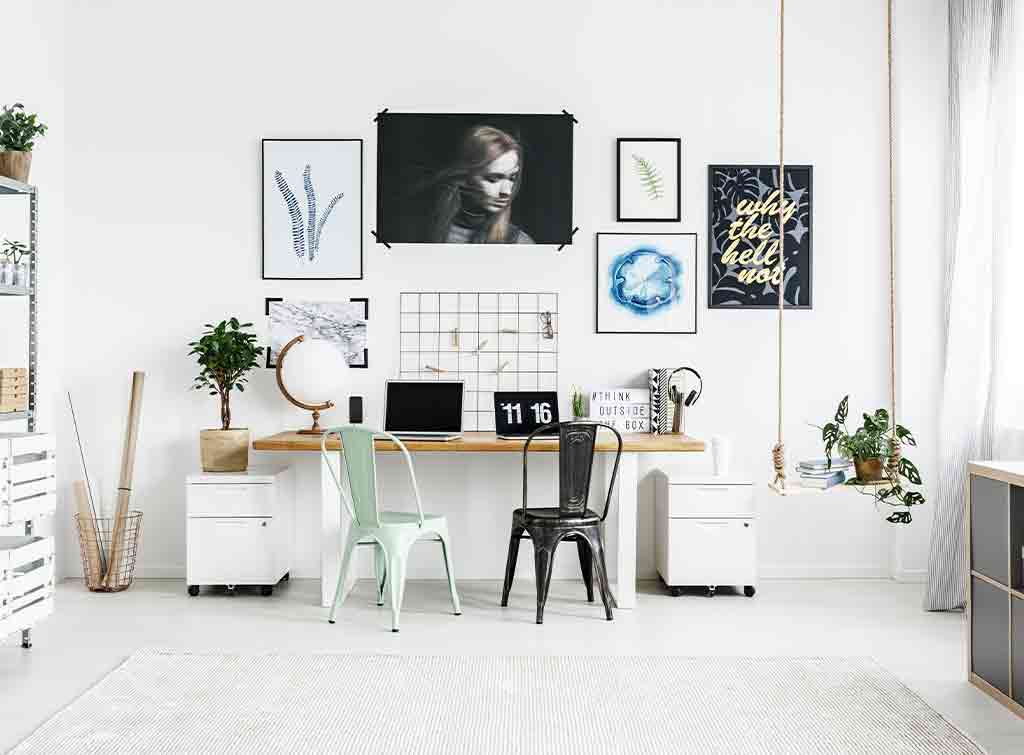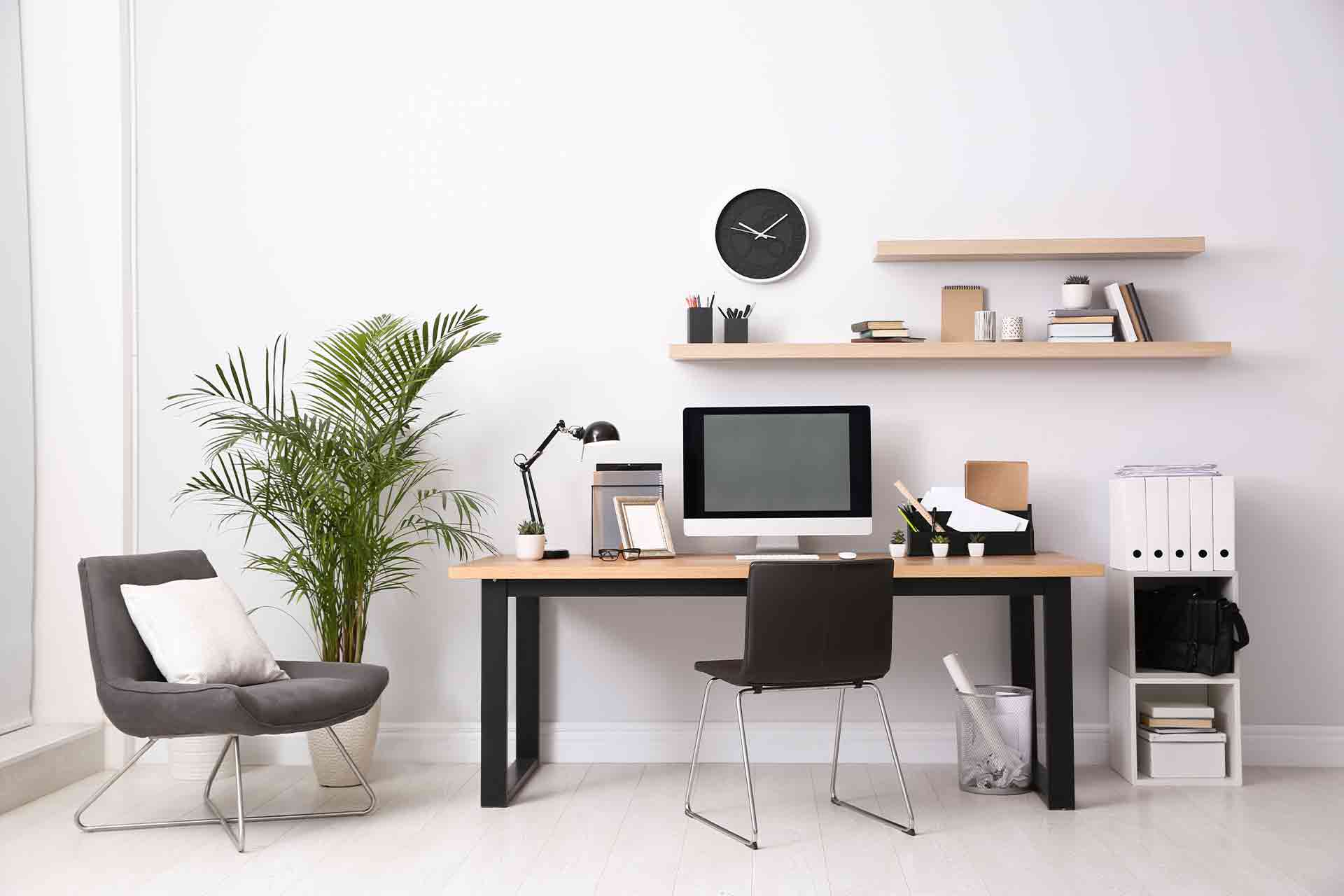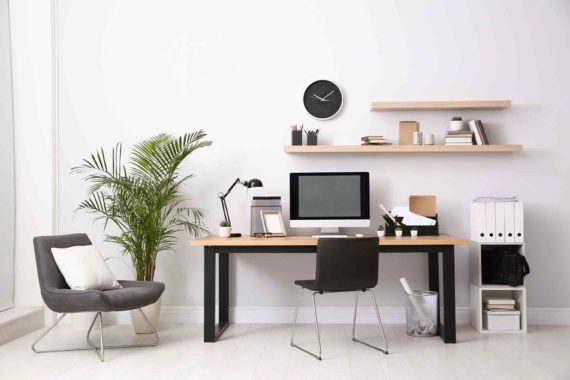 Home office storage ideas for small spaces
For those with limited space, desk organisers are great for keeping things neat and tidy.
If you have drawers, consider adding some compartments to separate your stationary. Not only do they make everything easily accessible, they're also discreet and clutter-neutral.
If you don't have drawers or would like more storage space, accessories like this 3-tier drawer set or this desk tidy are both stylish and practical options.
Home office storage solutions ideas
If you've ever worked in an office, then you'll know what a pedestal is. Both mobile and adaptable, they're a perfect piece of equipment to roll out at 9am and roll back under your desk at 5pm. They also come in varying designs and materials, which means they're a versatile addition to any home office.
This industrial meets Scandi aesthetic shows us that home working doesn't need to be drab. We like the contemporary wire rack at the back, which you can hang pen pots, glasses, note pegs and reminders from – or anything else you might need within easy reach.
Creative home office storage ideas
Modular floor-to-ceiling shelves are a great way to disguise your clutter all in one place. Make it a feature wall in your home. Fill it with a variety of pots, boxes, plants, folders and books, and let the aesthetic feng shui you into productivity.
For larger jobs, think about hiring a professional to install your shelving units. This lets you choose a bespoke design to match your existing decor or theme.
Office paper storage ideas
In an ideal world, we'd all be paper-free, tree-neutral or wood-zero. However, most office environments are yet to completely digitalise, which means we're forced to hide or disguise those ugly paper piles. And when we work from home, that need gets more real.
We suggest opting for style here. Find tall filing cabinets or short pedestals. Think luxurious storage boxes that hide your paper-shame, or uniformed folder holders that keep it real. Go bold and beautiful or sleek and classy, but whatever you do, keep those trash-piles hidden from view.
Home office storage ideas
Shabby-chic or slick-unique, take your home office from 'boring grind' to 'inspiring find' with a few simple touches.
Mix up your storage solutions for maximum impact. For example, think about adding some floating shelves to store your books. How about some standing files for folders or magazines? Now add a drawer or two for storing paperwork, then incorporate dividers to organise stationary. Finally, build bespoke cupboards to hide bulky items like printers or wire boxes.
Now, take a step back and admire your new workspace. For a finishing touch, adorn with a clock, a desk lamp and an air-purifying plant (or two).
Voila!
See the tradespeople we've checked and recommend for your job
Tell us what you think
What others think of this article:
Need More Information?
Related posts