If the first thing 'kitchen colour ideas' evokes is cream, beige, brown or white decor, then you're in for a bold awakening.
Our kitchens are the most practical rooms in our homes. They're the places we satiate ourselves, house most of our appliances, and store our food. They're also ground zero when it comes to cleaning up – whether it's in the form of a dishwasher, washing machine or pair of marigolds.
It's probably why, when it comes to kitchen colour ideas, we tend to stay within the 'neutral zone.' We forget the incredible interior design potential they have and overlook it for the more adventurous rooms in our abode. This is a mistake. Our kitchens deserve the same love and artistic attention as all the rooms in our home.
Don't believe us? Then let us prove it with our ideas carousel. We want to take you on a visual journey, which is why we've put together all the latest trends for stylish kitchens with gorgeous colour combinations.
Top kitchen colour ideas and trends
Different colours evoke different moods. When it comes to decorating or renovating your kitchen, choose your paint palette wisely. You want your colours to complement each other and set the tone for a chic and clean aesthetic.
Here are some colour combinations to get you started. Check out our carousel images for more visual inspiration and mood-defining blends.
Moss green walls with champagne cabinets
An open brick feature wall with industrial style fittings
Dusty blue walls with light grey surfaces
Pastel pink cupboards with white marbled surface tops
Green and white mosaic wall tiles with beech countertops
Mustard walls with speckled marble surfaces
Burnt orange units with onyx utensils and appliances
Mediterranean teal and white walls with Scandinavian features
Ocean brick tiles with oak surfaces and gloss white units
See the tradespeople we've checked and recommend for your job
Like what you see? There's plenty more where this came from. Discover more ideas, inspiration, tips and how-tos via Checkatrade's blog.
Kitchen colour ideas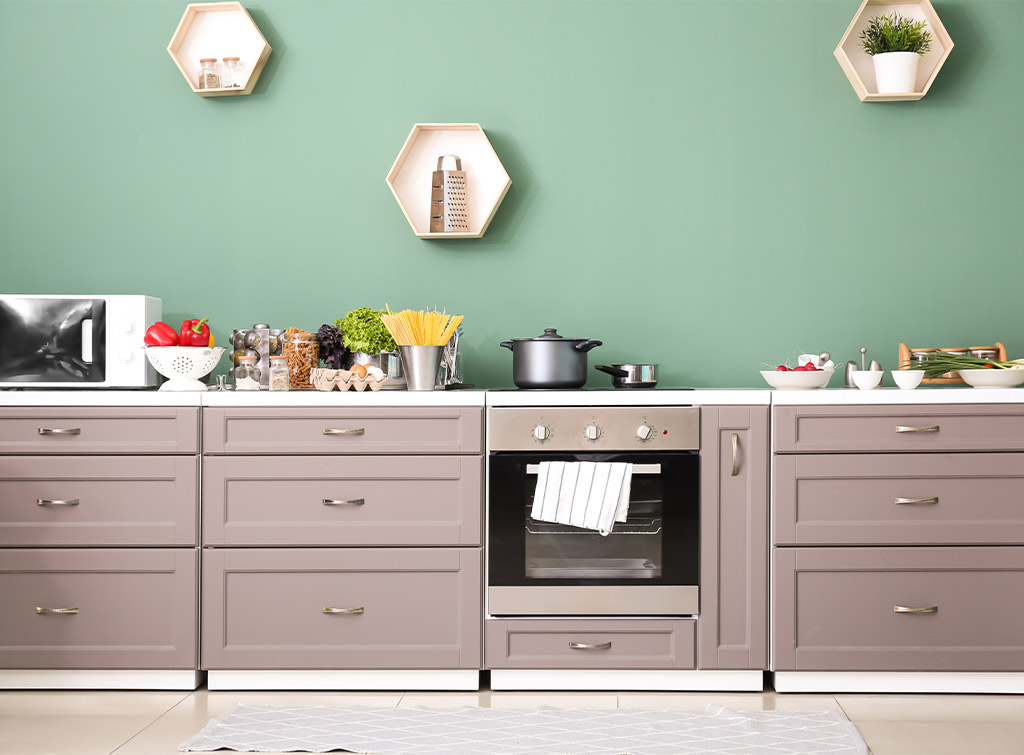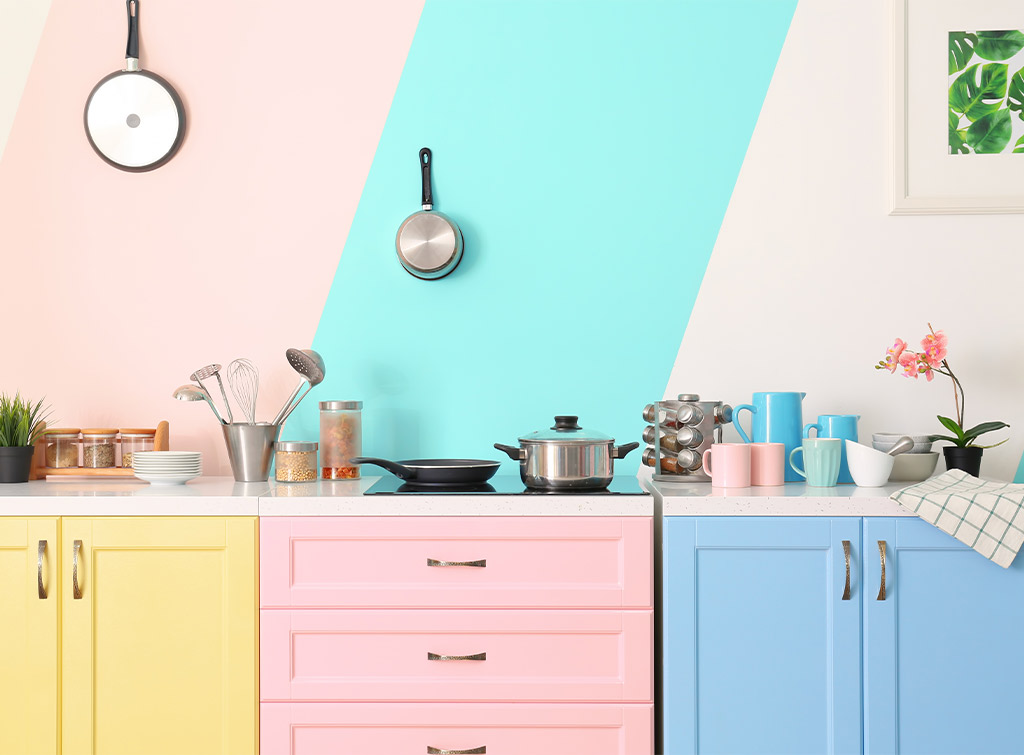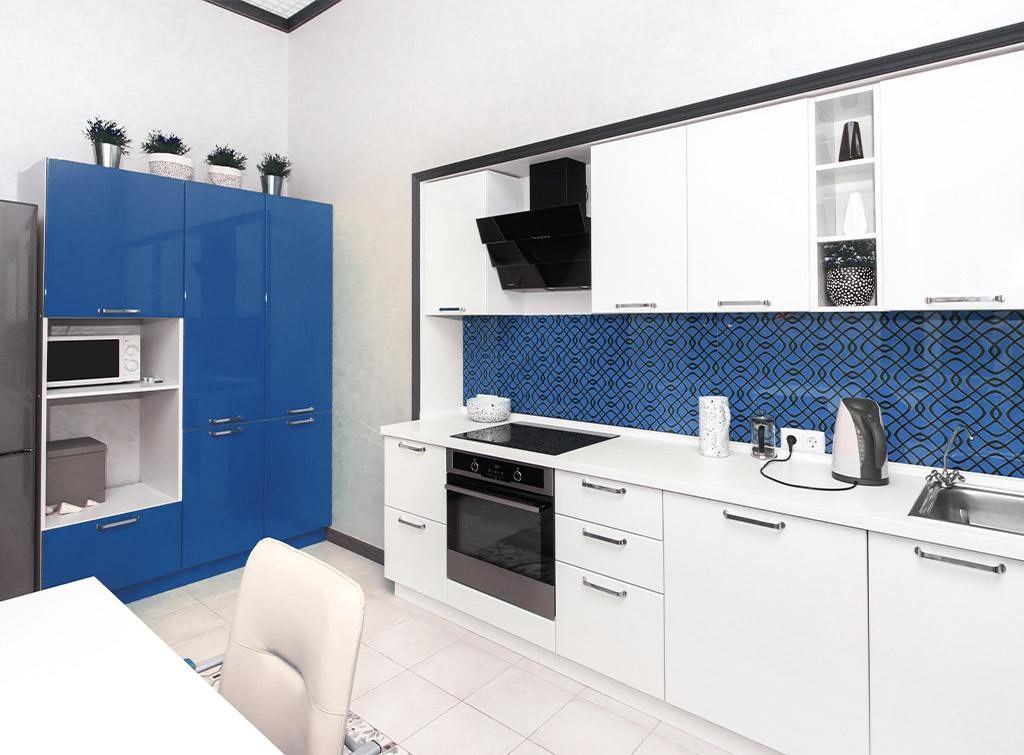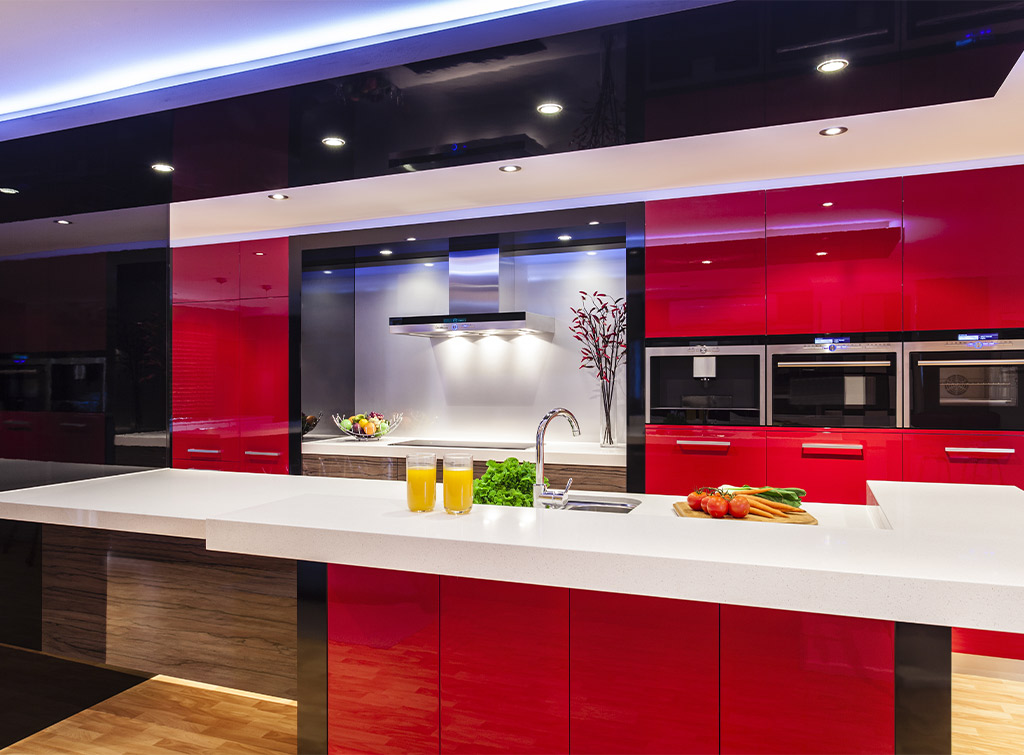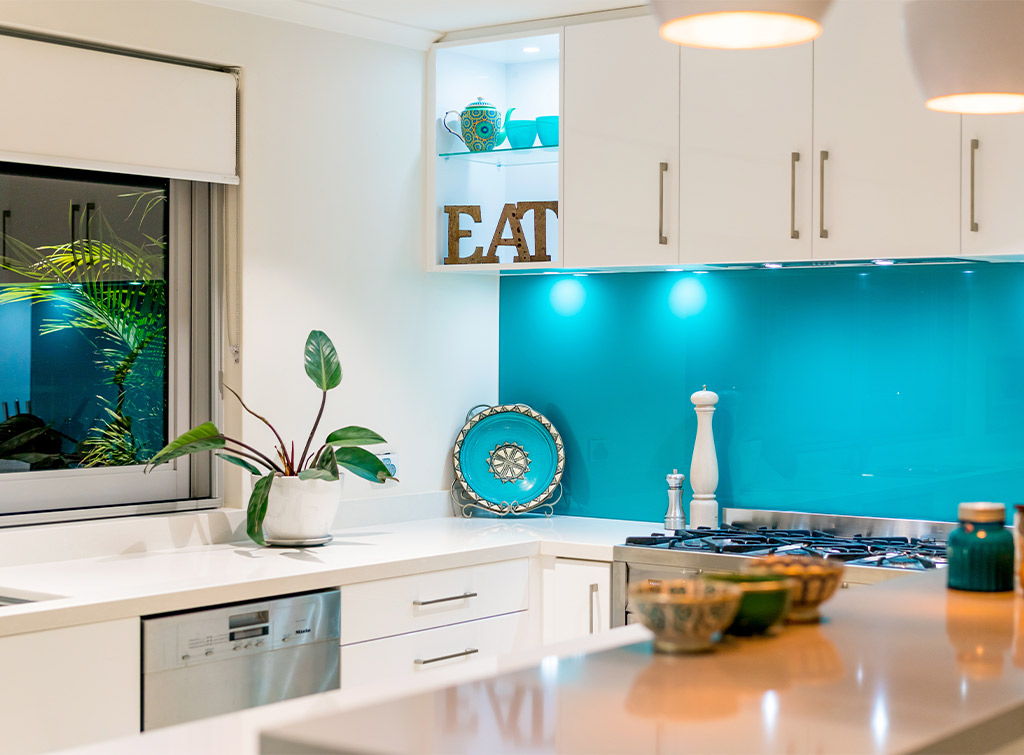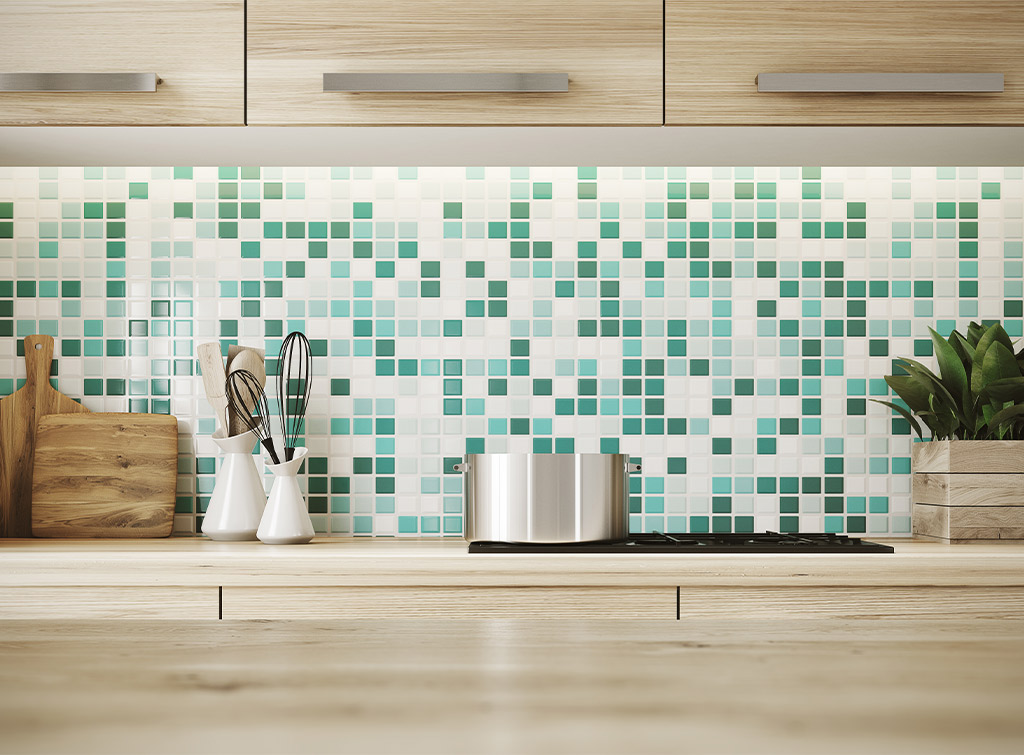 Kitchen wall colour ideas
Choosing colours that make a big impact doesn't always mean picking the brightest and boldest on the market.
Sometimes, muted tones such as this pistachio green are all that's needed to strike a balance. The champagne cupboards – a colour that works well with almost any primary colour – complements the pistachio perfectly.
This leaves you to accessorise the rest of your kitchen with chrome, white or black appliances.
Kitchen colour scheme ideas
Colour schemes aren't confined to the 60's. Choosing your perfect pairing now extends to aesthetics too.
For example, this peach and white kitchen is used to create an 'industrial meets popsicle' vibe, which manages to mute the peach with white units, uniformed lines, cone-shaped hanging lights and some strategically placed ferns.
Bright and fun, it all comes together to create a vibe that combines the practicality of cooking with the high energy of entertaining.
Kitchen cupboard colour ideas
Pastels are making a comeback. This bright, seafront cottage vibe is both fresh and inviting. It wouldn't work if you took away or added another colour, which is what makes the combinations so perfect.
This kitchen is also a great example of how to use more than one colour to create interest and texture. You're immediately drawn into this kitchen and want to stay for whatever excitement is about to unfold.
Small kitchen colour ideas
For smaller kitchens, keeping the space bright and light opens it up and keeps things clutter-free.
This doesn't mean you can't inject a bit of life. Think about adding splashes of bold block colours to create an open and striking aesthetic. We love this black swirled backboard, which creates immediate interest to what would otherwise be a very plain kitchen.
Bright kitchen colour ideas
This contemporary kitchen incorporates all your mod cons to create a striking and interesting aesthetic. The black, white and red colour combination is effective, with the reflective gloss texture magnifying the inset spotlights for an ethereal effect.
For most, this colour combination might feel too bold. However, we love how the wooden floors and walls offset the gloss in order to warm up space and keep it in more neutral gear.
Modern kitchen colour ideas
These teal-brushed and textured tiles are a modern kitchen's dream. The lighter hue injects a clean and tranquil vibe into this fresh kitchen, while the wooden worktops and matt-white cabinets evoke crystalline beaches and tropical ocean waves.
Mediterranean kitchen design
If you're looking for an expressive colour to freshen up your kitchen, why not incorporate a theme? Keep it clean, crisp and classy for maximum effect. Then, slowly introduce interest with accessories such as plants, baskets, plates and jars to complement your chosen aesthetic
This Mediterranean vibe is perfect if you're looking to transform your kitchen into a warm and health-conscious haven. The turquoise feature wall is a bold statement that brings the rest of the kitchen alive.
Modern kitchen colours
Mosaic tiles with light wood units = modern elegance. Sometimes, light woods and classic tiles are all you need to create a warm and clean aesthetic that works all year long.
We love these green and white mosaic tiles. When coupled with brushed beech units, they'd fit anywhere – be it a rustic cottage or modern apartment – which makes them versatile and timeless.
See the tradespeople we've checked and recommend for your job
Tell us what you think
What others think of this article:
Need More Information?
Related posts