Long living room ideas are all about creating an illusion of character. We're not all blessed with period features in Georgian townhouses or split level lounges with rustic wooden joists. Sometimes, we need to create the interest ourselves.
In order to benefit from the feng shui of stylish living rooms, you need to get creative with your narrow square footage. That's why we're here to help you avoid decorating it like you're about to show off your fashion choices every time you come home. (You don't need that kind of pressure in your life).
Check out our ideas in the carousel below for some visual inspiration. We've also put together some top tips for decorating a long living room to help keep you on the straight and narrow.
Top tips for long living room ideas
Arrange furniture in L or U shapes
Think L shaped sofas with an accent chair on the end. Add a circular coffee table in the middle for interest and throw down a rug for extra design credit. If this doesn't tickle your fancy, consider adding loveseats opposite your couch and angling them towards your sofa.
Chop up space with separate areas
Depending on the length of your narrow living room, it might be worth dividing it into distinct areas. For example, you could have a seating area at one end, a shelving unit that divides the space, and an office or dining area at the other end. Placing two large area rugs in both spaces really helps break up the room.
Create texture with mismatched heights
Think tall bookshelves, short cabinets, low rise furniture and lots of randomly sized artwork. Build upwards in narrow rooms to create an illusion of layers. You don't want uniformed decor. The keyword here is 'mishmash.'
Counter the straight lines with curved shapes
Geometric or circular furniture is perfect for adding interest to square rooms. This includes rugs, chairs, coffee tables and lampshades. Pull the furniture away from the wall to add depth and create shadows that break up the flat walls.
Add a curved walkway and avoid clutter
Create a clear walkway through your living room, but curve it to avoid the dreaded catwalk/bowling alley effect. You should be able to walk from one end of your living room to the other without stubbing your toe on anything, but the path you take shouldn't be linear.
Like what you see? There's plenty more where this came from. Discover more ideas, inspiration, tips and how-tos via Checkatrade's blog.
Long living room ideas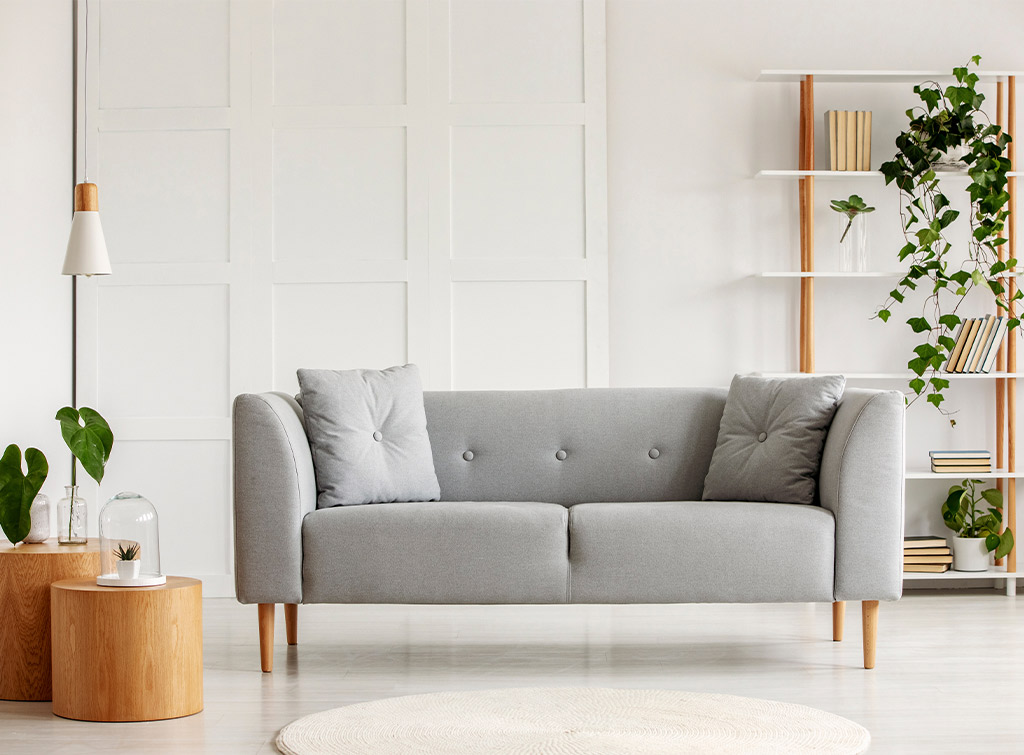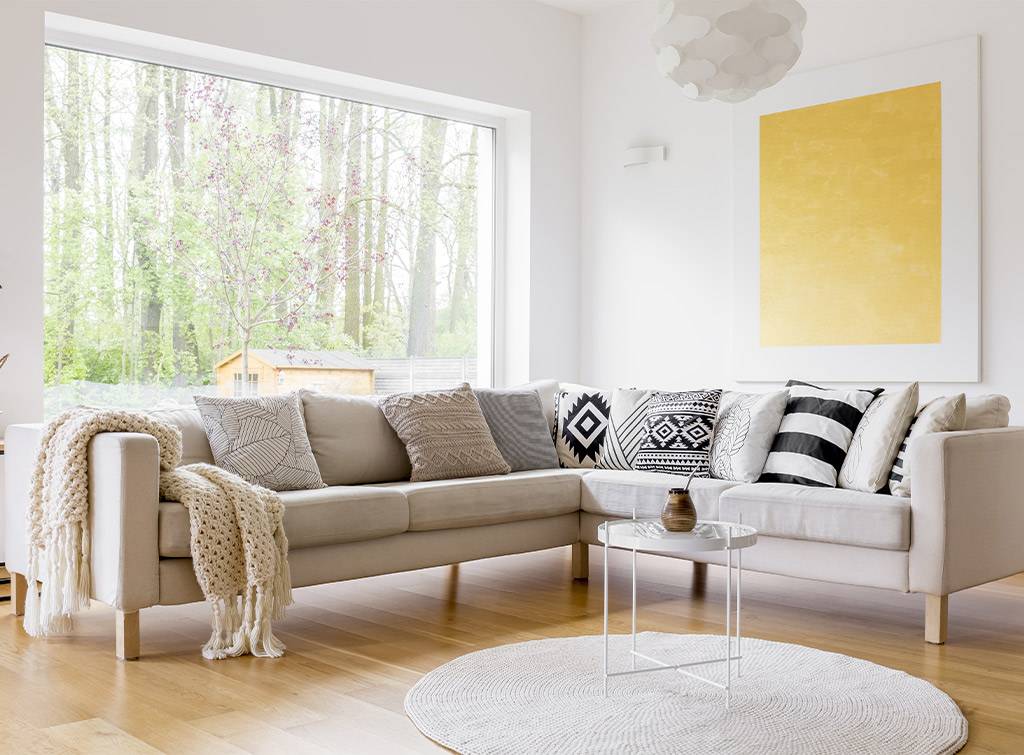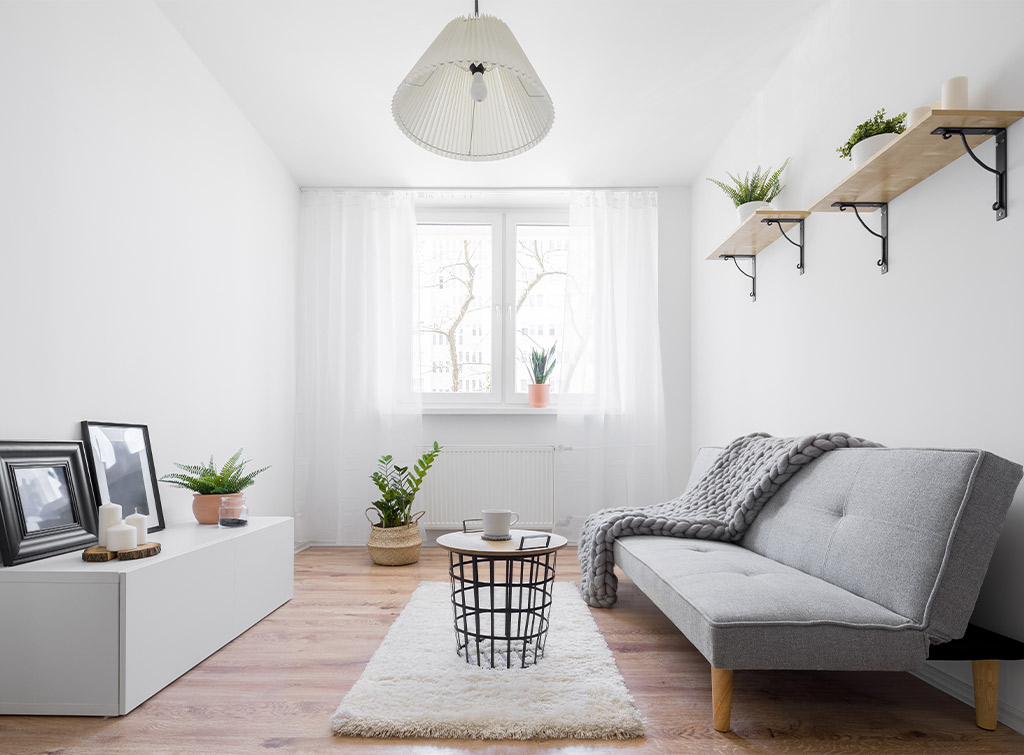 Long thin living room ideas
When it comes to a long living room, the trick is to draw the eye to different places at once. This stops you from noticing the 'boxed-in' feel of the room and creates immediate interest.
For example, this classic lounge places an L-shaped sofa with a small coffee table on a textured blue rug. A leather chair sits opposite – half on and half off the rug, while two lights hang at different heights over the whole setup. Nothing is placed in uniformed lines here, as the whole point is to create the illusion of character.
Long living room decorating ideas
A classic trick for long living rooms is to add curved lines. This inset arch, painted green, adds the illusion of depth to this otherwise long room. The couch itself it curved and the floor is parquet for extra interest. Even the towering potted plant plays a part in creating layers and interest.
The colours here are interesting too. Using a warm and bright colour on the walls and a darker, contrasting shade for the arch make it look like there's somewhere beyond the wall.
Decorating long living room ideas
This Scandanavian meets rustic vibe is a beautiful example of how to make your long living room look like the best architectural decision since the Georgian townhouse.
Let's start with the clashing colours of the sofa and chair, which complement each other only because blue and grey is a classy pairing. The throw on the grey couch also pairs the seating, making it look like a deliberate choice instead of a faux pas.
Next, we have the wood-woven lampshades with matching coffee tables and accessories scattered throughout the room. This adds warmth and texture without being overbearing.
This makes way for the artwork, which is hung at different levels to break up the conformity of the whitewashed walls.
It's so successful, the hanging shelf only adds to the overall charm of this interesting living room.
Long narrow living room ideas
Placing your sofa away from the wall or in the middle of your living room is a great way to break up a narrow space. Circles are your best friends here. Round rugs, cylindrical coffee tables, cone-shaped lights and curved sofas all help to break up the rectangular rigidity of a long and narrow room.
Long living room design ideas
Bold colour choices and neutral furniture is a wonderful way to add texture and interest to a featureless room. We love this emerald example, with the cream tub sofa, gold metal planters, empty frame and mismatched coffee tables. As the elements all work so well, you can get away with a neutral high-pile runner to warm the space.
Hanging shelves are also a great way to break up wall space. Think about placing them at different heights and adding books, candles, photos or other trinkets to add character and texture.
Furniture for long living rooms
L-sofas are quick wins for long living rooms, as are circular rugs and layered artwork. We adore this simple living room design, which relies on subtle Scandi-elements to create texture and warmth. The interest is found in the accessories, such as the mismatched cushions and knitted throws. Notice how the sofa is pulled away from the wall too, which gives an illusion of depth.
Small long living room ideas
A lean-back material couch, wooden hanging shelves, white shag rug and cage coffee table effectively clash in this small living room. The eye is drawn to the offset wicker planters, which add layers and interest, while the trunk shelf with free-standing pictures and candles are decorative tricks that make the room feel less uniformed.
See the tradespeople we've checked and recommend for your job
Tell us what you think
What others think of this article:
Need More Information?
Related posts