Are you looking for some raised koi pond ideas and inspiration? Are you wondering about how to create a natural sanctuary for your new aquatic friends and need a little splash of creativity? Well, you've come to the right place. We have everything you need to know about koi and their habitats.
Why are koi so popular?
They're believed to bring good luck and strength
They're naturally beautiful
Watching them relieves stress
They're a low-maintenance pet
Having a koi pond installation raises your property value
Check out the below carousel content for some visual inspiration!
See the tradespeople we've checked and recommend for your job
Like what you see? There's more where this came from. Check out Checkatrade's blog for more tips, ideas, how-tos, and inspiration.
Raised koi pond ideas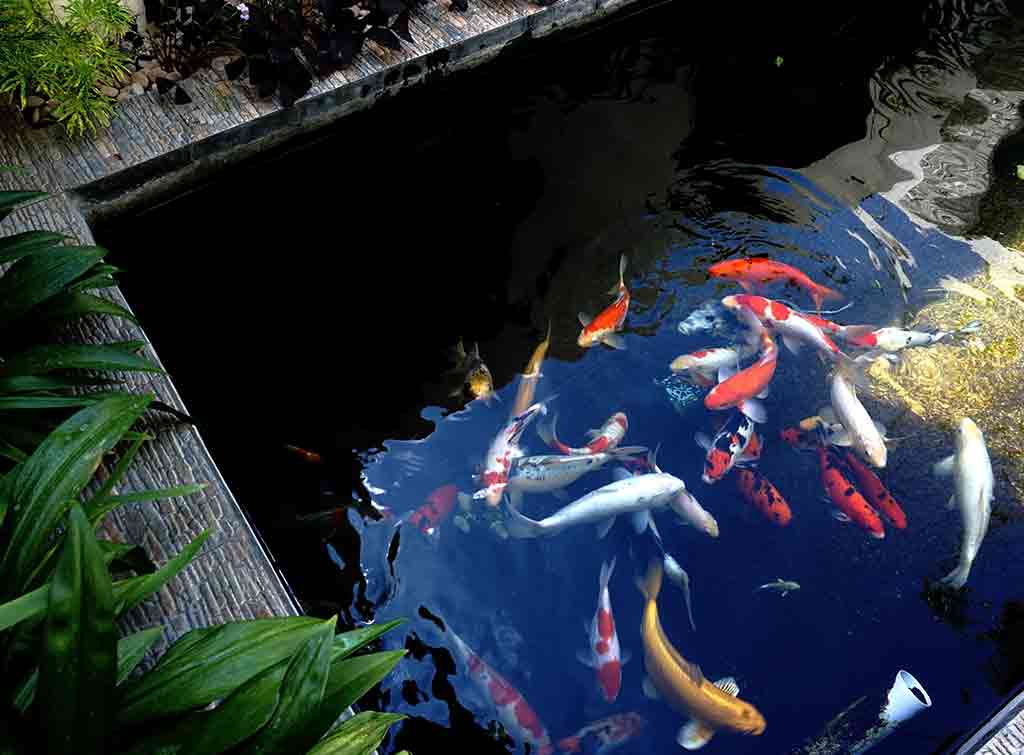 Raised koi pond ideas
Sitting by this pond and watching the koi swim happily in their healthy environment is enough to make any koi parent a zen master.
The mesh over the top of this pond keeps out predators while allowing the sweet flag to grow through the holes, while placing a few rocks and eelgrass at the bottom of the pond adds interest for your koi.
We particularly love the mismatched stone rocks that surround the lip of this circular pond. It's a feast for the eyes – and for anyone lucky enough to have this in their back garden.
Raised pond ideas
This rich and vibrant koi pond has everything you need to make your fishy friends happy. Just look at those red cardinal flowers!
Firstly, it's large and full of interest. Secondly, it's interspersed with water loving foliage that oxygenates the water and creates natural hiding places for your koi. And lastly, it's sheltered well from predators.
Get the look by hiring one of our professionals to install this design for you.
Raised garden pond ideas
These koi look happy and healthy in their large, open fish pond. And there are a few subtle details that explain why:
The water is deep enough for them to enjoy.
There's a subtle water pump to keep the pond water balanced and oxygenated.
Rocks and algae create a natural habitat, while the peripheral plants are all water-loving varieties.
Raised fish pond ideas
The clean, classy and contemporary design of this raised fish pond is striking. Currently in half shade to avoid constant direct sunlight beaming down on the koi, it dapples in the afternoon rays.
The stone and concrete edging is currently a top landscaping trend due to its versatility and attractive finish. The bordering plants bring the entire enclosure to (literal) life. And we love the dark stone used to line the bottom of the pond, which creates a complementary contrast with the brightly coloured koi.
Get the look by hiring one of our professionals!
Raised pond waterfall ideas
Wood, stone and concrete collide in this gorgeous raised koi pond design. The subtle mosaic patterns are both attractive and minimal.
The split level design allows for a waterfall feature, which helps circulate and oxygenate the water. This feature is particularly important in the winter, where the koi will lie at the bottom of the pond in a dormant state until they're warm enough to swim again.
It's important to allow for flow so the the water doesn't freeze and they can still breathe.
Raised wooden pond ideas
Clearwater Ponds & Landscaping designed this classic wooden pond, which works well in nearly any sized garden.
The beauty of a raised wooden pond is the fact it's easy to install and maintain. This particular design has a waterfall mechanism, a mesh covering, and a lipped edge to help keep out predators.
All it needs to bring it to life is some oxygenating plants and goldfish! Hire Clearwater Ponds and Landscaping on Checkatrade today.
Stone edged koi pond
This beautiful stone-edged pond design is teaming with life and interest.
We love the rockery border, which is built upwards to act as a natural defence barrier, while the rocks and horsetail plants give the koi something to hide under, play with, and nibble on!
The water of this pond is incredibly clear, which is due to the circulation pump and filter that keeps the water moving, balanced and healthy. Can you spot it on the left?
Japanese garden koi pond design
What's not to love about this Japanese garden koi pond? As Japan was the country that popularised keeping koi, it's fitting to install a design that offers a gentle nod to their origins.
From large, sweeping boulders, to verdant aquatic plants, to gentle waterfalls that circulate and oxygenate the water, this pond is perfect for your fish friends. It's also large enough to enjoy patches of sun and shade, which helps regulate the temperature of the water and avoid overheating or freezing conditions.
See the tradespeople we've checked and recommend for your job
Tell us what you think
What others think of this article:
Need More Information?
Related posts