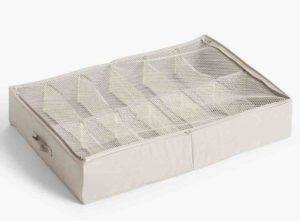 If you're looking for shoe storage ideas, you either have too many or you own a cheeky puppy. We're here to help with both; because shoes are one of life's necessities.
No matter if you wear boots, pumps, slippers, stilettos, trainers or wellies, you still need somewhere to store them.
Benefits of shoe storage
There are various benefits associated with storing shoes properly, which include:
Better hygiene
Reduced floor damage
Shoe preservation and longevity
Neat and tidy aesthetic
How to organise your shoes – from a shoe storage pro
To bring you the latest on everything shoe storage chic, we teamed up with Deirdre McGettrick – founder of furniture search and discovery engine, ufurnish.com, and co-host of The DnA of Home Interiors podcast.
"From a cupboard under the stairs to a concealed shoe rack, every household has its own way of storing shoes. Think about differentiating shoes into two categories: shoes you need regularly and those you only wear on occasion."
"For shoes you wear once or twice a week, consider adding a shoe rack inside your wardrobe as a subtle reminder to wear them when you get dressed. Consequently, this leaves your space near the front door free."
For occasion shoes, Deirdre recommends keeping each pair in labelled shoe compartments or footwear storage boxes. Then, either store them within your wardrobe or underneath your bed. Not only does this keep your storage organised, but it also saves you time when you're looking for a specific pair.
"Finally, when it comes to purchasing shoe storage solutions, always consider the look you are going for and how often you use each pair. This will enable you to invest in the solution that best fits the space."
Can't find the ideal shoe storage solution?
It may be that you are looking for something bespoke, in which case, working with an approved carpenter on Checkatrade may be a better fit for you!
You can get as creative as you like with a carpenter by your side.
See the tradespeople we've checked and recommend for your job
Check out our carousel of ideas below for more inspiration and ideas.
Like what you see? There's plenty more where this came from. Discover more ideas, inspiration, tips and how-tos via Checkatrade's blog.
Shoe storage ideas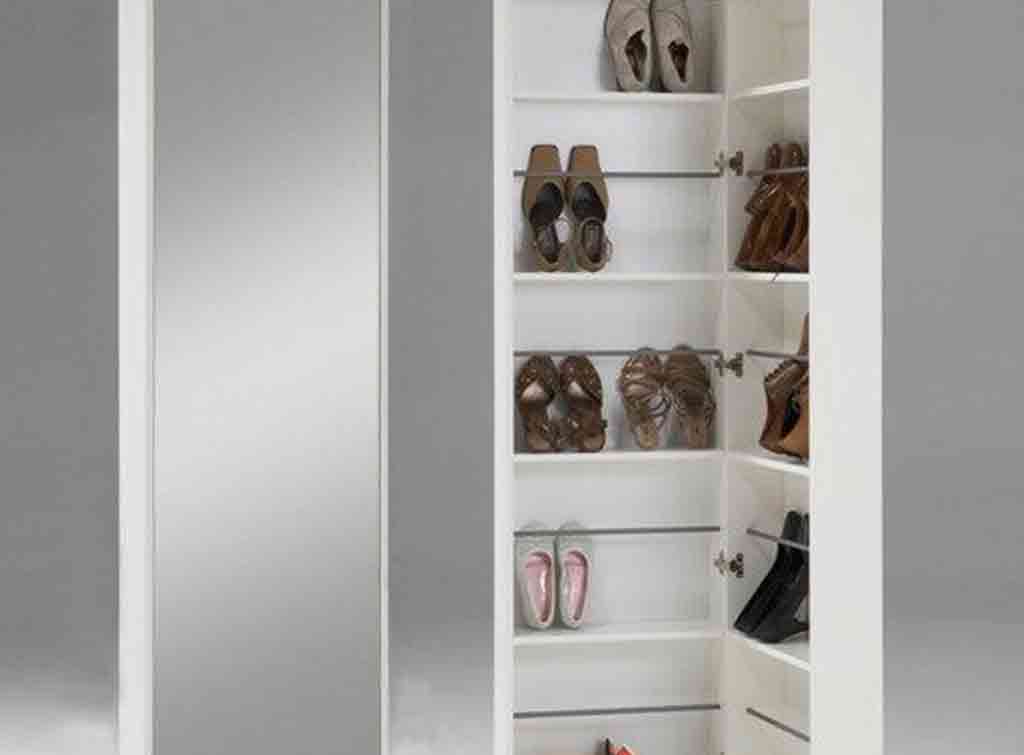 Shoe storage ideas for small spaces
For those with limited space, consider investing in these simple storage accessories. Stack your flip flops, pumps, trainers or flats in these compact shoe holders for a genius space-saving solution.
By Wayfair at ufurnish.com. Buy them here.
Clever shoe storage ideas
With increased rents and smaller living spaces, sometimes you want something discreet and clever to store your less appealing footwear.
This 2-tier shoe cabinet is a unit that houses several pairs of shoes and keeps them tucked away all neat and tidy for you. Place in your hallway, bedroom, kitchen or porch.
Simple, elegant and clever.
Shoe storage ideas hallway
Shabby chic, rustic and on-trend, this shoe cupboard is a gorgeous addition to any hallway. We see it at home in a cosy cottage, earthy log cabin or a rustic loft conversion.
With several compact shelves inside, your shoes are kept safe and tidied away, leaving you to accessorise the top with flowers, pictures, key holders or candles.
Unit by Teddy Beau at ufurnish.com. Get yours here.
Shoe storage ideas DIY
Why not repurpose an old unit and turn it into a storage bench? A lick of paint, some finishing touches and, voila! – an upcycled shoe storage rack that is both unique and environmentally friendly.
Accessorise with cushions, plants, books or throws. Place it under your coat rack or your inside porch, and bask in the glory of your green-fingered handiwork.
Or shop the look and buy this beautiful, 'The Cotswold Company' specimen at ufurnish.com.
Wardrobe shoe storage ideas
When choosing a shoe storage rack for your wardrobe, your main objective is to maintain hygiene. Be sure to spray your shoes regularly or seal them in bags to avoid odour contamination. This is why it's best to keep the shoes you wear the least in your wardrobe.
If that seems like too much work, we recommend investing in something like this freestanding shoe cabinet from Furniture in Fashion. You can either leave it freestanding or, if you have space, slide it into your wardrobe. Its clever design is discreet, stylish and hygienic!
See the tradespeople we've checked and recommend for your job
Tell us what you think
What others think of this article:
Need More Information?
Related posts