Just because your bathroom isn't big doesn't mean you can't make it look nice. We have some small bathroom ideas, on a budget, no less, that will help you transform the space into something truly unique and eyecatching.
These simple suggestions will help lift your bathroom from simply nice-looking to a talking point.
Are you considering a small bathroom remodel on a budget for your home?
Bathroom space is not something you would think about showing off, but when you have guests over, you do want it to look nice. Of course, there is nothing wrong with a basic clean bathroom without any fancy trims or frills, but just because the bare minimum is okay doesn't mean you should settle for it!
The problem with small bathrooms, however, is that they are small! When you only have space for the bare minimum, how do you make the space look nice? Luckily, we can help you find a bathroom designer near you to help out. What's more, we have plenty of small bathroom makeover ideas on a budget for you.
Even if you don't want to spend a fortune on your small bathroom makeover, there are several ways that small changes could refresh the appearance of the room. Remember, it's the details that make all the difference! Here are our suggestions on ways you can decorate your small bathroom on a budget.
Find a bathroom designer near you
Upcycled furniture
Flea markets, car boot sales and online marketplaces are great for bargains on old furniture. Give them a polish or a lick of paint, and you have yourself an attractive accessory that adds character to your small bathroom inexpensively.
Plus, they can also help with storage space! Use a stool to keep your toiletries or put a wicker basket on it to hold your towels.
Looking for a painter to paint your furniture? Find one near you.
Vertical spaces
One of the biggest problems you'd face with small rustic bathroom makeover ideas on a budget is the fact that you can't really put much in the small space.
However, if you make use of your vertical spaces, you will not only solve storage issues but also be able to add innovative design features.
For example, a small wooden ladder or stepladder has a small footprint but gives you storage space or act as a towel rack. Alternatively, you could instal shelves.
Find a handyman near you to help you install your shelves.
Tall shelving
Another low-cost, yet functional, idea of adding character to your small bathroom on a budget is to invest in tall, narrow shelving.
If you find a preloved one, you can upcycle it to match the decor of your room.
Or, you could find a carpenter locally to help you build a custom shelving unit.
Find a bathroom designer near you
Indoor plants
One of the easiest ways of making any indoor space come alive is by adding plants!
The advantage a bathroom has is that it's often humid. This humidity lends itself quite well to certain indoor plants that don't need direct sunlight or a lot of watering.
This is one of those cheap small bathroom ideas that not only gives you a bigger bang for your buck but is also great for your mental health.
Splurge on the little things
Whilst it is true that spending money on a bathroom makeover might not be in the budget just yet, you can get that sense of luxury in other ways.
One of our low-cost bathroom makeover ideas is to save money on the big stuff but splurge on the little stuff. A fancy soap dispenser with a bottle of hand lotion next to it might be little details but they do add to the experience!
Wall art
Just like indoor plants, wall art is one of the small bathroom ideas on a budget that leaves a big impression.
It's an easy way to make a room look classy and add colour, and it also serves as a focal point in your small bathroom.
A bathroom designer could help you come up with other such ideas to transform your room into something special. Find one near you now!
Find a bathroom designer near you
Colourful shower curtains
Sometimes, a budget small bathroom remodel does not involve grand plans or time-intensive renovations.
Sometimes, you can achieve a complete change of look simply by replacing a plain shower curtain with something bright and with an interesting pattern!
This is such a quick and easy fix that you can make your small bathroom look different every other week, simply by swapping around shower curtains!
Colour-coordinated bathmats and towels
Even if you have a 'boring' white bathroom, you can add splashes of colour in there for a quick and cheap small bathroom makeover.
One of the ways to add colour was shower curtains, and yet another is a bathmat that is colour-coordinated with bright towels. Both are utilitarian items that add vibrancy to your small room.
Find a bathroom designer near you
Painted bath panel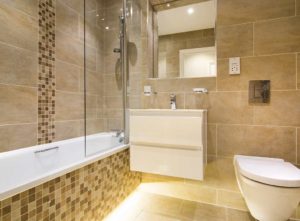 If you're looking for cheap small bathroom remodel ideas, there's a good chance you're bored of the plain, boring bathroom you currently have. If you've read our previous suggestions, you'd probably have guessed the underlying theme.
Why spend money on big renovation projects when you can make the same impact with a small one? And, changing the colour of your bath panel is a great way to do it. You can paint over it, or get vinyl stickers to stick on it.
Quick and easy!
Need an expert to remodel your bath panel? We can help you find a reliable fitter.
Vinyl patterns on tiles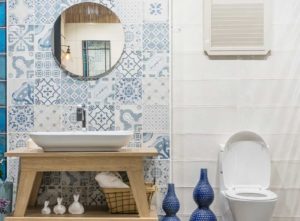 Speaking of vinyl stickers, you can also get these for bathroom tiles.
Stick them on tiles on walls or the floor. You'll instantly get a new look without having your bathroom taken apart and rendered unuseable.
Not sure if you'd be able to do a clean job? You can find a tradesperson near you to do it for you!
A splash of paint
Having walls that are all the same colour can often be the default. However, if you're looking for an easy small bathroom remodel idea, you could try painting one wall a different colour.
It doesn't even have to be the whole wall – a panel painted in a different colour can look just as attractive! And, if you're feeling adventurous, you could even try painting the floor!
To find a painter near you, use our handy search feature.
You can implement all of these ideas yourself. However, if you think a professional would do them better – we can help you find a reliable one near you!
Like what you see? We have plenty more where this came from. Check out Checkatrade's blog for more home inspiration, how-to's and project ideas.
Find a bathroom designer near you
Tell us what you think
What others think of this article:
Need More Information?
Related posts