As our homes get smaller and the housing market gets increasingly competitive, smart living is both a trend and a solution. It doesn't matter how small your bathroom is, style and practicality are within (literal) reach. This small bathroom ideas blog is going to look at the latest design trends, the latest living solutions, and the best ways to maximise your space.
Although we spend the least amount of time in our bathrooms (unless you're a super-soaker), their aesthetic still matters. They're where we start and/or end our days and they're where we clean ourselves, relax and *ahem, read the paper.
Small bathroom design ideas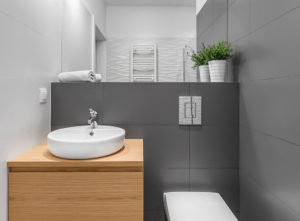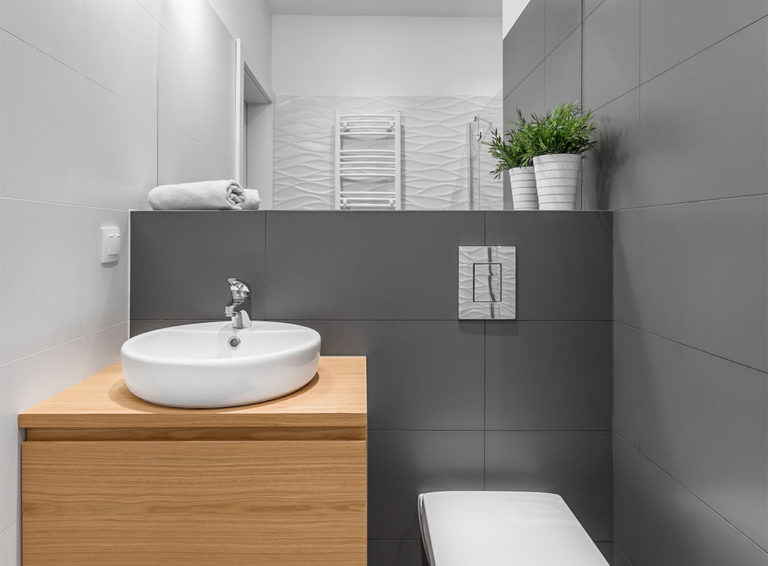 A small and spacious bathroom might sound like an oxymoron; however, it's one of the only rooms in your house that can pull off that description. Why? Because there are fewer design elements but thousands of decorating options.
Use this section if you'd like help making a design decision. We've put together a guide of all the latest trends for 2020 to help you look the business while doing your business.
Bathroom ideas: Flooring
Budget flexibility is one of the great things about having a smaller bathroom. The smaller your space, the more per square footage you can afford. This means a wider range of flooring options that lets you harness your creativity and incorporate your top design choices.
When it comes to tiling your bathroom, there are several floor materials to choose from.
These include:
Porcelain or ceramic tiles
Vinyl or LVT tiles
Waterproof laminate
Stone (e.g., slate)
Engineered wood
Rubber
Polished concrete
Neutral floors
Picking the right tile bathroom ideas depends on your style and taste. However, there are some key trends that are worth considering. Firstly, keeping your floors neutral or to one or two colours is recommended. The less busy it is, the more spacious it will feel.
Ceramic tiles
Ceramic tiles are very popular, as are their spiral designs that you'll find in most modern bathrooms. They come in a huge array of patterns and colours and tend to suit most aesthetics.
Waterproof laminate
That said, if you've got a higher budget, consider a wood-effect waterproof laminate, which adds warmth and consistency to your floors. It's less ideal for water-prone areas, but the thermoplastic core makes this type of laminate a stylish decorating option for upstairs bathrooms.
Natural stone tiles
If you're looking to splash out (pardon the pun), opt for natural stone tiles. They're classy, ageless and add a certain opulence to your washroom.
Bathroom ideas: Tiles
Tiling your bathroom is a great way to both waterproof and stylise it. Tiling halfway up your walls is perfect for adding the illusion of height. This is because it tricks the eye into believing there's more wall or ceiling space than there actually is – especially if you have low or slanted ceilings.
It's also great if you want to add some dynamic colour contrasts. For example, darker tilling beneath neutral walls and ceilings means you can get away with bolder bathroom colours. Whatever you do, aim for clean, simple and symmetrical lines at all times.
Another popular decorating option is floor-to-ceiling tiling. To pull this off in an enclosed space, you'll need to keep them bright, light and neutral. Match them to your flooring (at least in some way) and you'll create a sense of space and depth.
Bathroom ideas: Decorating
Rub-a-dub-dub
The top small bathroom trend of 2020 is the freestanding tub. They can be tucked away in awkward corners or used in rooms with lowered ceilings. There are several bathtubs on the market, each with their own charm, so it's about finding out what works well for your unique space.
Some of our favourite small bathroom ideas with tubs include the oval, clawfoot, eggshell and slipper designs. They come in a variety of sizes and materials (e.g. acrylic, cast iron, copper and stone) and several fancy shower and faucet options, so choose wisely before introducing one of these tubs to your small bathroom.
Glass equals class
Not everyone wants to soak in a bath. For them, their bathroom is purely functional and they want it to be clean, minimal and spacious.
For small bathroom ideas with showers, we recommend glass doors and screens. Seeing the whole floor, even if you can't use it, makes the room appear larger. Curtains and cubicles just box in the space, making it look and feel cramped.
We also recommend either ditching the shower basin or opting for a shallow one to add to the illusion of floor space.
Note: If you go sans-basin, you will need to dip your floor to allow for proper drainage. Ask one of our trusted tradespeople for a quote today!
Mirror, mirror on the wall
A famed trick for opening up any small space is to add a mirror or two. This year's trend is all about the framed and the beautiful. Think big and elaborate. Let it take up an entire wall. Make it the main feature so it can prove how iddy-biddy bathrooms don't have to look that way.
Easy does it
When it comes to the decor, keep things simple. Think straight lines with matching floors, walls and ceilings. Throw in a hanging plant or two and add contrast with grey, white or neutral wall to wall tiles (and/or paint). These are all effective decorating solutions that keep your small bathroom looking spacious, airy and clean.
Small bathroom solutions
Now we've inspired you with various decorating options, we're onto the practical design solutions. This section is all about the smart storage and space savings tricks interior design has to offer.
Wet room conversion
These days, most modern small bathroom ideas lean towards the classic wet room. This means floor to ceiling tiles with just a sink, shower and toilet at your disposal.
There's no shower basin and no tub, which makes the simplicity of most shower rooms a practical and stylish solution. Throw in a few hanging plants, a vanity mirror, and a glass screen, and you'll have the perfect small bathroom design solution.
That said, they can be on the pricer end depending on your needs and square footage. Check out our wet room cost guide for further information.
Storage solutions
This is where things get interesting. Smart design is all about innovation.
It answers questions like, 'How do I make my small bathroom feel bigger?' and 'What furniture works in a small space?'
Solutions include compact and space-saving designs for features like wall-hung storage, towel racks, vanity units, toilets and free-standing furniture. Yet, there are many more options on the market that can make your life easier and offer some sorely needed storage space.
Here are some of our favourites:
Corner shelves
So simple and yet so effective, making use of awkward corners by building wall mounted shelves solves almost any storage solution. You can roll up towels to store, buy baskets to put your toiletries in, add a succulent or potted plant, or install a corner vanity mirror above the shelving unit. Let your creativity run free!
Wall to wall shallow shelves
If you've opted for the 'half and half' decor idea (where you tile or panel halfway up your walls), then adding a shallow shelf that sits on the seam and runs the length of your bathroom is an ideal way to store items like pictures, plants and mirrors.
Adding shallow shelves is also a great way to hide waste pipes from your shower, bath or sink, which is a neat trick (literally) for keeping the room looking clean and minimalist.
Floating cabinets
If bathroom space is limited and you keep stubbing your toes on your toilet or shower basin, then a simple trick is to install floating cabinets.
Striking and elegant, they're often used to support washbasins or sinks, which means your tootsies are given some well-deserved room when you're cleaning your teeth or checking out your reflection in the mirror.
An added bonus for these gravity-defining units is their storage capacity, meaning you can save even more space. Hurrah!
Tallboys
Compact bathrooms greatly benefit from these feats of engineering. Like their namesake, these tall and shallow storage units are perfect for mounting to your bathroom walls. Better yet, buy one that has a mirrored door for that 'extra room illusion' and fill it with everything you don't want on display.
Underfloor heating
Ditch the radiators and remain clutter-free by incorporating underfloor heating into your bathroom design. Not only is this a genius space-saving option that works particularly well for tiny bathrooms, but it's also great for managing humidity and keeping your floors dry and mould-free.
Modern small bathroom ideas
Tastes and trends are ever-changing. However, that doesn't mean we can't tell you the word on the interior street. We've noticed a few key elements that define these 2020 style trends, so let this be our gift to you. You're welcome.
Style shake-up
If you know your styles, mix them up. Think bohemian wallpaper with geometric mirrors. Consider wooden cabinets with slate grey tiles; white ceramic spiral tiles with a copper bathtub, or vintage sinks with mod metallic accessories. The trick is to let the contrast of styles complement each other. Go too far and it'll look a mess. Design with confidence so if people don't like it, it's their lack of taste that's the issue.
Etageres
Instead of tallboys, consider an etagere as your only means of storage. Not only can you add towels, plants, boxes, toiletries and anything else your heart desires, but the open-plan shelves are also stylish and modern. Avoid clutter by purchasing some powder room boxes that double up as useful bathroom accessories.
Fresh colours
We've noticed powder room pink, mint green and sunshine yellow are on-trend colours for 2020 modern decor. Use sparingly in small bathrooms for a 'so fresh and so clean' feel. Better yet, keep the pastel colours to accessories or furniture to really showcase your space.
Hanging plants
One of the must-have accessories for small bathrooms is the humble hanging plant. With Covid-19 making us green-fingered and propagation-savvy, it's the perfect time to build your house-jungle. Pick steam loving plants that thrive in humid environments and natural light, like this beautiful Boston fern or ceropegia. Easily mounted on your ceiling to avoid taking up precious floor space, they're a stunning addition to every home.
Like what you see? We have plenty more where this came from. Check out Checkatrade's blog for more home inspiration, how-to's and project ideas.
Small bathroom ideas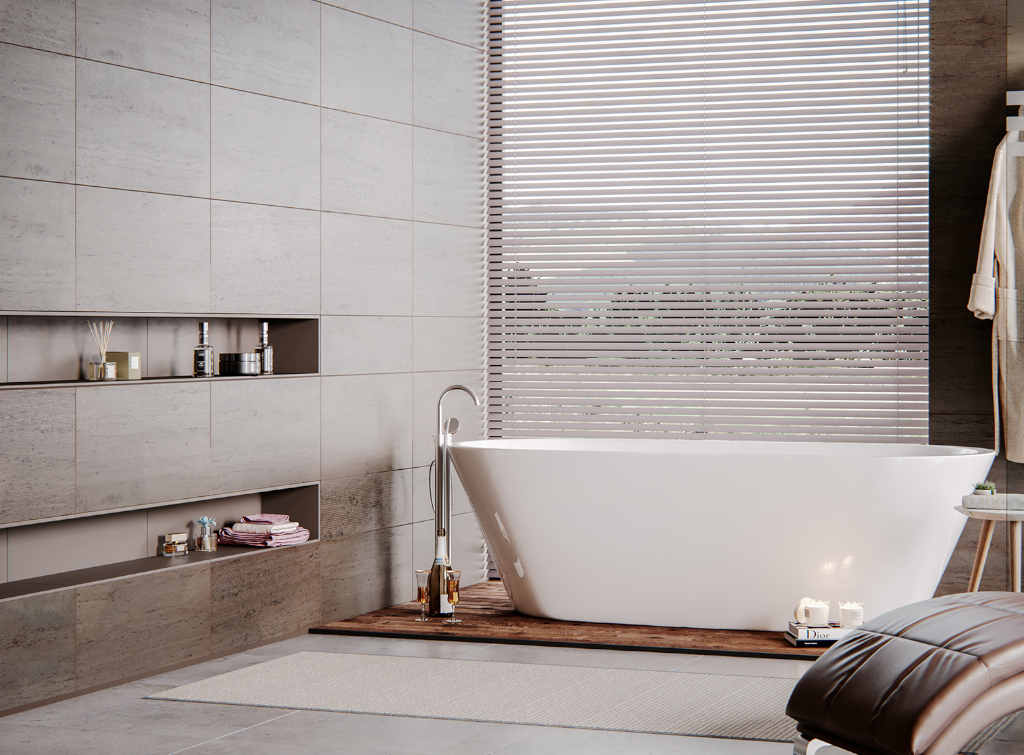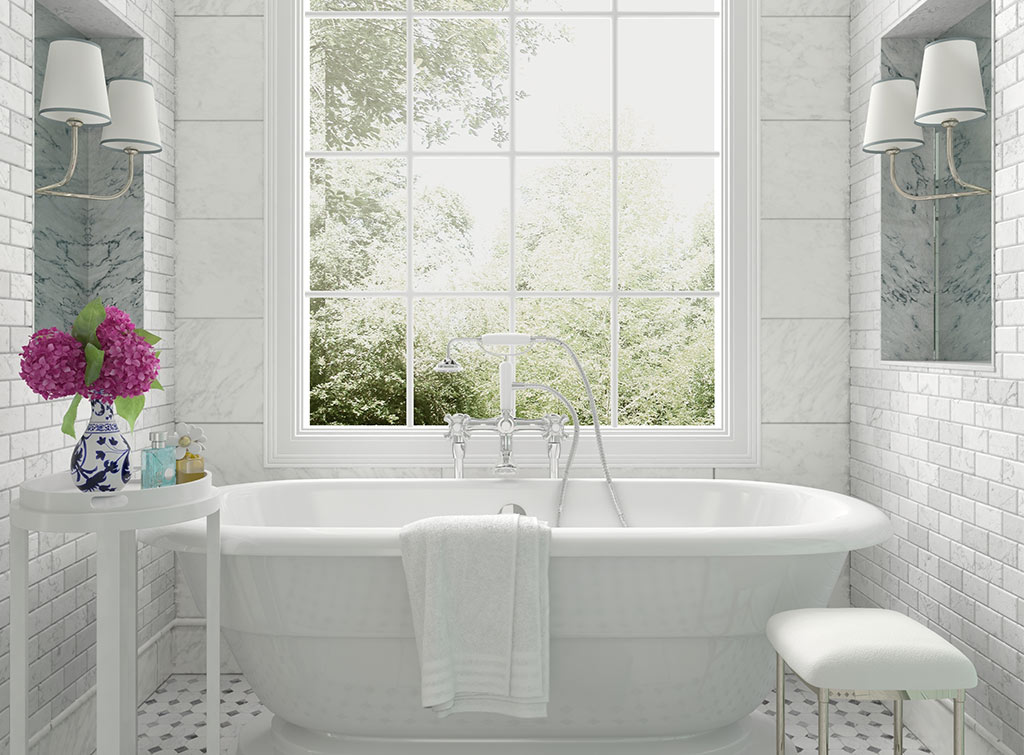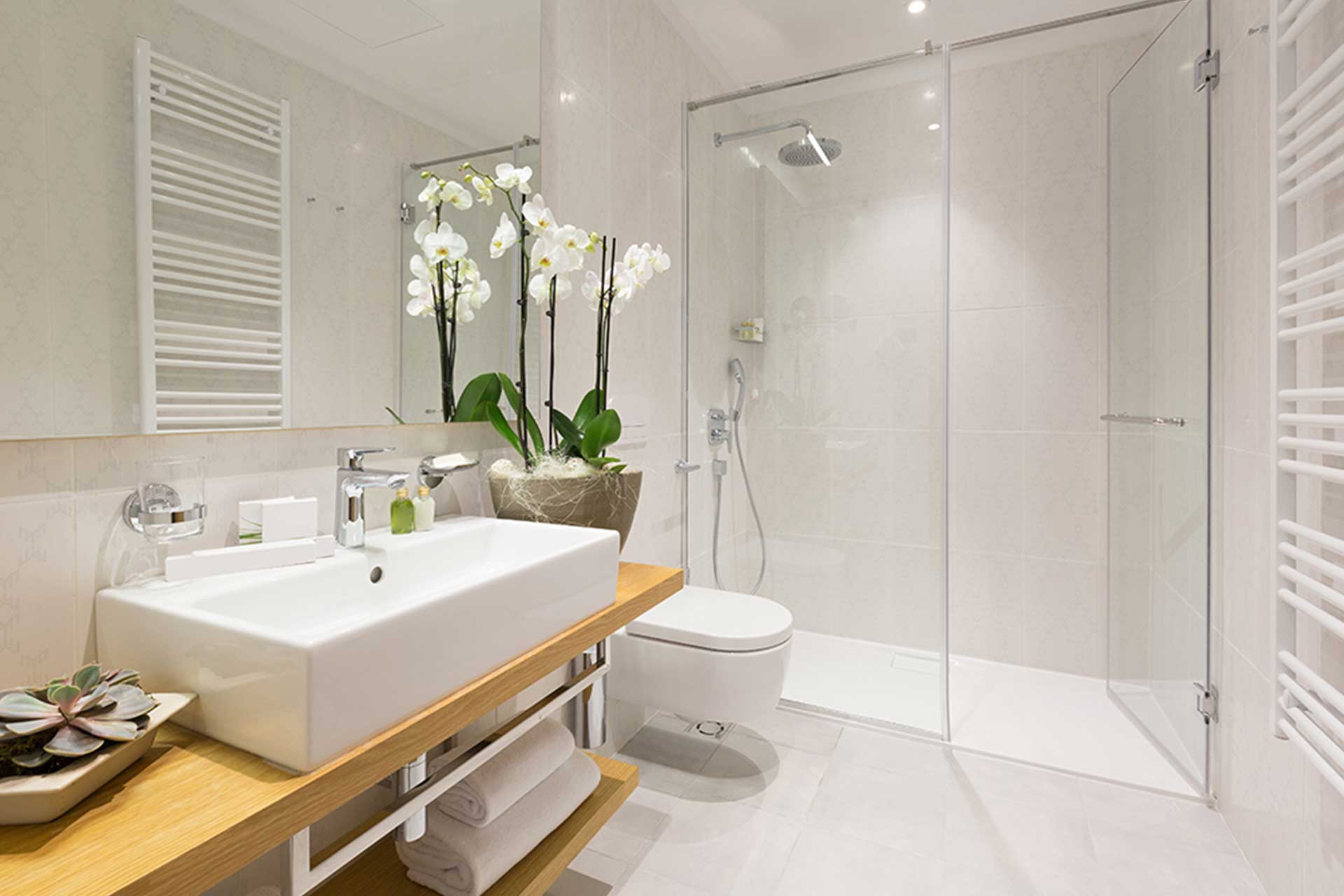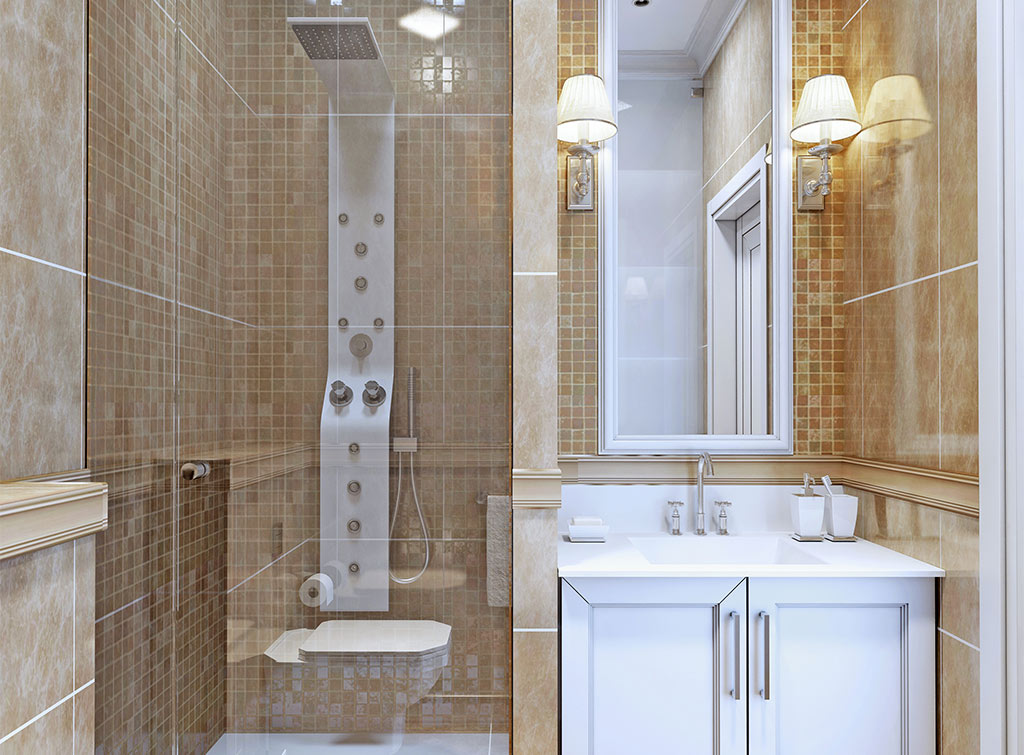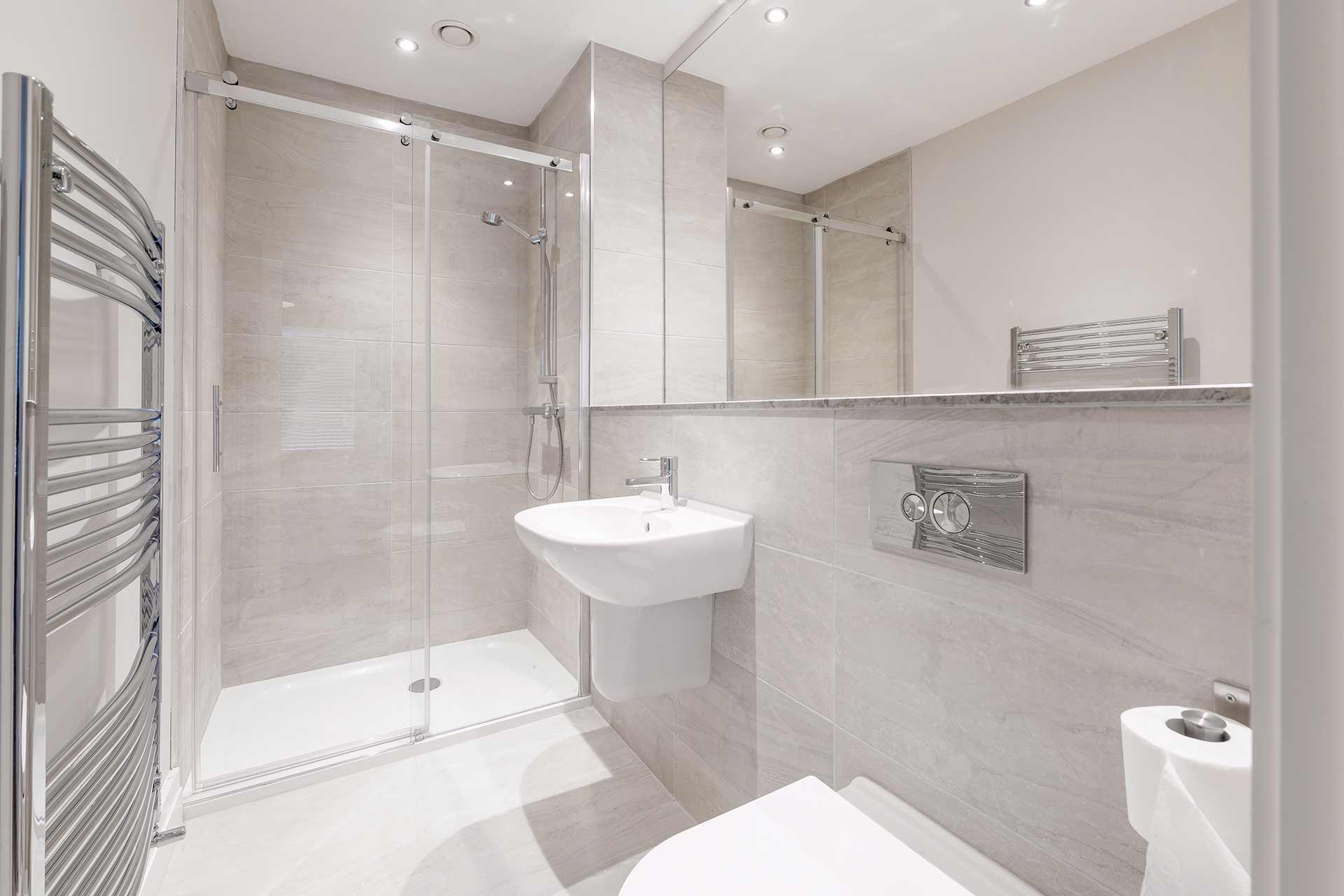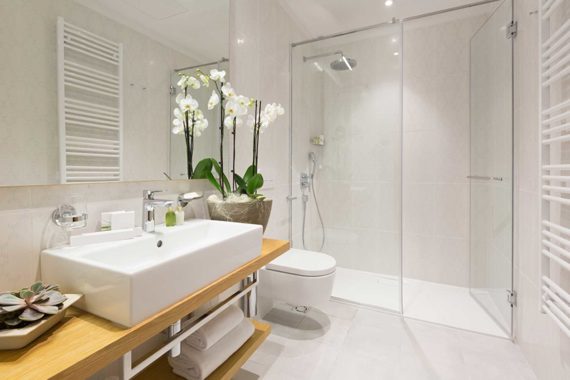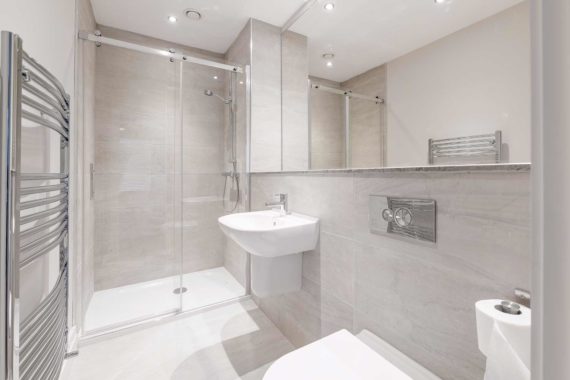 Grey bathroom ideas
Grey is a universal shade that denotes grandeur. Classy and timeless, it's a modern and neutral tone that adds depth to your small space. When you consider modern small bathroom ideas, think about using lighter shades on your tiles, towels, units and accessories (e.g., toilet lids or shower fittings). This especially works if you have less light in your bathroom. However, if you have large windows or a south-facing bathroom, you can get away with darker shades on your walls and floors.
Small bathroom ideas
Keeping the space light and bright, consider floor to ceiling white or neutral tiles, with contrasting ceramic floors tiles for some extra design flare. A freestanding slipper tub is a great space saving option that looks gorgeous in any small bathroom, while inlet shelves can house plants or toiletries for a compact and spacious feel. Keep colour to a minimum and decorate by contrasting patterns and textures.
Wet room ideas
All good wetrooms are well ventilated and tiled. Underfloor heating cuts out radiators and dipped flooring eradicates the need for shower basins, which makes both worth considering when it comes to space saving solutions.
Glass shower screens keep the space looking as big as it can, while the open-plan nature of wet rooms means you can get away with warmer decor and complementary colours. Opting for contrasting or marbled tiles is effective, as is playing with patterns and textures for a contemporary and slick aesthetic.
Small bathroom storage solutions
Etageres, tallboys and floating cabinets are all great small bathroom storage solutions. Making good use of corners with shelves or made-to-measure furniture will maximise your storage capacity and give you back precious floor space. A tidy bathroom is a spacious one, so try to store as much as you can to keep the room looking minimalist and clutter-free.
Modern small bathroom ideas
Wall to wall mirrors, compact towel rails and neutral decor are all great ways to modernise your bathroom. Keeping it fresh, light and simple means less fuss and more breathing room. Add colour with accessories like flowers, towels, soap dishes and bathmats to add depth and character.
Clashing textures is an easy design trick for making a small room look more interesting, so think about adding two types of tiles or shaking up your floors and walls for a modern twist.
Find your local bathroom expert
Tell us what you think
What others think of this cost guide:
Need More Information?
Related posts