Our bedrooms are our sanctuaries, our retreats, and our havens away from the world of consciousness. Of course, the rooms we choose for this sacred duty need to reflect our style, taste and square footage. These 10 top small bedroom ideas are designed to help you create the perfect bolthole for any sized room.
Sleep is a basic human need. Rest and relaxation are the only things that keep us functioning. Without it, we're prone to brain fog, memory loss and poorer attention spans. By optimising our sleeping space, we increase our likelihood of getting enough shut-eye and improving our physical and mental health.
Small bedrooms: Tips and tricks
Good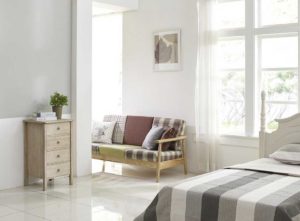 bedroom design trends aren't just about aesthetics. They're about thriving.
To open small spaces, there are several things you can do to create depth and height.
Hang large, framed and high-quality mirrors adjacent to any window
Decorate your walls, ceiling and floors in a neutral shade and keep the bright and bold colours to accessories or feature walls
Install hanging plants instead of floor standing plants
Opt for wall mounted corner shelves, which take up less room than their bulkier cousins
Small bedroom ideas for couples
When we share our lives with a significant other, our sleeping arrangements are important. We want to create a cosy snug den that invites intimacy and induces a restful slumber, but we also want equal use of the shared space.
For small rooms, the two biggest problems for couples are:
Sharing storage space and
Maximising sleep quality.
Achieving these two goals is possible with a little bit of planning and a huge sprinkle of creativity.
Like what you see? We have plenty more where this came from. Check out our blog for more tricks, tips and how-tos. 
Small bedroom ideas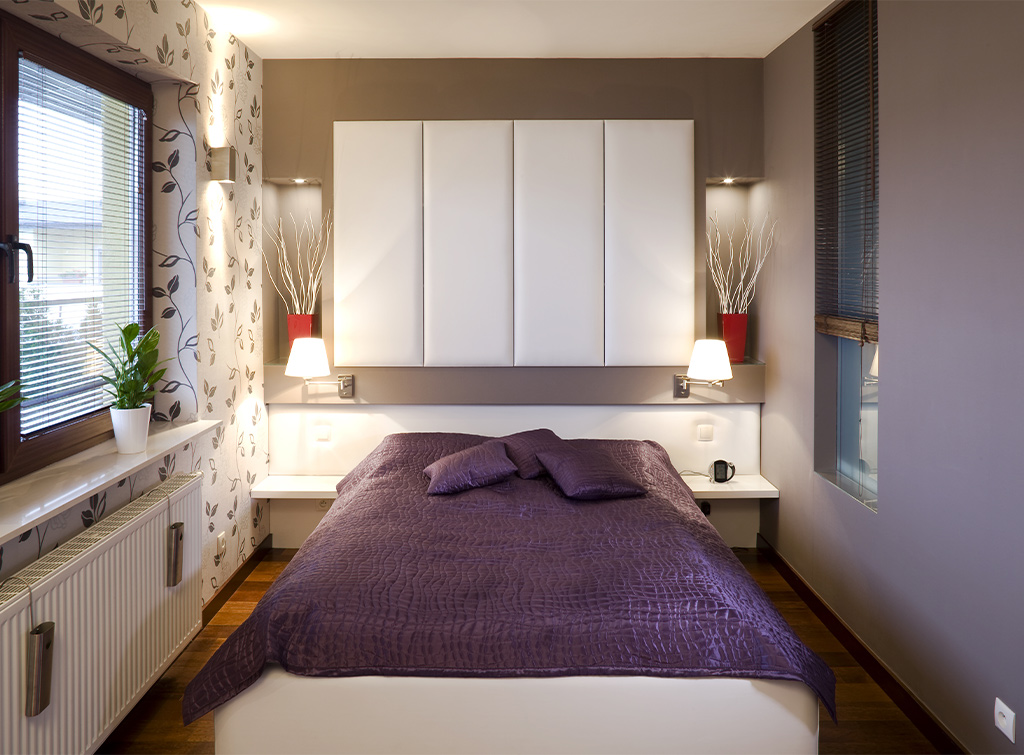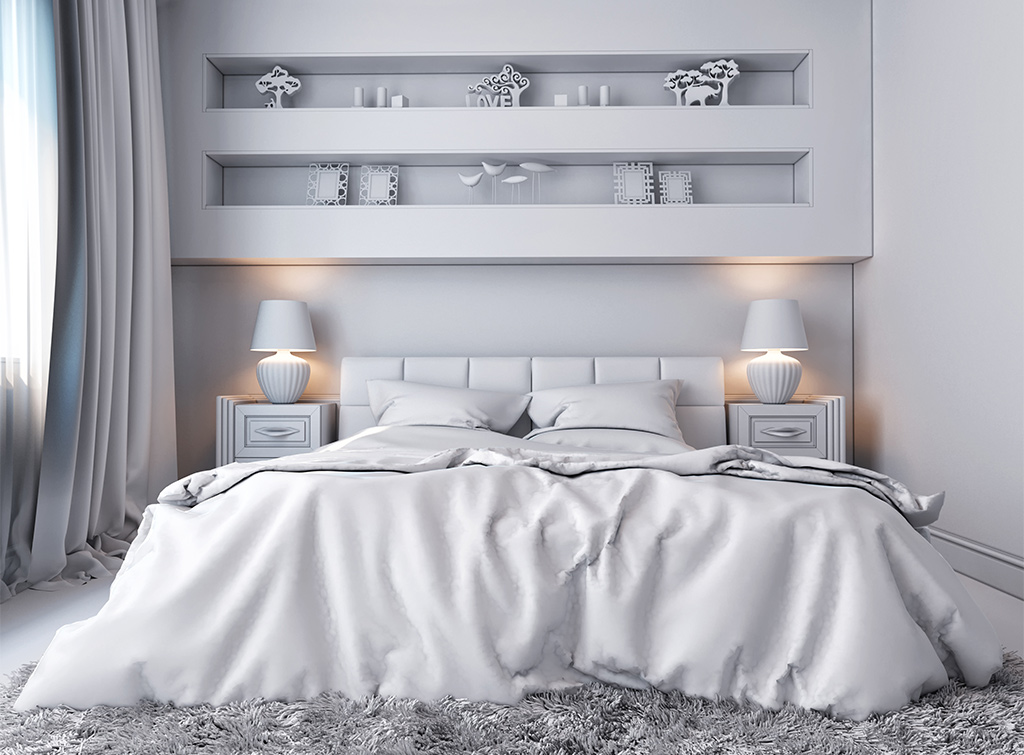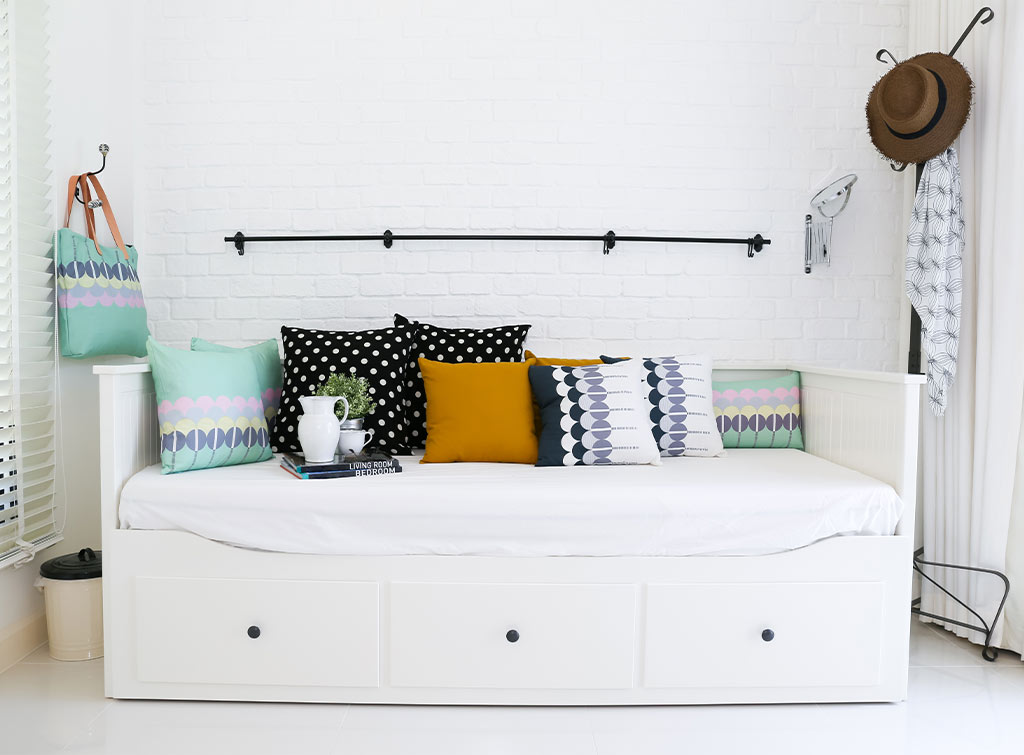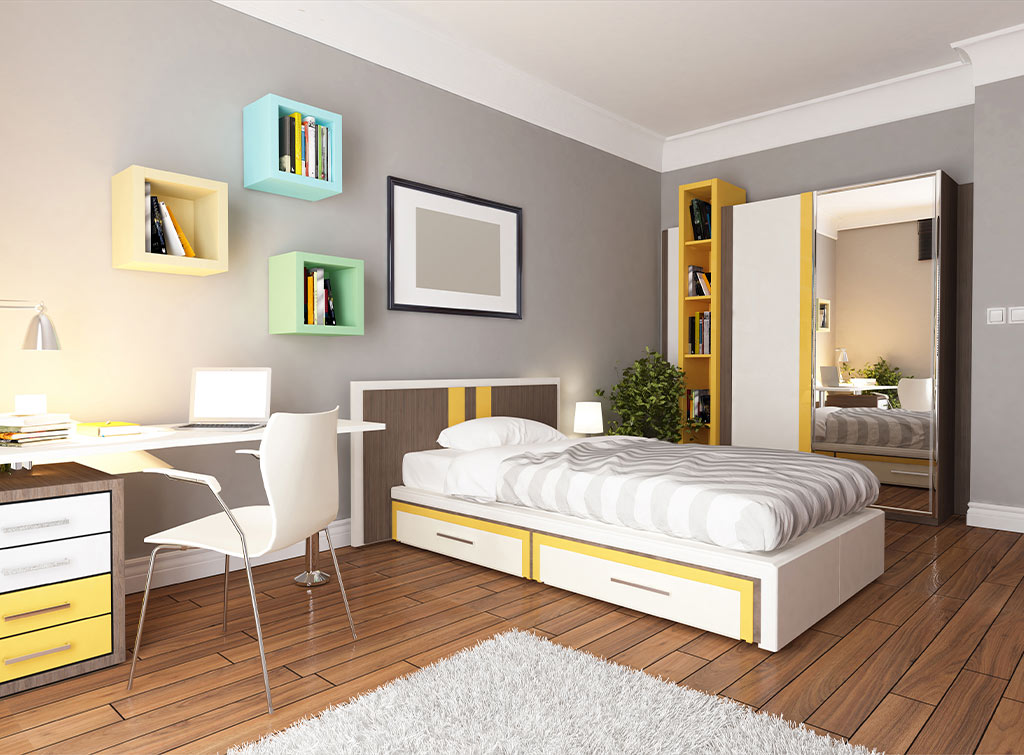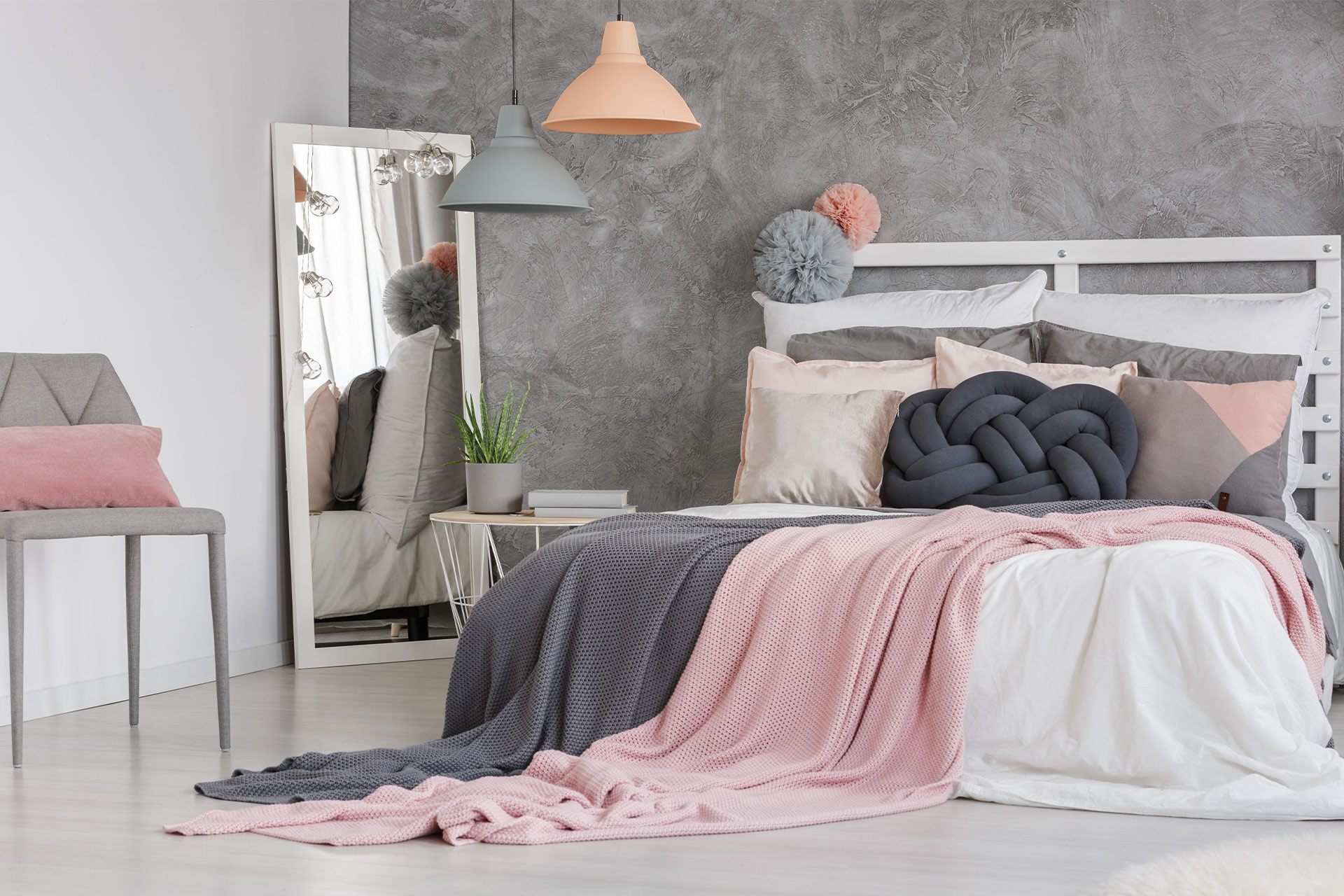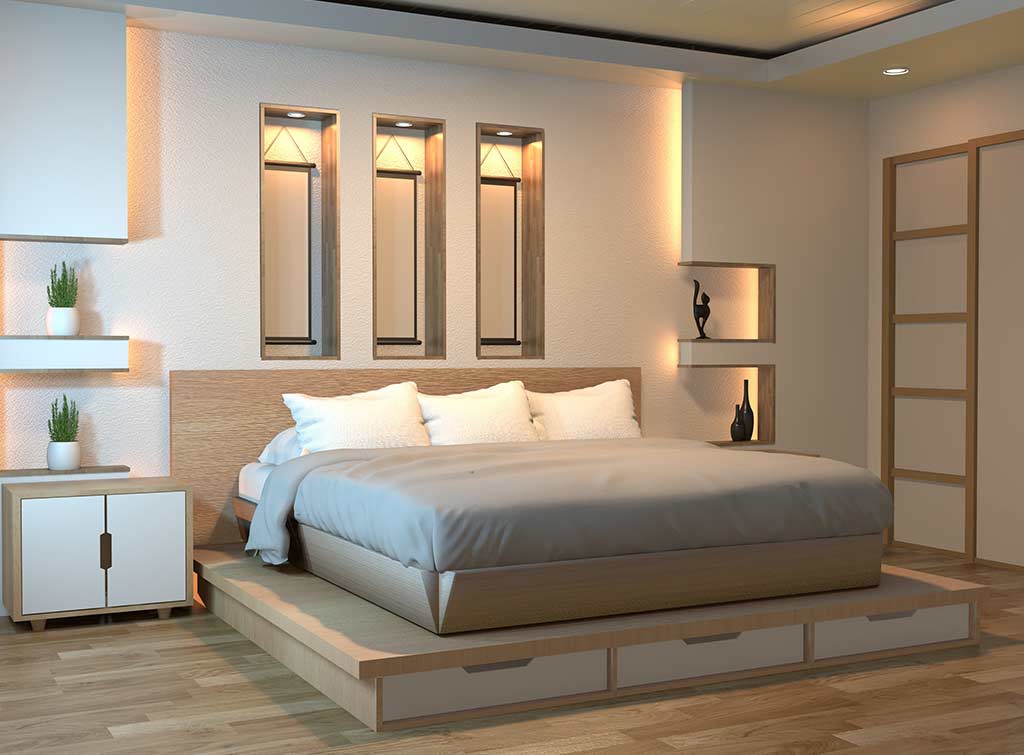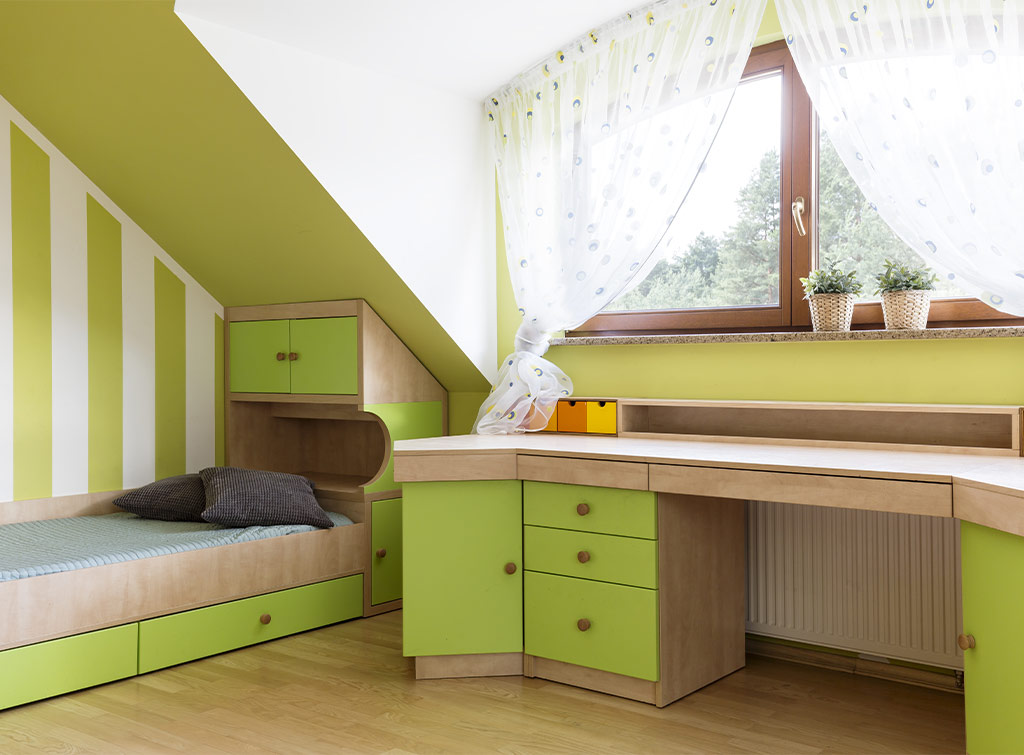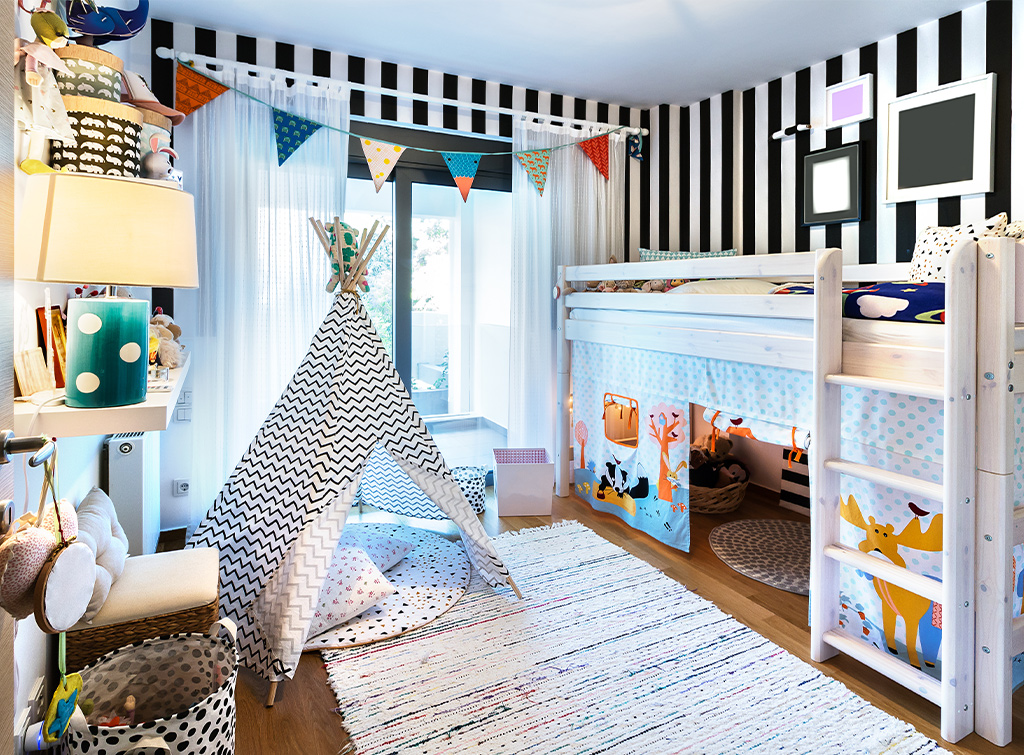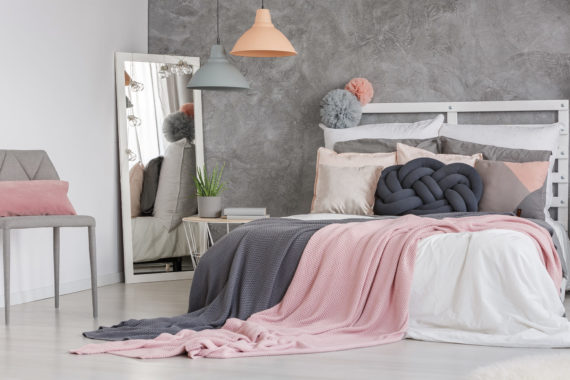 Very small bedroom ideas
For those with limited bedroom space, we've got three words for you:
Minimalist; and
Smart storage
They may sound contradictory, but hear us out. Have you ever seen those incredible caravan or shipping container room makeovers? (If not, check out this one). They're fascinating because they're clever. They make the best use of space with smart storage solutions and minimalist design trends.
Small bedroom design trends
Keeping with the minimalist theme, 2020 design trends are all about the bright, the bold and the beautiful. Monochromatics are seeing a huge surge, which takes one bold colour and pairs it with various chromatic accessories. Think midnight blue with silver lamps and bedside tables, or oxblood red with brass vases and polished furniture handles.
For stylish small bedroom ideas with less light, we recommend brighter pairings such as ochre and silver, turquoise and gold or violet and copper. Keep them to a feature wall or be brave and douse your entire room with their intrepid ambience. But if you do, remember to keep your rugs, bedding, curtains or blinds within the safer realms of neutrality.
Space saving small bedroom designs
This is where things get creative. Home hacks are an exciting endeavour. Maximising your space by creating a sense of roominess and depth lets you enjoy your bedroom without feeling overwhelmed by clutter (or claustrophobia).
Multi-purpose furniture
A famous example of multi-purpose furniture is the humble Divan storage bed. If you're placing one in the middle of your room, pick a style with drawers on all sides. However, if you're pushing it up against a wall, ottoman style beds that open upwards are great for saving precious floor space.
In very small or tiny bedrooms, consider a murphy bed that pulls down from the wall. Easily disguised or hidden behind faux panels when upright, they give easier access to the rest of your room for those times you're not sleeping. This lets you add other features, such as a corner desk or reading nook, which give your bedroom a dual purpose.
Other examples of multi-purpose furniture include stackable tables, sofa beds, mirrors that fold down into tables, foldable wall mounted desks and ottoman cubes that convert into five separate seats!
Small bedroom design ideas
Floating shelves
Another great way to create storage and free up floor space is by installing floating shelves. There are various types and designs on the market; however, we've noticed an 'industrial meets rustic' vibe sitting at the top of the 'small bedroom trends' list.
These pine and metal wall shelves are a perfect example. Simple and stylish, consider hanging one or two in a row and populating them with plants, books, string lights and decorative trinket boxes.
Smart storage small bedroom designs
Second stories
If your small bedroom is tall enough, a great way to maximise space is to build upwards. Consider a high bed with a desk, wardrobe, storage cupboard/s or reading nook tucked beneath it. You don't even have to go too high, as this scandi storage bed proves. As you can see, a little height can save a whole lot of floor space.
If you'd rather have easier access to your bed, consider building a separate story above it – a place to keep plants, storage trunks, books or a couple of chest of drawers. In turn, this creates a canopy above your head that you can decorate with string or hanging lights, mini shelves and cubby holes for make-shift bedside tables.
Stylish small bedroom designs
Light and bright
2020 is all about eco-friendly designs and Japandi (Scandinavia meets Japan) aesthetics.  Japandi is defined by its minimalist but impactful nature. To introduce this ethos into your bedroom, try and create a clean and clutter-free space. Use a neutral palette with sustainable woods and recycled or upcycled furniture. Then bring nature indoors with air-purifying plants like this beautiful Kentia Palm.
Minimalist designs for small bedrooms
Using the Japandi and eco-friendly aesthetic as a foundation for your next beautiful room design, here are our suggestions for a trendy, minimalist and tranquil small boudoir.
Fitted wardrobes
Use light woods such as beach or pine to build made-to-measure wardrobes. Small bedrooms love fitted wardrobes, which are also great for the minimalist vibe we're aiming for. Their floor-to-ceiling designs offer copious amounts of internal storage, while their sliding door alternatives don't take up any extra floor space.
We particularly like these Shoji sliding doors, which are a beautiful example of the Japandi aesthetic.
For more information on the cost of fitted wardrobe, check out our cost guide here. Alternatively, consider hiring one of our professional tradespeople to measure and install a fitted wardrobe here.
Japandi designs for small bedrooms
Floating bedside tables
If there isn't enough room to fit two bedside tables either side of your bed, how about floating wall shelves instead? You can even buy narrow ones with drawers or unique designs like this Trigala Wall-Mounted Bedside Table that has compartments for pictures and books!
Overhead storage
If you're looking for even more storage capacity, then all-in-one overbed storage units are a perfect option. These are the pieces of uniformed furniture that seamlessly arch over your bed like a supportive hug.
There are various types and designs on the market that cover a whole range of capacity options, but these stunning wooden units are an ideal example.
Hanging plants
Studies show that one way to improve our sleep is to welcome air purifying plants like peace lilies, spider plants and Boston ferns into our bedrooms. For rooms with limited space, an easy way to include these natural slumber enhancers is to hang them from your ceiling, canopy or those floating shelves you've just fallen in love with.
These Macrame woven rope hanging baskets are simple, elegant and on-trend.
Kids small bedroom ideas
Whether its toys in your living room, discarded clothes in the hallway, or muddy fingerprints in the bathroom, children certainly have a way of making any sized home feel tiny.
You can use all the tricks to turn a small bedroom into a space defying snug; and better yet, it's fun! Think bright colours, anti-chip paints and fixed furnishings to keep things safe and secure.
After that, let your imagination run as wild as theirs! 
Tips and tricks
Your kids deserve a bright and beautiful bedroom, so here are a few extra space-saving tips and tricks to ensure their peace and enjoyment.
Wall hooks for bags and coats or pegboards like this one for pens, trinkets, pictures and anything else they want to squirrel away are great for decluttering.
For sharers, room dividers like this Mabrouka screen maintain both peace and privacy.
Keep the walls and floors the same neutral colour to maintain an airy and spacious feel, and stick to one feature wall if you're braving a bold colour.
Instead of a bookshelf, consider stackable floating shelves to maximise floor space.
Remember that multi-use furniture is a game changer!
Space saving children's bedroom designs
Beds, beds, beds
In case the caption didn't grab you, beds are the pièce de résistance when it comes to children's dream cubbies. There are so many types to choose from, each with their own space-saving and design aesthetic, so the main task is working out what style suits your taste.
Modular beds: These amazing designs are multi-functional and aesthetically pleasing. Whether it's a bookshelf-bed-storage-cubby like this one, or a high rise cabin bed like this one, modular beds are practical design options that save both space and sanity.
Three in one beds: Who'd have thought it possible? And yet, here we are in 2020 proving that feats of engineering can still surprise us. Check out this gorgeous triple bunk bed and this compact modular bed to see what we're talking about.
Bunk beds: Be it traditional, modern or these amazing specimens, the humble bunk bed has come a long way since its first introduction to the world. Choose light woods and white panelling to keep that Japandi vibe going strong.
Loft beds: A fantastic space saver that offers hundreds of quirky designs, loft beds are great small bedrooms that want to offer more than just a place to get some shut eye. For teenage sharers, consider tall loft beds with walk-in space beneath.
And just for fun, why not invest in something that doubles up a playground or a house cabin?
See the tradespeople we've checked and recommend for your job
Tell us what you think
What others think of this article:
Need More Information?
Related posts