Home Pride Index report
Created from research with 2,000 homeowners, and produced with support from Dr Eleanor Ratcliffe (Environmental Psychologist at the University of Surrey), Checkatrade's Home Pride Index takes a detailed look at how we feel about our homes. The Index highlights how the nation's love for their homes has increased in the last 12 months. Pride of…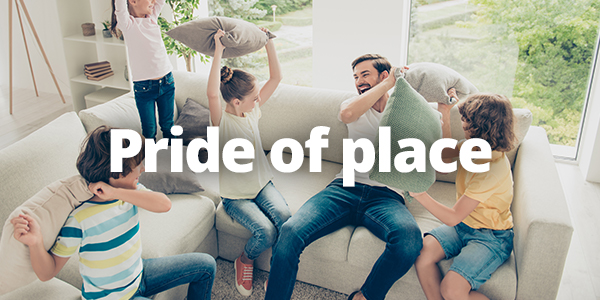 Created from research with 2,000 homeowners, and produced with support from Dr Eleanor Ratcliffe (Environmental Psychologist at the University of Surrey), Checkatrade's Home Pride Index takes a detailed look at how we feel about our homes.
The Index highlights how the nation's love for their homes has increased in the last 12 months.
Pride of place
There's no need to overstate that the environment in which we live has been tested beyond all expectations in 2020. It's also clear that the 'Stay At Home' era has driven a deep-seated need to have pride in where we live, with our latest research showing that 54% of British homeowners love their home more now than ever before.
Rooms homeowners are most proud of
Our research shows rooms where people can be with others are those that we take the most pride in. For instance, the living room (26%) is the room that British homeowners say they are the proudest of, followed by the kitchen (16%).
House fund
When it comes to financially investing in our homes, British homeowners have on average spent £2,608 on home improvements in 2020 – that's £338 more than 2019. Looking at the areas of the home, kitchens and gardens had the most money invested into them, with £435 and £392 on average being spent respectively across the nation, suggesting these are the spaces we have been spending the most time in – with gardens (+43%) and home offices (+21%) showing the biggest percentage increase in money spent respectively.
Interestingly, with many more people working from home this year, Londoners in particular spent money on renovating or converting a space into a home office, spending on average £621 per person. Meanwhile, those in the North East spent more on their gardens than any other region in the UK, with the average household spending around £886.
Personalisation at home
2020 was also the year where people began experimenting more with their homes, with 'shoffices' (shed offices) at the top of the agenda, followed by home cinemas, snugs then an at-home bar. It's clear that the additional time spent at home has made us more adventurous when it comes to making changes, prioritising new spaces that allow us to focus and creating new spaces that help us relax. Here are the top 10 new spaces in order:
Home-spiration
When it comes to inspiration in home renovation and decoration, 27% of homeowners are influenced by social media. Pinterest was the top source of social media inspiration, followed by Instagram and then Facebook. TV shows (21%) and magazines (19%) are also popular sources of inspiration.
In a typical week, British homeowners spend around 1 hr 40 minutes daydreaming or thinking about the next renovation project they want to do.
Home of the future
Despite how house proud we are, 79% of homeowners think there's still room for more home improvement.
Dr Ratcliffe claims, ''Redecoration can be a way to create a psychological sense of newness or difference at home which may be particularly important after a year of staying almost exclusively in the same environment.''
According to Checkatrade's research, redecorating the living room/bedroom/bathroom (30%), giving the garden a revamp (23%) and flooring (22%) are amongst the top renovations people want to do. Here are the top renovations homeowners are planning to make in 2021: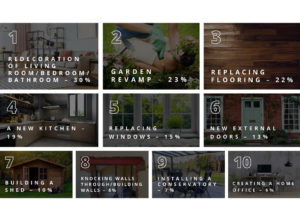 Conclusion
Dr Ratcliffe says, "Feeling proud about where we live is part of a wider sense of connection to our home and our neighbours. Improving the physical appearance and structure of the home is one route to being houseproud, and being actively engaged in a renovation process can generate a sense of psychological achievement and meaning."
The benefits of undertaking renovation projects are therefore much more than superficial, with the potential for positive emotional results – but it's not just huge home transformations that can have this positive effect on our mood while spending time at home.
Dr Ratcliffe explains, "Even small changes can make us proud of our homes too: a fresh coat of paint; introducing artwork, houseplants, or new furnishings; or even rearranging what is already there to create a sense of 'newness'. Feeling houseproud is, at its heart, about identity. Making sure that your home reflects who you are is a key part of feeling good in this important space."
This connection between investing in the home (be it time, money or effort) and investing in our own well-being suggests we're in for a year of exciting home updates. From changing the wallpaper to creating a home cinema, home improvements large and small are sure to be an ongoing focus for homeowners in 2021.
You can download the full study here.