There's a galaxy of options out there when it comes to kitchen aesthetics, so don't feel too disheartened if you're a homeowner unsure about your next step in the kitchen overhaul process. This post will aim to shed some light on the tricky journey to kitchen nirvana by providing tips to help you decide what design route is best for you and your family.
For all the wild designs that might be floating around in your imagination, there's a chance that you might have forgotten the basic functionality of your space. The kitchen is the heart of the home, where all meals are prepared and consumed and family often congregate on a daily basis, so it needs to be efficient.
You need to keep the 'kitchen triangle' in mind throughout the process: that's the convenient orientation of three essential parts – the sink, the hob and the fridge. Before you make any concrete decisions be sure to draw this triangle and ascertain whether your aesthetic choices will get in the way of functionality or not.
Think about atmosphere
If yours is a playful kitchen brimming with ideas and creativity at all hours, then why not reflect this in the decor? Eye-catching, primary-colour-filled wallpaper on a feature wall is a fun way of injecting a little exuberance into the space, while you could spruce up your kitchen tile offering by adding some feature tiles in a Moroccan pattern or in zesty citrus hues.
If your kitchen is more luxurious than riotous, then you should probably think of investing in some premium granite worktop surfaces to create a luxe stage for bespoke culinary creations – or even just reheating yesterday's leftovers!
Consider some expert advice 
Minimalism is very on-trend at the moment, thanks to the likes of Marie Kondo and her KonMari method of organisation. At the heart of Kondo's methodology is a simple maxim – get rid of anything that doesn't spark joy in your heart.
Applying this to a functional space like the kitchen can be tricky, but if you find that you're retaining too many items that provoke a joyful reaction, then maybe minimalism isn't for you. Besides, a kitchen bursting with important personal items and beautiful decorative additions is in many ways more appealing than the stark contrasts and clean lines of a minimalist culinary space.
Find a kitchen fitter local to you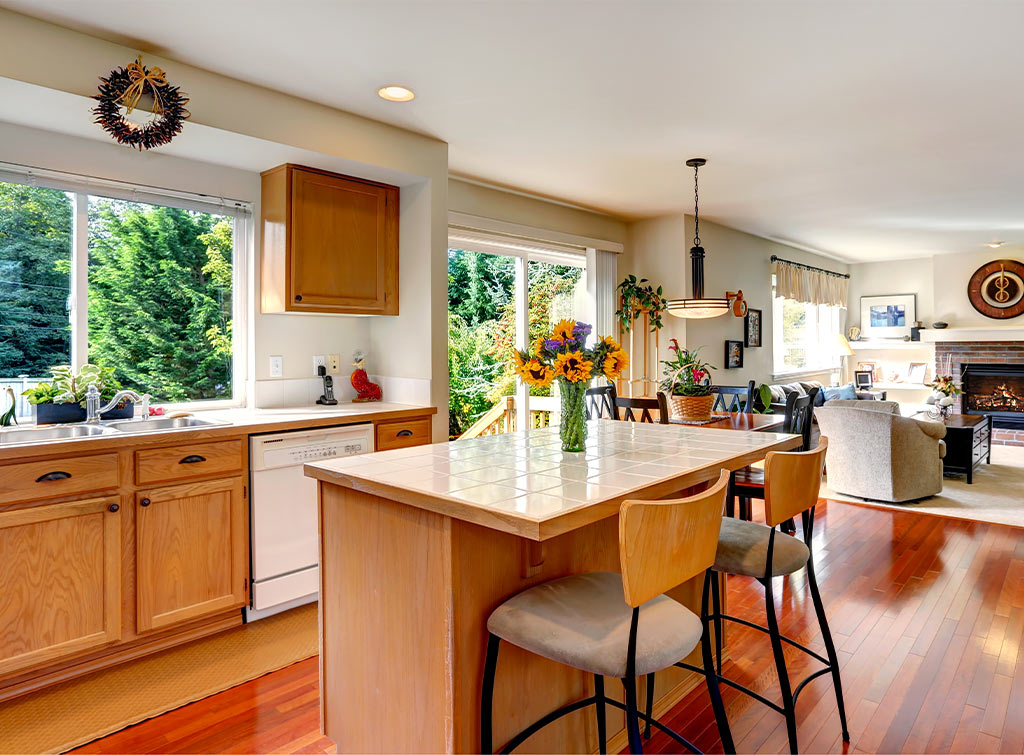 Be informed by your surroundings
Ultimately, your kitchen's aesthetic depends on what kind of space you're working with. A farmhouse vibe is much harder to pull off in a galley-style kitchen in a flat, for example. Making sure whatever style you're going for is a seamless fit with its surroundings is essential, as it'll help you achieve a harmonious balance, which utlimately makes the space more liveable.
Whether it's a garden-facing kitchen punctuated with house plants or an industrial chic kichen in a converted factory apartment, the possibilities are limitless if you allow this to be a part of your decision-making process.
Of course, these tips shouldn't be adhered to by the letter, as you should add a dash of your own personal creativity into the mix – and if that means contravening one of the rules laid out above, then so be it!
Author bio:
Sophie Armstrong is a content creator for granite and quartz worktop specialists Burlington Granite, who provide a full bespoke worktop solution by offering templating, cutting, polishing and fitting, all driven by 25 years of industry experience.
Find a kitchen fitter local to you
Tell us what you think
What others think of this cost guide:
Need More Information?
Related posts