Do you think that your double-glazed windows have seen better days? Have you recently noticed issues such as a loss of heat within a particular room or do the windows appear as if there is mist trapped between the panes? While double glazed windows are very durable, issues can still occur from time to time. This is when targeted maintenance could be a great idea. Double glazing repairs are very common, and they are often more cost-effective options when compared to replacing an entire window. As opposed to enduring the hassle and cost of a new replacement that might be offered by a tradesman, why not instead take a look at is involved with the double glazed window repair process?
For example, can you repair misted double glazed windows without too much trouble? Can blown double glazing be repaired? Is window glass replacement extremely difficult to undertake if you have little experience? Can you repair seals on double glazing? What needs to be taken into account when determining how much to replace windows on a budget? These are some of the questions that will be addressed below. If you are looking to learn more about double glazing repairs, you have come to the right place!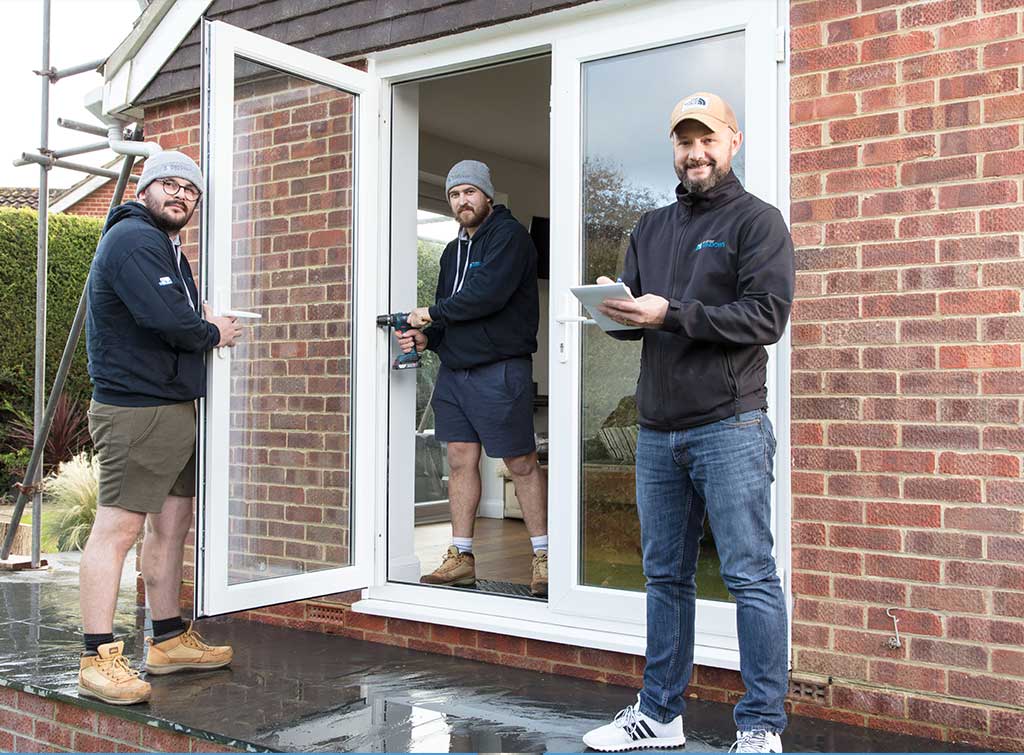 The team at All About Windows  undertaking double glazing repairs of a patio door
Can blown double glazing be repaired?
The good news is that most blown double glazing can be fixed without needing to replace the entire window. Let's imagine that a single pane has been damaged for whatever reason. As opposed to dealing with the costs associated with replacement windows, it is often possible to simply remove the affected piece of glass and substitute it with a new one.
Can you repair seals on double glazing?
There are many times when the seals between two panes of glass can become damaged. Some signs of this situation are condensation and mist (we will look at these situations below). If this is the case, the affected pane is usually removed. The pane is then put back into place before hot air is piped into the gap (this removes any lingering moisture). Finally, a new sealant will be applied; keeping the trapped air in place, ensuring that your windows are functional.
A quick look at misted double glazing repairs
Misted double glazing repairs will essentially involve the steps mentioned in the last paragraph. The only difference is that there can be times when mist between the panes is caused by a crack in the glass or an issue with the frame. Once the reason has been identified, it is normally easy to create a new seal and to prevent mist from forming in the future.
Find your local double glazing expert
Knowing how to repair a double glazed unit
As we have seen above, knowing how to repair a double glazed unit will first require you to know the cause of the problem (such as a broken pane or an issue with the seal). The problem here is that very specific tools are required and that this is not necessarily a do-it-yourself project. It is normally better to consult with a trained professional. Not only will this save a good deal of time, but you can remain confident in knowing that quality repairs have been carried out correctly. Unless you are already an expert in the field, it is wise to contact a qualified firm.
Replacement windows versus repairs: Which is the best option?
Can you repair double glazed windows? Can you repair misted double glazed windows? While these usually are possibilities, there are certain times when a replacement is the best option. This could occur if the unit in question has suffered from a good deal of damage. Examples include completely broken panes, extensive rot and frames that are no longer able to function as they should. This is when it could be a good idea to consult with a knowledgeable firm to determine the best way forward.
We spoke with Gemma from All About Windows to hear her take on window replacements versus repairs: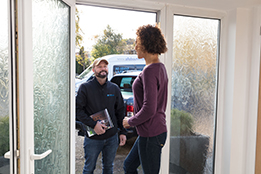 How likely is it that a window can be repaired rather than replaced?
This usually depends on the age of the window. A lot of the time, people do replace them when in reality they don't need to and in many cases, just servicing them would have fixed the problems. They usually tend to be mechanical issues under these circumstances; broken handles, hinges that need oiling, those sorts of things. But here at All About Windows, we will be able to advise on whether this is the case straight away and are always honest with our customers.
Why is it often difficult to repair windows rather than replace?
A lot of the time people look at broken windows with the mindset of 'oh they're old, they need replacing'. Although of course sometimes this is the case, windows should last for many years at a time and to replace windows unnecessarily is often not only a waste of materials, but also an unnecessary expense.
I think it mostly comes down to being a lack of knowledge – people don't realise that repairing smaller parts is often simple and more affordable and assume that they will be better off with a new window entirely.
Is it most cost-effective to repair or replace a window?
Although this does depend on the extent of the damage, in many cases where it is a mechanical breakdown (for example, where there is an issue with the hinges and handles) then actually repairing your window is likely to be much cheaper. There is also the added bonus that most windows come with a long guarantee, between 5 and 10 years, so if you have had your windows replaced more recently, then you should certainly look to see if they are still in warranty.
Some window fitters will offer a five-year warranty on the glass but only a one year warranty on mechanical breakdown. This is something to consider if you are looking to get your windows replaced, as often mechanical breakdown will be the first thing you experience. Here at All About Windows, we provide each of our clients with a ten-year guarantee on all parts, including all of the glass, fittings and mechanical elements. Finding a reputable fitter who provides you with these guarantees is highly important.
How can I find double glazing repairs near me?
Can you repair double glazed windows on your own? While some with some excellent DIY skills might be keen to try to fix the issues themselves, it usually is better to use the services of a trusted professional. Finding a reputable tradesperson to carry out this work for you is of utmost importance.
Here at Checkatrade, double glazing repairs, are available by window experts. All of our listed traders are thoroughly checked and vetted to ensure that they provide only an exceptional level of service. Once you enter in your postcode as well as the trade-in question, you will be provided with the most relevant results within seconds. So, it has never been easier to find the right firm for the task at hand.
Find your local double glazing expert
Tell us what you think
What others think of this cost guide:
Need More Information?
Related posts