Getting your car serviced
Here we look at why it's so important to service your car on a regular basis with tips on how to find a trusted professional and what to expect from your service.

Having your car regularly serviced is an important part of being a responsible road-user and helps to contribute to the improved safety of our roads. Here we look at why it's so important to service your car on a regular basis with tips on how to find a trusted professional and what to expect from your service.
Finding a professional
We've all heard horror stories about unscrupulous car mechanics taking advantage of unsuspecting customers. Therefore, when it comes to getting your car serviced it's important to use a trusted tradesperson site like Checkatrade. Last year alone, over 12 million people used our website to connect with rated professionals in their area.
Using a trusted tradesperson site will help you avoid the risk of 'cowboy' builders. However, if you opt to find a mechanic for yourself, try and find someone with a strong online presence, then do some digging to find out if they tend to receive positive feedback. Be aware of firms with little online presence, as it could suggest they're hiding poor service.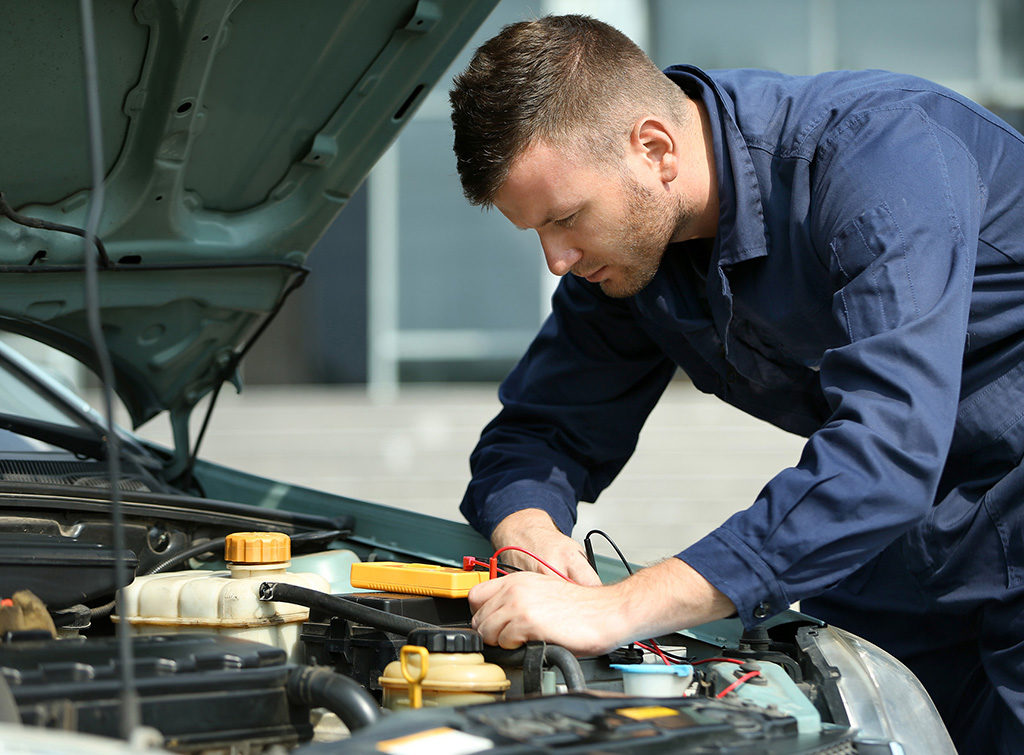 What should I expect?
A standard car service comprises of up to 50 or more component and system checks and adjustments. Some of these include:
• An engine oil change
• An engine oil filter replacement
• The checking of lights, tyres, exhaust and operation of brakes and steering
• Checking hydraulic fluid and coolant levels
• Checking over the cooling system, from the radiator to the pumps and hoses
• Testing battery condition
When bringing your car for a service, remember to bring along your vehicle log book so the technician can stamp it once the service is complete. This will be particularly important when it comes to getting the best value for your car if or when you choose to sell it. It's also important to clarify beforehand exactly what type of service you need, as there are invariably two different types on offer and the prices for each will vary.
See the tradespeople we've checked and recommend for your job
When do I need to get a service?
There are a number of factors that should influence how many times you choose to have your car serviced each year. The primary amongst them should be the vehicle's age, which will make the biggest difference to the car's reliability. Normally, a car's manual will tell you how often the manufacturer recommends servicing. In newer cars this service reminder is often displayed on the dashboard.
As a general rule an interim service should be carried out every six months, or after every 6,000 miles covered, whichever comes first. This normally takes around one and a half hours to complete. The second, more comprehensive option should be carried out every 12 months, or after every 12,000 miles covered. This more complete car service will take around three to four hours to finish.
Does an MOT count as a service?
Getting an MOT is a form of car service, but is very different to a regular service check. An MOT is a yearly technical inspection for safety, but unlike a regular car service, it's not designed to replace or repair worn vehicle components. Receiving a full-service check helps to ensure that wear and tear issues are addressed, covering areas that an MOT doesn't.
What are the benefits of a car service?
A healthier car tends to be more affordable to run. Therefore, getting your vehicle regularly checked will help you ensure it's running at its most effective level. As a result, a properly serviced car will often run more fuel efficiently, saving you money at the pump. Additionally, having a vehicle properly serviced will improve the car's life expectancy.
Finally, getting regular services has a number of insurance benefits. For one, if you have an accident and the car is written off, you'll be able to use the service history to estimate its pre-accident value. Nobody wants to file an insurance claim, but if you do, it's best to have had your car serviced beforehand.
It doesn't matter how skilled you might be with the toolbox; modern cars are too complex and technological to carry out a complete car service yourself. To ensure the job is completed to a satisfactory standard, it's best to trust in the experience and skills of a good mechanic. A regular car service is vital for your safety and the safety of others. If you're unsure on who to call, head over to our website and choose from one of the 30,000 recommended, vetted and monitored trades and service providers for free.