If you're planning an open plan living space in your home, you may be wondering the best way to incorporate a dining area. We've pulled together some ideas and inspiration to help you create a dining room that's functional, social and stylish, allowing you to get the most out of your open plan room and get everyone around the table comfortably!
What is an open plan dining room?
An open plan dining room is typically part of a space that includes a kitchen and living area combined. They are highly sought after and great for sociable homes that like rooms to be connected rather than separated out.
Why open plan dining rooms are popular
As well as creating a more sociable space, an open plan dining room is popular thanks to its versatility. With an open plan space, you generally have more room to work with, which allows you to be more creative with design and style. In most cases, you'll also have the benefit of more natural light and an airy, open feel.
In many homes, separate dining rooms are barely ever used, and people opt for sitting on the sofa or at the breakfast bar for informal meals. However, an open plan dining room encourages interaction, especially when entertaining guests. They make cooking and socialising at the same time a breeze.
Ideas and inspiration for your open plan space
When planning your open plan dining room, you need to take a few things into consideration to ensure the space will work well for your needs. Will the space be used as a working area? Maybe it will be a place for social gatherings with friends? Will it be used for family meals on a daily basis?
Answering these questions early on in the planning process will help you to get an idea of the layout you want to achieve, as well as how much space you will need for your furnishings.
How do you separate open plan dining from the kitchen and living room?
When you create any open plan space, it's a good idea to think about the different zones you want to have. For example, you may have a kitchen and utility area, and a dining area and a living area with a sofa and television. To make these areas have a slightly separate feel, whilst still being part of the same room, you need to think about how you're going to position your furnishings and design your flooring.
You could use a different type of flooring in your living and dining spaces to that in your kitchen, changing from tiles to wood or wood to stone, for example. Alternatively, you could have split-level flooring to separate the areas or use furniture such as bookcases to offer a functional divide.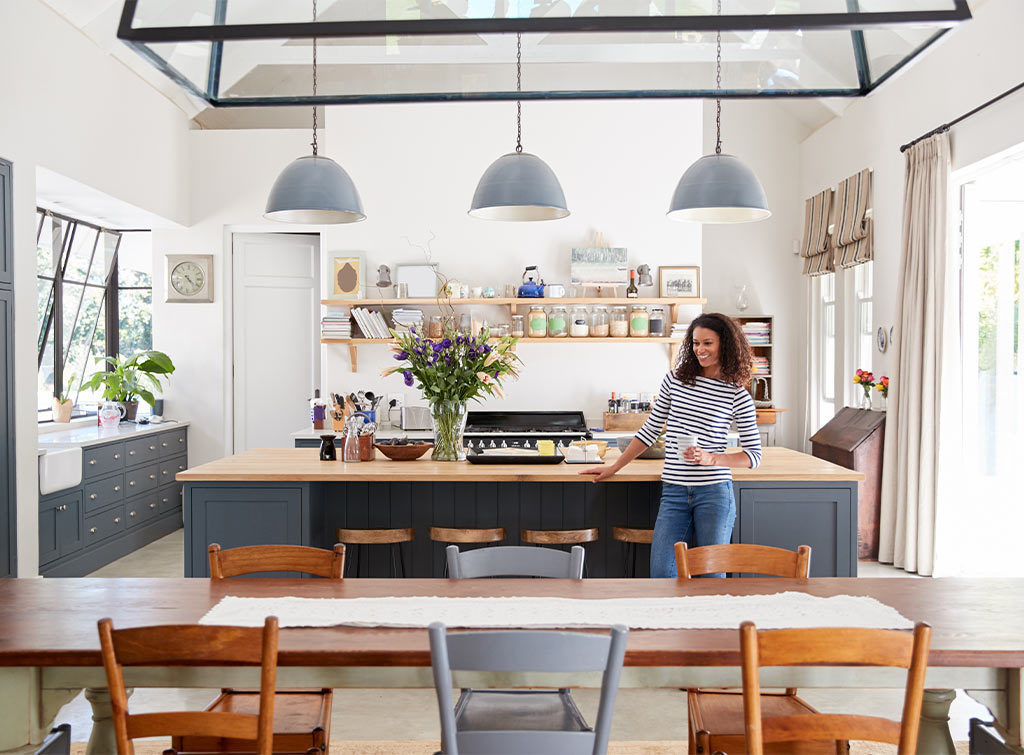 Is open plan dining a good idea?
An open dining room is perfect if you want a space that encourages family interaction and sitting down to have meals together on a regular basis. It's also perfect for those who love to entertain and do their own cooking, meaning the chef can socialise whilst preparing dinner.
If you're planning an open plan dining room, use our Checkatrade Search to find local and trusted tradespeople in your area. You can find everyone you need from builders and architects if you're planning to knock walls down or extend, to designers, plumbers and electricians.
Tell us what you think
What others think of this article:
Need More Information?
Related posts