Open plan living spaces have become hugely popular in recent years. This sociable way of cooking, living and dining is definitely here to stay.
What is an open plan kitchen living room?
An open plan kitchen living room is a space designed to provide all of your cooking, dining and living needs in one room. Typically, this type of space is created by extending your kitchen or knocking through walls in your home.
The idea is that an open plan kitchen will serve more than one purpose and be a multi-functional space for the whole family to enjoy. For example, you could have someone cooking the evening meal, someone working from home at the dining table and someone lounging on a sofa, all in one room!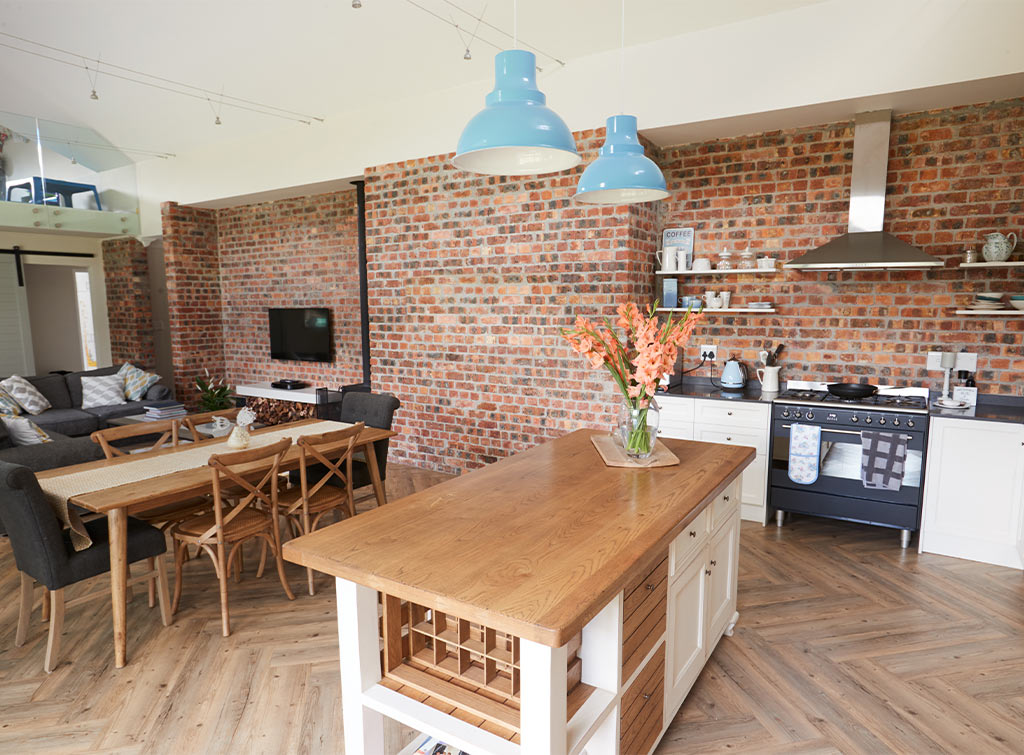 Ideas and inspiration for your open plan kitchen living room
If you're planning to create a sought-after open plan space in your home, we've put together some tips and inspiration to help you out.
How do I plan an open kitchen living room?
Firstly, you need to think about what you want to achieve and how you would like to use your open-plan space. Getting it right can be tricky, so it's best to work with a designer, architect or builder to ensure you can bring your ideas to life in a way that is both practical and effective.
Design and layout considerations for your open kitchen living space
It's crucial to take time during the planning stage to really consider how you're going to use your open plan room and how you want people to move throughout it.
Creating zones for different spaces in an open plan room is essential if you want the space to be enjoyed and used to its full potential. For example, if you're going to have a seating area with a television, you need to think about the background noise from your kitchen when cooking with appliances, for example.
You should also think about where you're going to keep more noisy appliances, such as washing machines and dryers. Are you able to create a separate utility space or create a built-in cupboard with soundproofing elements to avoid those noisy spin cycles interrupting your atmosphere?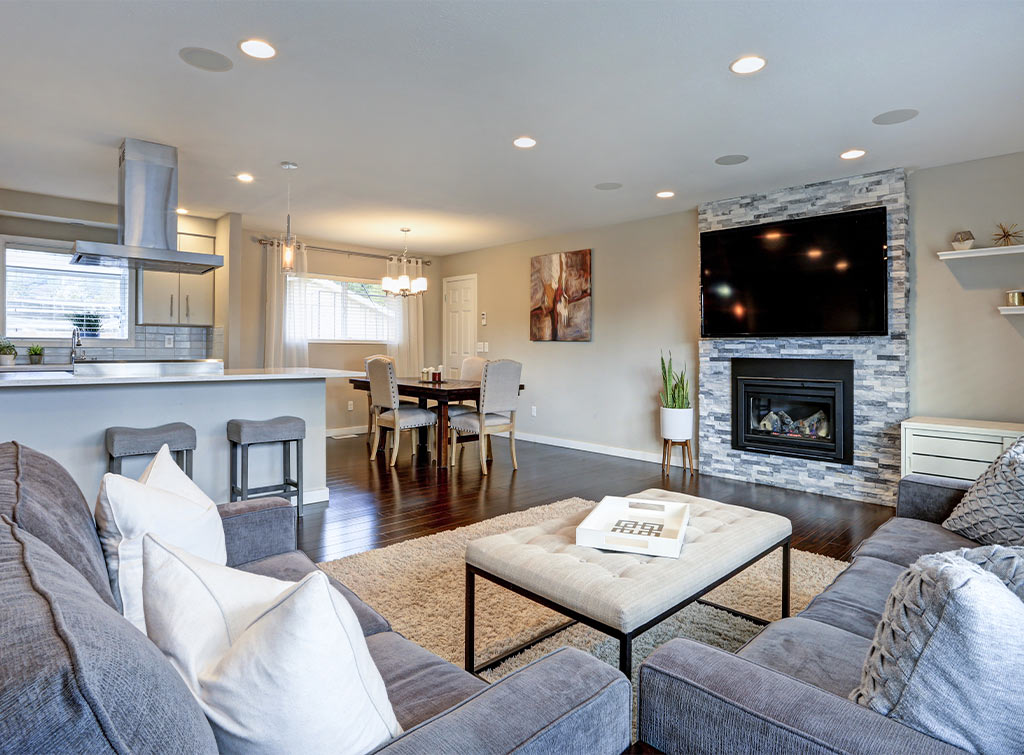 Broken plan layouts
Broken plan layouts are often used in open-plan spaces, as they help to create distinct zones and almost a sense of separation between different areas of the room.
For example, you could have split-level flooring, glazed doors, different floor finishes, or use furniture such as bookcases to create a clear sense of the various zones.
Planning your kitchen floorplan
Once you've worked out the layout of your open plan kitchen living space, you need to plan for your actual kitchen. Will you have a kitchen island or breakfast bar? Where will all of your appliances and your sink go?
This is an excellent time to do a scale drawing, which can be done by a kitchen designer or architect, and help you get a feel for how the positioning of everything will work.
Read more on kitchen design ideas and kitchen extension ideas.
Open plan dining areas
The dining area in your open plan kitchen should have plenty of space to move around the table and be within easy reach of your kitchen island or worktops for moving between the two.
It's also a good idea to have a separate lighting source for your dining area that allows you to layer lighting and put the focus on that zone of the room during mealtimes.
Explore our dining room ideas here.
Choose your open plan kitchen flooring
Typically, open plan spaces have flooring that extends throughout the whole space. However, some people use flooring to help separate different areas, such as the kitchen from the living area.
It's important when choosing your flooring to opt for something durable and hardwearing, especially in an environment that is likely to experience splashes and busy floor traffic.
Explore more kitchen flooring ideas.
Is an open plan kitchen a good idea?
An open plan kitchen is perfect for busy family homes or those who want to create a sociable space that offers multiple uses. It allows everyone to be together, encourages interaction and is also great if you like to entertain guests regularly.
If you're starting to plan your open plan kitchen living space, use our Checkatrade Search to find local and trusted tradespeople in your area. From builders and architects to kitchen designers, plumbers and electricians, you can find everyone you need to help bring your ideas to life!
Tell us what you think
What others think of this article:
Need More Information?
Related posts