Pros and cons of resin driveways


In this article, we'll cover:
Despite being comparatively new to the British market, resin paving solutions are becoming more popular every year. In this blog, we examine this type of system and debate its comparative advantages and disadvantages.
Finding the right fit
These days, you don't have to be a landscaper to notice that there is wealth of options on offer to those renovating their driveways. From brick pavers to cobblestones, tarmac to asphalt, the market is flooded with different choices, each with their own specific set of advantages and disadvantages. Whilst homeowners will be familiar with the majority of these choices, there's one option; resin paving, which is relatively new. As a result, some homeowners aren't aware of why the solution might be ideal for their property.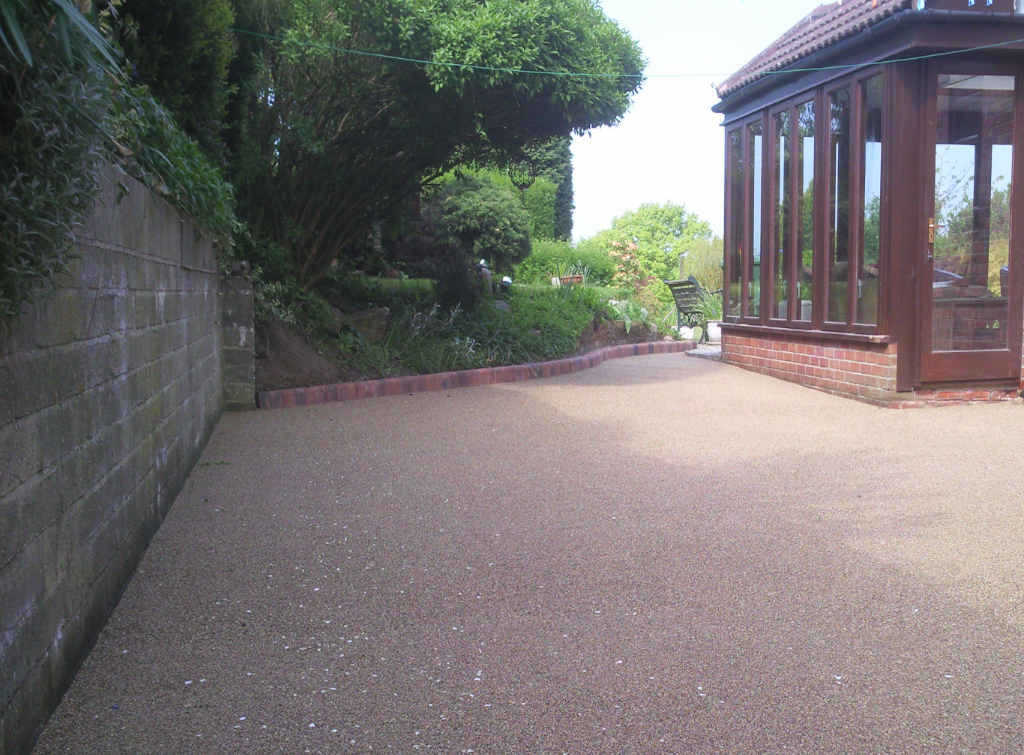 Find your local driveway installer
Resin paving solutions
For the uninitiated, resin paving provides smooth, hard-wearing, low-maintenance surfaces. Resin acts as a top surface layer, to which, an aggregate can be laid on and stuck to. There are two main categories of resin driveway systems; resin bonded and resin bound. The difference is all to do with how the aggregate is applied. In resin-bonded systems, the gravel is scattered onto a pre-applied resin layer before it sets. In resin-bound systems, the aggregate and resin are mixed together and then applied to the surface together.
In practice, the main difference is that whereas resin-bonded paving solutions deliver non-permeable, single stone layer surfaces, resin-bound paving solutions deliver surfaces that are permeable and multi-layered. As a result, there are often less loose stones in resin-bound paving solutions because the finish is far smoother. With that said, resin-bonded finishes tend to be cheaper and still provide a durable solution, which is strong enough to create a driveway suitable for multiple car use. Recent changes to planning regulations in England mean that the specification of permeable surfaces is now heavily encouraged. City councils are increasingly concerned about poor drainage, especially in densely populated areas and will likely reject applications that contain resin-bonded solutions.
Whilst there are a number of advantages to installing a resin paving solution, it's still crucial to remember the system's drawbacks. Only by considering the comparative positives and negatives of this type of system can homeowners truly decide if it's the right solution for their home.
The positives of resin paving
Visually appealing
Resin paving solutions are available in a multitude of colours, offering homeowners more design choices than alternatives.
Low cost
Comparative to other solutions, resin-based driveways are relatively cheap. In general, a price of around £40 per square metre is reasonable but this will depend on the area you live in and the installer you choose. As always, use a trusted tradesperson site like Checkatrade to ensure you're getting the best price.
Fast installation
Once again, compared to other solutions, resin-based driveways solutions are relatively fast to install. Most installations only take a few days, however, it's important to account for weather. Too much rain can affect the glue needed to stick the aggregate together.
Find your local driveway installer
The negatives of resin paving
Regulations
There are no official regulations surrounding the installation of resin-based driveways. As such, the quality of installation and material used can vary. That's why it's essential to use a trusted tradesperson site like Checkatrade to ensure you find a quality installer who's up to the task.
The resin
Akin to the materials and installer, it's really important to look into the resin you're using on your driveway. The biggest consideration is UV protection, which will affect how the resin performs in sunlight. If you don't mind your stone becoming darker over time then UV protection isn't that important, but if you do, it's vital to ensure the resin includes it.
Moss growth
All driveways are adversely affected by unwanted moss and weed growth, however on resin-based driveways they can make things very slippery and dangerous. Fortunately, as long as homeowners regularly clean the installation it should prevent the problem.
There's a lot to consider when deciding if a resin paving solution is right for your home. This type of system offers something different to other materials on the market but might not be every homeowner's cup of tea. For those of you still unsure, why not consult a landscaping professional through a trusted tradesperson site like Checkatrade. Getting an expert's opinion can make all the difference when it comes to ensuring you make the right call.
For more information about resin driveways find your expert today at Checkatrade
Good jobs, guaranteed
Get covered when you book with Checkatrade.