Is a 4 day work week realistic for trades?
In June, thousands of UK workers began the world's biggest trial of a four day work week. But could it work for tradespeople?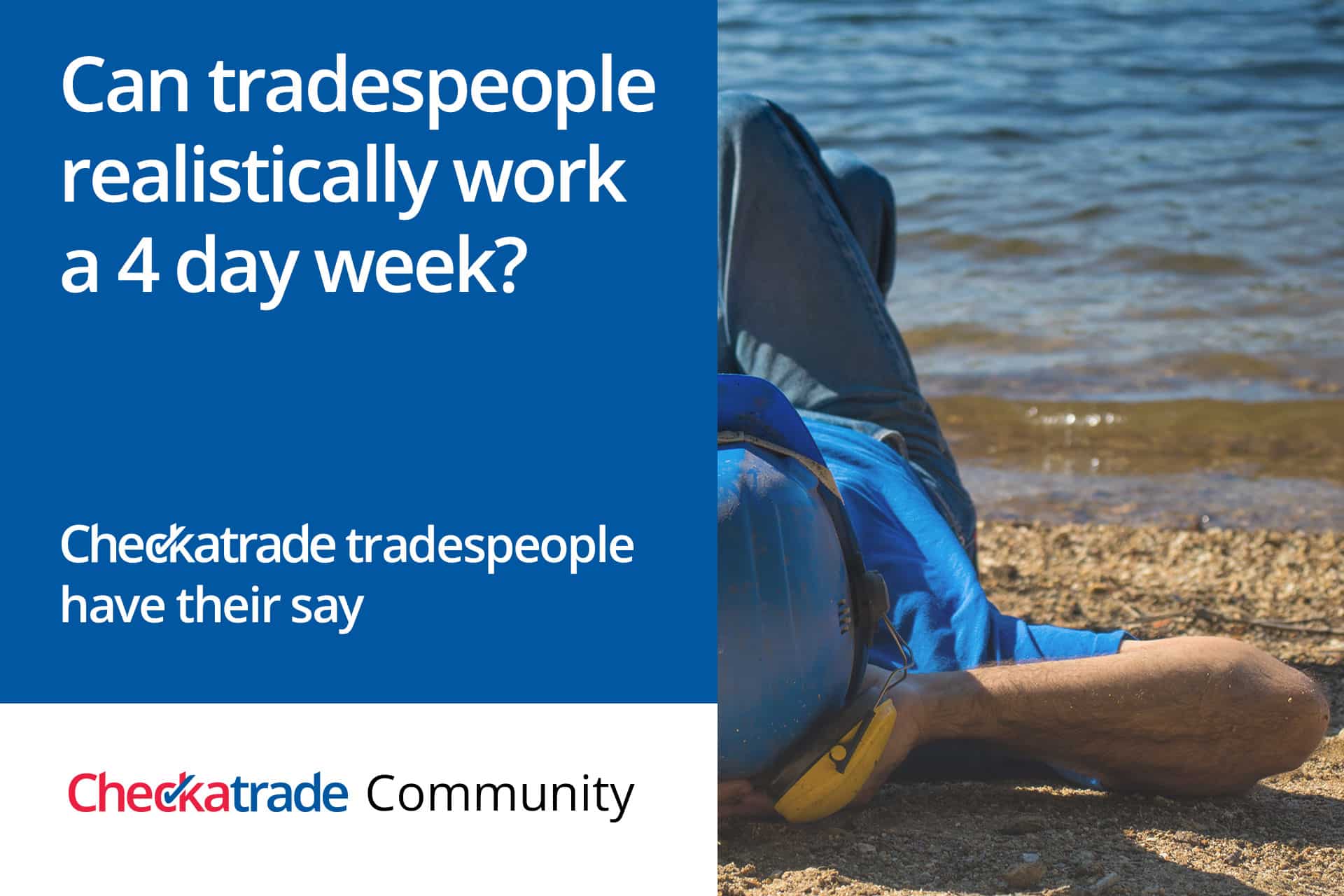 This summer marked the start of the world's biggest trial of the four day work week. More than 3,300 UK workers at 70 UK companies are taking part in a four day work week experiment to see whether moving to this new working model could be part of the future of work.
But is it realistic for tradespeople? Who better to ask than the trades themselves!
Here, we'll share the results of a poll amongst our members, and take a look at how (and if!) a four day week could actually work.
Is a 4 day work week realistic for tradespeople?
We asked our community of tradespeople whether a four day work week is realistic.
54.55% voted yes vs 45.45% say no
Would you like to work 4 days a week?
If you do, then there were some helpful comments from Checkatrade tradespeople to make your dream a reality.
As long as you've worked out your overheads and what you need to live, you can work as much or as little as you want providing you cover what's needed. The problem is, a lot of self employed trades work for the same wages they'd get being employed.

Richie from R J Heating
It would say for some tradespeople, yes, 100%. I am actually changing my working day since Covid 19 changed the world. I do a big job, then take time off, then do another job & so fourth. It really depends on everyone's personal situation & commitments.
Some of the obstacles to going down to a 4 day week included finding it hard to say no to work, or charging too little to justify working fewer hours.
Ultimately, to move to a four day work week, you would have to evaluate your financial commitments and perhaps even reassess how much you charge.
In the end, it will all come down to each individual's personal circumstances.
What is the 4 day week trial?
In June, a four day work week experiment began in the UK – the world's biggest to date.
The four day week trial is being organised by 4 Day Week Global, in partnership with the thinktank Autonomy, the 4 Day Week Campaign and researchers at Cambridge University, Oxford University and Boston College.
70 UK companies are taking part in the experiment, which is set to run for six months in total. These companies range from a local chippy to large financial firms. Researchers will work with each of them to measure how the four day week impacts productivity, workers' wellbeing, gender equality and the environment.
It's not the last we can expect to hear of four day week trials. Government-backed trials are due to begin later this year in Scotland and Spain.
What are the benefits of a 4 day week?
Previous studies have revealed a whole host of benefits of a four day week.
According to 4 Day Week Global, this working model has been found to improve:
Wellbeing
4 Day Week Global found that 78% of employees with four day weeks are happier and less stressed. Working fewer days per week improves employees' work-life balance, as well as their physical and mental health.
Productivity
Four day week experiments have shown to increase productivity in businesses across a range of industries. Microsoft Japan's four day week trial in 2019 actually yielded a whopping 39% increase in productivity!
Recruitment
Moving to a four day work week is a great way to attract new employees. 63% of businesses moving to a four day week found it easier to attract and retain talent.
Engagement
Doing a four day work week can improve motivation and energise employees. In fact, a 2018 four day week trial at Perpetual Guardian in New Zealand resulted in engagement levels rising between 30% and 40%!
Sustainability
Of course, by working fewer days, workers will reduce the carbon emissions they produce through commuting. Fewer days in the workplace can also reduce companies' energy usage.
Gender equality
Data released by the Government Equalities Office shows that around two million British people don't currently work due to childcare responsibilities. 89% of these are women. Moving to a four day week has shown to lead to better distribution of caring responsibilities between mothers and fathers.
Find jobs to fill your working week
However many days you work, fill them with jobs from Checkatrade
Find out more
How would a 4 day week work?
4 Day Week Global's four day work week guidelines involve something known as the '100-80-100 model.' That means employees should receive 100% of their current pay while only working 80% of the time.
However, importantly, they should still maintain 100% of their current productivity.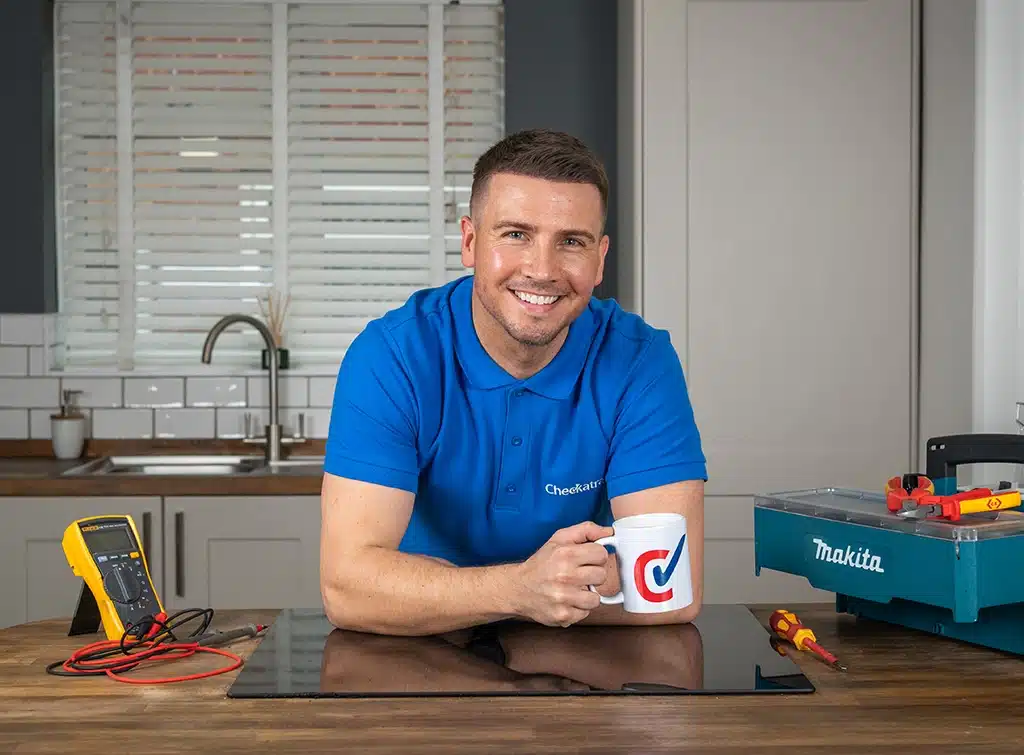 4 day week pros and cons
Customer satisfaction
In Utah, the government tried implementing a four day week where employees would typically work four 10-hour days. However, it closed due to poor customer satisfaction. Customers complained that with offices closed on a Friday, they couldn't access government services.
Compressed hours
Unfortunately, many workplaces and countries that try implementing this new way of working don't adhere to four day work week guidelines. Often, employees are still expected to work the same number of hours but across four days instead of five. This can actually negatively affect productivity, work-life balance, engagement and happiness as a whole.
Lost hours
There are lots of jobs where productivity levels can remain consistent despite working fewer hours. But there are other industries, like healthcare, that need staff to be there at certain hours in order to function. In this case, employers may have to hire more people to cover hours lost to the four day week, forking out more in wages.
FAQs
How do you work a 4 day week?
In trades, working a four day week will rely on getting better at saying no to jobs. It's also important to make sure you're getting paid a fair wage. That way, you can still cover your financial commitments while working fewer hours.
How do you calculate a 4 day work week?
Four day work week guidelines recommend working 80% of your current hours while still receiving 100% of your current pay. This isn't to be confused with businesses that allow employees to squeeze their usual working hours into a four day week.