The ultimate guide to hiring an apprentice for trade businesses
There's a big and growing skills gap in the UK's trade industry. You as a business owner can play a big part in filling this gap by hiring an apprentice. Even better, there are many benefits for you and your business to do so.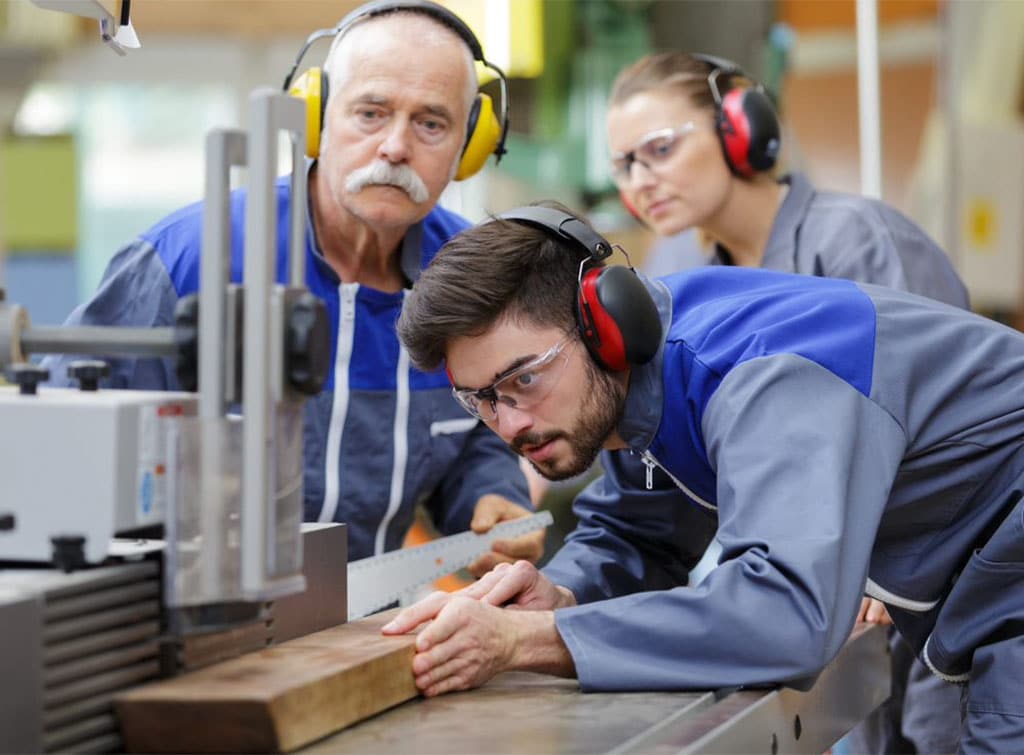 There's a growing skills gap in the UK's trade industry. You, as a business owner, can play a big part in filling this gap by hiring an apprentice. Even better, there are many benefits for you and your business to do so.
Every summer there are a large number of young people finishing school or college, and they're faced with the dilemma of what to do next. These students are great prospects to become your next team member. With university tuition fees higher than they've ever been and a big skills gap in the UK's trades industry, apprenticeships are more important than ever. In fact, they could be the secret to saving our industry.
That was the key finding of our recent UK Trade Skills Index report, released earlier this year. The report highlighted key challenges the UK construction and trade industry will face over the next 10 years, including an alarming labour shortage which is only set to worsen unless more young people are recruited to plug the skills gap. In total, 244,000 qualified apprentices are required, so it's an urgent problem that needs solving.
With that in mind, we've launched our very own campaign – Checkatrade's Get In programme, aimed at connecting 16 to 25-year-olds with brilliant job opportunities across the UK. We want to help by supporting businesses like yours to find apprentices – and in doing so, kick-start careers across the UK through trade apprenticeships.
Read on to see if hiring an apprentice is the right fit for you and your business.
Is hiring an apprentice good for business?
The National Apprenticeship Service website says that 96% of employers that take on an apprentice say that it benefits their business.
Whether you're a sole trader or a national business, hiring an apprentice can be beneficial to you.
Here are just a few of the benefits of hiring an apprentice
The government provides financial support to train your apprentice.
Apprentices support you with your work, and the government pays for their training, so it's a real win-win for you.
There are apprenticeship incentives currently being offered by the government for anyone hiring an apprentice. Apprentices can be trained to meet your standards.
Apprentices don't have any bad habits to unlearn!
Apprentices improve productivity: 72% of businesses report improved productivity as a result of employing an apprentice.
You can win more work: Research shows 80% of customers prefer to buy from companies employing apprentices.
Employing an apprentice is a cost-effective way to grow your team.
Apprentices learn on the job with you. While they learn, your jobs are getting done. And as they learn, they will get your jobs done to a high standard well into the future as they develop.
A great long-term employee: 90% of apprentices stay in their place of work after completing their apprenticeship, according to NAS.
Saves money on recruiting new staff: You'll save money on recruiting new staff by hiring an apprentice.
Tips on taking on employees
When you take on employees, there will be times when you need to shift your focus from purely fee-earning work to managing and taking care of your team .
However, the benefits of this lie in the fact that each individual will bring new talent and experience to your company. And as your headcount grows, so does your creativity, problem-solving capabilities and skillset.
It's not just about raw people power – a team is usually greater than the sum of its parts. Take a look at Chapter 6, Taking on Employees and Building Your Team in the Accelerate! eBook for all the advice you need to help grow your team.
Or, why not download the full Accelerate! eBook here for free?
See how a Checkatrade member found hiring an apprentice
We spoke to Checkatrade member Danny Tickner of Samsian Ltd to hear about his thoughts on the benefits of apprenticeships and his own experience of taking on an apprentice.
How do you feel about apprenticeships in general?
I think they are important, and they offer you the foundation for working in the industry.
Would you take on an apprentice or recommend taking on an apprentice to anybody else?
I would certainly recommend to other businesses that they take on an apprentice. I was fortunate that my current apprentice is my son, I knew he had longevity at the company, and it's all about future growth.
Do you feel that taking on an apprentice is in some ways more beneficial than hiring somebody fully trained?
It depends on the workload and what's required. If you are planning long-term for the future, then yes, it would be a fantastic investment to hire an apprentice.
What's involved in hiring an apprentice?
An apprentice must:
Be 16 or over.
Not already in full-time education.
Live in England and have the right to work. (This guidance is for England – follow the links for Wales and Scotland.
Work in a role for your business that is relevant to their apprenticeship.
There are a number of steps to take when employing an apprentice
First, you'll need to make a service account to start setting up your apprenticeship.
From here, you can look at the different courses available. For more tips on how to launch your own apprenticeship, visit our blog here.
There are hundreds of apprenticeships to choose from depending on the skills and role you want your apprentice to learn.
Apprenticeship levels can be split into these categories:
Intermediate – Level 2 qualifications
Advanced – Level 3 qualifications
Higher – Level 4 and above qualifications
Degree – Level 6 or above qualifications
Apprenticeships run for at least one year but can also reach up to five years, depending on the skills that are being taught.
You'll also need to keep in mind an apprentice's legal rights:
The minimum duration an apprentice can work is 30 hours a week, including off-the-job training.
Apprentices should not work longer than 40 hours a week.
You must pay them at least the National Minimum Wage.
Give your apprentice a contract of employment that is at least long enough for them to complete successfully.
Allow your apprentice to combine workplace learning with off-the-job training.
Training should make up at least 20% of their working hours.
An apprenticeship must last for at least a year.
Managing risks in different working environments
Employers need to give their apprentices adequate training and supervision to help them safely perform the job they have hired them for. This includes ensuring that the apprentice works with experienced staff, learns job-specific skills, and gets adequate time for training or study during their working week.
Think about how accidents and ill health could happen in your workplace and concentrate on real risks – those that are most likely to occur and which will cause the most harm.
Here are some considerations for carrying out risk assessments when working in different types of environments:
For low-risk environments, such as an office or shop, everyday risks will mostly be familiar to an apprentice. It's important to speak to them in advance about the risks and how these are safely managed to minimise the chances of any incidents occurring.
For environments with less familiar risks, like light assembly or packing facilities, make sure the apprentice is clear on what they'll be doing and that the arrangements are in place for managing risks. This includes doing an induction, training, supervision, site familiarisation, and any protective equipment that might be needed.
For higher-risk environments, such as construction, agriculture or manufacturing, make sure you have identified all the risks involved and explained to the apprentice how these are managed. You'll need to make sure that the instruction, training and supervisory arrangements have been properly thought through and are successfully implemented.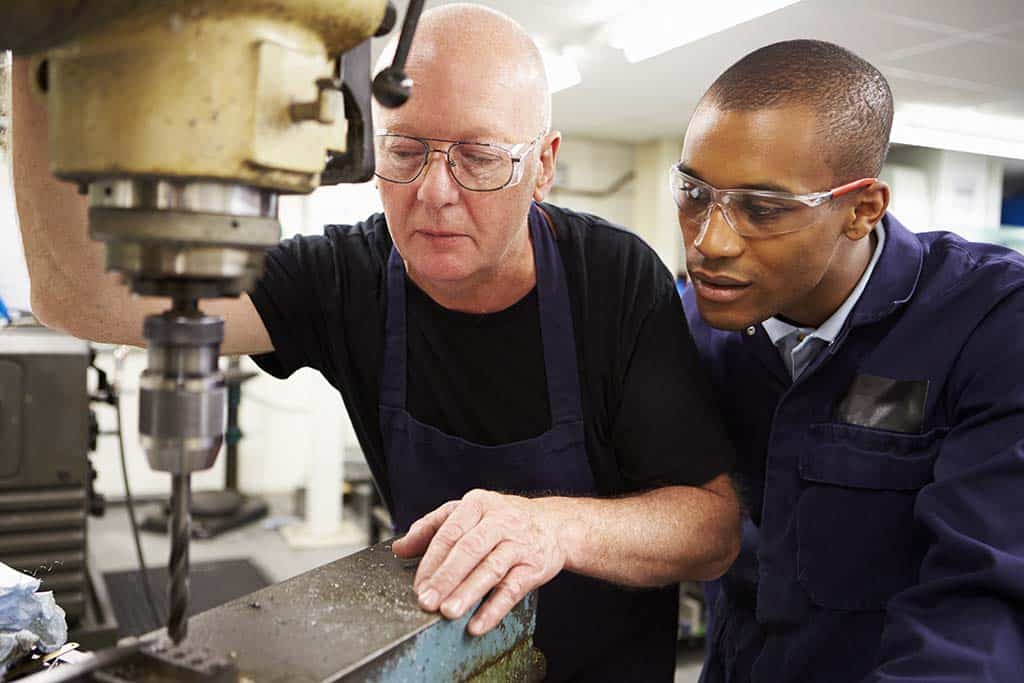 Your requirements as the employer before your apprentice starts
Make sure that the apprentice is covered by risk assessments and that they know what measures have been taken to protect them.
Make sure the apprentice understands the information and instructions they need to work safely and has any necessary training in advance.
Consider the language needs of apprentices who do not speak English well or at all.
Check the apprentice has any occupational qualifications or skills needed for the job.
Agree on arrangements for providing/maintaining any personal protective equipment, display screen equipment eyesight tests, and any necessary health surveillance.
Agree on arrangements for reporting relevant accidents to the enforcing authority (usually HSE or your local authority).
For more information on how apprenticeships work and the benefits to your business, you can visit protective equipment.
Also, if you'd like to find out more about health and safety best practices for your business, including more detailed advice on risk assessments, PPE and training, please visit Gov guidance.
How to find the right apprenticeship for your apprentices and business
Once you've got an understanding of the requirements, you'll be on the lookout for the perfect candidate. You can manage the recruitment process yourself or rely on your training provider to find a candidate on your behalf.
One of the most stress-free ways to find the perfect apprentice for you is using our Jobs Board, powered by Checkatrade's Get In programme. If you'd rather put in the legwork and make sure it's the right person for your business, there are several other manual ways you can go about it. You can arrange visits to schools, colleges and universities and/or take part in careers events to meet apprentices and various trainers/apprentice scheme bodies.
You'll need a training provider for your apprentice
Once you've decided on a course that suits any apprentice you hire, the next step is to find an institution or organisation for your apprentice's off-the-job training.
On top of the practical work with you, an apprentice needs off-the-job training. The apprentice follows the guidance from the trainer and regularly meets and feeds back on what they have been up to on their apprenticeship with you. This is no additional work for you.
Finally, sort the essential apprenticeship paperwork
As with any employment process, there is paperwork involved. The main document you'll have to create is an apprenticeship agreement between you and your trainee when they start their role.
The apprentice's document should cover:
The trade or occupation the apprentice is being trained for.
The name of the apprenticeship.
The start and end dates of the apprenticeship.
The amount of training you'll give them.
If you're not quite sure how to make this form, there's a template on the UK government website that you can use.
What are business higher apprenticeships?
Business higher apprenticeships give young people the opportunity to obtain a level 4 qualification or higher.
A great alternative to University, those completing a business higher apprenticeship will often end up with an HND, NVQ level 4 or even a foundation degree.
The requirements for business and management apprenticeships
According to gov.uk, the minimum duration of an apprenticeship should be 30 paid hours a week. Once you're confident you can provide this amount of work, it's worth noting that there are a number of terms you should meet. These include:
You should provide your apprentice with a contract of employment, which is for a long enough term to allow them to complete their business management apprenticeship successfully.
Ensure you pay your apprentice a wage that's at least the National Minimum Wage consistent with the law or the field they work in.
Always provide your apprentice with a job role that helps them gain knowledge, skills and behaviours that will help them not just for their apprenticeship but also for the rest of their career.
Remember to allow the apprentice to combine learning in the workplace with formal off-the-job training.
Everything to know about apprenticeship costs and funding
What apprenticeship funding is available to businesses?
Funding for apprenticeships has changed recently with the introduction of the Apprenticeship Levy. The levy requires firms with annual payroll costs of over £3 million to pay 0.5% of their annual pay bill into a collective fund.
Large firms are able to use this fund to pay the costs associated with apprentices. However, if you don't pay into the levy, then the approach you take to funding will depend on the size of your company:
Firms with annual payroll costs of less than £3 million (more than 50 employees)
Firms that don't pay into the levy but have more than 50 employees will need to pay 5% towards the cost of an apprentice. The government will cover the rest of the costs associated with training and assessment.
Firms with annual payroll costs of less than £3 million (less than 50 employees)
If you're an employer with less than 50 people working for you, then you don't have to pay the 5% contribution on any apprentice who is aged between:
16-18 years old
19-24 years old and who has previously been in care or who has an Education, Health and Care plan provided by their local authority
The government will pay 100% of the training costs for these individuals, up to the funding band maximum. What's more, employers who take on an apprentice that fit the above criteria will also receive £1,000 at the start of the process.
The payment will be made to the employer, regardless of size, in two equal instalments via the training provider. For more information about apprenticeship rules for small and medium-sized enterprises, please visit here.
Firms with annual payroll costs of over £3 million
Larger firms with annual payroll costs of over £3 million are required to pay 0.5% of their annual pay bill into an Apprenticeship Levy. When these firms look to take on an apprentice, they can fund it by withdrawing money from the levy.
Can I receive funding from a levy transfer?
Any employer is eligible to receive an apprentice levy transfer from a levy-paying organisation, and this can then be put towards the costs of recruiting a new apprentice.
However, the employer transferring the funds must fund the whole of the training costs (up to the funding band maximum). If this is not the case, then the receiving employer must pay 5% of the remaining training costs.
The transfer will take place through the Apprenticeship Service, which means that both the transferring and receiving employer must have an account set up.
Who pays an apprentice's wage?
Employers are responsible for paying apprentices just as they would any other member of staff.
All apprentices must be paid at least £5.28 an hour*, rising up to the current rate for their age once they have completed the first year.
For example, an apprentice aged 23 who has completed their first year is entitled to a minimum hourly rate of £10.42*.
Someone the same age who has yet to complete this part of their apprenticeship is entitled to £5.28*.
There is no direct funding for wages, but employers can put government financial incentives towards the cost of paying their apprentices.
(*Figures correct as of January 2023).
How much does apprenticeship training cost?
It can be tricky to follow and fully understand the costs involved in training an apprentice, especially given there are over 500 apprenticeship standards, and each has different associated training costs.
The amount the government will contribute to funding varies depending on the type and level of apprenticeship. That's why it's best to double-check your band on the government website.
Go to the gov.uk website for more about the cost of apprenticeship training.
Can a sole trader recruit an apprentice?
Definitely, and it's a great way to grow your workforce. As a sole trader, you have two options. You can either employ an apprentice yourself or take on one through an apprenticeship training agency. The second option is great for having an extra pair of hands without committing to full employment.
If you've no previous experience with having employees, you'll need to register with HMRC. This will make sure you pay National Insurance and income tax for your apprentice.
Why to bring on an apprentice
Taking on an apprentice is good for your business – 96% of employers that take on an apprentice say that it benefits their business.
Anyone aged 16 or over who lives in England and isn't in full-time education can apply for an apprenticeship.
The government offers funding and sometimes incentives for any business looking to take on an apprentice.
If you're looking to hire an apprentice, you'll need to pay them a fair wage, give them sufficient work, give them a role that enables them to learn and a number of other criteria.
Step by step on how to start an apprenticeship scheme
You will need to look at the apprenticeship framework and find the one suitable for your industry. If stuck, contact the National Apprenticeship Service.
Register your interest in bringing on an apprentice with the National Apprenticeship Service.
Find a training organisation – they'll handle your apprentice's training and assessment.
See what financial options are available – there are many options through the government.
Advertise your apprenticeship scheme – have apprentices keen to learn approach you to come and join your business.
Pick your apprentice or apprentices, and make sure to create an apprenticeship agreement with them.
By using an apprenticeship trainer, it means you can employ an apprentice without the stress of actually running their apprenticeship scheme.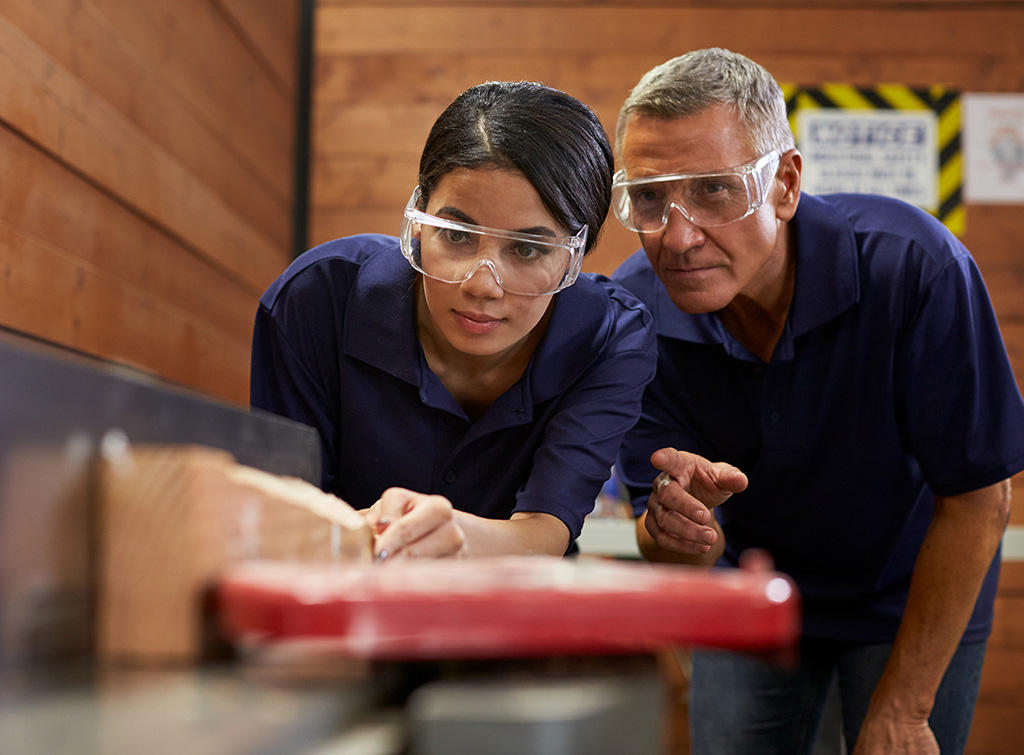 How to get more work to keep your apprentice busy
If you're looking to boost your business and generate extra work for a new apprentice, joining Checkatrade is a brilliant choice.
Not only will this help you to reach more customers, but it will also give your business and your apprentice a fantastic and constant pipeline of jobs.
We're well aware of the skills gap within the trade industry and are doing all we can to help by launching Checkatrade's Get In programme.
What's more, by joining us, you'll also receive access to incredible member benefits and discounts that will come in handy when you are looking to purchase a new van, tools, workwear and more.


Keep your apprentices busy
Join the UK's #1 trade directory to keep growing your business. Join Checkatrade now
Keep your apprentices busy
Join the UK's #1 trade directory to keep growing your business.
Join Checkatrade now