Seven of the highest paid trade apprenticeships
There are some great opportunities out there to learn on the job while also getting paid a decent salary with ever-increasing prospects. The plasterer apprenticeship is one such example.
In this article, we'll cover:
Going to university means hours spent sitting through lectures and reading book after book. So, if this style of learning isn't for you, why not consider a trade apprenticeship, such as a plasterer apprenticeship?
You'll still be training for your future career, but you'll be working outside a classroom, getting a salary, and learning valuable skills every day. Interested? You may be wondering then, what are the highest-paid UK apprenticeships? Or: Just how much will I earn if I do a plasterer apprenticeship? Both valid questions.
Read on to find out what the best paid apprenticeships out there are, including the benefits you can look forward to, plus average wages you can expect.
The benefits of apprenticeships
So, let's start by looking at the benefits of apprenticeships such as the plaster apprenticeship, and make sure this is the right career path for you.
An apprenticeship is a course that gives you hands-on experience and the opportunity to develop transferrable skills, all while receiving a salary. Some of the perks include:
One-to-one training and learning on the job, with professionals who can answer all your questions.
No expensive student debts.
Not being stuck in a classroom or lecture hall.
Earning a wage that'll give you the freedom to fund your lifestyle.
Doing something you love while training for your future career.
To keep reading about the many advantages, check out our benefits of apprenticeships guide, with real answers and advice from past apprentices.
How to take on an apprentice
If you're looking at taking on an apprentice as a sole trader, take a look at our guide to hiring an apprentice.
What are the highest paid UK apprenticeships?
Taking on an apprenticeship is one of the best ways to get your career started in a certain trade. Not only will you learn the necessary skills, but you'll also get real life experience, which is a valuable tool when it comes to branching out on your own (if you pardon the pun). If you're unsure which direction to go when it comes to choosing a trade, it's worth considering salaries. Some of the best paid apprenticeships include:
Plumbing apprenticeships
Working with everything from toilets to fitting pipes, plumbers play a key role in the running of homes and businesses alike. As a plumbing apprentice, you'll learn to install heating systems, service radiators, work with pipes, unblock drains and much more.
According to Indeed, you can look forward to a great average wage of £17,842 while training.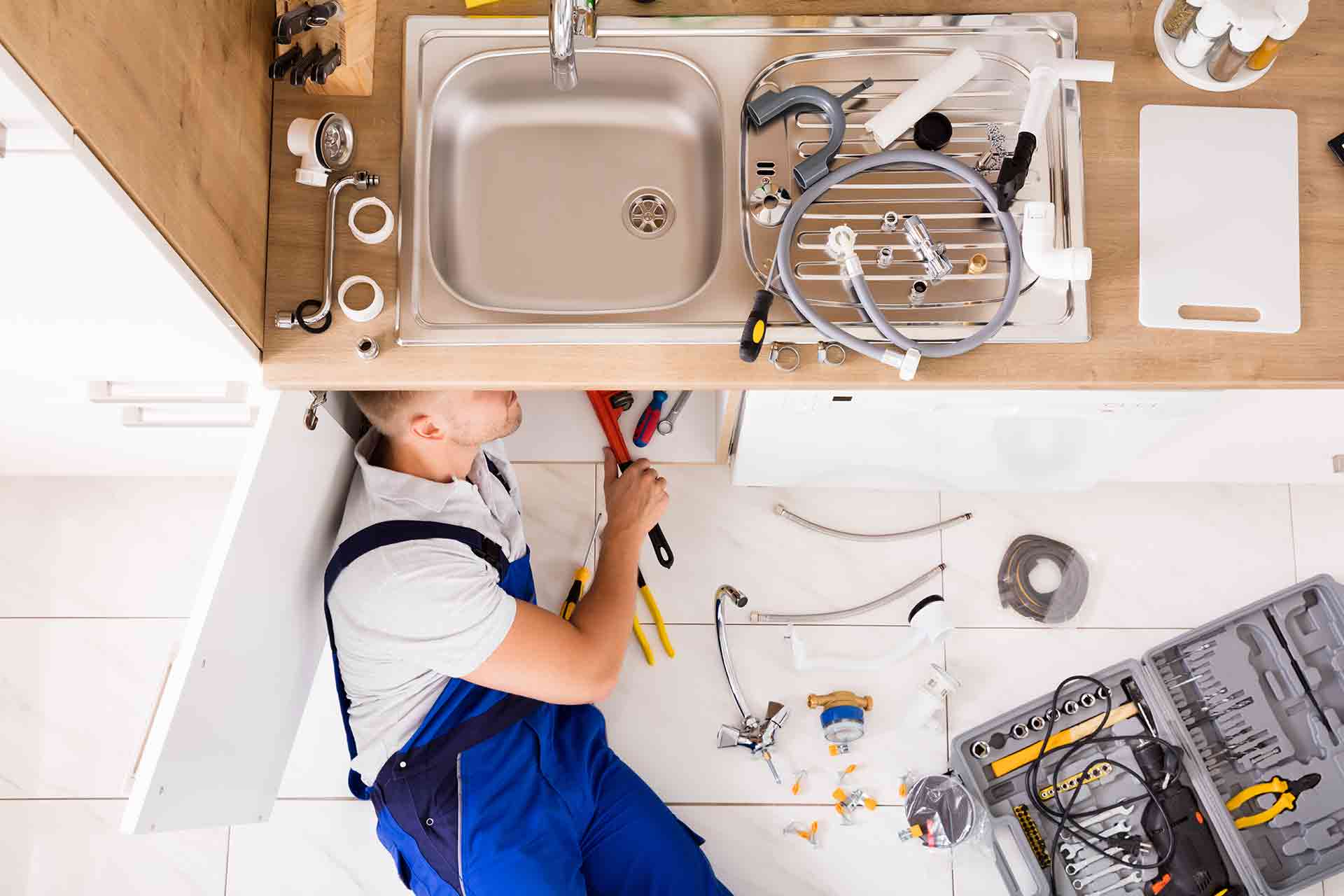 Electrician apprenticeships
Generally, as an electrician apprentice, you'll learn a wide range of different skills involving the use of electricity. One day you could be installing lighting and the next, rewiring a home. You'll also deal with jobs such as fitting sockets, installing security systems, maintaining electrical systems and repairing electrical appliances.
So, what do electrician apprentices get paid? Well, the average salary is £18,309 according to Glassdoor.
Builder apprenticeships
If you'd prefer to work on a variety of jobs whilst building your physical strength, a builder apprenticeship may be perfect for you. You'll be required to work indoors and outdoors as builder apprentices learn everything from roofing to plastering to bricklaying and welding.
You'll earn an average of £15,000 as a builder apprentice.
Plastering apprenticeships
Plasterwork is vital when giving a room you're working in that final, smoothed-wall finish. As an apprentice and beyond you'll be applying plaster on internal or external walls, and applying various techniques such as decorative mouldings on ceilings, all based on the styles and preferences required by the customers.
You'll have to be physically strong and patient, with a good head for heights, but you'll be earning on average, £19,000 during your apprenticeship. competent you become.
Carpenter apprenticeships
The job possibilities as a carpenter are endless. As a carpenter apprentice, you'll work on projects including creating wood fittings, working from blueprints, repairing doors, and building custom furniture. Remember, carpentry isn't just a trade. It's also a craft that can be honed over years of experience.
You may be curious as to the average carpenter apprentice wage and according to Indeed, this is £15,944.
Painter/decorator apprenticeships
Painters and decorators excel at transforming dull or damaged homes into beautiful living spaces. This makes for a very rewarding career path. If you choose to begin a painter/decorator apprenticeship, you can learn a range of skills from painting to wallpapering and staining wood floors.
So, how much will you get paid during a painter/decorator apprenticeship? Well, the good news is that you could earn £22,881 in some parts of the UK.
Roofer apprenticeships
During a roofing apprenticeship, you'll learn how to work safely at heights, how to repair damaged roofs, how to waterproof roofs and other skills. Roofing can be dangerous if not undertaken correctly, and so you'll be taught exactly how to stay safe and protect yourself from accidents.
Wondering what you can expect to earn as a roofer apprentice? According to Salary Expert, the average salary of a roofing apprentice is £24,615.
How to find the best paid apprenticeships
Once you've decided on the trade that best suits you, it's worth spending a little time looking for the right apprenticeship that'll give you a great start to your new career.
Unsure how to find the best paid apprenticeship? Then take these next steps:
Your best way forward
Start by speaking to a range of different local businesses that are offering apprenticeships.
Discuss the apprenticeship in detail, covering what you'll learn, what hours you'll work, who you'll be working with and what your day would look like.
Don't just choose the highest paid apprenticeship. Pick the one that'll give you the best experience and will allow you to develop a wide range of skills.
If you're leaning towards a particular trade, don't switch just for the extra money. Doing something you love is worth far more than a monthly wage. Remember the saying, 'If you find a job you love, you won't ever have to work a day in your life'.
FAQs
Are most apprenticeships paid?
Yes, all apprenticeships are paid. You'll earn at least minimum wage during your training. Don't forget that this amount will vary depending on your age and which year of your apprenticeship you are in.
Which apprenticeships are most in-demand?
The most in-demand apprenticeships are traditionally the most in-demand trades.
Some of the most popular trade apprenticeships are:
Electrician apprenticeship: Good pay, plus the chance to work with new technology.
Plumber apprenticeship: Varied workdays and flexible working hours.
Gas engineer apprenticeship: High earnings and an analytical role.
Carpenter apprenticeship: The opportunity to be creative and work with your hands.
Plasterer apprenticeship: A skill you can perfect whilst also specialising in particular techniques.
What are my options once I complete my apprenticeship?
You have a few different options after finishing your training, such as staying on with your current employer if you were on the plasterer apprenticeship, say. Or you could take another job with a different employer or starting your own business. If you're considering building a company yourself, in order to hit the ground running, why not join Checkatrade?
Not only will we provide you with free marketing materials, but we'll also make it easier for customers to find your business online. You'll be able to save money on essentials like tools and insurance and receive advice from other tradespeople in our member's community.
Apprenticeship summary
Taking an apprenticeship allows you to train in a specific field, giving you the best start to a trade career.
Some of the best paid apprenticeships include electricians, carpenters, decorators and plasterers.
You can earn a great wage by taking an apprenticeship, plus you won't need to pay for costly course fees.
We'll always need the services of electricians, carpenters, gas engineers and plumbers, making these apprenticeships highly in demand.
All salaries correct as of 1st July 2022.