How to get more enquiries as a tradesperson
You need more enquiries coming through to you. But how? Simple, by being listed where your customers are searching for help. Where are they searching? Most likely, right here on Checkatrade. Being listed as a guaranteed tradesperson raises your chances of getting messages and calls from customers. All through the power of your Checkatrade profile.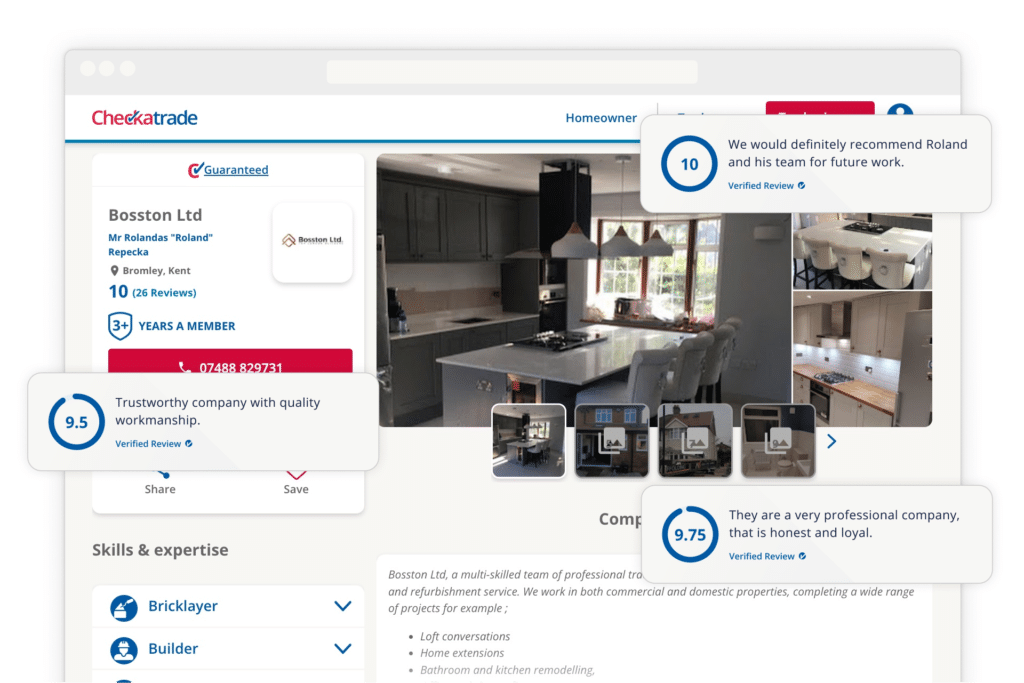 The trade sector is booming with more people than ever looking to improve, enhance and remodel their homes. This is great news for anyone looking to expand and grow their business.
Already a Checkatrade member?
So, why not take this opportunity to start afresh by revitalising your Checkatrade profile? After all, it's one of the best ways to attract new customers so should reflect you in the best possible light.
If your business needs a boost or you're looking to expand, read on. You'll learn how to inject new life into your profile page, making it as enticing as possible to potential customers and helping you stand out above the competition.
What our Checkatrade membership advisors recommend
They've seen it all – what works and what doesn't. They're the best people to ask.
So here goes, this is what they advise:
Engage with your profile consistently and regularly, getting into the habit of uploading photos and logging in.
Make sure you are getting recent reviews, around 1 – 3 a week/every other week.
Upload 1- 3 new photos to your profile a week and make a feature album with your three best pictures. The more you put in the more you get out.
Treat your profile as a shop – the search text is your shop window and if they like what they see they will come in and look for more. If you're booked up, leave a message on your profile so people will know your availability. Providing as much information as possible is key.
Keeping your Checkatrade profile active is key
As you can see, there is a consistent theme in our membership advisor's advice – to be regularly working on your profile. It's all about staying up to date and keeping your profile fresh.
If you keep your profile fresh, you're giving a good nod to our Checkatrade search algorithm that you're an active member. And most importantly, customers can see that your profile is up to date with recently dated customer reviews and new photos being added.
As one of our membership advisors told us – The more you put in the more you get out.
Clean up your image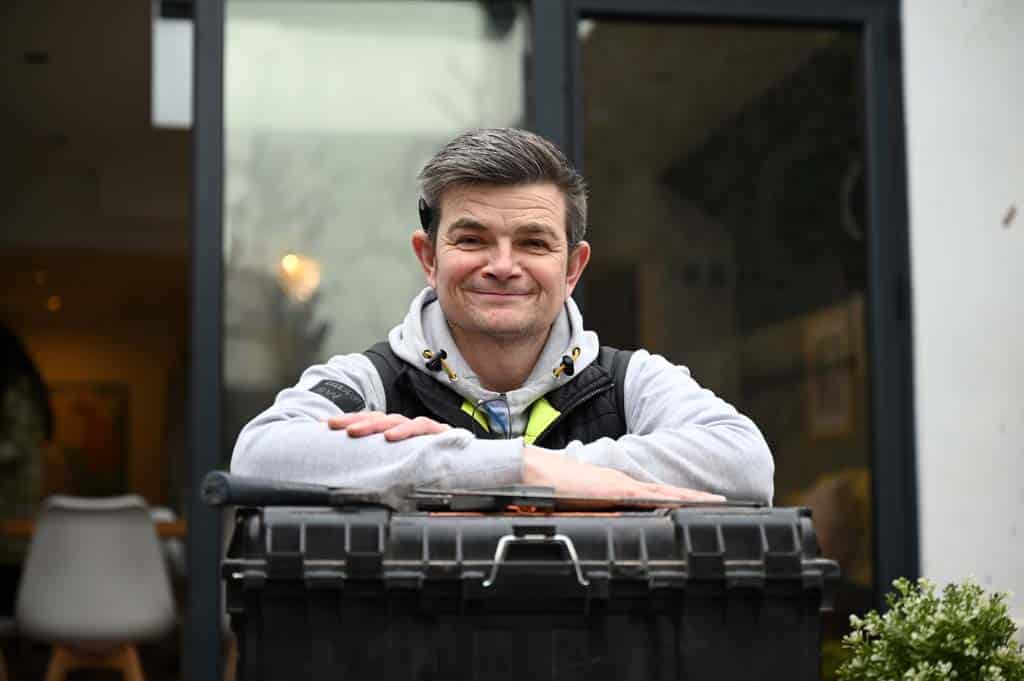 You've probably already noticed that becoming a Checkatrade member is a brilliant way to increase your workflow and help you to reach more customers. However, if your profile page isn't up to scratch, this can greatly impact whether customers choose you or your competitors.
So, let's start by looking at the image you're projecting to your customers.
Every business needs a consistent brand to help customers see what makes your company special and unique.
You don't need to invest a lot of time in your image, all you need is a clean, bold logo, pictures of you and your team, and it helps to add a summary of what makes you different from your competitors.
Remember, standing out isn't about paying for an expensive website and advertising. You need to show customers what you can offer them that your competitors don't. Be sure to focus on your unique selling points.
Declutter your text
If your profile includes long passages of text, this can be overwhelming for customers. You want to let them know how amazing your business is without using large chunks of writing.
Try making your Checkatrade profile snappier by picking out key points that'll help let potential customers know why they should choose your company.
Remember to keep things professional without using complicated terms and business-speak. Think about making your text conversational (how you would chat to a friend) to show your target audience that you're friendly and care about their needs.
A quick trick to writing a clear, easy to follow profile is to use the SHORT method. This includes:
Starting with a brief introduction about your company, who you are, and what you offer.
Highlighting your top skills (these can include your experience, qualifications, accreditations and certifications).
Outlining your unique selling points. This covers why you're different from your competition and the amazing services you offer.
Reviewing your profile by checking for spelling mistakes and errors. Also, make sure to update any important information that is outdated.
Tidying up your page by using clear and to the point language so ideally it's no more than 150 words.
Putting your best foot forward
It's not surprising that many businesses let things slide due to lockdown. You'll likely have traded your work boots for slippers, overalls for pyjamas, and inside jobs for outside jobs. This means those essential finishing touches have been pushed down the priority list.
However, now's the perfect time to dust yourself off and get back to presenting a great company image.
Here are some top tips for putting your best foot forward:
Link your Checkatrade profile with your website, and professional social media sites. You can do this using links posted on your different profiles. These should be clear and easy to see to ensure they aren't missed by your customers.
If you often work from home, now is a great time to have a tidy up. You can start by filing any loose paperwork, dusting your work desk and cleaning any tools you use. This will help to increase your productivity and create a workspace you look forward to using.
If you own a van, take the opportunity to give it a scrub and polish so it shines as bright as your talent.
Do you have workwear that's printed/embroidered with your logo? If not, why? It's a great way to stand out and give yourself a professional edge! Having branded workwear is also a fantastic method of free advertising.
Get your house in order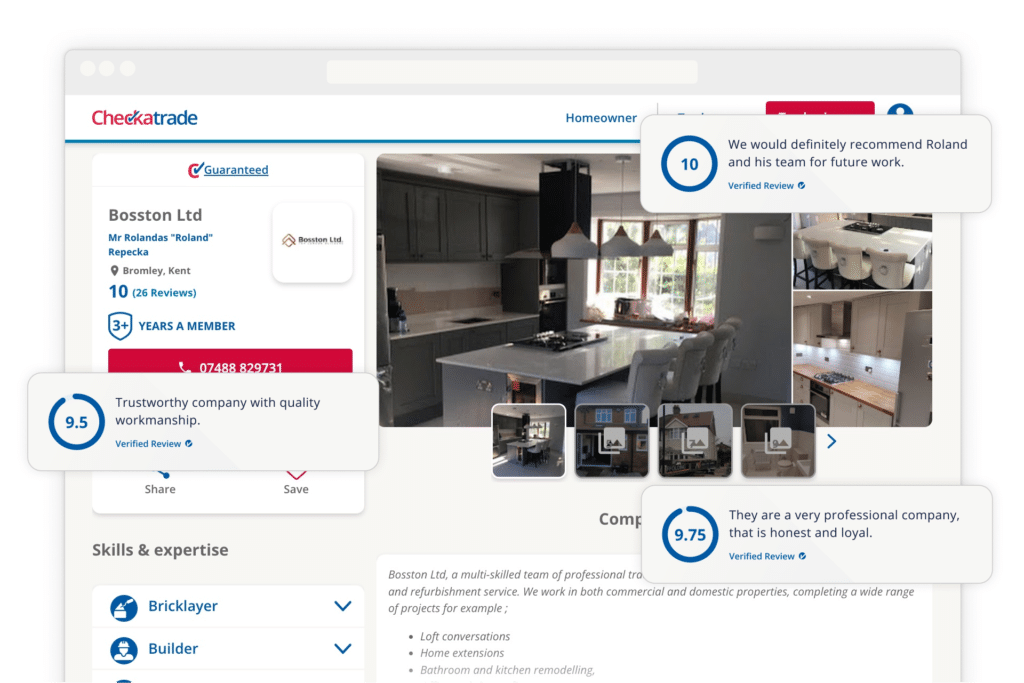 Working as a tradesperson means a constant stream of new challenges and projects but unfortunately, you also need to deal with admin tasks. Keeping receipts and invoices can get messy but it's vital you don't throw any of these documents away.
Fed up with mountains of paperwork? Why not consider going digital?
Switching to an online platform that uses apps, templates, and digital paper trails for items like invoices and taxes can help to make your life easier. Not only does it save you time and real estate, but it also allows you to access everything you need at the click of a button.
This means you can spend more time focussing on meeting your customers' needs and it might even mean you can turn your office into a game's room instead! If you'd like more tips and guidance, check out our blog: 'Helping you to manage your time and workload'.
Not a Checkatrade member?
You can see what's expected of you to make sure your new Checkatrade profile is as successful as it can be.
Here's the simplest way to market your trade business online
We promised you a simple way to market your business online, and there is one really easy way for tradespeople.
Online visibility is made simple with Checkatrade
Each month, thousands of potential customers are coming to the Checkatrade website searching for advice and guidance. That's thousands of your potential customers looking for professionals like you to help them.
By making the most of your Checkatrade profile, your business can put its best foot forward and is ready and waiting to collect enquiries. More on your Checkatrade profile later!
Managing your member profile and processing leads and enquiries is simple with the Checkatrade Trades app.
You can easily market your business online on the move, as well as send customers reminders for appointments. You can even ask them for a review when the job is complete.
Your customers trust Checkatrade, and so they trust Checkatrade tradespeople
Checkatrade has spent 20 years building its reputation. You as a Checkatrade tradesperson can benefit from all that trust that the Checkatrade brand represents for homeowners.
Here's how you can save time and money building your brand's trust.

Put your Checkatrade profile to work
As we've touched on above, your member profile is your opportunity to market your business online where potential leads are actively searching. Make sure to maximise the impact of your profile by regularly uploading pictures of finished projects.
Before and after pictures are the ultimate inspiration for potential customers, so show off what you can do!
As well as showcasing your work with imagery, it's also important to collect customer reviews on your profile.
Reviews are important as they give potential customers confidence in you and your work.
Get the right customers coming your way
People trust the Checkatrade 'tick'. Join and get it for your business
About getting our tick
Flex up your Checkatrade Profile
Another easy way to market your business online is to take advantage of our flexible membership. With 4 different levels of membership that offer a range of options for visibility, flexing your membership gives you plenty of control.
You can flex up for more visibility when you have more room in your diary, and flex down when you need to – you can flex your membership on a month-by-month basis which is perfect for new businesses testing the water and managing their cash flow.
Tempted to join Checkatrade?
You'll need to best pass our checks, and only the best do!
Our members are a cut above the rest. They've earned our seal of approval after passing our 12 checks.
If you're the real deal, make sure to check out our Checkatrade Standard and get started on earning the Checkatrade tick for your business.
Get the right customers coming your way
People trust the Checkatrade 'tick'. Join and get it for your business
About getting our tick
If you pass our checks
You'll start being found by customers who need your help
Through the use of our location-based searching, you'll be found by homeowners (your potential customers) within your covered working area.
Best of all, they're looking for the services your business provides.
Our search makes sure that the customers who come across your profile will be those you're targeting.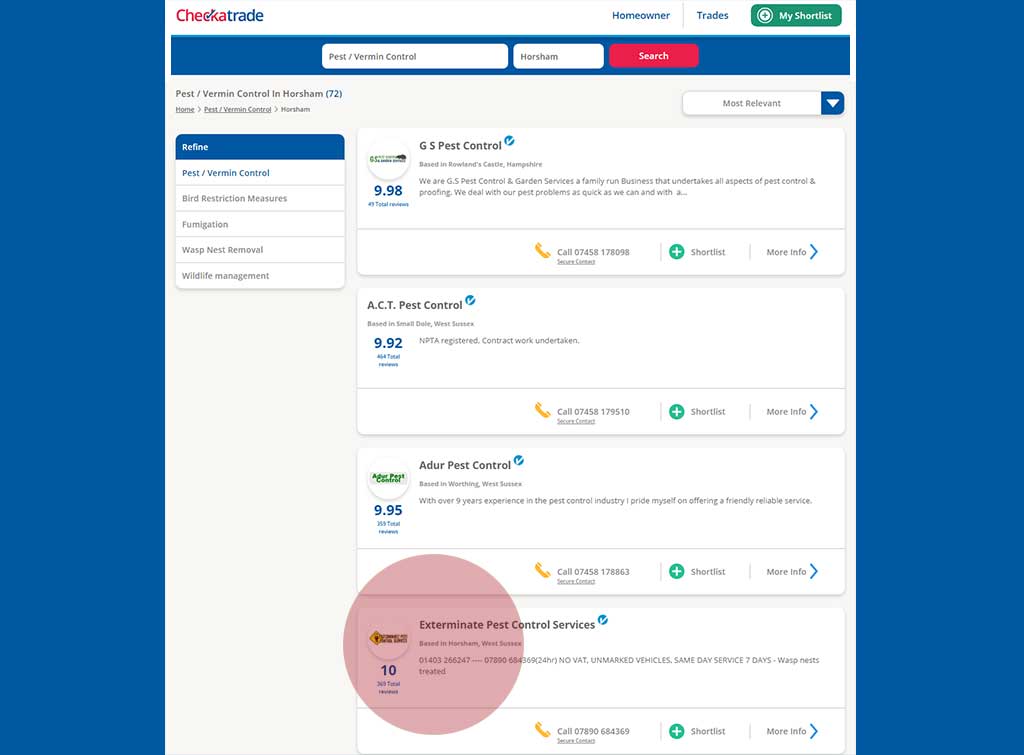 Members of Checkatrade are filling their calendars with the right kind of work from our platform.
You don't have to buy any leads from us. Clients come directly to you. Our role is to introduce customers to you and get them to reach out. You pay your monthly membership fee and win as many jobs as you win, uncapped.
Need help managing leads and updating your Checkatrade profile?
If you need help managing customer leads, then the Checkatrade Trades app can help you. The app makes it easier than ever to respond to customer enquiries and update your profile.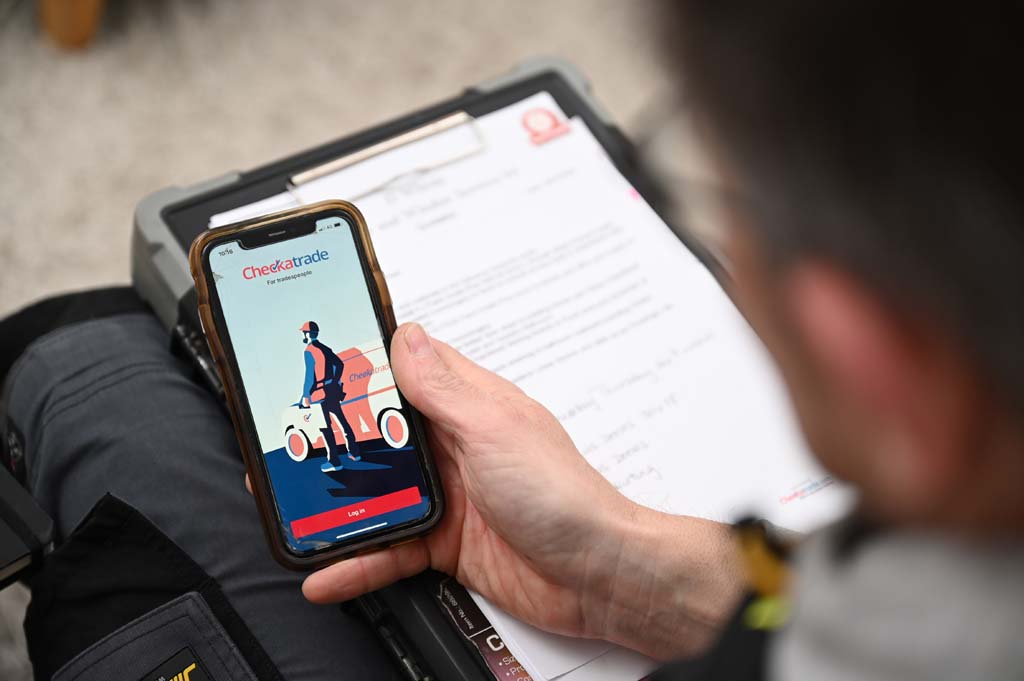 Key takeaways for improving your profile
Keep your page up-to-date with your latest, offers, contact details and accreditations
Consider switching to digital platforms to save time and space in your home.
Make sure your profile page is easy to read, snappy and clear to attract more customers.
Enter the post-lockdown era by cleaning and tidying your workspace, van, and tool collection.
Give your company a kick start by adding links to your profile pages and website.
How does Checkatrade work to promote your business?
We pride ourselves on our reputation for only advertising trusted tradespeople who have been vetted and approved by our experienced team. Becoming a member and affiliated with our brand will offer you a mark of excellence that proves your status as a reputable trader.
Each of our members must adhere to 'The Checkatrade Standard'. This ensures everyone receives the highest forms of customer service no matter which tradesperson they choose. We constantly check all listings, remove any rogue ones and check reviews are real. If your website is promoted through Checkatrade, you can rest assured that this is a positive reflection on your brand.
We pride ourselves on the reputation we have built. Currently, over three million people a month trust Checkatrade to help them find a reputable tradesperson. With such a large amount of customers across the UK heading to our platform, you are sure to see growth in the number of customers you serve.
The one place to market your trades business online
By now you'll hopefully see that having a member profile on Checkatrade is a fantastic opportunity to market your business online.
As the Checkatrade website gets visited daily by homeowners who are looking for tradespeople, making sure your profile gets seen amongst your competitors is vital.
Having a profile is a good start but to really make it work hard, make sure that you choose the most relevant categories and subcategories for your trade and business.
This will make sure that your profile appears in the most relevant searches, which ensures you get the type of leads you want.
Looking for further support?
Consider joining our Checkatrade Community, where you'll find a variety of other tradespeople working together to support and boost each other.
Here you can ask any questions, pick up some amazing tips and help to give advice to others who are just starting out.