How to buy a franchise business
Whether you've found a franchise you'd like to invest in, or you want to know more about this type of business model, it pays to know how to buy a franchise properly before handing over any money.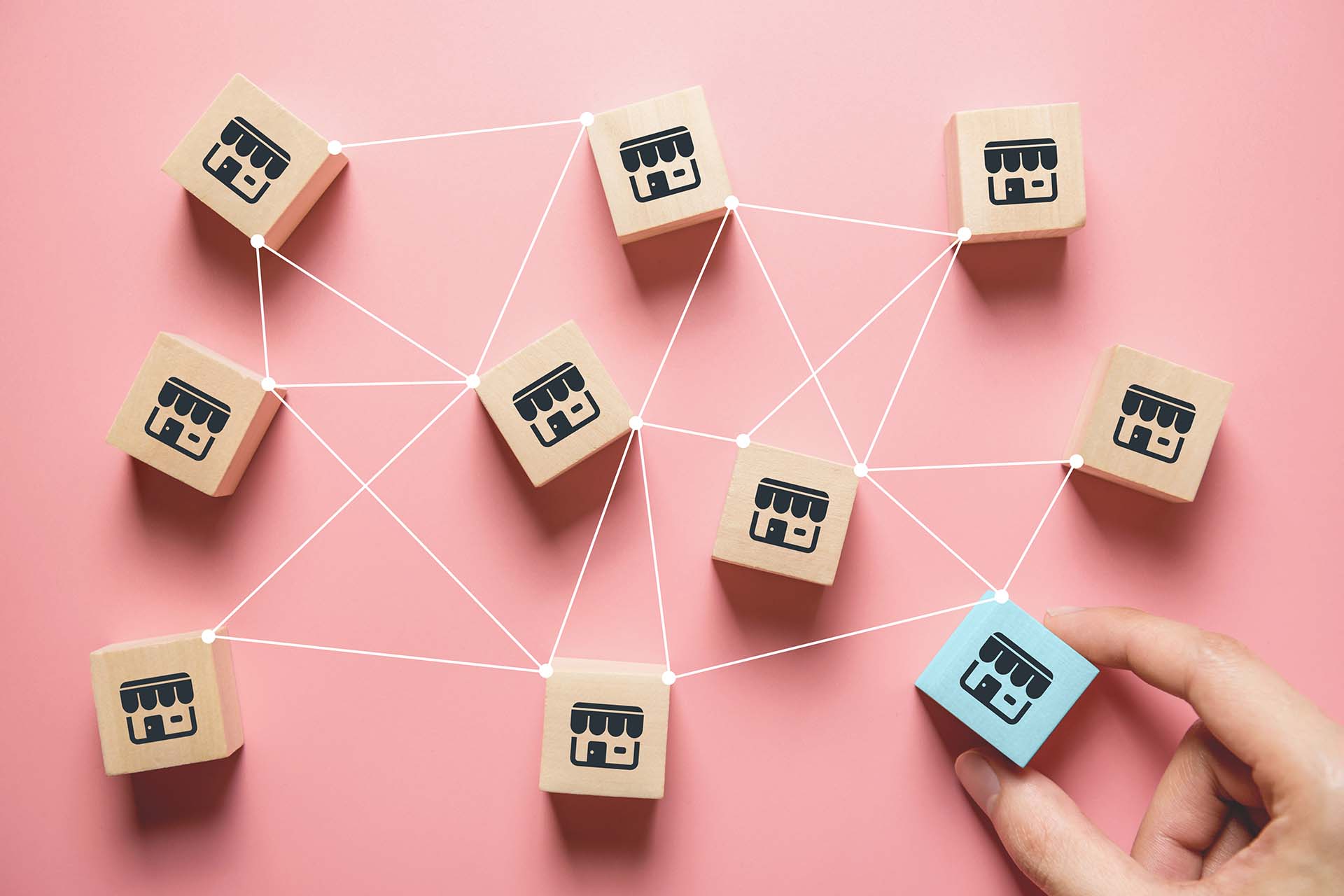 Buying a franchise enables you to start a business without having to start from scratch. It's essentially a plug and play company, with the franchisor (the firm selling the franchise) providing ready-made and established structures, processes and supply chains.
You're also buying into a proven service or product offering, as businesses don't often franchise unless they have a model that has been proven to be successful.
However, you'll pay for this support and fast-track to sales, with investment wanted by the franchisor upfront and in the form of royalties to access their brand, customers and guidance.
How to buy a franchise
If you've got the money, or can borrow it, buying into a franchise can give you a brand, business and flow of paying customers within a matter of months, sometimes less.
Before you hand over the cash, get a full picture of what you're purchasing:
Do your research – Do as much research into the market you're considering buying a franchise in as you would if you were starting your own business from scratch. Read trade magazines and websites, speak to franchise consultants and visit trade fairs.
Speak to other franchise owners in the trade industry – This is a really simple but incredibly powerful way to get an insight into what running a franchise is really like, from day-to-day to how much money you can make. Visit franchises, speak to the owners, pay them for their time if you have to, it will be well worth it.
Speak to your bank – Whether you're intending to buy a franchise with cash or will need a loan, banks usually have a franchise specialist you can speak to for advice. They may even have one in your local branch, pop in and check.
Get the franchise information pack – Any reputable franchisor will provide one of these, it does what it says on the tin, giving you an outline of the offering and usually some facts and figures.
Arrange an interview – Remember, you're in control here, the franchisor wants you to invest so don't be afraid to request a meeting to see the whites of their eyes when discussing the opportunity. After the interview, you should be given an award pack, which goes into further detail on the purchase, including due diligence.
Follow these steps in you be in a good place to make an informed decision on whether to purchase a franchise or not, but that decision is ultimately yours to make.
Our advice is to always seek more trusted advice than you think you need, this way you'll get the fullest picture possible.
Benefits of buying a franchise
It's a ready-made business
The product or service has been tried and tested and is already established both in terms of market relevance and brand appeal. This means you're buying into a business that has the potential to hit the ground running and start making money instantly.
Reams of market data and insight to tap into
The franchisor will typically have been running their business for a number of years, which means they'll have invaluable data on what works well and what doesn't. Data will include marketing, locations and demographics.
Access to this data means you achieve success sooner.
You don't need as much business experience
A good franchisor will provide a thorough framework within which to run the franchise you purchase, including day-to-day activities, sales and staffing.
The best franchises also offer training to help supplement your skills and abilities.
You're not in it alone
Unlike a startup trade business, where it's all on you to get the business up and running from nothing, with a franchise you'll have the support of the franchisor.
In addition to training, this typically includes help across all areas of the business on an ongoing basis, as well as support from other franchisees.
You usually get exclusivity
Always check this beforehand, but usually, a franchisor will give you the exclusive right to run a franchise in a geographical area. This means they guarantee not to franchise another branch of the brand within that area, so you get all of the customers.
Remember that competition from other brands will still be there.
Securing funding can be easier
Lenders like low risk, and an established franchise with a track record is less of a punt than an unproven startup idea.
Also, larger franchisors often have arrangements with banks and lenders to help new franchisee secure funding.
Grow your business with Checkatrade
Get checked, get listed, win work, grow your business
Join Checkatrade now
Disadvantages of buying a franchise
You have to pay upfront
Unlike launching a startup or starting a plumbing business from scratch, where you could bootstrap it or fund it at a low level as it grows, when buying a franchise you'll need to stump up tens of thousands of pounds before you've opened the door to customers.
Less control over the business
While you may own the franchise, you don't own the business as a whole, which means you'll be subject to decisions and directions imposed by the franchisor.
This can include restrictions on promotions, how you sell your products or services, mandatory suppliers and maintaining certain operating hours.
Potential for conflict
A result of reduced control over your business can be a poor relationship with your franchisor, as you see decisions being taken out of your hands.
You have to go into a franchise purchase with eyes open on this and expect to have a reduced say.
You have to share the profits
While some franchisors don't require royalty payments, the vast majority do and you'll need to make these typically on a monthly basis and often in line with a percentage of the profits you make.
Your reputation is not entirely in your hands
While you may deliver excellent customer service, receive 5-star reviews and get a healthy flow of return business and recommendations, it only takes a poor decision at franchisor level to undermine customer trust and turn them away from your business.
Your reputation is also somewhat in the hands of all your fellow franchisee owners, particularly local ones.
Renewal isn't guaranteed
Renewal of your franchise is totally at the discretion of the franchisor, which means you could work for years to build up a successful business only to have it taken off you and given to someone else.
That's a worst-case scenario, and often a franchisor will be happy to renew if the franchise and the franchisee are on good terms. We'll talk about this in more detail below, as it's a big one.
Renewing a franchise
We can't stress how important it is to establish renewal terms before you sign anything. While no franchisor will guarantee a renewal, a good one will give you parameters to work within and measures to meet in order to increase your chance of securing a renewal.
This is usually all bout being on a 'good standing' with the franchisor, which will be defined in your franchise agreement. This typically means being up to date on payments, meeting minimum customer service levels (which can include review site scores), as well as updating premises if needed.
There's often a renewal fee to pay. With many franchises you'll also need to notify the franchisor of your desire to renew within a predetermined time period.
Franchise costs and returns
The costs to buy and run a franchise vary so wildly between brands, markets and even locations, that average cost and return numbers are impossible to calculate.
You can however get a very clear picture on these by asking the franchisor and existing franchisees the following questions.
What questions to ask when buying a franchise
How much is the initial purchase fee?
What's the royalty percentage and how frequently do I have to pay it?
What kind of profit can I expect? Remember to ask for typical new franchise returns as well as established ones.
Do you have actual return figures? Heading slightly deeper here, ask for real and recent returns from a number of franchises.
Is there a mark-up on stock bought from the franchisor?
What are the typical additional charges over a year? Here you're wanting to know about marketing, promotions, AGM attendance, training etc.
Buying a franchise summary
The bottom line when considering buying a franchise is to do your research. Treat the purchase like you're launching your own company from scratch.
Look into every angle of the market, of the franchisor, the customer, industry trends and how the wider business has been performing.
Remember you're in control of the decision, the franchiser wants your money both upfront and through royalties. Make sure that buying their franchise is the right move for you for the period of the agreement.
Understand the renewal terms before signing anything and ask the questions in this guide to give you a good picture of what you're buying into. Do this first and you'll help set yourself up to run a successful business, loved by customers and supported by a solid franchisor.
Grow your business with Checkatrade
Get checked, get listed, win work, grow your business
Join Checkatrade now
Buying a franchise FAQs
Is buying into a franchise a good idea?
It can be, it all depends on the franchise you buy and your desires for running a business. Some franchises are stronger than others, some brands are bigger than others and some offer more support than others. Research is key to finding a good one, and you'll need to be happy with not being in full control of your business.
How does buying into a franchise work?
In the simplest terms, the franchisor has a product or service offering that is established, desired and proven. By purchasing a franchise off of them, you're buying the right to use their brand, sell this product or service in a given geographical area, and make money from doing so. You'll pay upfront and in most cases you'll also pay royalty fees every month, quarter or year.
Can you buy into a franchise?
Yes. There are many to choose from, including fast food chains, convenience stores and launderettes. There are also service franchises, such as accountants and web design businesses.
How much money does it cost to buy into a franchise?
It varies depending on the franchise and even the location you want to operate in. You'll pay an upfront cost, usually in the tens of thousands, plus ongoing royalty fees which are typically a percentage of the profits you make. If you're serious about buying a franchise, you should reach out to the owner for an initial meeting.
Can you run a franchise from home?
Yes. There are many service franchises that don't require a physical shop or storefront. Just be aware that you'll need to register the company that owns the franchise at your home, which effectively makes it a business property.
Useful business advice if you do buy a franchise business
You'll want to make an impact in your new business, so here are a number of useful blogs for you to read around growing your business: