How to grow your business on Instagram
Love it or hate it, Instagram can be a great way to get more work and grow your business. Find out how you can use it to your competitive advantage.
How to grow your business on Instagram
Millions of people use Instagram every day as a source of inspiration and a way to find brands they want to engage with and buy from.
Knowing how to grow your small business with Instagram will help you to build brand awareness in your area, reach more customers, get more leads and give you an opportunity to show off some of your great work.
Why use Instagram for your small business
Using Instagram for business has many benefits:
It's another way of getting potential customers onto your website.
It's an effective way to market your small businesses quickly and for free.
It's a direct way to reach customers, tell them about your brand, and show them what you do.
It's quick and easy to do – you just need an Instagram account and a smartphone.
Tips for setting up Instagram for business
Set up your business account on Instagram. First, you will need to sign up for a personal Instagram account. The company that owns Instagram (Meta), explains how to set up a business account on Instagram here. It's really quick to do.
Add a profile picture. Your profile picture needs to be professional as you're creating a business account. Your business branding or logo will work well as it's instantly recognisable and consistent with your website and other advertising.
Add a bio. This should be a few lines of text to tell followers what your business does with a link to your website homepage. If you have a company tagline, you can add this to your bio too.
Get posting! A business account on Instagram that has no activity is like a shop that's never open. Make sure you post at least once a week to show potential customers what jobs you're working on. This is one simple thing that'll help to grow your business on Instagram.
Make sure your Instagram links to your website
Your website performs a few key functions. It is your 'shop window', a contact centre, brand vehicle and communication medium.
A good website should also let you explain what you do and how you're better than the rest. It should also provide contact information so people can get in touch easily – and accept bookings instantly and without hassle.
To learn more about this topic, read a snippet of the free Accelerate! eBook here?
Or download – for free – the whole eBook here.
Tips for using Instagram for business
Are your competitors using Instagram successfully? If so, take a look at what works well for them and get inspired. This can help you find the best way to promote your local business on Instagram.
Support your business goals
When using Instagram, you need to remember what your business goals are. Are they to:
Get more leads?
Increase brand awareness?
Reach a wider customer base?
Push more customers to your website?
Once you've figured out why you're using Instagram, you'll have a clearer idea of what type of content you should post (to support those goals).
Want some more tips to grow your business? Check out our free 'Grow your business' guide.
Use content themes
Posting relevant content helps to engage potential customers with your business, the services it offers, and what it stands for.
What's more, posting content around 'themes' will help to guide you if you're unsure what to post.
For example, your posts could sit under the following themes:
Before and after images of work your company has recently completed. Tip: Make sure all images are high quality and professional.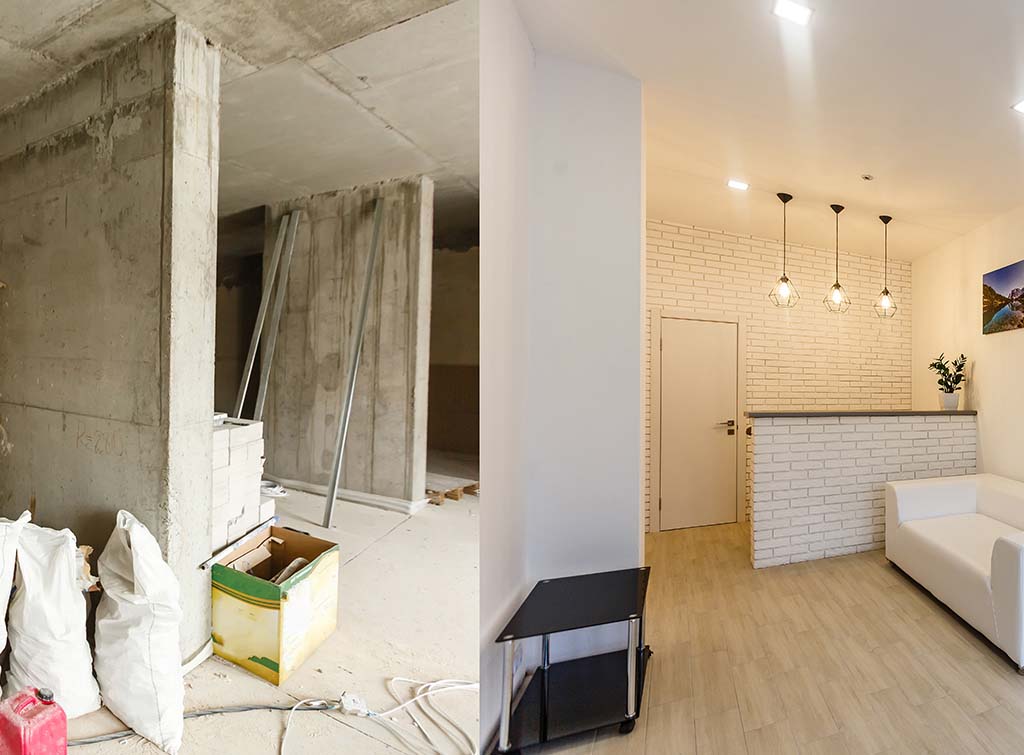 Testimonials. Ask customers if you can use their reviews on your Instagram feed as written testimonials. Including their name and location will help show it's genuine, e.g. Mark, Brighton, or Mr Roberts, Hull. Another way to do this is to share content that a customer has posted on their own Instagram account.
Team images. Introduce your team, showcase their specialist skills, and demonstrate the high-quality work your company is known for.
Company ethos. Content that tells people more about your business and what it stands for will help you to stand out. If your business is passionate about sustainability and the environment, use content to demonstrate this. For example, post an image of your new electric van, or your team using sustainable building materials. If you're passionate about supporting the local community, post about the initiatives you're involved with.
Add captions
Alongside your post, you can add a caption to explain the post, e.g. "Here are some before and after shots of a kitchen renovation we recently completed for a family in Wimbledon. We're loving the concrete worktops. What do you think? #kitchenrenovation #kitchenrenovations #kitchenrenovationwimbledon #concreteworktop #familykitchen"
Include hashtags
Hashtags (#) help potential new customers to find your business. The idea is that you post your content with relevant hashtags, e.g. #kitchenrenovation, and anyone who searches for this hashtag on Instagram could see your post. They may then follow your account, or better still, visit your website and request a quote.
Respond to comments and messages
Your followers might comment on your posts and/or send you direct messages. Perhaps they like your work and want you to quote for something similar. Just as you would in real life, respond in a timely fashion.
Understanding Stories, Instagram Live, Instagram Reels and IGTV
Don't be put off by the different ways you can post on Instagram (Posts, Stories, Instagram Live, Instagram Reels, and IGTV).
IGTV is a way to post long-form content on your Instagram account (similar to YouTube). You could record your team giving tips or tutorials to help showcase their expertise and your business offering. Just make sure the clips are slick and professional.
You can also use Instagram Stories to share photos and videos that will stay on your profile for 24 hours before they disappear. You can add links, hashtags and polls to your stories, which makes them a great way to get feedback from your followers. You can also add your stories to 'highlights' on your profile. For example, you could create a 'before and after' highlight and a 'top tips' highlight to show off the content you have posted.
Originally, regular Instagram posts (the posts that show up in the main feed) were the only way of posting. This is the simplest way to get started and is still very effective as a way to grow your business on Instagram.
Quick summary
Some people can feel a bit awkward using social media, but done right, it's a great free and easy way to grow your business and build brand awareness.
Just remember to be authentic. As you know from your experience: people buy people, so be yourself and use your Instagram account as a means to showcase your work.
It'll take time to grow your business on Instagram, so don't be discouraged if you're not instantly overwhelmed with new leads. Follow our quick tips for setting up Instagram for business (above), post relevant, high-quality content regularly, and your efforts will pay off.
Make sure to:
Build your content around consistent themes, e.g. Before and after photos, customer testimonials, and team images.
Use captions alongside your Instagram posts.
Include hashtags to reach more potential customers.
Respond to comments and direct messages from your followers in a timely fashion.
FAQs
How do you add hashtags on Instagram
To add hashtags on Instagram, simply include them in the written caption underneath your post, or within your Stories. Hashtags should be relevant and specific to the content you're posting, e.g. #gardenlandscapingsussex. To understand which hashtags you should use, check out those used by competitors. You can also use free hashtag generator tools.