How to stop wasting 2 days a month on admin tasks
It's pretty much a universal truth that people running trade businesses hate paperwork. Benjamin Dyer of Powered Now shows how this problem can be dealt with, typically saving two days a month in the process.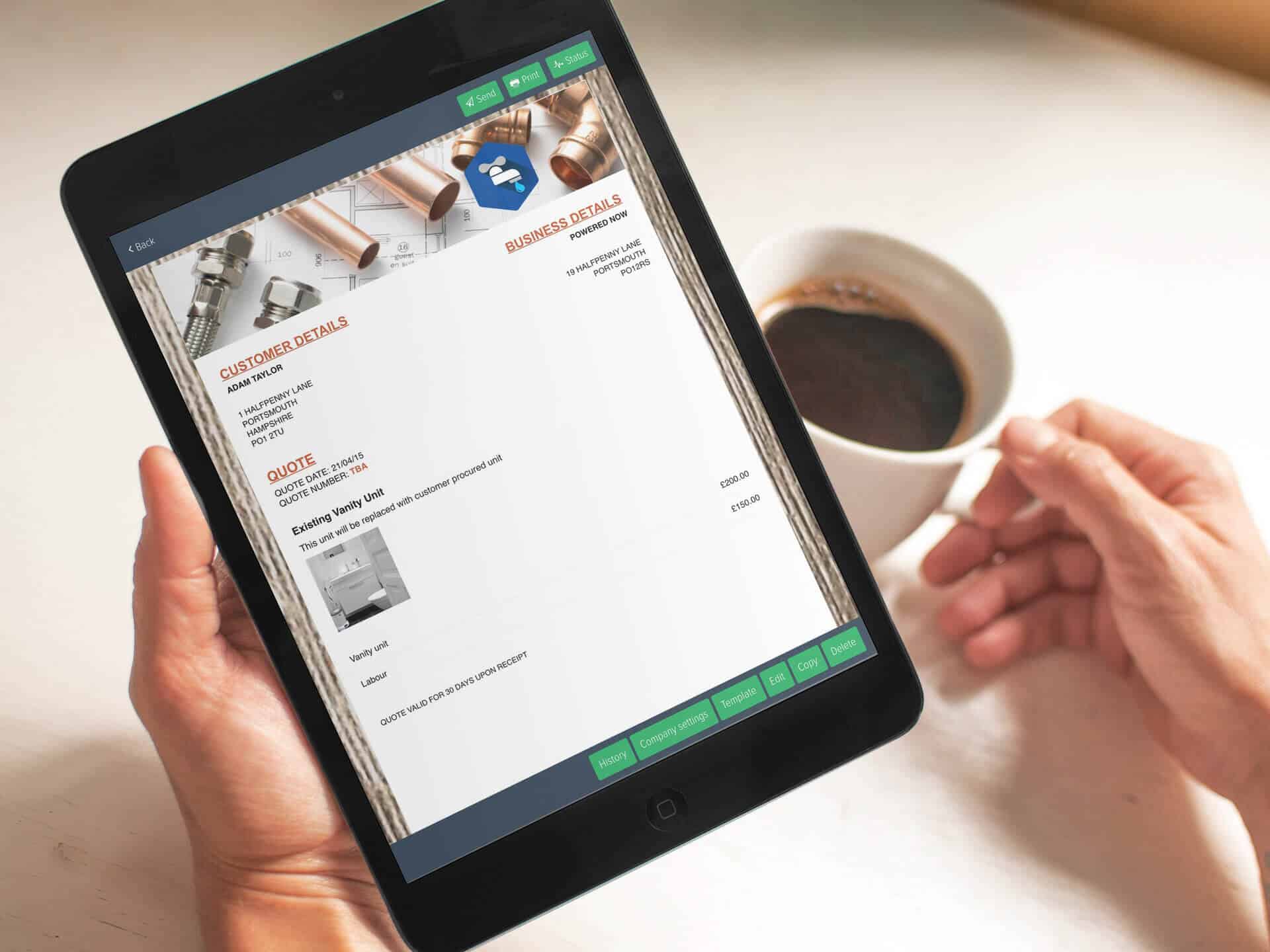 There are things that have got worse over the last 20 years but a whole lot has improved. Nowadays it costs less in real terms to buy and run a car. The same car is more fuel-efficient, handles better and is more powerful.
Then the old days of needing a loan to buy the 29-volume Encyclopaedia Britannica (with an extra 2 volumes for the index) sound ludicrous. Most people on the planet have a computer in their pocket providing free access to Wikipedia.
This makes the old Britannica look like Noddy's guide to toytown. It's a revolution.
There's a reason why we don't all drive 20-year-old vans or cars or buy the Britannica. So why should we reject progress when it comes to paperwork? On that point, why not use a smartphone app, just like any other modern tool in the box?
The truth is the digital revolution can help with the pain of paperwork. Yes, there is some work involved in learning the ropes. But the result is much less effort in the long run.
We know from detailed research that the customers of my company save an average of two days a month on their paperwork. That's by using our app, and no doubt some of our competitors achieve similar results.
The rest of this article tries to explain why this sort of saving is possible for you and just how the app achieves these savings alongside other benefits.
The pandemic has changed thinking
Until the pandemic, a lot of older people resisted the online revolution. But faced with lockdowns and long periods without seeing their grandchildren, many became prolific Zoom users, online shoppers and experts with the NHS app.
Devoid of as much personal contact, online services like Checkatrade to help find tradespeople really came into their own.
Easing the paperwork burden
It's true to say that trade businesses have been slow to adopt computer systems. That's maybe because the apps that were previously available weren't much help. There are a variety of reasons for this, including PC based systems being ultra-clunky and hard to use. Then they were completely unsuitable for someone who wasn't office based.
The great news is that this has all changed. Today smartphones are more powerful and cheaper than conventional computers. Even better, they are nearly always online while you're out and about. They are much easier to use, so everyone can get to grips with them if they try.
What happened with Zoom during the pandemic shows how quickly people can pick up new technology. There's just got to be enough motivation.
Much less time doing paperwork
There is a common refrain that it doesn't get any easier than doing things on paper and there are still plenty of people around who aren't that familiar with a keyboard. They might feel that using a system to run their business will be difficult.
But modern systems benefit from a whole raft of features and tricks to minimise the need to type things using the keyboard, alongside many other time-saving features.
A good one to think about is voice-to-text. All modern smartphones support this feature and if your app has been built properly, you can dictate notes when you are pricing up a job. It's just so much faster and easier than using pen and paper.
If you already have the customer's name, number and maybe email address in your contacts, a good app will copy the information from there when creating a quote or invoice. Addresses can be looked up from the postcode and there are lots of other tricks to keep use of the keyboard to a minimum.
Pricing or ordering materials for a job should mean clicking on them in a catalogue. This alone can be a big-time saver. Of course, while having the full details for the job, you should have the choice of whether the details or just a summary of materials are included in your quote.
When you send a quote, you should be told when the customer opens it and told again when they accept it online. Then you should be able to raise a purchase order on your supplier with one click. Finally, the supplier invoice can be created very easily straight from the purchase order and invoicing from the quote is a single click too.
Your system should know who owes you money and help to chase it automatically. The end customer will be able to click on their invoice to pay online by card.
Running your team
Once you have a team, there are all sorts of additional potential benefits.
You need to keep paperwork related to their employment.
You need to track holidays and sickness.
Scheduling staff becomes a major issue along with communication with and between the team. You want to be able to know where everybody is.
An advanced app can cover all of this and more, integrated fully with everything else.
Increasing business
A great system will send reminders out to your customers to say that they might want an appliance servicing again or that another landlord gas safety certificate is required. It will remind people that they must have the regular service to maintain warranty coverage.
There are other ways that more business can be encouraged, and this should happen automatically, while you're asleep!
Winning more business in the first place
Maybe you think that it's unlikely that more work can be won and more invoiced with a smartphone app. It's certainly true that different people get different results. But it's not hard to explain where the potential for wins is:
Getting quotes out more quickly will impact the number that you will close. One of the homeowner's top gripes is that quotes are hard to get and slow in coming. If you're quick off the mark, you are already ahead of the competition in your customer's minds.
Simple quotes can even be done while you're sat in the van after a visit
Paperwork produced by an app usually looks more professional. You can easily include your logo along with any memberships of professional associations and qualifications. These will then always be on the paperwork sent to your customers
Once it's easier to get invoices out this minimises the times that you can't be bothered to invoice for the little extras. And when you can invoice directly from the site, it's less likely that you will forget
Saving your evenings – or your marriage!
Trade businesses using my company's system, Powered Now, say that on average they save 4 hours a week. That's half a day probably spent doing your least favourite thing, paperwork.
One of our customers said that using the system had saved their marriage. That might be an exaggeration, but the time saved can be spent with your family or other leisure activities. Alternatively, you will have more hours to bill.
Cutting business risk
With van break-ins on the rise, you shouldn't discount the risk of losing your black book or losing information from a smartphone if you have a problem and it isn't automatically backed up.
The truth is your information is much more secure if you use a professional app that works in tandem with the cloud. This is because it will be automatically backed up as you go.
If a device is lost, stolen or broken, it can all be automatically re-downloaded onto a replacement device as soon as you log on, with no hassle.
If a prospective a client returns after 6 months to say that they accept your quote, no problem. The paperwork will be readily available. Being able to find everything in one place when needed, even years later, is another major benefit.
I'm biased
Of course, as a software supplier, I'm biased. But I really don't think that the case for an app to run a trade business is hard to make.
I don't know of a single tradesperson, among the thousands that use our app, that has gone back to pen and paper.
Why not invest some time and effort to learn how to use a smartphone to help run your business?
If you have an app that only does part of the job, why not look at one that handles everything? It can easily pay back the effort.
Benjamin Dyer is CEO and co-founder of Powered Now. Powered Now's mobile app aims to take the pain out of paperwork for electricians, plumbers and builders as well as other field trade businesses.
Speaking of smartphone apps that make running your business easier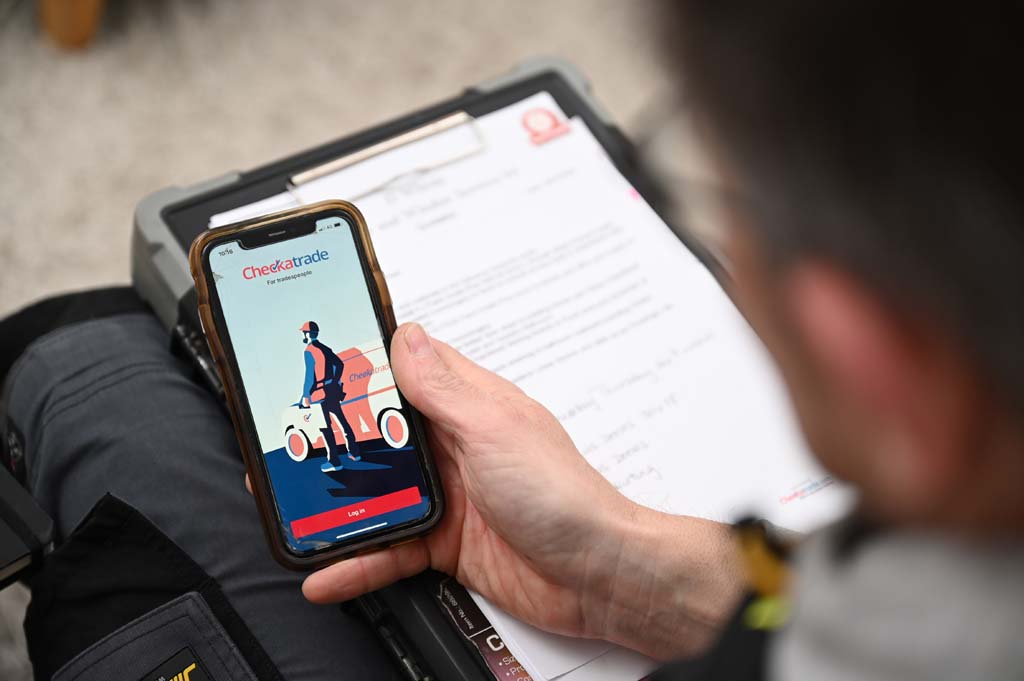 Checkatrade tradespeople are saving a lot of time for themselves with the Checkatrade Trades app.
On the Checkatrade Trades app you can not only make your life easier by managing your online profile, but you can also reply to customer enquiries that come through.
Take charge of your online marketing and customer lead flow.
Find out more about how the Checkatrade Trades app can help you make running your business, marketing and customer service easier.
Want to be a Checkatrade tradesperson?
Only our members can have a profile on our website and use our Trades App.
Try to pass our checks