7 ways to improve your business with technology
There are countless ways to make your business more efficient and profitable with the help of technology. We've covered these below, plus the many benefits of the tradesperson app, the Checkatrade App.
In this article, we'll cover:
Technology has become an essential part of our day-to-day lives, and this is also true for business owners.
If you're looking to make your business work more efficiently to become more profitable, technology is a great way to achieve this.
Let's take a look at the many ways that technology can improve your business's productivity.
Job management apps
As a tradesperson, staying organised is one of the most important parts of your business.
If you're wondering how to best manage all your jobs, customer communications and you team, you'll be relieved to know that technology can help you.
Using a job management software or app is a great way to help you to keep your business running like a smooth operation.
How tradesperson job management software will help you
A job management app will help by keeping track of all kinds of elements that are vital for you to provide an excellent service to customers and stay organised for you and your staff.
There are job management apps out there that can help you schedule jobs, assign staff, track staff or subcontractor hours, keep notes and photos, send quotes and invoices, as well as customer communications and appointment reminders.
Checkatrade members get an exclusive deal with Powered Now
All Checkatrade members get free access to Powered Now's invoicing app, 1 Trade App*.
The 1 Trade App allows you to manage your business on the go, create nice looking invoices and quotes, and lets customers pay you quickly.
Or, you can get 30% off if you upgrade to the full Powered Now app in your first year with Powered Now**.
So many people live on their phones, so it can help to have the technology there with you and your team at all times. This is what the trades job management app Powered Now can do for you.
Work smarter, not harder
Let the Checkatrade app support you and your business
Become a member
Cloud Storage
How do you currently manage your admin? Paperwork in folders? Your email inbox as your customer filing system? Don't worry, it's completely normal.
Putting everything in a cloud-based storage solution such as Dropbox, Google Drive or Microsoft One Drive will enable you to access any paperwork from any location with any digital device. This means you can create a quote whilst meeting a potential customer or even highlight your T&Cs as you're quoting, significantly reducing your admin time when you return home.
Route planning apps
Time is money, so making sure you can get to jobs on time (and be able to find them) is a big part of providing a great service.
Planning out your jobs by location can help you to get the most out of your day and reduce travel time and save money on fuel for long journeys.
Apps like Google Maps can help you visually plot where you have active jobs and calculate mileage and travel time.
It's useful for checking your route for delays to allow enough travel time or communicate with customers about your estimated arrival time.
Social media management tools
Social media is a great way to showcase your work and attract new clients. Social media can also be a time drain too, so to make it manageable consider using social media management tools like scheduling apps.
By using social media management tools you can spend an hour or so a week setting up your posts and the scheduling tool can publish it across your channels throughout the week at times you select. This saves you time by not having to duplicate effort on each individual platform. Scheduling your posts in advance also limits the distraction for you to scroll.
If you only use Facebook and Instagram, there are settings that allow you to auto-post to both channels which can really save you time.
Some social media management tools are free, whereas some have a monthly payment or subscription plan. Examples of this type of technology include Buffer, Later and Sprout Social.
Other marketing tools for your small business
In order to grow your business, marketing is essential.
Being able to showcase your work to potential new clients can help them to imagine their own projects. You can easily create branded graphics and imagery to use on social media or your website by using free tools like Canva.
Keeping in touch with past and potential clients is also key to keeping enquiries flowing, and you can use simple email software like Mailchimp to send marketing emails to your database.
Google Analytics is also a really useful piece of technology to improve your business. It can help you to understand where you are getting online leads and visitors from, as well as what pages on your website are most popular.
The Checkatrade trade app is a great help for your marketing
For Checkatrade members, the Checkatrade app is an essential marketing tool for your small business.
With it, you can manage callback requests, send customer messages, upload your certifications and accreditations and follow up with customers to ask them to leave a review.
Best of all, you can update your Checkatrade profile while on the move. You can edit your profile text and you can even add images of your latest projects.
Make sure to check out the Checkatrade app on the App store (iPhones) and Google Play Store (Android).
CRM for small businesses
A CRM is a Customer Relationship Management platform and is definitely one of the best ways that technology that can improve your business. It's your database of all your customer information, contact details and job history.
Having a CRM is important for keeping all of your records organised and being able to refer back to previous jobs and details.
It can also act as your marketing database and help you to keep track of your contact's communication preferences.
Examples of CRM systems for small businesses include Salesforce Essentials, Freshsales or Capsule CRM.
Often business owners choose a CRM that integrates with other technology they use for a seamless process that supports their business.
Managing your existing customers
It costs a lot more time and effort to attract new customers than it does to retain existing ones, so 'managing' your customers is vital.
Good CRM software should be accessible by a modern mobile phone and should cover important tasks such as:
Storing customer contact details.
Handling all kinds of communication.
Scheduling meetings, pitches and projects.
Managing teams.
Creating special offers and discounts.
For more information on getting the most out of technology and systems, take a look at Chapter 5 in the Accelerate! eBook. Or, you can download the whole eBook for free here.
Text messaging tools
Keeping in touch with your customers keeps them happy, and text messaging tools are a great way to stay in contact with your customers quickly and easily.
Unlike emails, texts are opened 98% of the time and are often responded to quickly by the recipient. A good option is an SMS app that can integrate with your booking system to send appointment reminders and updates.
These apps allow you to schedule texts and automatic responses or send out marketing messages.
ClickSend is an example of a specialist text messaging tool.
The Checkatrade Trades App
We've touched on it above, but the Checkatrade Trades App is another way that technology can improve your business.
Specifically designed for tradespeople who are Checkatrade members, it can help you with:
Customer communications
Collecting reviews
Showcasing your work
Managing your profile
Monitoring your profile statistics
Make sure to check out the Checkatrade app on the App store (iPhones) and Google Play Store (Android).
First, you'll need to see if you're the best of the best by passing our checks. See if you've got what it takes to become a Checkatrade member.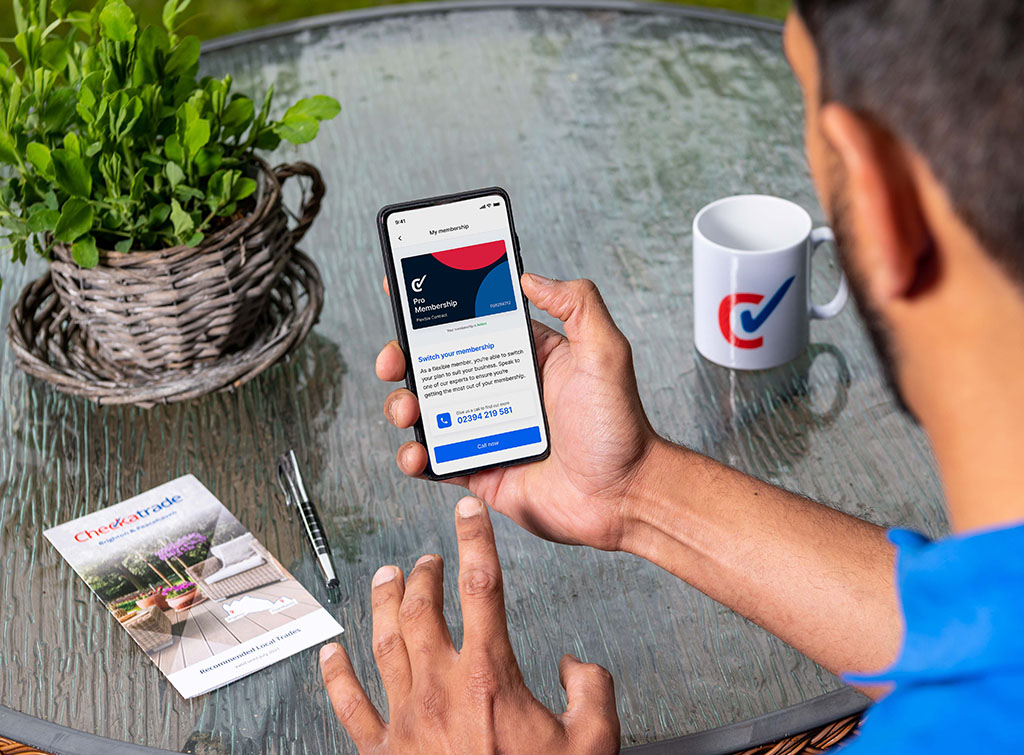 FAQs
How can technology make a business successful?
Technology can help to make a business successful in many ways. It can improve your business by helping you understand what marketing channels are bringing you work, through to helping you to stay organised throughout your day.
How does technology increase profitability?
Technology can increase your business's profitability in direct and indirect ways. Directly, it can help you with producing quotes, invoicing, and chasing payments to bring money into your business.
Indirectly, it can help you to market your business and services, give you visibility of what marketing efforts are bringing you leads and showcase your skills and experience.
Work smarter, not harder
Let the Checkatrade app support you and your business
Become a member
*Offer is valid until midnight December 31st 2022. Offer is valid for non-current subscribers to Powered Now.
**The offer is valid for new subscribers to Powered Now only. The offer will be applied to the first consecutive subscription up to 12 months. All new subscribers will receive an initial 2 weeks free of charge trial period. The offer cannot be used in conjunction with any other offer.