How to reduce waste in construction
Landfills are a huge contributor to CO2 emissions, alongside toxins and leachate, which aren't just bad for the environment but for our health, soil, and water too. The solution? Recycling and reusing where possible. Find out how you can.
In this article, we'll cover:
Knowing how to reduce waste as a tradesperson is an important consideration. It's no secret we're living through a climate crisis, and most people now understand how greenhouse gases contribute to global warming.
Nigel Van Wassenhoven, CEO of Enviromate, knows the importance of reusing our surplus materials. With the construction sector growing year on year, more materials will be going to waste. In fact, the UK construction industry is responsible for around 32% of landfill waste, with over 100 million tonnes being wasted every year.
This doesn't have to be the way, though. There are solutions. Here are some of the ways we can reduce construction waste.
How trades can reduce construction waste
Create a Site Waste Management Plan
Before works start on a site, consider preparing an Outline SWMP. This looks at what waste management processes are working well and areas for improvement. It also offers you the opportunity to identify and implement ways to reduce your waste at the design stage. This can include ways to re-use, recycle and trade existing materials, helping to minimise the amount of waste going to landfill.
Change the way you work to reduce waste
There are several steps you can take to reduce your waste during construction.
Tips to reduce waste:
Make sure your site is equipped with facilities to accommodate all the waste your project will generate.
Carry out your construction in the right order to avoid having to redo anything or take something apart.
Optimise your site layout to make it easy to use the waste facilities.
Have key people responsible for checking the waste is going in the right containers (general/recyclable).
Audit your site regularly to see if any improvements can be made.
Put aside any materials you can recycle or trade (you can put these on Enviromate)
Follow best practices when it comes to your materials
There are several ways to reduce waste when it comes to how you procure, store and move materials.
Tips to reduce waste:
Only book deliveries for materials on site on the days/weeks you'll need them.
Weatherproof all your materials with protective packaging.
Store materials appropriately to avoid damage.
Limit the about of concrete you buy to avoid excess.
If there is excess, set and break it down to use as aggregate.
Send back damaged goods.
Try not to move materials around the site. Give them designated areas.
Re-use and recycle materials where possible
Prevention is always better than cure, especially when the cure involves time our planet doesn't have. That's why it's always worth thinking about what materials, tools and items can be re-used or recycled.
For example, what can you deconstruct and repurpose on site? Are there doors, fasteners, timber, handrails etc. you can repurpose? Dismantling vs demolishing is always a better way to salvage materials.
Another way to reuse or recycle materials is to use platforms like Enviromate. Their whole business model revolves around sharing construction materials to avoid storing them, as most of the time, stored materials aren't ever used and end up in a landfill. By diverting your reusable materials, you increase their product lifecycle and reduce further extraction of raw materials, which puts more strain on the planet. What this creates is a circular economy that also helps save the environment.
Checkatrade members get a premium plus membership with Enviromate as part of their Checkatrade membership.
Checkatrade members benefit from a free Enviromate account
Find out more
The best types of materials to reuse
The materials below are some examples of what's listed daily on Enviromate's platform. They're easy to use and start sharing, and when you set up an account, you can start listing and sharing similar materials with other trades near you.
Concrete, Bricks & Blocks
Gypsum
Wood
Glass
Metals
Aggregates
Plasterboard
Plastics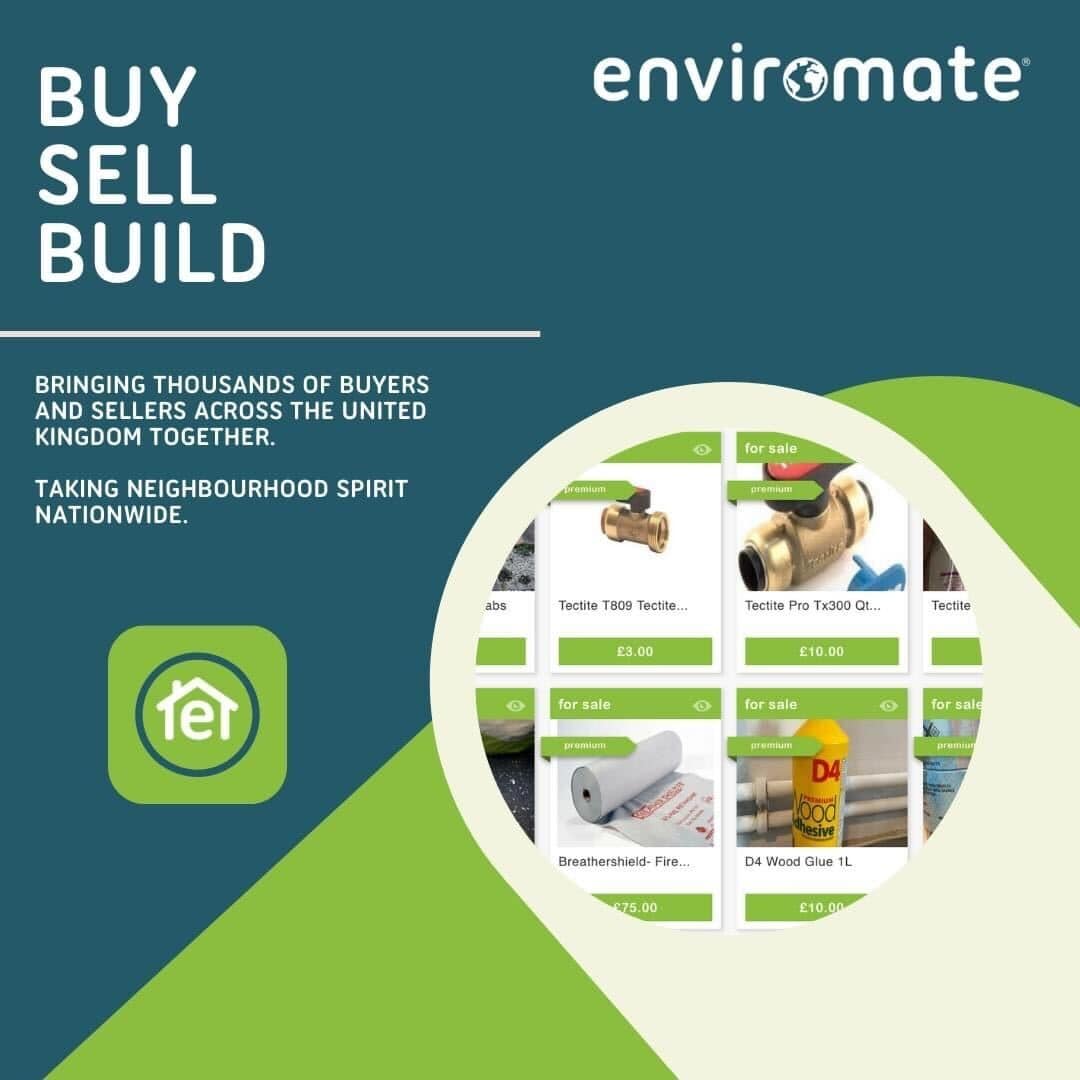 What to do if you have leftover materials
Even with the best plan of action in place, leftover materials happen. That's why listing on Enviromate is a great way to offset this issue. By circulating the materials between other trades, you enhance the way you use materials and help promote a circular economy.
You'll also become a sustainable builder and join the ranks of trades working together for the betterment of the planet and the construction sector. The benefits of reducing waste in business will also enhance your reputation, making you a more attractive prospect to more environmentally conscious clients.
Checkatrade members benefit from a free Enviromate account
Find out more