Finding the best van lease deals
Finding the best van lease deals doesn't have to be a difficult task. There are a variety of places you can look for van lease offers, but we've got a really great way to save money.
Some of the best places to look for the best commercial leasing vehicle deals include:
Shop online through van leasing company websites
At a dealership
At a leasing company
It's important to shop around when searching for the right van to lease.
Make sure to be realistic about the mileage you'll need. Otherwise, you'll end up paying a premium at the end of your lease agreement.
Here's how to get an exclusive discount on van leasing deals
Every Checkatrade member has access to many discounts, including for leasing a van.
Our partnership with Vanarama means that when you join Checkatrade you get exclusive access to the latest and greatest vans to lease for your trade business. Vanarama guarantees the best deals for your van lease, but they have no hidden fees. Vanarama even includes Loss of Earnings & Life Event Cover free with every van lease.
So make sure to explore joining as a Checkatrade member to get exclusive discounts on van leasing through Vanarama.
Drive away with a van for less
Checkatrade tradespeople get cheaper van leases with Vanarama
Here's how
How does commercial van leasing work?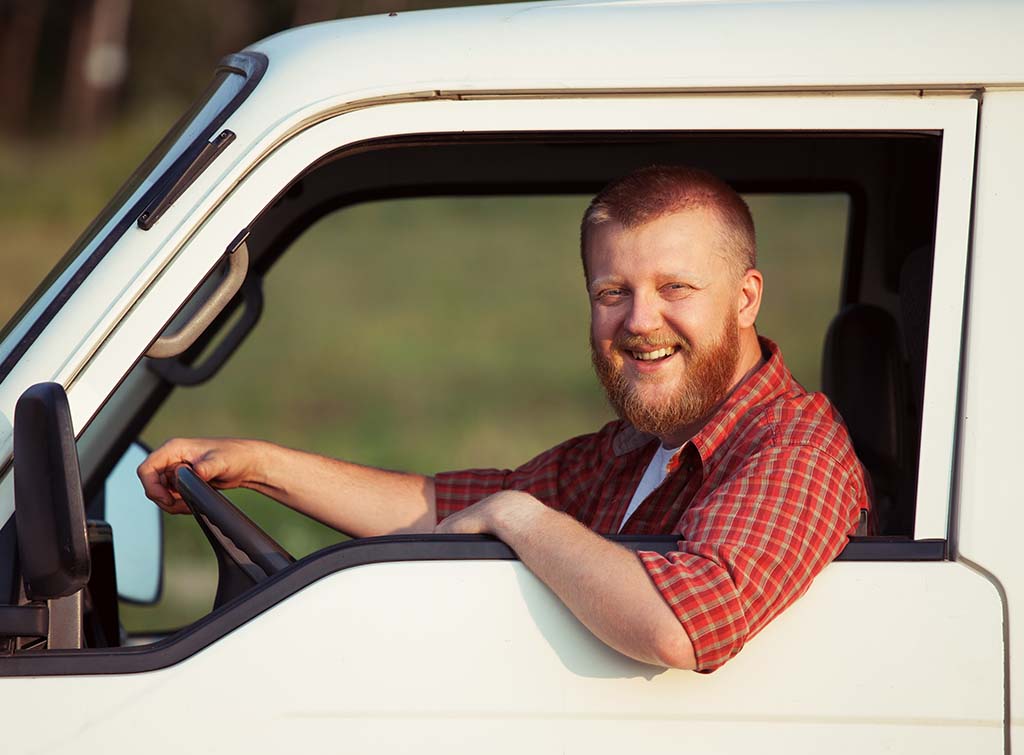 Leasing is very similar to hiring a van – you pay a monthly fee and the van is yours to use for the length of your lease agreement. Be aware that you may need to pay a small deposit at the start of your contract. There will likely be a credit check too before your lease is approved.
The amount you pay each month will depend on the length of your contract, the type of van you choose and how many miles you plan to travel.
Once your agreement reaches its end, you can simply hand the van back. It's a great way to get hold of a new van without the initial cost of buying one new.
Why choose to lease a van?
There are many brilliant reasons to lease rather than buy your work van.
Below are some of the advantages of leasing:
Cost savings: If you've just started your own company, you'll love the discounts and savings you can make by leasing rather than buying your van.
Online shopping: You can often lease your new van from the comfort of your own home. Many leasing companies have websites where you can easily sign up to a leasing agreement.
Supporting your growing business: If you're working hard to expand your team, leasing is a great choice. You won't need to worry about using older, less reliable vehicles with costly repairs. You'll also benefit from discounts and have the option to improve your company image with matching vans for your employees.
Tax benefits: If you run a limited company then you can claim your van lease costs back against your profits, reducing the amount of corporation tax you'll pay.
VAT benefits: If you are VAT registered you can reclaim VAT when you lease a van.
Cashflow: Leasing one or more vans means you have a set monthly payment. This will help your company cashflow as opposed to a large one-off payment.
Responsibility: You're less responsible for any issues that crop up with your leased van than if you owned it outright.
Van lease comparison
It's important to find the best deals when you need to lease a van. Luckily there are many websites that offer van lease comparisons.
This can make picking your new van a breeze as you can look at available options side by side and compare the following:
Size of van
Type of van
Brand of van
The mileage included
Whether your van lease comes with insurance included
The monthly cost
Any initial deposit
Considering an electric van lease?
Electric vehicles are gaining in popularity every year due to their environmental and practical benefits.
Check out this blog on why you should lease an electric van.
By becoming a Checkatrade member you can get exclusive deals for a range of electric vans with Vanarama to lease.
Common questions answered for you
What are the pros and cons of leasing a van?
If you're still on the fence regarding whether or not van leasing is for you, look at the below pros and cons:
Pros
Fixed monthly price
Less commitment
You can reclaim VAT
Leases sometimes require no deposit
You won't need to worry about van depreciation
Cons
Can be costly depending on the van you choose
You're limited when it comes to the number of miles you can travel,
You won't own the van at the end of your contract unless you choose to buy it
Does it make sense to lease a van?
Depending on your circumstances, leasing a van can be an excellent choice. For example, van leasing is great for any tradespeople starting their own business as you won't need to have a large sum of cash up front to buy the van. Plus, van leasing is a smart option for business owners as the vans will often be new and less likely to need expensive repairs.
Can I claim tax back on a leased van?
Yes, you can claim against your company profits. Plus you can claim 50% VAT back on your finance payments and 100% of the maintenance costs.
Useful checklist for finding the best van lease deals
Van leasing can be an excellent option for a variety of different business owners
The benefits of van leasing include tax deductions, paying a fixed monthly price, and improvements in cashflow
Joining Checkatrade means you'll be eligible for exclusive deals and discounts when leasing your van through Vanarama or Mercedes
It's possible to find cheap, used, and short-term van leases depending on your needs as a company
Drive away with a van for less
Checkatrade tradespeople get cheaper van leases with Vanarama
Here's how