What to do: Low clicks on to your Checkatrade profile or a lack of leads
The Checkatrade site receives huge volumes of traffic every day. From homeowners looking for the services of tradespeople just like you. If your profile stats show you're being found but the messages and calls are low, there's an issue to resolve. Check out 4 ways to get more leads from your Checkatrade profile
In this article, we'll cover:
If your company profile regularly appears in the Checkatrade search results, but you don't get as many contacts as you'd like, it can be incredibly frustrating.
In the marketing world, you need to know how to improve CTR (click-through rate). CTR is basically when your profile is showing up on the search, but for some reason, customers are clicking on other profiles over yours. Ouch. It hurts, but there are ways to make sure your profile is the one they click.
The good news is that we have some practical steps you can take to increase the number of clicks your profile gets on Checkatrade, as well as get more messages and calls as a result.
It starts with making sure your Checkatrade profile is strong and active. The more you put in, the more you'll get out!
4 tips for getting more people clicking on your Checkatrade profile
One of the key ways to help your profile stand out from the competition and get more eyes on you is to make sure your profile it's as strong as possible.
To do this, head to the Member area of your Checkatrade profile. Click on 'Grow your Business', and review these areas.
1. Search description
The search description is your 'elevator pitch'.
Imagine you've got less than one minute to let customers know what services you offer, and why you're the best company for the job. Write that – in less than 200 characters – in the search description box.
Tip: if your mind goes blank staring at a device, imagine what you'd say to a potential new customer if they were standing in front of you. Write that down, or make a voice note. It'll come across more naturally.
2. Profile description
The customer likes your search description and they've clicked through to your profile page. Now let's seal the deal.
You need a profile description that lets a customer know you're right for the job. Outline the services you offer, what sets you apart from the competition, and any accreditations or memberships you have.
Your profile description text needs to be simple, clear, and informative.
This means short sentences.
No more than three sentences per paragraph.
Use bullet points where it would help to make the text clearer (like this!).
Keep it simple. Don't use industry jargon – write like you would talk to your customers.
Be professional, in a friendly way. Your content will give off an impression to your customer.
Still not sure where to start? Check out these tips for writing a clear profile description.
You can update your profile every now and then with relevant info. This is another great way to show that you're an active business. For example, if you're booked up, update your availability. If you have a special offer, add this to your profile.
Want an easy way to manage your profile?
Use the Checkatrade app - you can manage your profile on the move!
Tell me more
3. Photos
Adding photos to your Checkatrade profile regularly has a number of benefits:
It gives you the chance to showcase your recent work.
It provides inspiration for customers as to the work you could do for them.
New photos show that your business is active.
Our expert membership advisors recommend that you upload 1 – 3 new photos to your profile each week.
With the homeowner's permission, take some 'before and after' shots of completed projects to show off your skills. Check the photos before leaving the project to make sure they're of good quality.
You can make feature albums on your Checkatrade profile and add your best photos. For example, if you're a gardener, you could create feature albums to showcase the different planting schemes you've created: 'English country garden', 'Coastal planting scheme', 'Tropical paradise'.
4. Reviews
We always wax lyrical about the power of reviews, especially for tradespeople. They offer credible recommendations from real homeowners, which is proven to influence new customers' purchasing decisions.
As with photos, you want new reviews on your profile regularly, ideally a few per week.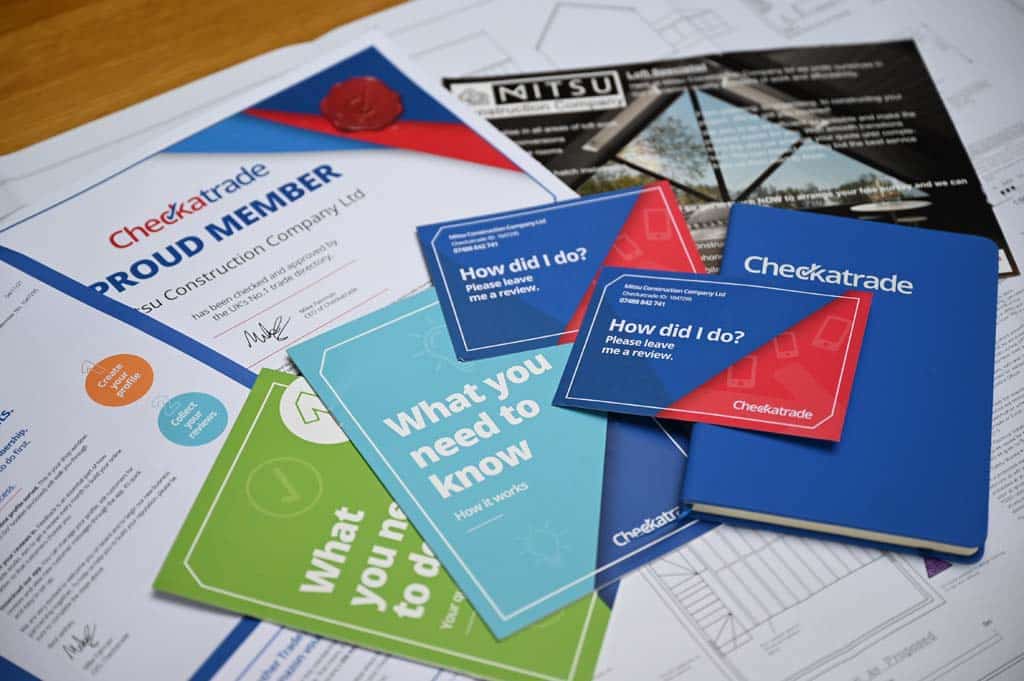 For tips on how to achieve this, read our post on how to get customers to leave you a review.
It's also important to check your reviews when you log in to your profile. Thank customers for taking the time to review your services, and let them know you're pleased they're satisfied with the job you've done.
For more tips on developing your Checkatrade profile, check out this post.
Find getting customers to leave a review awkward?
Checkatrade review cards are helpful. But the app can help you get reviews too!
The easy way to get reviews
The easy way to update your Checkatrade profile
The secret to getting more leads is to develop a strong profile and keep it regularly updated.
The more effort you put into your profile, the more you will get from it.
Encourage customer reviews
Engage with new reviews
Update your profile
Add new photos regularly
The quickest and easiest way to update your Checkatrade profile is via the Checkatrade app. You can log in on-the-go, while having a teabreak, or when you have a few minutes in between jobs.
If the app isn't an option for you, don't worry. It's straightforward to log in to your profile on a tablet or computer back at home or from the office.
Want an easy way to manage your profile?
Use the Checkatrade app - you can manage your profile on the move!
Tell me more