New app feature: Control your lead flow with 'Availability'
Checkatrade members are in more control than ever when it comes to getting more work from us.
In this article, we'll cover:
It's no secret that tradespeople are busier than ever.
Homeowners have been keen to renovate their homes during the pandemic, and demand isn't slowing down.
It's great that tradespeople are busy, but it's becoming difficult for many to manage their own or their staff's workload. It's also difficult to say no to new work.
It's not nice for tradespeople to say no to their potential customers.
It's also not a good experience for homeowners looking for trade professionals to help them on Checkatrade.
This is why we've introduced 'Availability' for our members. To put a stop to difficult conversations and disappointment.
What is Availability?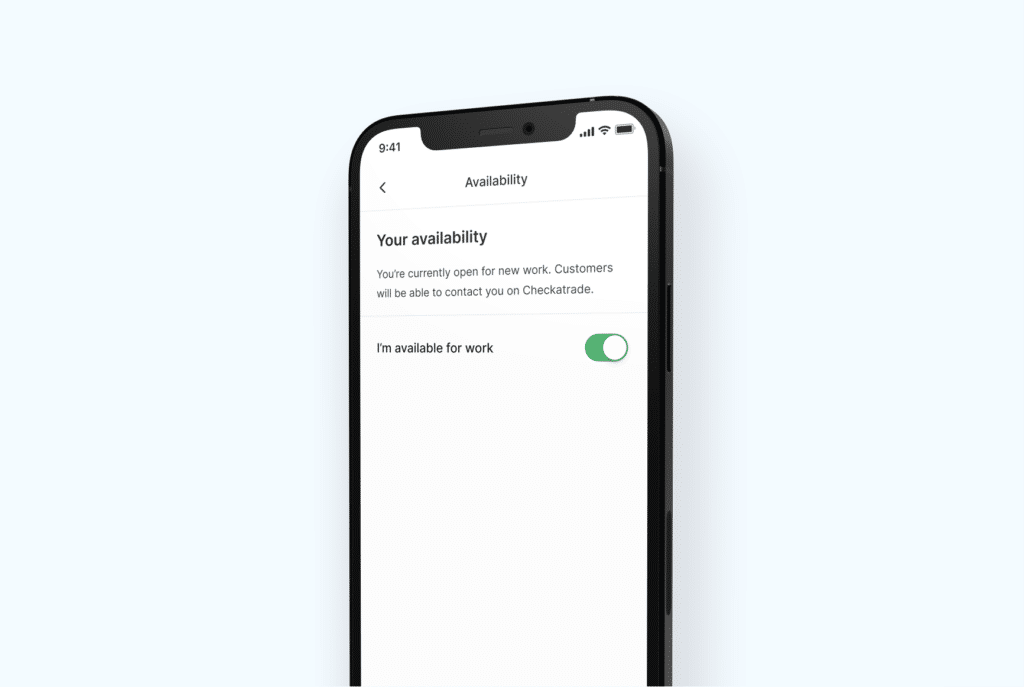 Availability is our new mobile and web app feature that allows members to mark themselves as available for work or not.
When you're too busy and saying no to new work
If you're in a busy spell where you have more than enough work for you or your team, then you can turn off that you're available for work.
What happens when I make myself not available?
Turning off your availability means you're hidden from our search for homeowners.
Then, when you're ready to start receiving new leads again, get back on the app and switch yourself back to available. You can get yourself back on search at any time.
Making yourself unavailable for work doesn't end your membership with us
You can hide your business listing from the Checkatrade search results while keeping hold of your Checkatrade business profile, customer reviews and all the great member benefits and savings.
You can still get some leads if a customer sends you a request directly on your profile.
Need more work?
If you're looking to keep new leads coming through to you, you can keep yourself marked as 'I'm available for work'.
You may also want to consider flexing up your membership with us. 'Standard' and 'Pro' memberships are great for getting more leads coming through to your phone.
Like the sound of being in control of lead flow?
Pass our checks, join, then get the app!
First, pass our checks
Why we created Availability
Availability will help to reduce the number of homeowners contacting tradespeople who are too busy to take on work.
This feature will send homeowners to our members who are open to work.
How to set your availability in the Trade App
Setting your availability on the mobile or web app is super simple.
Our members can access the 'Availability' function through the 'My profile' section on the Trade App.
If you're set as available to take on work, you will see the toggle as green.
If a member is too busy to take on work, they can tap the toggle to turn it off. It'll slide across and no longer be green.
This means your Checkatrade profile will be hidden from searches until you tap it back on.
Then, when you need work to come flooding back, head back to 'My profile', tap 'Availability', and tap the toggle back to green.
Like the sound of Availability?
This feature on the Checkatrade Trades App is only available to Checkatrade members.
Join us then head over and download the app to get started.
There's just one catch to getting the app
You'll need to pass our checks first.
We have to make sure you're a top tradesperson before you can join us.
Get started below.
Like the sound of being in control of lead flow?
Pass our checks, join, then get the app!
First, pass our checks