Last updated on August 15th, 2022
Alcove cupboards cost guide
Got alcoves at home? Need extra storage space? Make use of your awkward alcove space with bespoke alcove cupboards. Not only are they a great space saver for bits and bobs to live in, but you can also get creative with their look. Transform your otherwise wasted space into storage; for everything from clothing and toys to board games and books.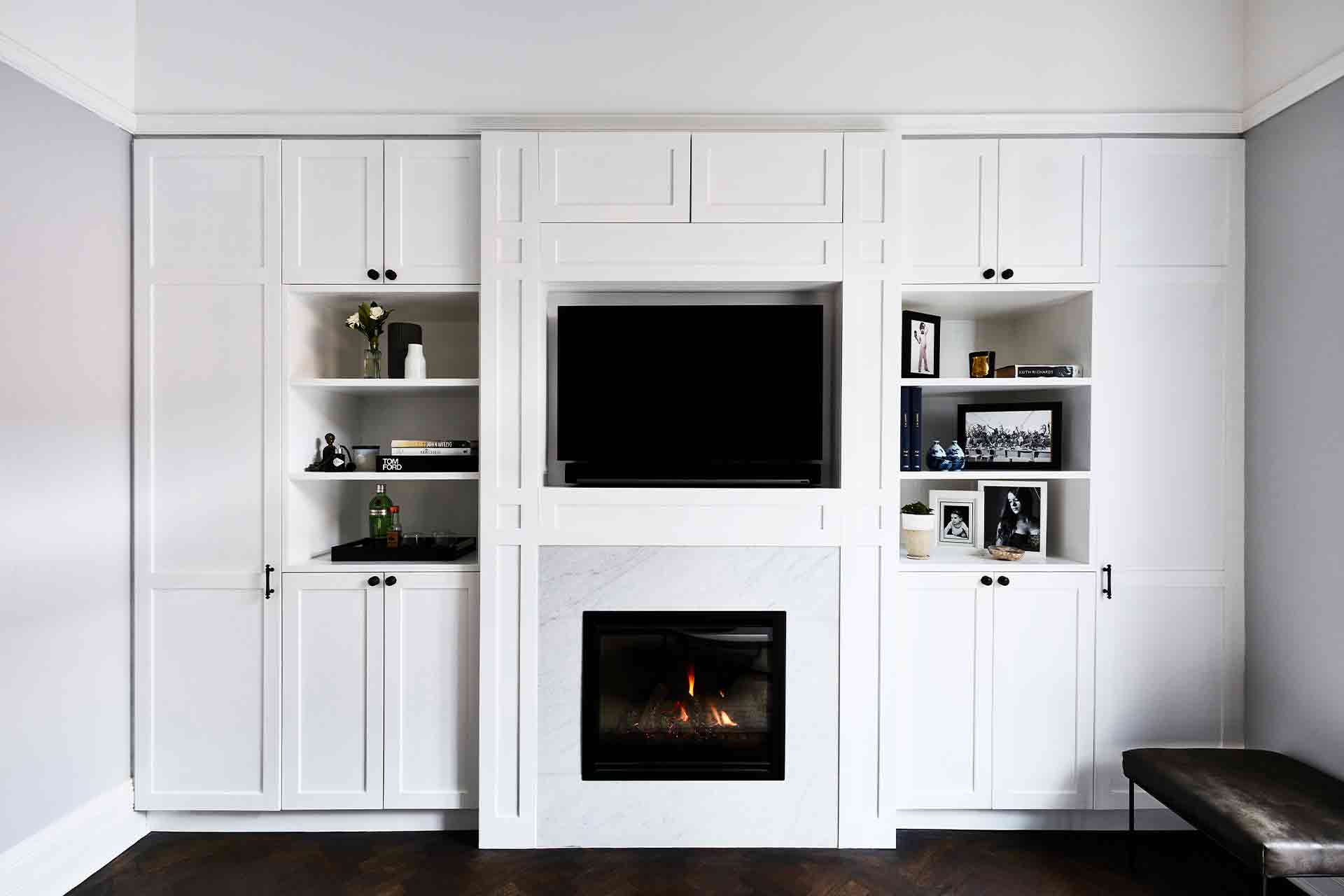 Bespoke alcove cupboards can help you make the most of every last inch of storage space. You can utilise the chimney breast and create aesthetically pleasing units at the same time.
Let's look at how much bespoke alcove cupboards cost on average.
This includes the time of a skilled carpenter, along with materials and other costs. With this information at your fingertips, you can start planning your project.
Alcove cupboards cost
| Item | Unit | Cost - low | Cost - high | Average cost |
| --- | --- | --- | --- | --- |
| Bespoke alcove cupboard and shelves | - | £500 | £4,000 | £2,250 |
| Cabinet maker | Labour cost per hour | £30 | £35 | £22.50 |
| 2 x strip lights (incl. installation | - | - | - | £150 |
| 4 x spot lights | - | - | - | £250 |
The cost of fitted alcove cupboards depends on the materials used, plus the size of alcove and complexity of design. It may also depend on your location, as prices in London for example are likely to be higher.
You can also expect to pay extra if you want additional features. For example, a lighting scheme, a built-in entertainment suite (including flatscreen TV and sound equipment), glass-fronted units or other decorative touches.
But on average, you can expect to pay around £30 to £35 an hour for a carpenter specialising in alcoves. The more skilled the craftsperson, the more it is likely to cost. Find out more in our handy guide to average carpenter costs.
Bespoke alcove cupboards and shelving are likely to cost between £500 and £4,000 – but do remember, the total cost will depend on the design, the materials and how much labour is required. It's worth getting designs and quotes from professionals to find the right tradesperson for you.
See the tradespeople we've checked and recommend for your job
Alcove shelving cost
Another option for utilising the alcoves either side of your chimney breast is shelving.
Open shelves can help a room feel more spacious, rather than boxing off the space using cupboards.
A popular use for alcove shelving is bookshelves, but you can also use them for plants, vases, ornaments and other decorative accessories.
The prices for alcove shelving by a skilled carpenter are similar to those for bespoke alcove cupboards, But you can usually expect to pay less for a simpler design.
Struggling for alcove shelving ideas? Check these out!
Alcove cupboards cost calculator
All homes are slightly different so the costs for installing alcove cupboards will vary. The main factors that influence the cost are the materials used and the size and complexity of the design, as well as any additional features you may want.
As an example, for a bespoke alcove cupboard with shelving, 2 under-shelf strip lights and 4 spotlights you can expect to pay £2,400.
The cost of your finishing touches
Fitting your alcove shelves and cupboards is one thing, but then you'll need to finish them off nicely. The finishing touches, like painting your transformed alcoves, will cost money. And how you decide to finish them will affect how much you pay.
For example, are you painting them by hand or spraying them? Whatever you choose there will be a different cost.
As a very rough ballpark cost, hand painting woodwork will cost around £15 per m2 for a professional to come round and do it. Best to get a quote yourself for an accurate price.
Should you get an expert to spray them, the cost will typically be around £80+. Again, best to get a quote yourself for an accurate price.
Alcove cupboard installation quotes
As alcove cupboards are a bespoke job, it is really important to get a selection of quotes to understand the options that are available and the costs involved.
To help make sure you get the final result you are looking for, it can be really helpful to show examples of the type, size and style you want for the finished product.
You could find pictures online or sketch out your ideas with notes for measurements or other specifics you want to be included.
You can create your own shortlist of local tradespeople to contact for a quote by using our postcode search tool below. We always recommend getting at least 3 quotes for a good comparison.
Alternatively, post details of your project on our request a quote tool and we'll get 3 tradespeople to come back to you with their quotes.
See the tradespeople we've checked and recommend for your job
FAQs
Can I fit alcove cupboards or shelving myself?
It is of course possible to complete this project as a DIY job, but only if you have both the tools and the experience. It requires skill and very precise measuring to get a professional finish and alcove cupboards that fit perfectly.
Remember that an incorrect or poor quality job could lead to all sorts of problems. For example, shelves that sag in the middle or gaps where cupboards don't fit the exact shape of the alcove. If in doubt, call in a professional tradesperson.
Should I use a local joiner or a fitted furniture company for bespoke alcove cupboards?
You have lots of options when buying made-to-measure furniture. If you go with a large fitted furniture company, you'll get a certain standard of work. However, you're likely to pay much more for it, and you may not get the personal service you expect.
With a local tradesperson, you'll have more options and control when it comes to materials and the design. Your joiner should be able to create exactly what you have in mind, and it could also cost you far less.
See the tradespeople we've checked and recommend for your job