Last updated on April 11th, 2022
Alloy wheel painting cost guide
For instant results to give your car a new lease of life, explore our alloy wheel painting cost guide. For standard & chrome finish, and standard & split rims.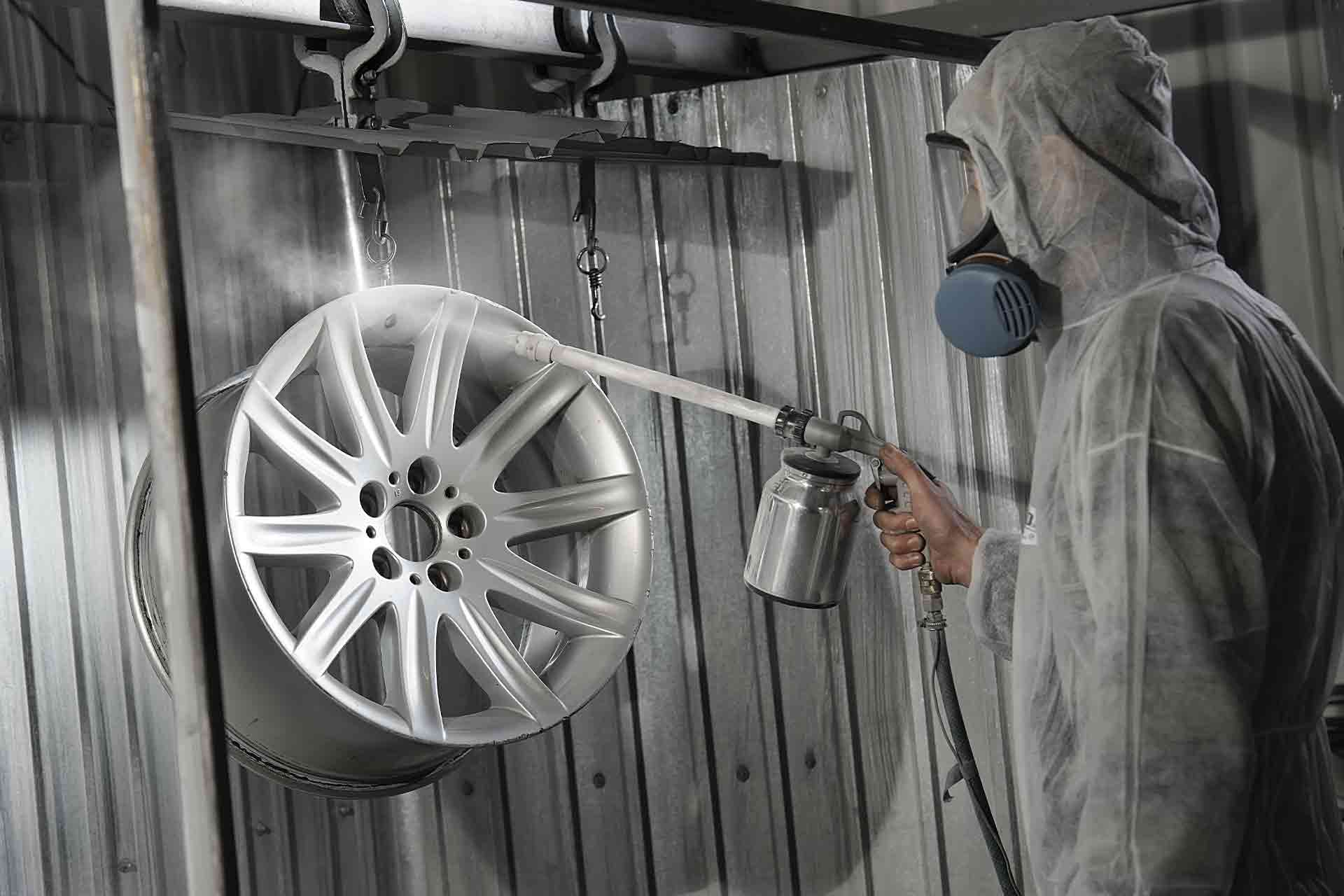 Do I need alloy wheel painting?
Our cars are not only a way of getting us from A to B, they are also a reflection of our status and personality. A clean car that is in great condition presents a much better picture than one with chipped paint, dirty wheels and visible damage.
An excellent way to enhance your vehicle is to have the alloy wheels painted. In fact, painting your alloys not only looks great but can also increase the value of your car. With so many alloy painting options available, it is easy to create a unique finish that expresses your style.
You may choose to invest in alloy wheel painting to revive old tires or to create a fresh new look. Furthermore, with a wide range of stunning colours and finishes available, your car will truly shine at any event.
The average alloy wheel painting cost is more than worth the pay-out as an instant way to revive and refresh your vehicle. In the following article, we will look further into the world of alloy wheel painting with prices, factors to consider and other great tips.
How much does alloy wheel painting cost?
Type of finish
Cost + VAT
(Range low - high)

Average cost
Standard finish (one wheel)
£55 (up to 18 inch) - £90 (22 inch)
£72.50
Standard finish (four wheels)
£200 (up to 18 inch) - £320 (22 inch)
£260
Standard finish for split rims (one wheel)
£90 (up to 18 inch) - £105 (21 inch+)
£97.50
Standard finish for split rims (four wheels)
£320 (up to 18 inch) - £380 (21 inch+)
£350
Chrome finish (one wheel)
£92 (up to 18 inch) - £147 (22 inch)
£119.50
Chrome finish (four wheels)
£349.60 (up to 18 inch) - £558.60 (22 inch)
£454.10
On the whole, alloy wheel painting is affordable for most people and offers fantastic results. It is even possible to have only one wheel painted, which is a great option if the paint and metal are still perfect on your other three wheels.
The average alloy wheel painting price is £72.50 for one wheel or £260 for four wheels.
Factors affecting the cost of alloy wheel painting
While it is certainly possible to look at average prices, in order to correctly estimate the cost of alloy wheel painting we need to consider a range of influencing factors, such as:
Area to be painted: A touch up will be much less expensive than painting the whole wheel.
Number of wheels: The cost of painting per wheel can be lower if all four are done at once.
Level of damage to the wheels: If your alloy wheels are damaged badly, they may need to be refurbished rather than painted. It may also be necessary to purchase a new alloy if the wheel cannot be refurbished. Replacements and refurbishing will be more costly than painting.
Type of paint & colour: Alloy wheel painting costs will vary depending on the colour and finish you choose. With options ranging from standard black to anthracite, gunmetal and even gold, you are spoilt for choice.
Custom finish & designs: If you have a specific finish and design in mind, it is usually possible to find a company who can achieve this. Although, it will be more expensive than a standard paint job.
New or old: Purchasing new alloy wheels will be more expensive than painting old alloys.
Do you need new tyres?: If your tires are old or damaged you will also need to pay for replacements. This will incur extra costs.
Are they split rims or standard? – Painting split rims is more pricey than standard rims. For example, the average alloy wheels painting price for four standard rims is £260 versus £350 for split rims.
See the tradespeople we've checked and recommend for your job
Alloy wheel colour change cost
Instead of touching up or refreshing your old alloy wheels, you may decide to completely change the colour instead. No matter the colour you are looking to achieve, there will likely be a professional that can match it.
It is worth noting that it is always more expensive to paint a whole alloy than just apply a touch up. In addition, when it comes to changing the colour of your alloy wheels, the old paint will not usually be removed before painting. This means it will cost a similar amount whether you are using the same colour or a new colour to paint your alloy wheels.
Each finish will be priced differently, with a chrome finish costing up to £558.60 for four tires. There are thousands of colours available, and a black alloy wheel colour change is especially popular and fashionable right now.
The average alloy wheel colour change cost is £260.
How much does alloy wheel refurbishment cost?
| Cost provided item | Price range - low | Price range - high | Average UK cost |
| --- | --- | --- | --- |
| Single wheel refurbishment (up to 20") | £54 | £106 | £80 |
| Single wheel refurbishment (21"+) | £60 | £120 | £90 |
| Set of 4 alloy wheels (up to 20") | £216 | £384 | £300 |
| Set of 4 alloy wheels (21"+) | £250 | £430 | £340 |
| Alloy wheel scuff repair | £48 | £120 | £89 |
| Single diamond cut wheel | - | - | £115 |
| Tyre fitting per wheel (including balancing) | - | - | £9 |
When it comes to old and damaged alloy wheels, it may not be possible to simply add a new coat of paint. Whether your wheels are scuffed, corroded, dented or damaged from potholes, it may be possible to refurbish rather than replace them.
The cost to refurbish an alloy wheel will usually fall into the range of £48 – £120. If you are considering refurbishing your alloy wheels before painting, please read our alloy wheel refurbishment guide.
Can I paint alloy wheels myself?
There are many DIY jobs that are perfect for beginners to tackle, but painting alloy wheels is a task more suited to skilled workers. Before making up your mind, consider the following:
Hiring a professional ensures a high quality, smooth finish.
Alloy wheel painting is much harder than it looks. There are lots of hard to reach, easy to miss places.
You may need to get your wheels rebalanced if you remove and replace alloys yourself.
It can be very time consuming and frustrating to ensure you cover all the parts of your alloys.
To achieve a flawless finish, we would recommend hiring a professional. To find a local, reputable, tradesperson in your area and get a personalised alloy wheel painting quote use our free search feature.
FAQs
How long will an alloy wheel colour change take?
It will usually take around 1-2 days and it will always be quicker if you book ahead rather than just turning up on the day.
Useful alloy wheels colour change checklist
It is possible to revive old, chipped alloy wheels with professional wheel painting.
The average alloy wheel painting price is influenced by a number of factors including the number of wheels to be painted, the type of rims you have and the finish you choose.
If your alloy wheels are badly damaged, you may need to refurbish or replace them.
Painting alloys yourself can be time consuming, difficult and you may need to have your wheels rebalanced.