Last updated on May 25th, 2022
Alloy wheel refurbishment cost guide
Alloy wheels are the pride and joy of many car owners. So unwanted scrapes, scratches and chips can be a real nuisance. Fortunately, most surface damage can be repaired. Read on to discover the average alloy wheel refurbishment cost in the UK.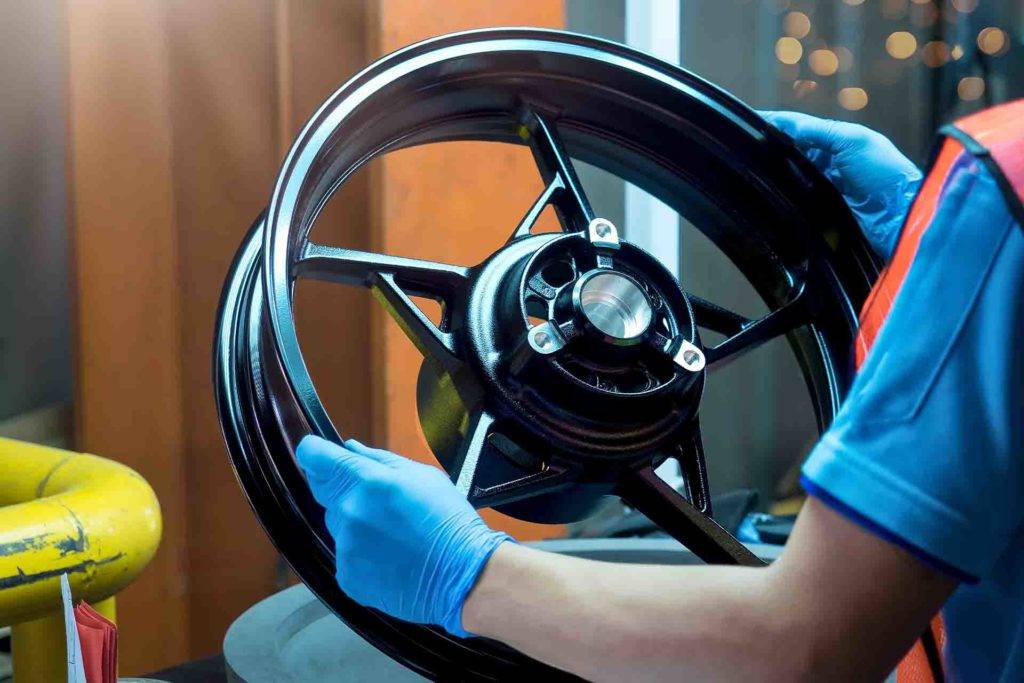 Bringing alloy wheels back to life can add value to your vehicle and make it look extra special. Depending on whether it's accidental damage, kerb dents or corrosion over time, the cost of alloy wheel repair will vary. Alloy wheel refurbishment prices will also depend on the type and size of wheels you have and the extent of the damage.
| Alloy repair job | Range - Low | Range - High | Average cost |
| --- | --- | --- | --- |
| Single wheel refurbishment (up to 20") | £48 | £100 | £74 |
| Single wheel refurbishment (21"+) | £60 | £120 | £90 |
| Set of 4 alloy wheels (up to 20") | £192 | £360 | £276 |
| Set of 4 alloy wheels (21"+) | £240 | £420 | £330 |
| Single diamond cut wheel | - | - | £114 |
| Tyre fitting per wheel (including balancing) | - | - | £9 |
How much does alloy wheel refurbishment cost?
There are a number of different alloy wheel treatments available, which will affect how much you pay. Also, the cost of your alloy wheel refurbishment will depend on the type and extent of alloy damage and the size and type of your wheels.
As a guide, standard alloy wheel refurbishment for a single wheel up to 20" costs around £74 per wheel. If your alloy wheel is 21" or bigger then the alloy refurbishment cost will be nearer £90 per wheel.
If you're having all four alloy wheels repaired at the same time then you'll often save some money. For a set of four alloys wheels up to 20" the repair cost is about £276. A set of 21" wheels will cost you around £330.
Find alloy wheel specialists your neighbours rate
Common alloy wheel damage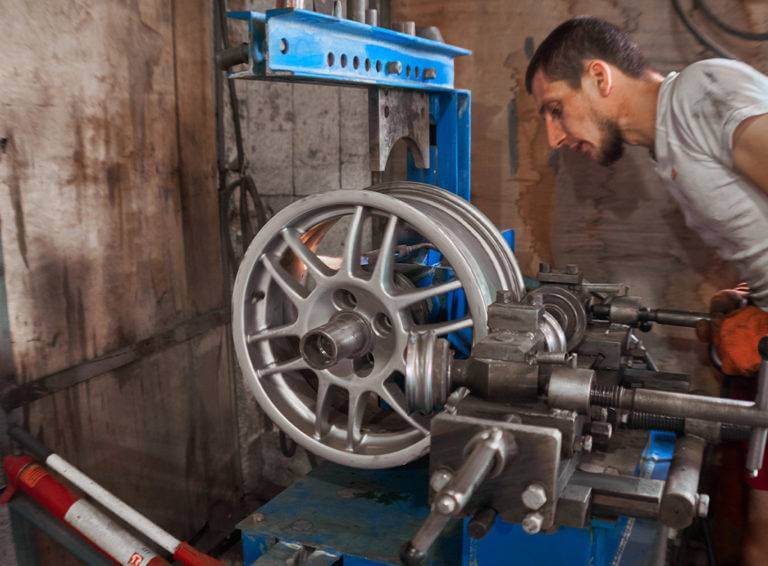 Local alloy wheel specialists will usually treat a wide range of alloy wheels, from standard alloys to diamond cut and split rim. They'll be experts at dealing with common alloy wheel damage, including:
Scuffed or kerbed wheels
Scratches and dents
Alloy corrosion
Pothole damage
Split rim wheel repair
Straightening alloys
Contact your local alloy wheel specialists for accurate prices for your alloy repair job.
Alloy wheel scuff repair cost
Scuffing is one of the most common types of alloy wheel damage. A professional alloy wheel repair service will use a range of sanding techniques to remove scuffing. Dents or deep scratches can be filled using metal fillers and will then be sanded to be flush with the wheel.
Where the existing wheel colour can't be matched with the sanding process, a new coating is usually used to cover any repairs so that you won't be able to see them. The average alloy wheel scuff repair cost can range from £48 to £120 per wheel, depending on wheel size and the extent of the damage.
Diamond cut alloy wheel refurbishment cost
Diamond cut is an alloy wheel finish that uses a specialist CNC wheel lathe to machine away part or all of the painted surface of a wheel. The finished effect is the shiny alloy finish, which is treated with a lacquer to prevent any future corrosion.
The average cost of diamond cut alloy wheel refurbishment treatment is about £114 per wheel.
Alloy wheel repair cost calculator
Allow wheel repair cost varies depending on the extent of the damage that has been caused. The cost will also be influenced by the size and type of wheel.
Find alloy wheel specialists your neighbours rate
Can you repair alloy wheel scratches yourself?
For extensive damage it is recommended to seek the skills of a professional to repair alloy wheel scratches. To repair alloy wheel scratches you will typically pay between £35 to £100, depending on how deep or large the scratch.
If you're keen to go down the DIY route then here are the main steps to follow.
How to repair alloy wheel scratches
To get started, you'll need the following:
Lint-free cloth and mild detergent
Paint thinner
Masking tape
Sandpaper (240 and 400 grit)
Metal reinforced spot putty and putty knife
Goggles, respirator mask and gloves
Primer and metallic paint
Make sure your wheel is clean before you begin. Use a soft rag to spot clean the scratched area with a mild detergent.
Apply gloves and a respirator mask as a safety precaution, and using a cloth rub the scratched are with paint thinner to remove any dust, dirt or grease. Dry with a lint-free cloth, or let the area air dry.
If the scratch is on the edge of the alloy wheel close to the tyre, add masking tape to protect the tyre.
Using the 240 grit sandpaper, sand the scratched area until it feels smooth. Wipe away any dust or debris.
Add a small amount of the putty to the putty knife and spread on the area that you have sanded. Use sparingly and only add to the areas that require filling to avoid lumps and bumps elsewhere on the wheel. Let the putty dry for 2 hours or as long as the instructions recommend.
When the putty is completely dry, use the 400 grit sandpaper to smooth out and raised areas or bumps.
Put on gloves, a respirator mask and goggles and cover any part of the wheel that you do not want to paint with masking tape and paper. This will protect your wheel from paint overspray.
Spray metal alloy primer onto the affected area, holding the can approximately 15cm away from the wheel. 1 coat should be enough. Let this dry for 1 hour.
When you are sure the primer is dry, apply a layer of metallic spray paint holding the can approximately 15cm away from the alloy wheel. Wait for an hour and then repeat. Repeat this last step another 2-3 times, leaving up to 1 hour between coats.
Useful alloy wheel repair checklist
Speak to your local alloy wheel specialists to discuss the refurbishment options and get quotes.
Shop around for fair and competitive prices for alloy wheel refurbishment.
Always hire a tradesperson with experience and qualifications/accreditations.
It's possible to repair alloys yourself, but we recommend reaching out to a professional for the best results.
Find alloy wheel specialists your neighbours rate
Good jobs, guaranteed
Get covered when you book with Checkatrade.