This artificial putting green cost guide is for those passionate about golf. Whether you play professionally or recreationally, the cost of backyard putting greens is at your fingertips.
Back garden putting green benefits
With the Northern Trust and AIG Women's Open currently happening, it's a great time to learn about the benefits of golf. Far from being an exclusive, members-only past time, it's actually one of the best ways to get outside, stay active and have fun.
Some key benefits include:
Increased wellbeing and mental health
Reduced stress and anxiety
Socialisation with friends or colleagues
Fitness and weight loss
Golf isn't a difficult sport to learn but takes years to master (if ever), making it one of the best ways to maintain mental alertness and strengthen your brain's memory circuits.
What better way to harness these benefits than to install a back garden putting green? Not only does artificial grass mean reduced water bills, mud and maintenance, but it's an environmentally friendly alternative that saves the planet from pesticides.
Check out our blog on the benefits of artificial grass installation for further information.
Find your local landscaper
Putting green turf cost
Cost provided item
Unit
Cost + VAT
(Lower range)
Cost + VAT
(Higher range)
Average cost
Artificial lawn
Per square metre
£60
£100
£80
Full project
(4m2 x 6m2)
£1,400
£2,400
£1900
Labour
Per day
£150
£250
£200
We asked Checkatrade member Woodcote Fencing and Landscaping Ltd, "how much does an outdoor putting green cost?"
As an experienced, family-run business passionate about landscaping, they let us in on what to expect when it comes to pricing up the total cost of backyard putting greens.
"We normally charge around £60 – £80 per square meter to supply and fit artificial lawns, including groundwork. However, this depends on the quality of grass that the client has requested to suit their budget."
"Normally, an average size putting green (4m x 6m) will work out around £100 per square metre. This includes cover, holes, flags and any extra time needed to carry out fine levelling, which creates smooth falls to putt on."
For more information and a free quote, do reach out to the guys at Woodcote Fencing and Landscaping Ltd.
Artificial putting green cost of installation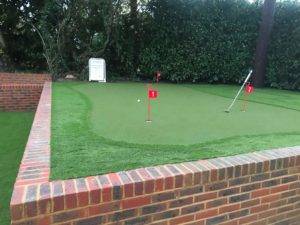 Although most landscapers will include their service charge within their quote, you can expect to pay a day rate of around £100 – £250 for the labour involved.
Depending on the amount of levelling required, most jobs won't take more than a day or two.
FAQs
Can I install artificial grass myself?
Although there are many how-tos online to help guide you, we recommend you hire a professional to install your putting green. This is because levelling the land is almost always required, which is a time consuming and laborious job that professional landscapers are better equipped to tackle.
What artificial putting green grass is best?
A turf that mimics grass found on commercial greens is the most common. Look for bentgrass styles or slit-film turf for the best results.
Is an artificial putting green installation a good investment?
Yes, the financial perks and environmental benefits make installing a putting green cost-efficient. Look for some quotes from our expert landscapers to get you started.
Tell us what you think
What others think of this cost guide: