Last updated on March 31st, 2022
How much does artificial grass cost?
Artificial grass has become increasingly popular in recent years, thanks to the fact that it is long-lasting and requires very little maintenance, meaning you can have a picture-perfect lawn all year round. In this guide, we look at the average artificial grass cost in the UK.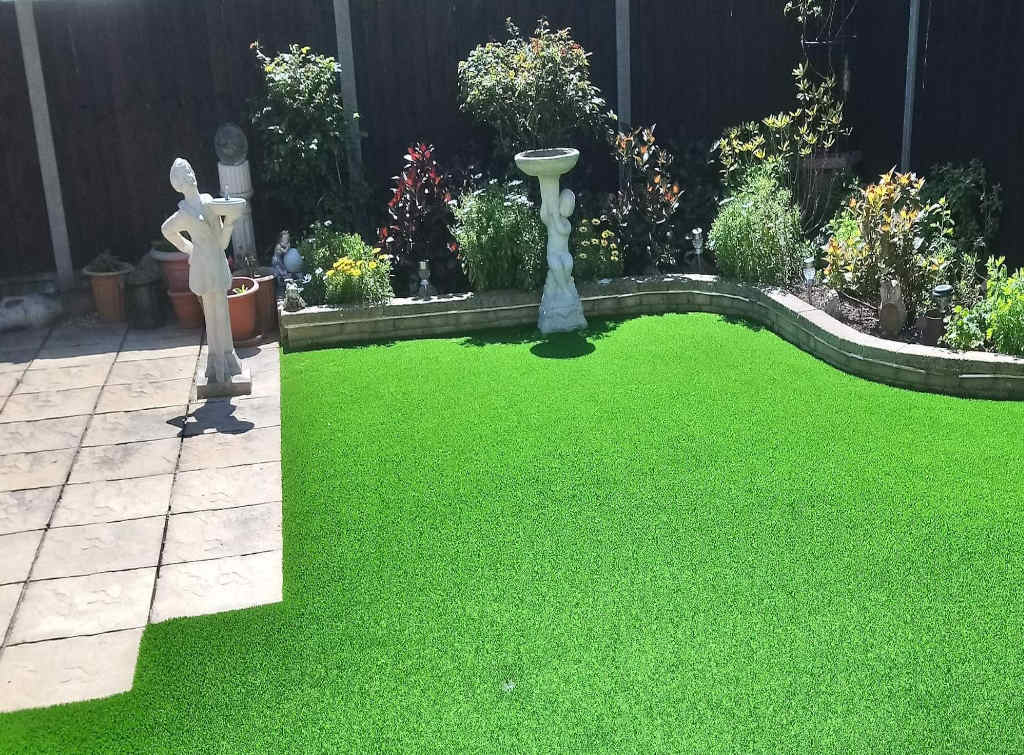 Artificial grass has become increasingly popular in recent years, thanks to the fact that it is long-lasting and requires very little maintenance. Fake grass means you can have a picture-perfect lawn all year round.
In this guide, we look at the average artificial grass cost in the UK.
| Item | Range - Low | Range - High |
| --- | --- | --- |
| Artificial grass installation (day rate) | £300 | £600 |
| Artificial grass (supply only) Budget per m2 | £9 | £14 |
| Artificial grass (suply only) Mid-range per m2 | £14 | £24 |
| Artificial grass (supply only) Premium range per m2 | £25 | £45 |
| All in cost for supply & installation(includes sub base) | £45/m2 | £80/m2 |
How much does artificial grass cost to install?
As well as the cost of the artificial grass itself, you should also factor in the cost of installation. The average artificial grass installation cost is between £300 – £600 per day.
The fake grass price will depend on factors such as the quality of artificial grass you choose, the size of your lawn and where you are located. Most tradespeople will price your job on a cost per square metre, with an hourly rate for installation. It is worth getting multiple quotes from local gardeners to find the best price for you.
Installing artificial grass for an area of up to 30m2 can usually be completed in one day. However, you will also need to consider the time for removing your old grass and any prep work needed. Depending on the size of your garden, you can expect the project to take two to three days to complete.
| Item | Cost (example for 30m2 |
| --- | --- |
| Skip Hire | £220 |
| Crushed granite aggregate 1.5t | £180 |
| Labour | £600 |
| Artificial grass supply based on mid range at £22.95/m2 | £689 |
| Extras (30m2 geotextile and 8 bags of kiln-dried sand) | £67 |
| Total | £1756 |
| Equivalent £/m2 | £58.53 |
Range of artificial grass installation costs
Most suppliers will offer a range of quality options, and when deciding on the quality of your turf, the fake grass cost may be a deciding factor. Below are some options for you to consider:
Budget: This entry-level product is functional but does not always offer great aesthetics. They can be a suitable solution for those on a tight budget, but we usually recommend investing in higher quality material. The average cost of budget artificial grass is about £9 – £14 per m2.
Mid-range: Mid-range artificial grass tends to offer a thicker pile and will usually have strands of different colours, feel and texture to create a more realistic appearance. The average cost of mid-range artificial grass is around £14 – £24 per m2.
Premium: If it's a 'real' look you're after, premium quality artificial grass is as close as you will get. With finer lush stems, this product provides an authentic look that will enhance the appearance of your lawn. The average cost of premium artificial grass ranges from £45 – £80 per m2.
See the tradespeople we've checked and recommend for your job
Factors affecting the average cost of artificial grass installation
As we mentioned earlier, the quality of your turf is a factor in the overall fake grass costs. But it's not the only factor. Here are the things that could affect your artificial grass installation costs:
Size of your garden: The bigger your garden, the more artificial grass you'll need, and the longer it'll take to lay.
The shape of your garden: It's easier to lay down artificial grass in a square-shaped garden. An irregularly shaped lawn of the same size might cost more. Also, artificial grass comes in rolls of a certain width. If your garden is wider than that width, you could need more turf. You may even have to deal with more wastage, which would have to be factored into your costs.
Surface quality: The surface on which you're laying the artificial grass needs to be level. It should also drain well. If your garden is uneven or waterlogged, you'd first need to prepare the surface. That will be added to your artificial grass installation costs.
Other costs: Does your existing grass need to be dug up? Will it need to be disposed of? When preparing the surface, would you need to remove the topsoil to prepare for drainage? All of these would add to the costs.
Artificial grass prices
Quality of artificial grass
If you're new to artificial grass, you may not realise that there are a range of quality levels to choose from, each offering different artificial grass prices to match differing budgets.
Standard artificial grass – If you're looking to turf your garden with fake grass for the lowest price possible, a basic quality artificial grass can be a cost-effective choice. Perfect for areas that you're not overly precious about, or that will be well-used by children or animals, you can expect to pay from £9 per m2 – £14 per m2 for a basic artificial grass. Within that price range you'll find options on thickness and realism, enabling you to get the look and price you're after.
Mid-range artificial grass – For those with a little more to spend and seeking a higher quality fake grass, there are a selection of mid-range turfs that bring an increased realism and more natural feel. This mid-level product has an artificial grass price per m2 of between £14 per m2 – £24 per m2, and as with the basic quality, you'll pay more for a thicker weave and an increased lifelike appearance.
Luxury level artificial grass – Whether you're looking for ultra-realism in your pride and joy garden, or you're turfing a 5-star hotel lawn, premium fake grasses are available at the high end of the price spectrum. Longer lasting and with a feel of real grass, you can expect to pay between £45 per m2 – £80 per m2, taking into account length, realism and thickness.
Type of artificial grass
Just as with quality levels of fake grass, there also different types of artificial grass, each made from a different base material.
Nylon artificial grass cost – The original artificial grass, nylon fake grass can trace its roots (if it had them) back to 1960's sports stadiums in the US. Nylon is a strong type of plastic fibre, ideal for heavy use lawns, but the complicated manufacturing process and expensive materials that create it mean it is often the most expensive type of artificial grass, with costs between £10 per m2 – £40 per m2.
Polypropylene artificial grass cost – Coming in mid-range on the fake lawn cost scale, polypropylene artificial grass has a realistic appearance and a medium to high level of resilience to wear and tear. It has a polished look, which can make it slippery under foot when wet, and, depending on the length and thickness, will set you back an artificial grass cost per square metre of £10 per m2 – £30 per m2.
Polyethylene artificial grass cost – Fast becoming the luxury fake grass material, polyethylene artificial grass offers a combination of softness to the touch, ultra-realism, and strong resistance to damage. Price-wise, there's a big difference between both ends of the scale for polyethylene fake lawns, costing you between £20 per m2 – £50 per m2 depending on realism, length and thickness.
What are the advantages of having artificial grass in your garden?
When compared to traditional, natural grass, artificial grass poses many benefits. These modern designs offer a realistic appearance, which will keep your garden looking tidy all year round.
Little maintenance required
Artificial grass requires very little maintenance, requiring far less upkeep than mowing and tending to a lawn would take. Sweep from time to time to remove any leaves and twigs which have gathered there – in fact. You can even use a hoover to pick up any scattered debris. If it's muddy, then you can use a low setting on a pressure washer or a normal hose and brush to take away the layer of grime.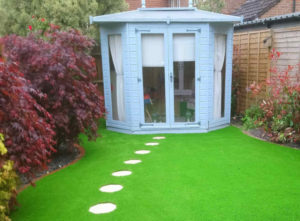 Simple installation
Providing that the prep work has been put into place, that the ground has been levelled appropriately and that the conditions are right, actually laying the artificial grass is a fairly straightforward job.
If you are looking to reduce the fake grass cost, it could be more cost-efficient to install it yourself. If, however, more preparation is required to get your garden ready for the lawn to go down, it may be quicker and easier to employ a local tradesperson to work on the project.
Minimal wear and tear
Your dogs and children could quickly tear up your real grass lawn and turn it into unsightly muddy mayhem. On the other hand, an artificial lawn will keep its excellent appearance all year round. This will reduce the overall fake lawn cost, as you won't have to worry about repairs.
Great in those limited light regions
Do you have a heavily shaded garden that receives minimal light? Perhaps you're looking to add that special touch to a balcony that would be unsuitable for real grass surfaces? In any of these more tricky locations, artificial grass can provide the perfect solution to your needs.
Save water
Using artificial grass does mean that you won't have a micro-habitat growing in your garden for insects and other wildlife. But, one environmental perk of artificial grass is that it does save water, as well kept natural lawns require regular water to keep them in their excellent condition.
See the tradespeople we've checked and recommend for your job
What are the disadvantages of installing artificial grass in your garden?
Installing artificial grass does have a few disadvantages:
High cost of installation
If you're laying down real grass, it can be as simple (and cheap) as spreading grass seeds across your lawn at the right time of the year. Then, you can spread your cost of maintenance across the year.
With artificial grass, all the costs associated with laying it down have to be paid in one go. This, of course, is offset by the almost non-existent upkeep costs later, but you do have high upfront costs to install fake turf. If you need to remove stains or dirt, our artificial grass cleaning guide will help you tackle this task with relative ease.
Plastic feel
Artificial grass does not feel the same as real grass. So, if you like walking barefoot over your lawn, it might not feel the same. On the other hand, you can get artificial grass that looks just like the real stuff.
Due to being made from plastic material, artificial grass can also reach high temperatures, especially when in direct sunlight. This is something to be mindful of if you have pets or children laying on it.
No life in the garden
The grass in your lawn can provide a habitat for hundreds of living creatures. You won't get that with artificial grass. But, you do save water, and you can plant flowering shrubs and bushes in containers around your garden if you want to encourage bees and butterflies.
What to consider when getting artificial grass installed
You should consider the quality of the grass you require, in addition to the cost of artificial grass to match your budget. Other considerations include what condition is the existing land in. Understanding all of these things as a combination will allow you to make your decision. Although you may desire premium grass, it may be that your budget doesn't allow for it. Yet, without doing the prep work and calculations, it's difficult to determine this.
Make sure to measure your garden correctly not to order far too much or too little. You need the right amount of grass to cover your land neatly, avoiding any unsightly gaps. What shape is your lawn going to be? Odd shapes can mean costly offcuts are required, which must also be taken into account.
When considering artificial grass, it's also worth asking your tradesperson about the finished look if there are any drains in your lawn. Ask them about where any joins between sections will be and how this will affect the overall look of you artificial lawn.
Artificial grass cost calculator UK
To get an estimate of how much you'd spend on artificial grass costs, you need to add up the cost of all the different parts of the whole process. The first aspect is the cost of your artificial grass. To calculate this, you would need the size and shape of your lawn. If the width of your lawn is greater than the width of the roll of grass, you'll need to calculate how many lengths you'd need. This will help you calculate the cost of the material.
If you need more than one roll width, this would mean the gardener installing the artificial grass would need to ensure a smooth joint. That would take time and add to your labour costs.
You'd then need to assess whether your garden surface needs to be smoothened or levelled. Also, do you need to create better drainage?
Finally, does the grass that's currently growing need to be removed and will the gardener need to get rid of it? That will incur additional charges, potentially a skip hire prices guide and additional labour costs.
Artificial grass installation quotes
When you are scouting for artificial grass installation quotes, we strongly recommend inquiring with at least three reputable tradespeople in your area. This gives you a realistic range, from which you can select the best fake grass price for you.
For the most accurate quotes for your job, you should send as many details as you can. These details include the type and quality of the fake grass you want, the size and shape of your garden (including a rough drawing if the shape is irregular), and if the ground is level and well-draining.
Try out our request a quote feature. Enter the details of your job, and we'll send it to four tradespeople near you.
See the tradespeople we've checked and recommend for your job
FAQs
Does artificial grass look 'cheap' or unnatural?
If you select a cheaper quality, your artificial grass might not look like grass. However, there are high-quality varieties of artificial grass that are a more natural colour. They also have varying blade lengths and 'drying' brown flecks to make it look almost identical to the real stuff.
How long does it take to lay artificial grass?
Installing artificial grass is dependent on the size of your garden. A small 40m2 garden might take one to two days, while a larger 70m2 area could take three to four days. These times may go up if your lawn needs more work, though.
What are the alternatives to artificial grass?
You could replace your lawn with paving, wooden decking, or gravel. However, none of these can replicate the relaxing green appearance of grass.
Can I lay artificial grass on soil?
Yes, you can lay your artificial grass on the soil. The caveat is that you'd need to ensure there is adequate drainage. Also, you might need to lay a weed suppressant membrane under the artificial grass to prevent unwanted plants from growing through.
Typically, a new level sub-base is prepared for the artificial grass to lay on as the key to a good, level finished artificial lawn is the ground preparation and laying.
How much would it cost to install artificial grass myself?
DIY artificial grass installation is possible, but it's not as simple as just rolling it out. You'll need to prepare the ground underneath, create fixing points around the edge and ensure the turf is taut.
Artificial grass installation is a fairly physical job and requires a selection of specialist tools in order to create a lawn that will remain in-place, secure and attractive. These include a turf remover, power brush and whacker-plate for the laying work, and at the more basic end, you'll need a cutting device and a spade. Plus there's the skip hire for waste inert and the cost of the time it will take you to complete the job.
As a result of all these factors, your DIY artificial grass cost can become more expensive than a hiring professional. Instead of doing the back-breaking work yourself, get quotes from local artificial grass layers recommended by your neighbours using the free search tool below.
See the tradespeople we've checked and recommend for your job