Last updated on October 21st, 2022
Car key replacement cost guide
Take a deep breath and relax. Our car key replacement cost guide has all the information, important factors and costs you need when your car keys are lost or broken.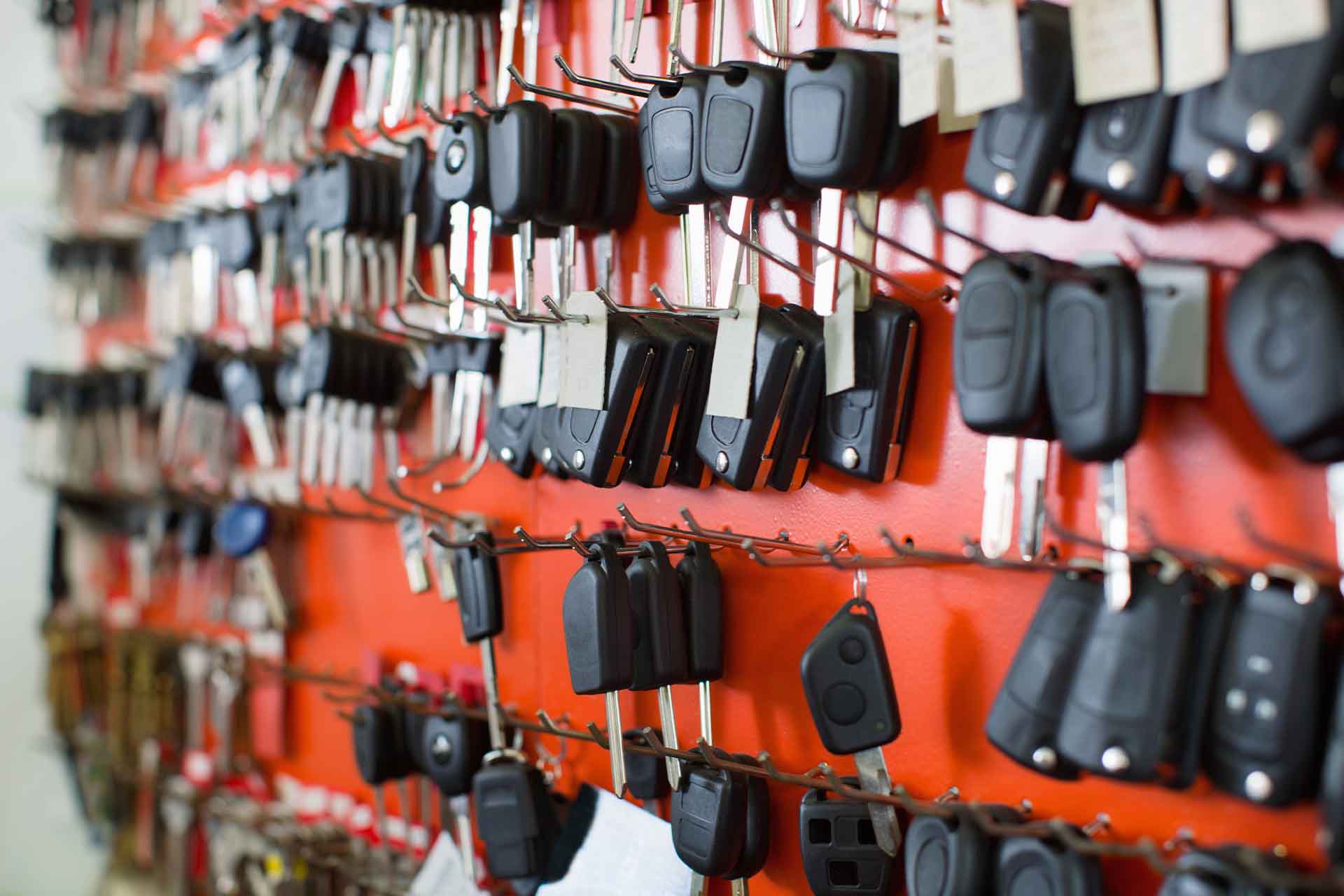 Why would you need a car key replacement?
Unfortunately, replacing a car key is not usually voluntary and instead is often the result of bad luck. Misplacing your car keys may be a daily occurrence but sometimes even retracing your steps does not yield results, meaning you have no choice but to replace the keys.
Accidentally losing your keys is not the only scenario where you may need a car key replacement. The buttons on your keys may break, the key itself may be damaged or you may choose to replace your keys at the same time as replacing your car locks.
Alternatively, you might choose to purchase an extra copy of your car keys to avoid situations such as the above, or if your car has multiple drivers. Whatever your reasons, in this article we will be looking at car key replacement costs, types of car key, ways to replace your keys and so much more.
How much does car key replacement cost?
| Cost provided item | Average cost + VAT |
| --- | --- |
| Manual car key replacement | £160 |
| Remote car key replacement | £320 |
| Lost car key replacement | Up to £3,000 |
| Honda Civic remote key replacement | £225 |
| Ford Fiesta remote key replacement | £275 |
| Nissan Qashqai remote key replacement | £290 |
| Toyota Yaris remote key replacement | £390 |
| Land Rover Range Rover Sport remote key replacement | £595 |
| BMW i8 replacement key | £1,000 |
| Bentley Diamond Key | £8,000 |
Ranging from costs as low as £160 to thousands of pounds, car key replacements can be eye wateringly expensive. The price you will pay to replace your car keys can vary widely (we will look further into why this is later) and will also depend on your situation and where you choose to purchase your new keys.
The average car key replacement cost is £240.
Common types of car key
Gone are the days when a car key was simply a piece of metal shaped to fit the lock of your car. Here are just some of the more common types available now:
Remote keys: Designed to allow you to unlock your car from a distance, remote keys are convenient and very popular. The only issue is that the buttons can break and these keys are more expensive to replace than the basic options.
Key with transponder chip: More secure than a normal car key, transponder chips allow the car to recognise the key through a unique code. The car then authenticates the code before allowing entry.
Flip key: This type of key consists of a plastic shell – that houses the key – which flips out at the touch of a button. Flip keys are more compact and reduce the risk of scratching other items in your bag or pocket.
Keyless entry: High tech and convenient, keyless entry car keys work by sending a radio wave to connect the car and the key. Once the signal is recognised by the car it unlocks the doors.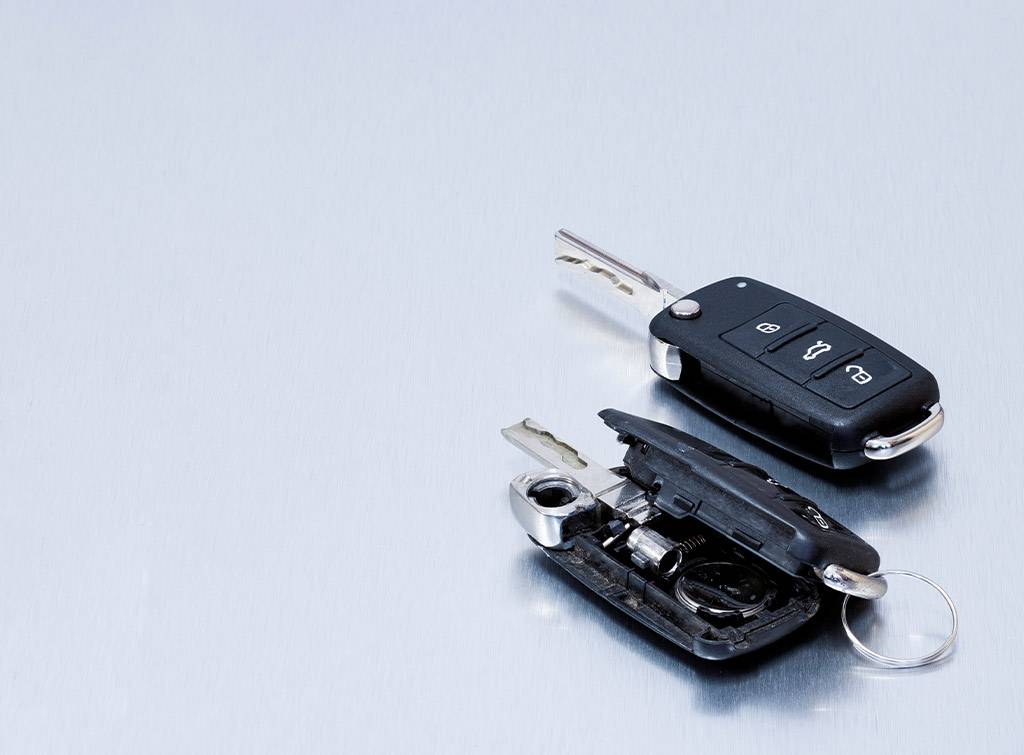 Factors affecting car key replacement costs
There are a large variety of factors that dictate the cost of replacement car keys, including:
Make of vehicle: Each car manufacturer uses different types of car key and security measures, affecting the cost of replacements.
Model of vehicle: Not only does the make of a car influence the car key replacement cost but even different models in the same range will impact the price.
Type of car key: As we learnt above, there are several types of car key. In general, the higher specification the key is, the higher the cost to replace.
Extra features: Options include remote locking and car alarm activation, all of which can increase the cost of replacing a car key.
Location: If using a local company to replace your car key, the price will vary depending on your location. For example, London companies will charge more than others.
Where you go for a replacement: Auto locksmiths, dealerships and other car key replacement businesses (more on this next) will each set their own costs.
Time of day: Some services offer out of hours car key replacements, but it is likely the cost will be much higher than if you can wait until the next day.
See the tradespeople we've checked and recommend for your job
Ways of replacing car keys
There are several places that offer replacement car key services. The following list covers the most common options:
Auto locksmiths: Quick and affordable, auto locksmiths will likely own the correct equipment to replace and program most types of car key. Some even offer a call out service where they will come to wherever you are located.
Roadside assistance: If you are lucky enough to have roadside assistance they can come to you and, depending on the type and brand of car key you use, as well as your policy, may be able to replace it there and then.
Car insurance provider: If your insurance covers car keys you may be able to claim for the cost of a replacement through this. Unfortunately, this may affect your no claims bonus.
Brand dealership: Your local dealership may be able to replace your car keys, however they will only hold blank keys for certain car models and may not have the right equipment to programme car keys. This method of replacing car keys can be very expensive.
Certain local garages: If you are lucky, your local garage may have the equipment and blank keys for your make and model of car. Again, this option can be costly.

Lost car key replacement cost
Losing a car key can be a stressful and costly mistake. In some circumstances, replacement car keys can cost thousands of pounds.
Remote car key replacement cost
Nowadays, it is very common for car keys to have remote controls making them more expensive to replace than the previous non-remote car keys. The average remote car key replacement cost is around £320.
New car key replacement cost
Every year car keys are being enhanced with new features and technology. This is great in terms of convenience and security, however, with the addition of this technology, new car key replacement costs are rising rapidly.
An example of this is the Bentley Diamond Key, with a replacement cost of £8,000.
How much does a locksmith charge to reprogram a key fob?
This job requires the skills of an auto locksmith who will have the knowledge and tools to reprogram a car keyfob.
If your vehicle was manufactured pre 1995 then you won't need to worry about reprogramming – only cars produced after 1995 are required to have immobiliser systems that work by having an electronic chip with a transponder in the key fob.
There are 3 main types of key that can require reprogramming and these are:
Keys for remote or keyless entry
Keys with an integrated transponder chip
Flip keys and key cards
Some specialist locksmiths will be able to reprogram a cloned key for you in a few minutes. The time it takes can depend on whether or not your vehicle needs to be present to allow information from your vehicle to be read whilst the new key is programmed.
Reprogramming your key fob may take longer if specialist diagnostic technology is required, and some vehicles require a login or security code or PIN to be entered before or during this process.
How much does a locksmith charge to program a car key?
The price ultimately depends on the make, model, year of your vehicle, and the process that is required to program the fob you need. Typically you can expect to pay between £50 to £200.
Can I replace a car key myself?
As frustrating as it is to lose or break a car key, this is not something you can fix yourself. For starters, you would need to purchase new equipment that costs thousands of pounds.
Add into the mix modern security measures and programming, and the only viable option is to use a professional key replacement service.
To find a local, reputable, tradesperson in your area and get a personalised car key replacement quote use our free search feature.
FAQs
What is keycare?
When buying car insurance some policies include keycare. This useful service involves putting a fob on your key ring with a number to call if your keys are found by anyone. A reward is also offered to whoever finds and returns your keys.
Useful car key replacement checklist
Replacing lost or broken car keys can be extremely expensive.
There are many different types of car key including remote, keyless and transponder chip keys.
Auto locksmiths, roadside assistance and local dealerships are all places that offer car key replacements.
You cannot replace car keys yourself due to the equipment and security requirements.
See the tradespeople we've checked and recommend for your job